I hope 2010 is starting out great for all of you! I have not been posting as much as I would like to, because I have been focusing on a few things…mainly a crazy painful toothache. In my 30 years of life, I have not felt such excruciating pain…I mean I seriously wanted to rip my tooth out with pliers. All is well now after a trip to the dentist cured me! I am also in the process of doing a few things with my blog. So be on the look out for some fantastic new features that will hopefully make My Baking Addiction a more enjoyable place to visit!
I am not a huge football fan, okay let me rephrase that, I am not a football fan at all. According to all of the men I have encountered today, "There is a BIG game on tonight!" In my opinion, Brian labels all of these games as "BIG" because he wants me a.) to make him game appropriate snack food b.) he wants full control the living room TV without me nagging and c.) to make him game appropriate snack food. Yeah he is all about the game night grub. In case you are wondering, I did a little football research for ya and tonight is the BCS Citi National Championship Game between Texas and Alabama. There…I am sure you are all at ease knowing who is playing!
Here is a little game night snack that is not only easy but also pretty darn delicious! It's so simple to make and I am betting you have most, if not all of the ingredients in your pantry and fridge! Serve is up with some sliced French bread, pretzel crisps, toasted pita or just plain old tortilla chips and put a BIG smile on your football fan's face for the BIG game! Just be aware that it is incredibly high in fat, so don't come blaming me if your pants are a little snug tomorrow!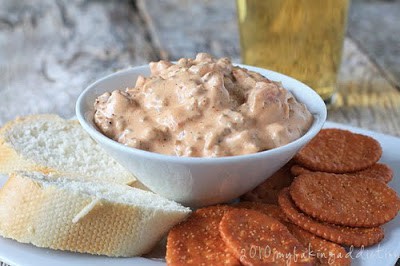 Spicy Sausage Dip
Ingredients:
1 (16 ounce) package pork sausage
1 (15 ounce) can diced tomatoes with mild green chilies, undrained
2 (8 ounce) packages of cream cheese; room temperature
hot sauce to taste (I used Sriracha)
Directions:
1. Cook the sausage in a skillet over medium heat until evenly browned and no longer pink. Drain.
2. Reduce heat to low, and stir in the tomatoes and cream cheese until evenly blended.
3. Cook just until heated through. Serve warm.
All images and text ©
Follow Jamie on Instagram. We love to see what you're baking from MBA! Be sure to tag @jamiemba and use the hashtag #mbarecipes!
[pinit]