Cheesy, spicy, and so cravable, this Spicy Sausage Dip is sure to disappear in the blink of an eye from any game-day spread!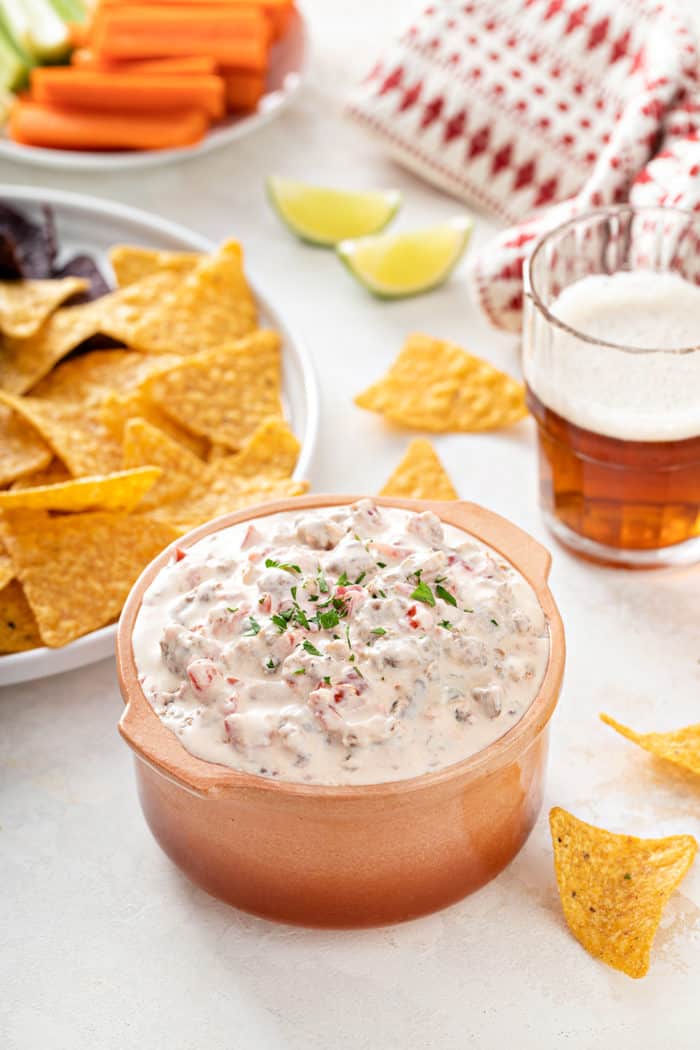 I have been making this spicy sausage dip for years. The recipe was given to me by a co-worker back when I was teaching school.
She brought it to a work potluck in a little crockpot and it was the very first thing to go from the potluck table. I remember loading my plate with all sorts of food, but only wanting to eat this dip, so I immediately asked her for the recipe and I've been making it now for well over 10 years!
I love to make a batch of this sausage dip for game day. It goes great served alongside spicy guacamole and buffalo chicken dip!
One of the best things about this dip is how easy it is to make. With only four ingredients, you're on your way to spicy, cheesy party food in no time.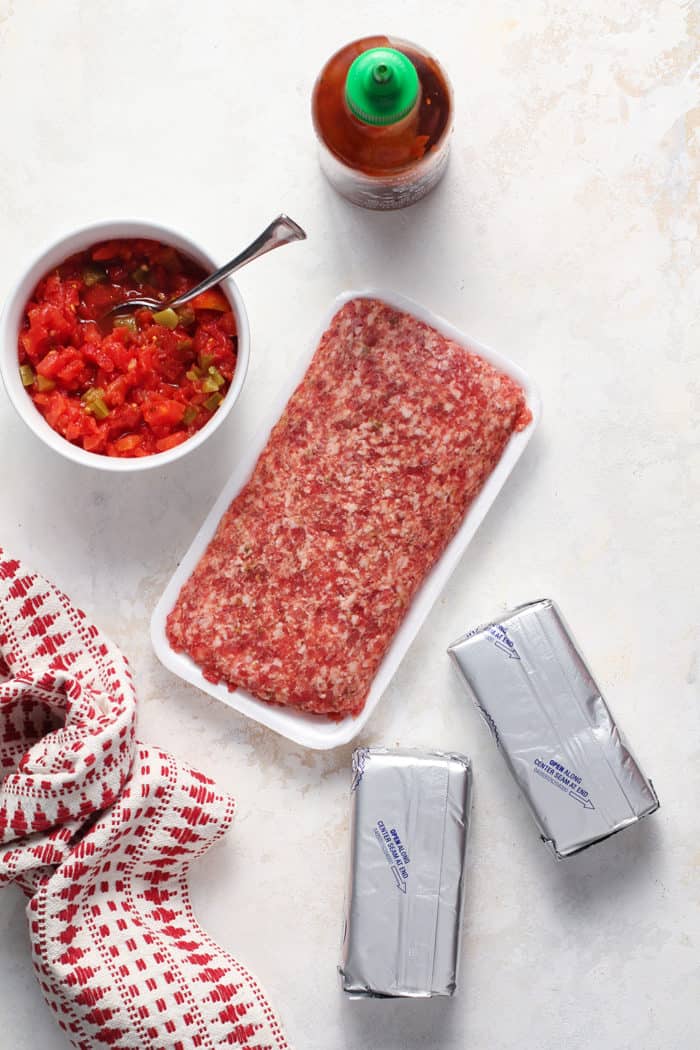 INGREDIENTS
Make sure you have everything you need for this recipe:
Pork sausage — Choose mild, medium, or hot
Diced tomatoes with green chiles — Also called Rotel, you might find this with the Hispanic foods at your local grocery store.
Cream cheese — Make sure to let come to room temperature. You can also use my tips for how to soften cream cheese quickly.
Hot sauce — Your choice! I reach for Cholula or Frank's RedHot, but anything goes here.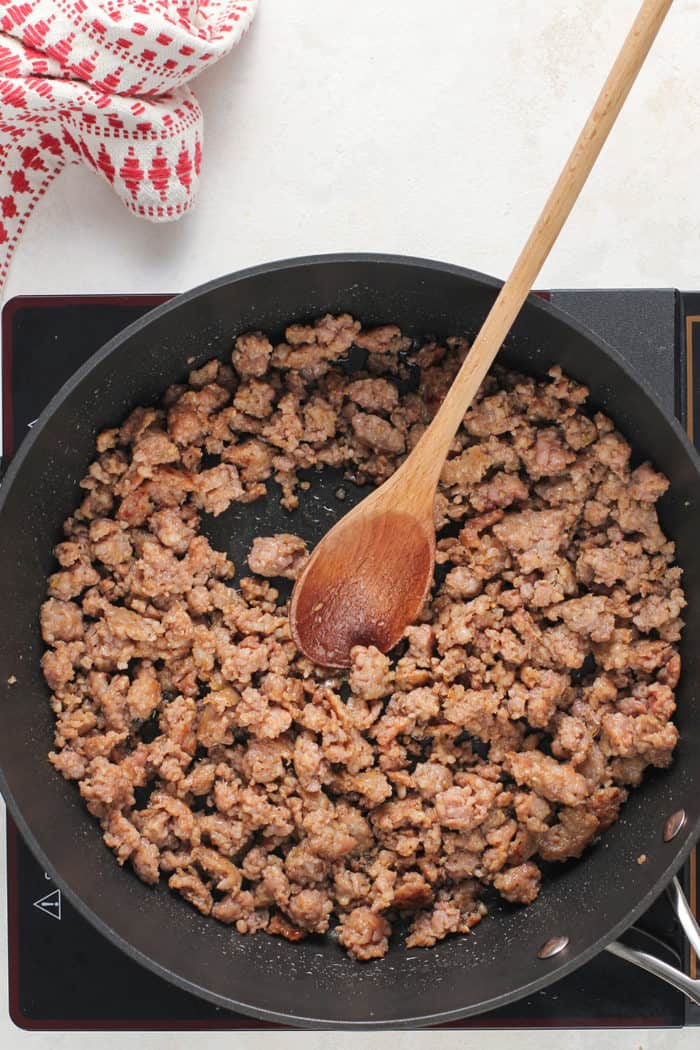 HOW TO MAKE SAUSAGE DIP
We're going to make this sausage dip on the stove, so grab a large skillet and place it on the burner.
Heat the burner to medium-high. Break the sausage into pieces as you add it to the skillet.
Cook sausage until it is browned and no pink remains. Use a spatula to break it into smaller pieces as it cooks.
You can make the pieces as small as you like; I like to have a variety of larger and smaller pieces.
Drain any excess fat from the sausage. This will help prevent your dip from being too oily.
Reduce the heat on the burner to low. Cut the cream cheese into chunks and add the cheese and Rotel tomatoes to the pan.
Stir the sausage dip to make sure the cheese is completely melted and blend ingredients together.
Add the hot sauce to taste and cook just until heated through, then serve in a bowl or baking dish.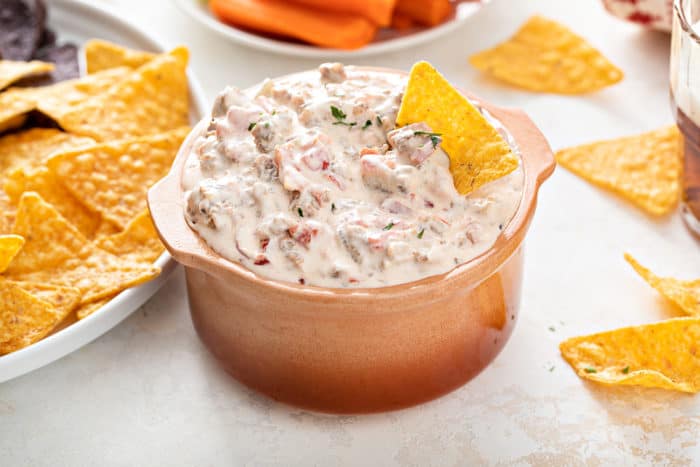 HOW DO YOU MAKE SAUSAGE DIP IN THE SLOW COOKER?
I love slow cooker recipes too, so my mini slow cooker is essential for parties.
To make this dip in a slow cooker, you'll first need to cook the sausage on the stove. If your slow cooker has a saute function, you can use that!
Once the sausage is cooked, drain it on a paper towel lined plate, then add it to the slow cooker with the rest of the ingredients, cover, and cook on low for 1-2 hours.
Stir occasionally until the cheese is melted and serve.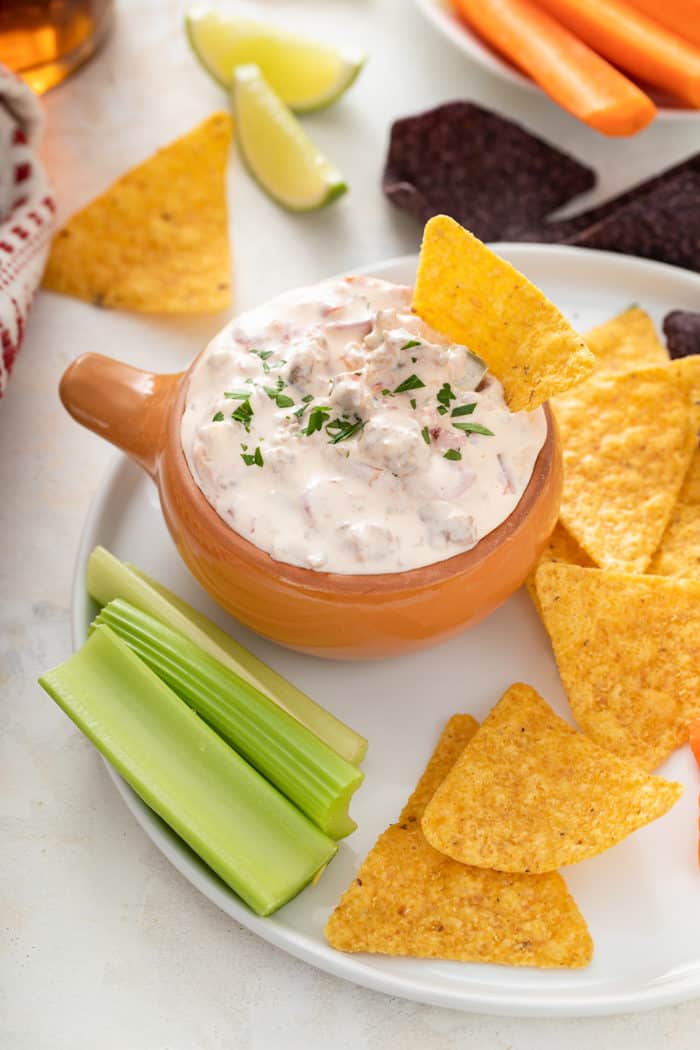 SUBSTITUTIONS AND ADDITIONS
I recommend pork sausage for this recipe, but any ground sausage will work. Keep in mind that the flavor will come through, so avoid breakfast-style sausages with strong flavors like maple or sage.
While this sausage cream cheese dip is scrumptious as-is, I know some folks just can't help adding more!
Swap some of the ground sausage for cooked black beans or pinto beans.
Saute diced onions along with the sausage, or stir in chopped green onions.
To make it even more hot and spicy, stir in taco seasoning or your favorite ground chile pepper.
Top with chopped fresh cilantro or fresh diced tomato.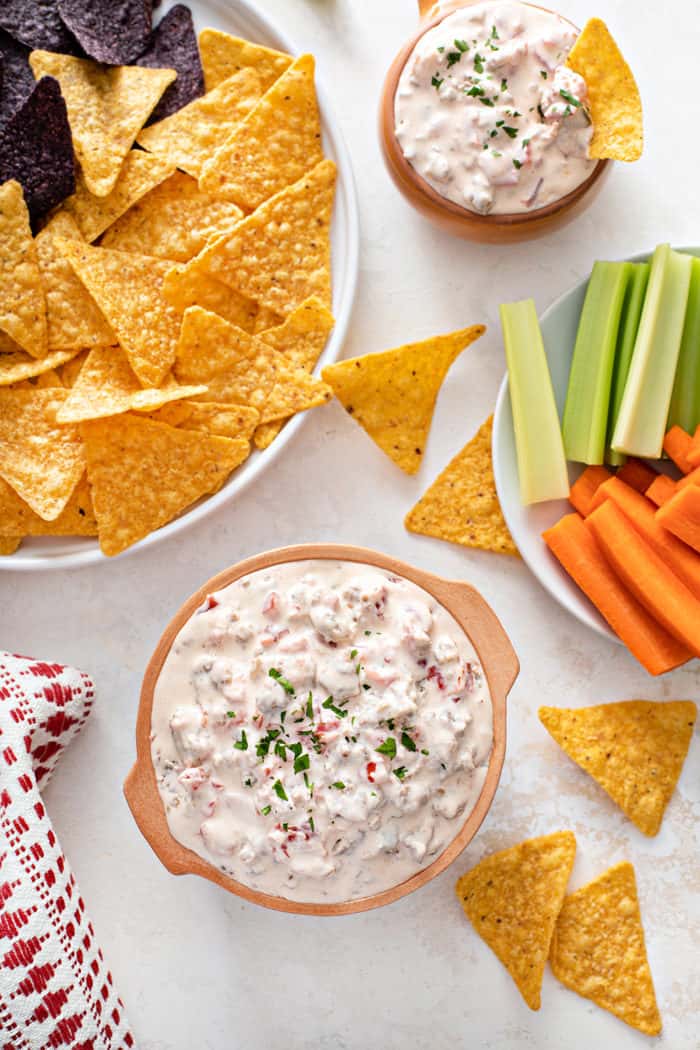 WHAT TO SERVE WITH SAUSAGE CHEESE DIP
I absolutely love this hot sausage dip with corn chips and celery, but trust me when I say nearly anything goes!
Serve with tortilla chips, pretzel thins, slices of bread, or just about any fresh vegetable alongside homemade ranch dip.
You can also use this spicy dip for topping tacos or burgers, or making easy nachos.
I've even been known to tuck it into a biscuit in place of breakfast sausage for a delicious morning sandwich.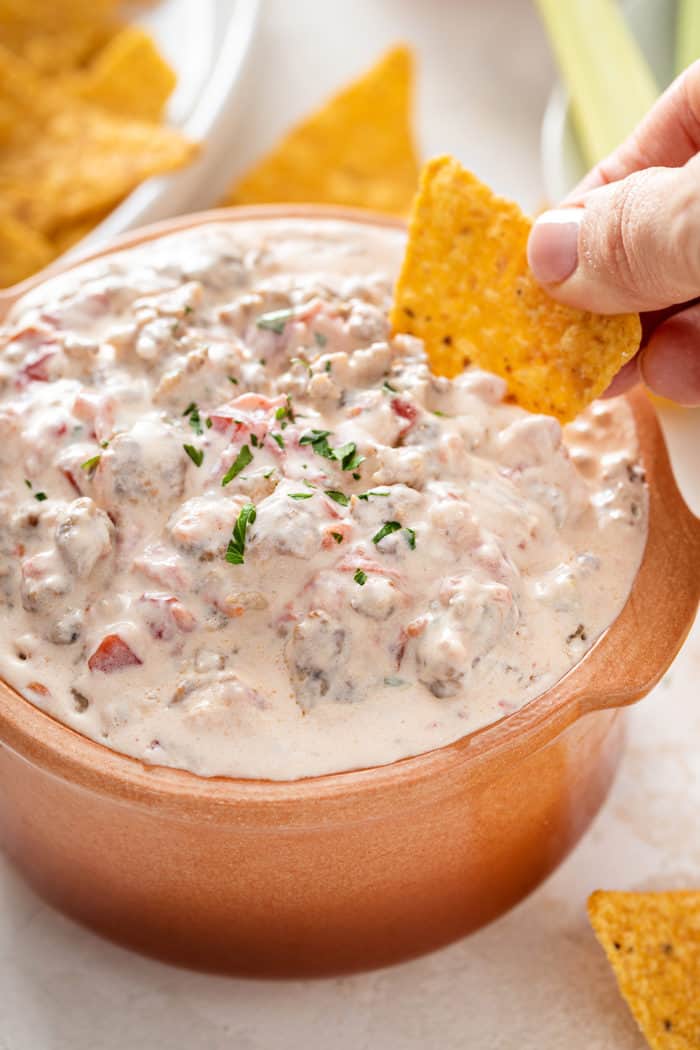 OTHER DIPS YOU MIGHT LIKE
Sausage cheese dip is such a great recipe for the big game… or any day! You'll love it.