Need a quick and easy weeknight dinner? Whip up this quick marinara sauce to go with pasta, on pizza, or use as a dipping sauce. It's simple to make and has so many uses!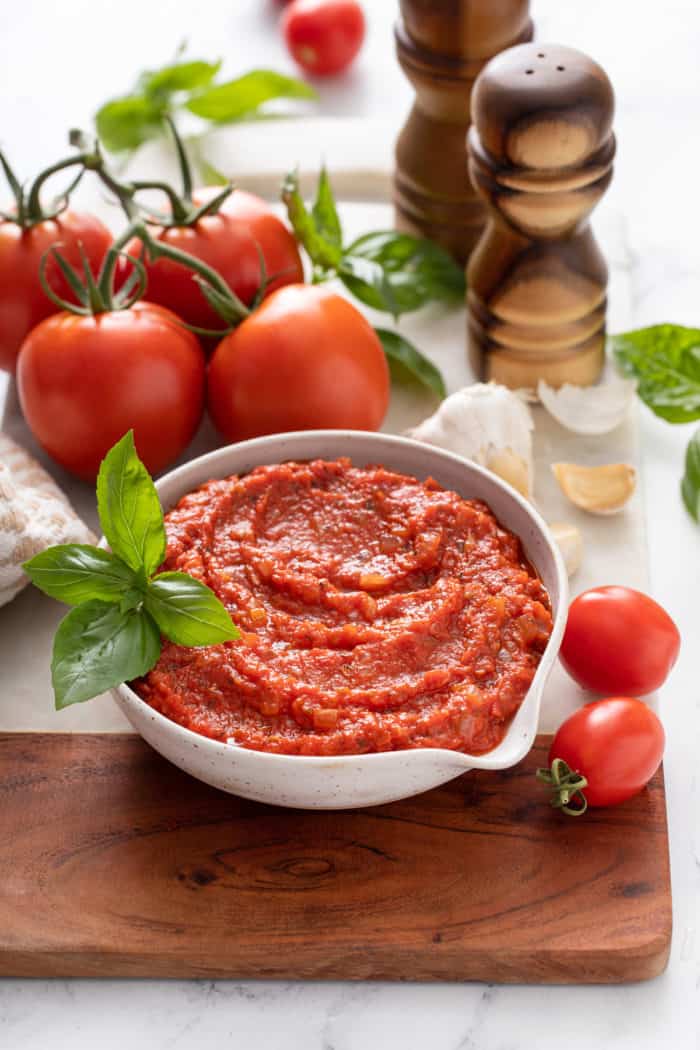 I say this every single year, but it keeps being true: back to school season is absolutely bananas.
Between meet the teacher nights and figuring out the new fall schedule for Elle's after-school activities, I'm absolutely exhausted just thinking about dinner.
Thankfully, I've built up a good list of quick and easy dinners for busy weeknights. Recipes like one-pot mac and cheese, taco casserole, ham and cheese sliders, and one-pot spaghetti are all things that are easy to make and that I know my family will love.
This quick marinara sauce is another recipe I like to keep on my weeknight dinner list. There are so many ways to use it and it takes me only minutes to throw together!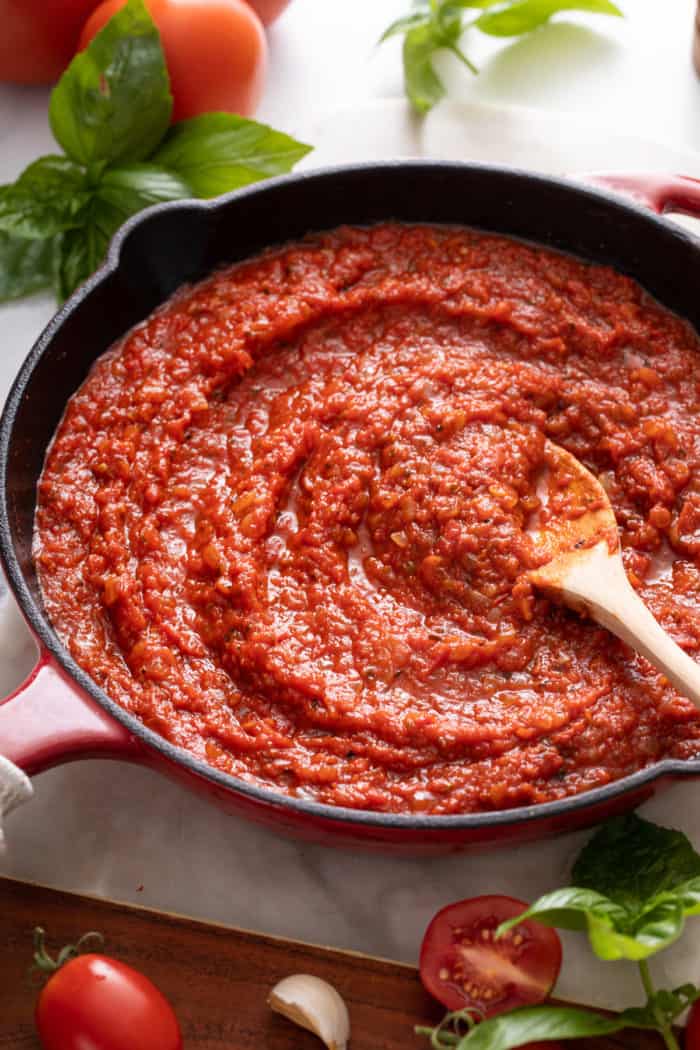 WHAT IS MARINARA SAUCE?
Marinara is a tomato sauce that is made with garlic, onions, and herbs. It can be used as a sauce for pasta, pizza, or used as a dipping sauce.
Unlike pasta sauce (such as homemade meat sauce), marinara does not contain any meat and it usually has a thinner consistency.
Marinara is not typically a sauce that takes hours to make, but this quick marinara sauce recipe is really simple to make. It comes together in about 30 minutes, making it perfect for a weeknight dinner.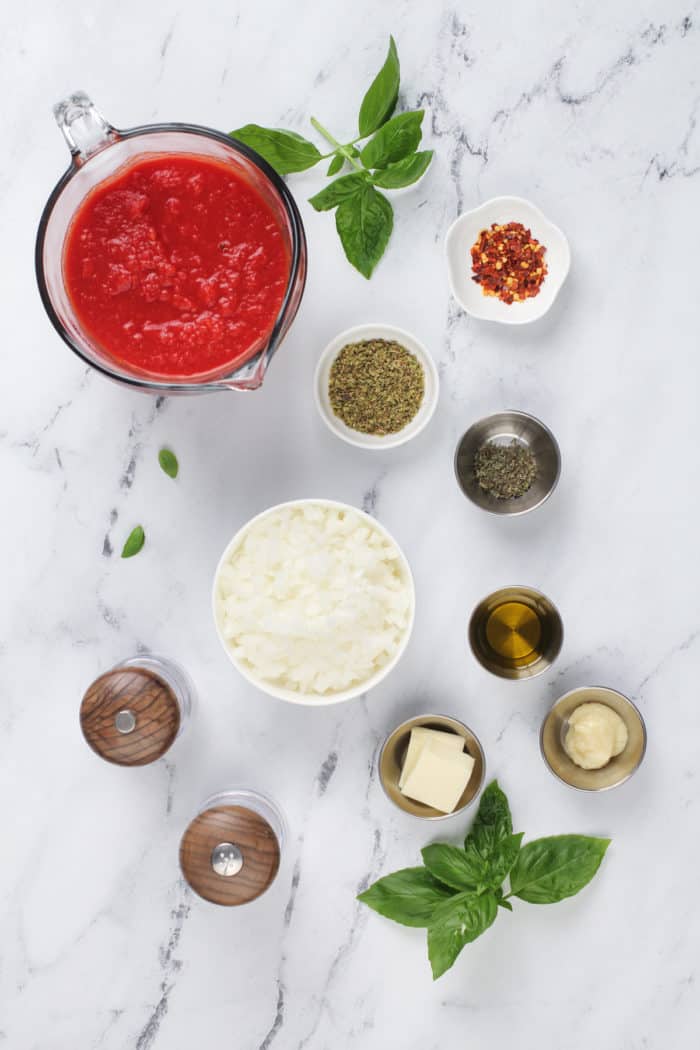 HOW TO MAKE A QUICK MARINARA SAUCE
If you think that a good tomato sauce has to simmer for hours to taste great, think again.
This recipe takes 30 minutes to make and is a great accompaniment to so many meals. You can throw it together on the fly on a weeknight when you forgot to plan dinner, or make it on a Sunday and freeze it for later in the week.
Ingredients you'll need
I like to keep the ingredients for this quick marinara sauce on hand so I can whip it up any time. To make it, you'll need:
Crushed tomatoes: The base of this sauce is a big can of crushed tomatoes. I love picking these up at Costco so I always have them on hand for making marinara or throwing into soups and stews. Make sure you buy a good brand of tomatoes – it really will make a difference in this sauce!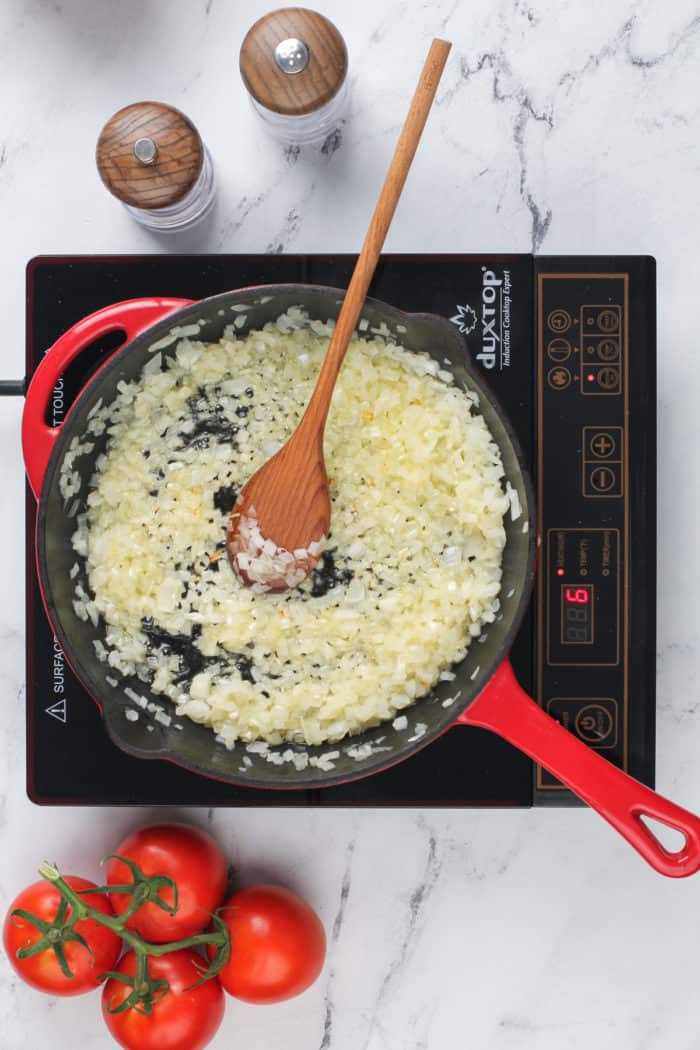 Onion & garlic: These are two of the most important ingredients in marinara sauce. If you're really in a time crunch, you can use frozen diced onions and pre-minced jarred garlic (but fresh will be even better!).
Dried herbs: I use dried oregano and dried basil, along with crushed red pepper flakes, in this recipe. If you happen to have fresh oregano and fresh basil, feel free to use that instead. If using fresh basil, make sure you add it with the tomatoes at the end instead of with the garlic.
Olive oil & butter: I like to use butter and olive oil for sauteing the onions and garlic. Just a couple tablespoons of butter adds so much flavor and a silkiness to the sauce that you can't beat.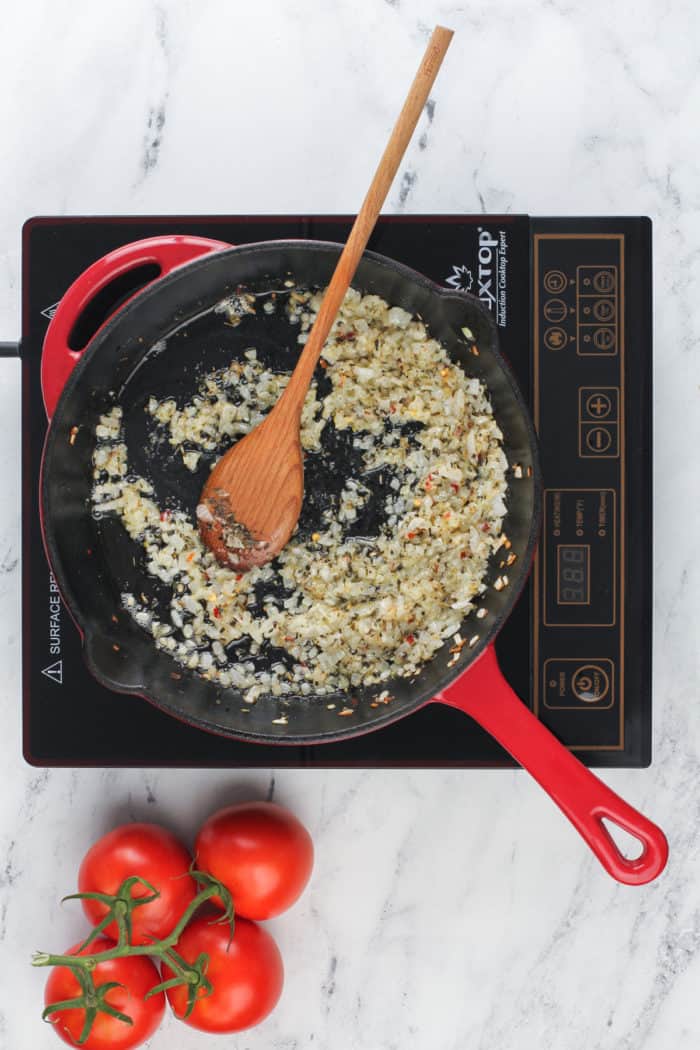 Making this recipe
Ready to learn how this quick marinara sauce comes together in just 30 minutes?
Grab a saucepan and melt the butter with the olive oil over medium heat. Add the onions and a pinch of salt and let the onions cook for about 3-5 minutes, until they have softened.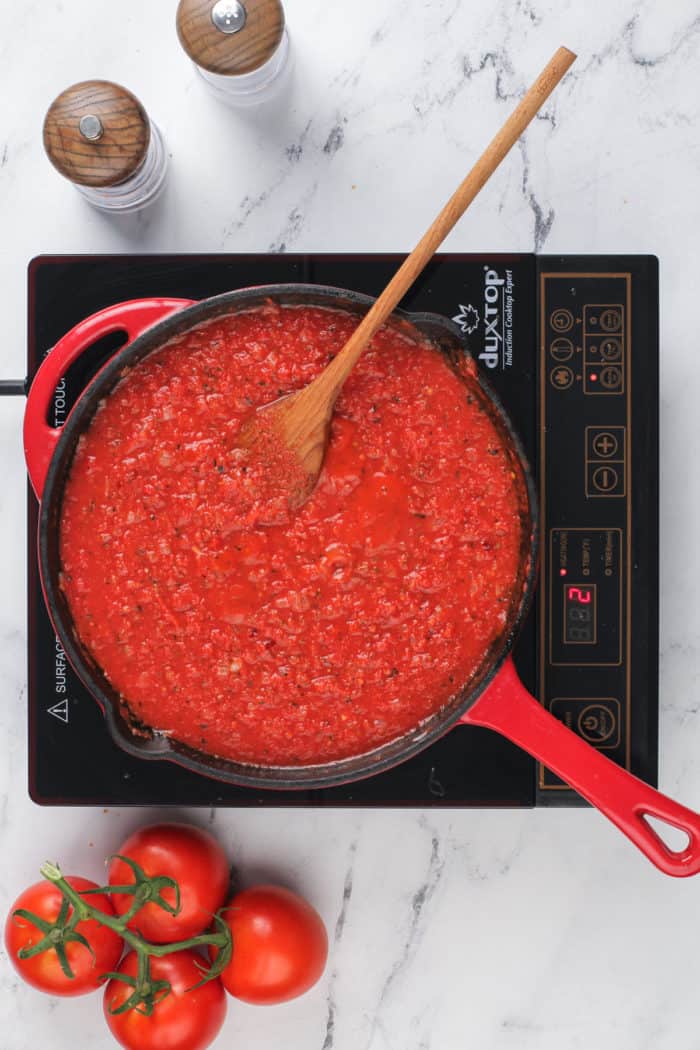 Add the garlic and the dried herbs and cook for 1 more minute. Your kitchen should be starting to smell really good right about now.
Add in the tomatoes. Bring the sauce to a simmer and cook for 20-30 minutes, giving it a stir occasionally. As it cooks, it will reduce and thicken slightly.
Make sure to taste the sauce and season with salt and pepper as you like before serving.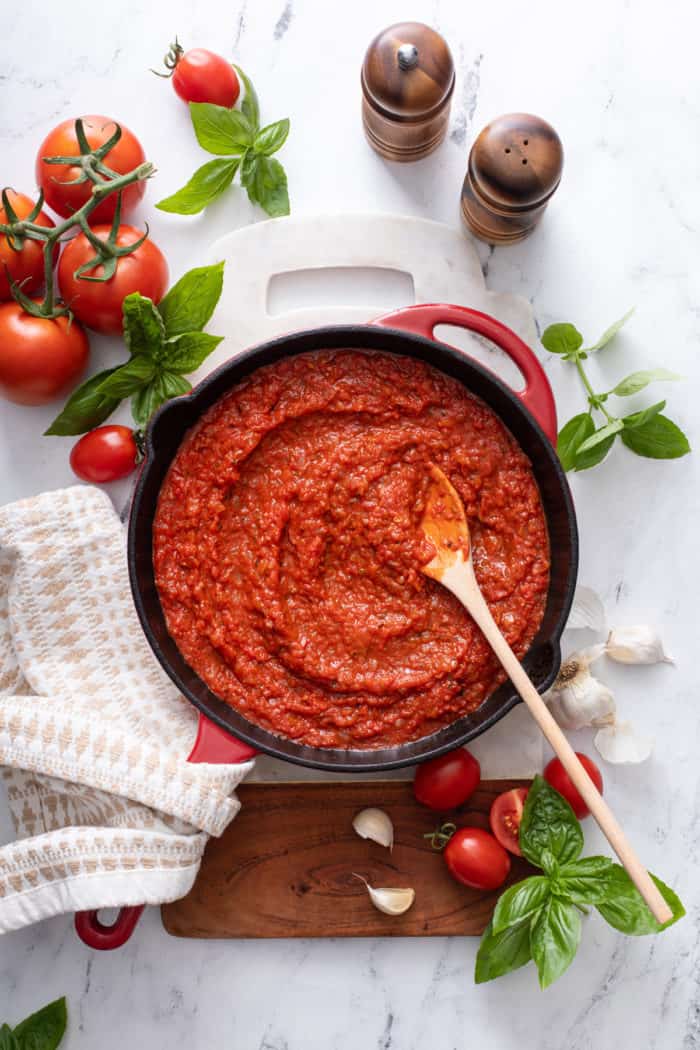 USES AND STORAGE
You can use this sauce right away, store it in an airtight container in the refrigerator for up to 3 days, or freeze it for up to 3 months.
So how can you use it?
Toss it with pasta for a super simple dinner. Throw together a green salad with homemade ranch dressing and you're good to go. Add some homemade meatballs and you're really set!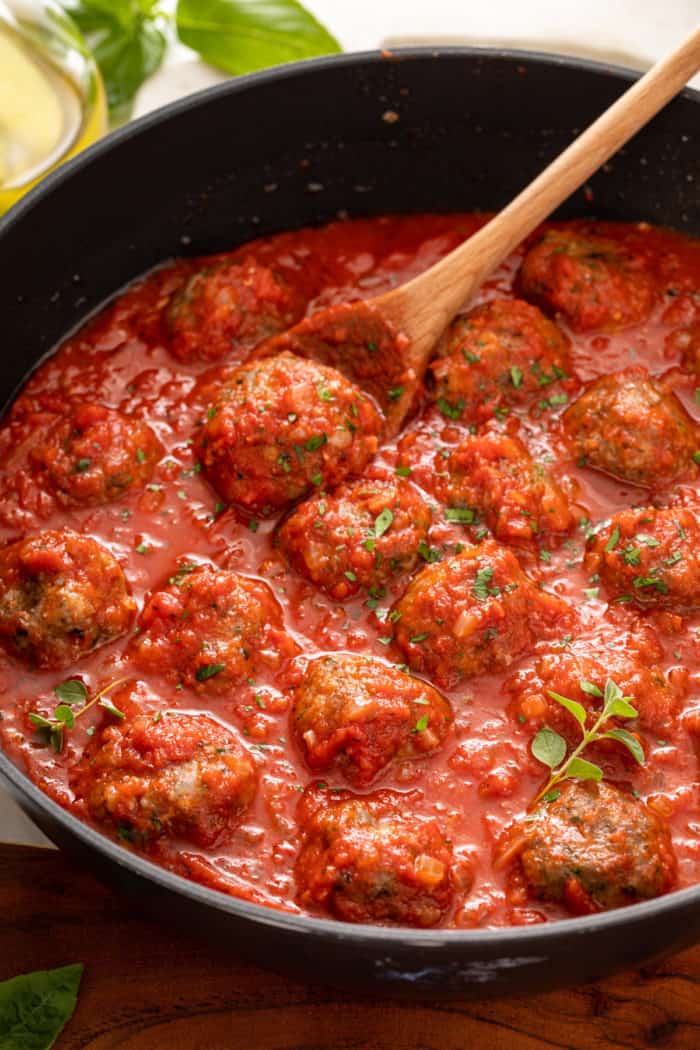 Use it in place of jarred pizza sauce in recipes like pizza sliders or pizza stuffed chicken. Or, you know, on an actual pizza!
You can even use it as a dip for anything from pepperoni bread to pizza pockets.
No matter how you use it, this quick marinara sauce is sure to become as much of a go-to at your house as it has become at ours!