Potato Gratin, also known as potatoes au gratin, is a decadent side dish for any occasion. This classic recipe is sure to make any meal truly feel like a holiday!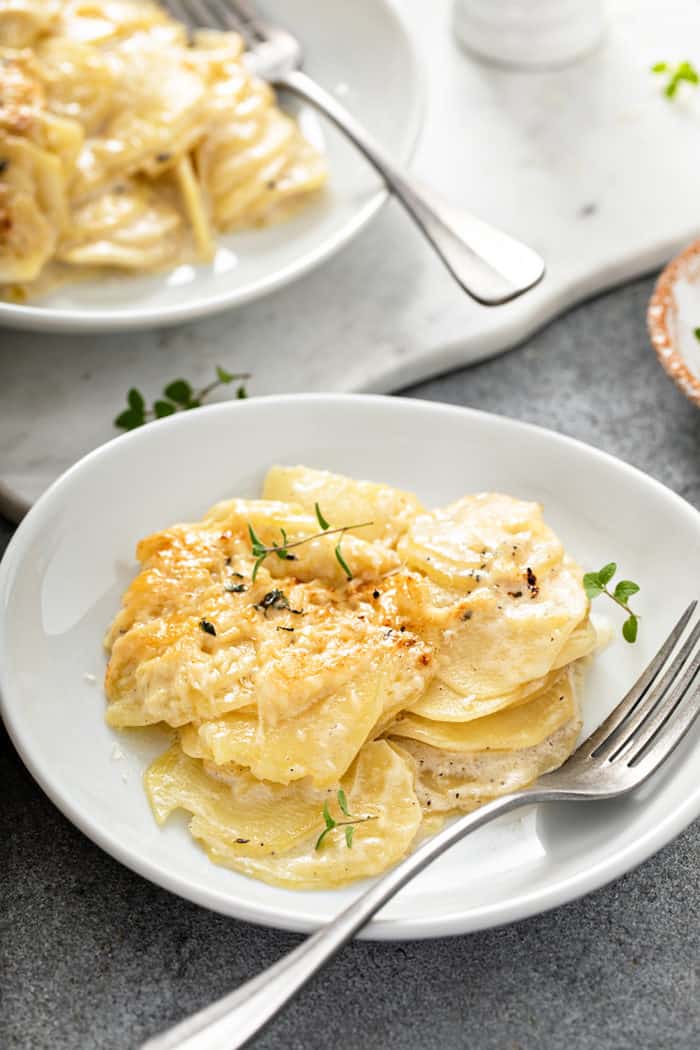 When I was a kid, I loved and I mean, LOVED potatoes au gratin – although they were straight from a Betty Crocker box, they were totally one of my very favorite weeknight meals.
Sometimes my mom served them as a side with chicken and other times, she'd mix in some veggies and kielbasa for a one-pan dinner.
Since becoming an adult, I'm not too keen on the boxed version of potato gratin; however, I still love instant mashed potatoes and gravy – especially if they're from KFC.
After eating potato gratin at one of favorite steak houses last month, I decided it was time to whip up this decadent side dish at home, just in time for Thanksgiving.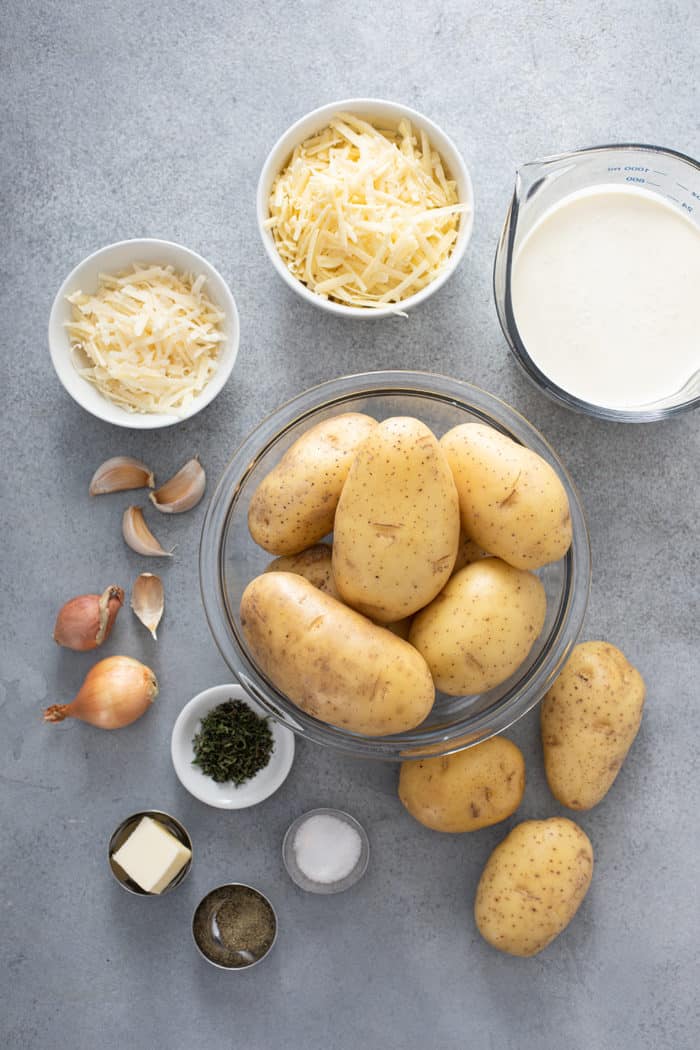 WHAT IS POTATO GRATIN?
A gratin is a dish that is topped with a browned crust, oftentimes breadcrumbs or cheese. Gratins are usually cooked in a shallow dish and finished under a broiler to get that beautifully brown, crispy top.
Potato Gratin, also known as potatoes au gratin, au gratin potatoes, or gratin dauphinois, is the potato version of this. Thinly sliced potatoes are layered with cream, garlic, and cheese and finished under the broiler.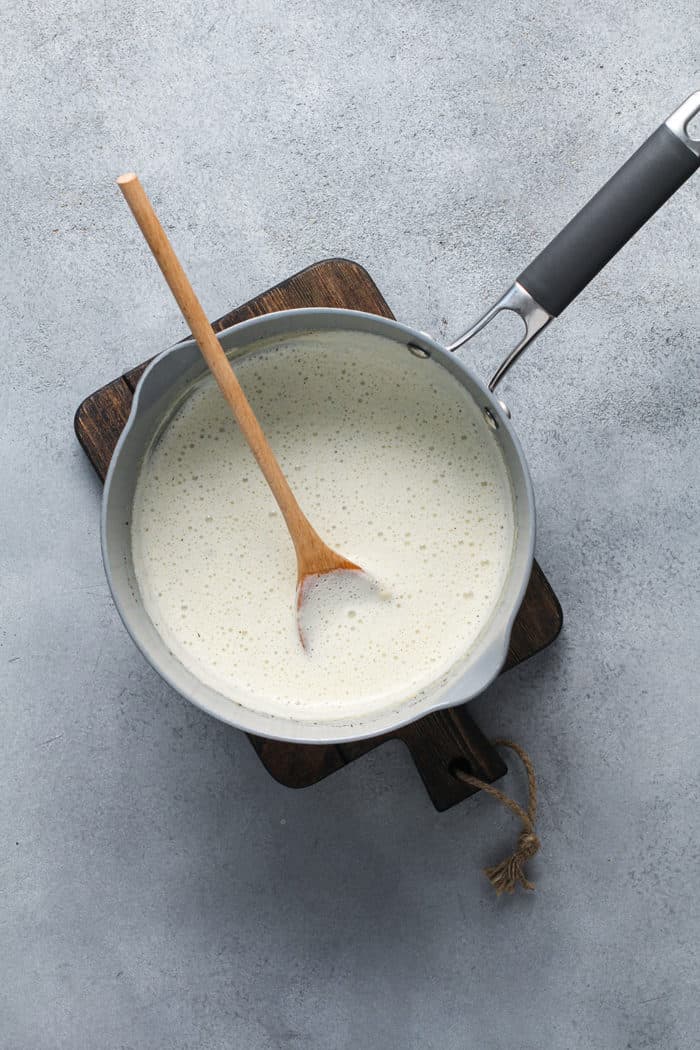 MY FAVORITE POTATO GRATIN RECIPE
My Potato Gratin recipe is pretty traditional. After all, why fix something that isn't broken?
Because these potatoes are pretty traditional, you'll find plenty of decadent ingredients in them like heavy creamy and gruyere (or white cheddar) and parmesan cheeses.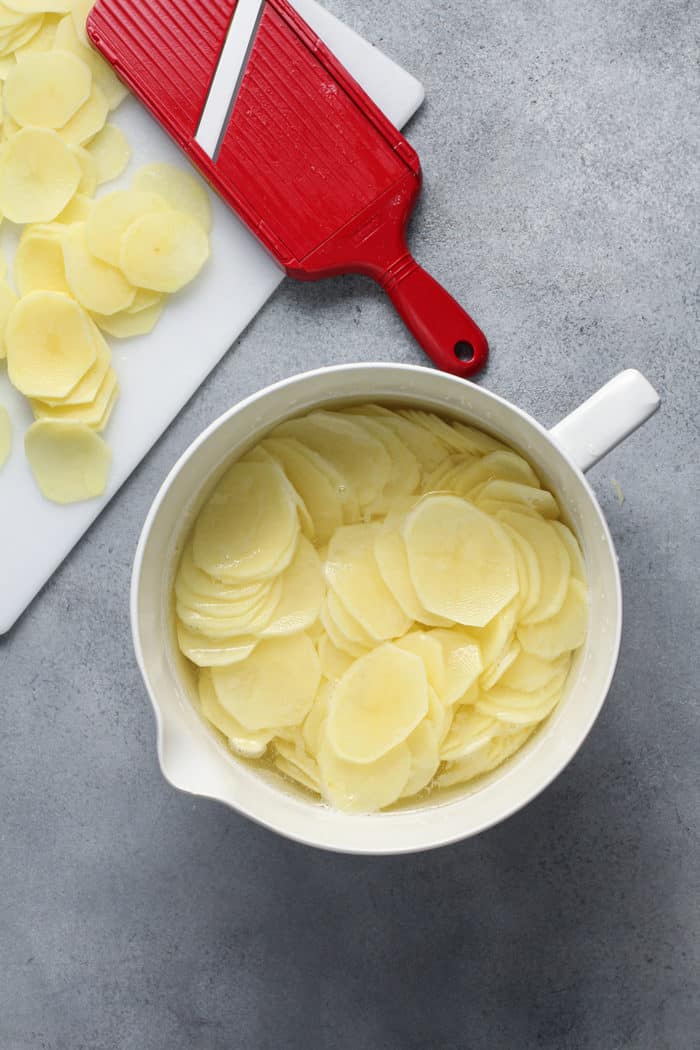 That means the final dish is pretty rich and decadent – these aren't "low fat" potatoes by any means! But for a special occasion? You bet they are at the top of the list of my favorite side dishes.
Serve these au gratin potatoes with honey glazed carrots and air fryer brussels sprouts or a shaved brussels sprout salad and you'll have the perfect pairing with your holiday turkey or ham.
And if you're looking for a side dish recipe that you can prepare the day before, this is totally it! Keep reading to find out how to make this Potato Gratin ahead of time.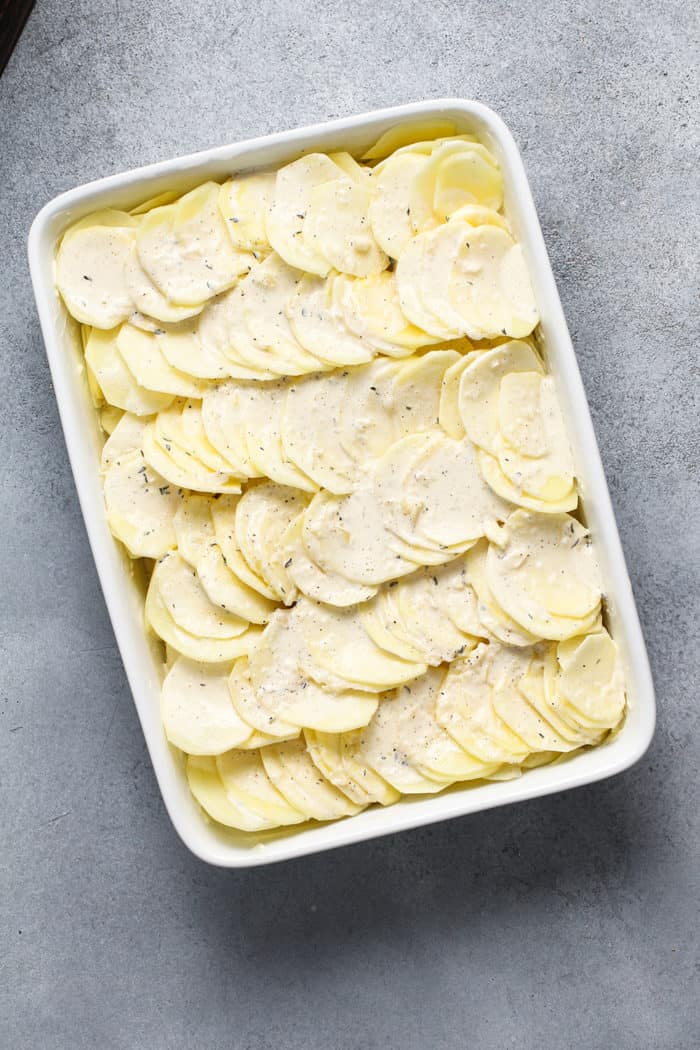 HOW TO MAKE AU GRATIN POTATOES
Like a lot of recipes that are French in origin, this recipe might seem fiddly, but I promise it's totally doable.
The recipe can be broken down into a few pretty simple steps:
Prep the cream sauce
Slice the potatoes
Layer the gratin
Bake!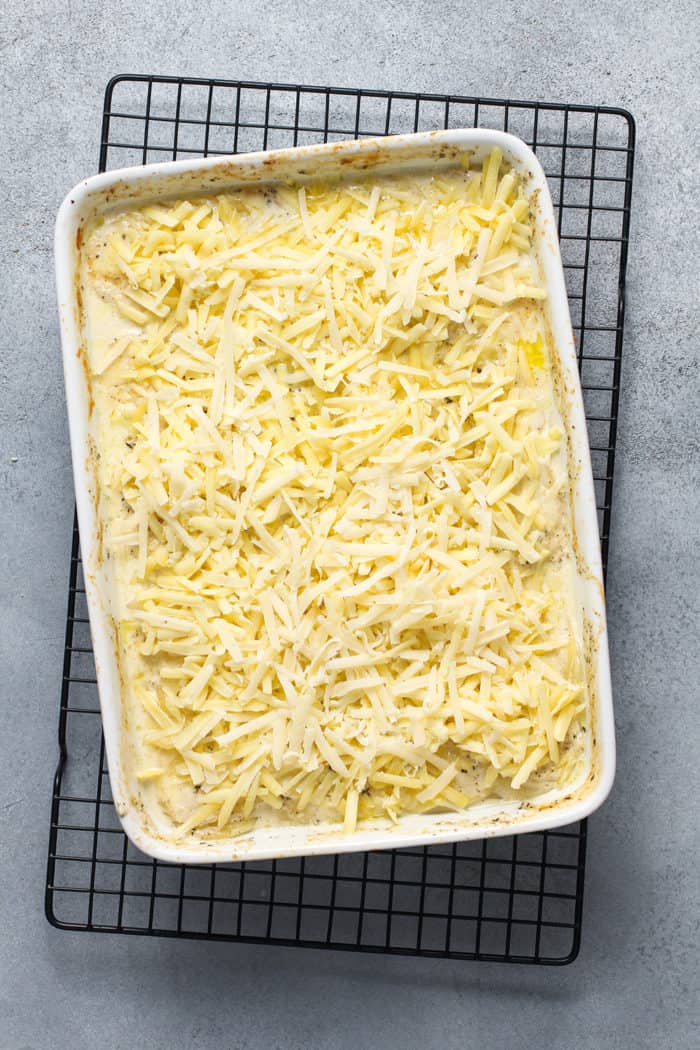 To prep the cream sauce, combine heavy cream, shallots, garlic, salt, pepper, and thyme in a saucepot. Bring this to a simmer and let it cook for about 15 minutes, until the shallot and garlic are tender.
Use a stick blender or a traditional blender to blend the sauce until it is smooth. I like to use a stick blender for this. If you're using a traditional blender, be VERY careful since the mixture is hot.
While the cream sauce is simmering, you can slice the potatoes. I use a mandolin to do this so they are all the same thickness. You want them to be about ⅛-inch thick.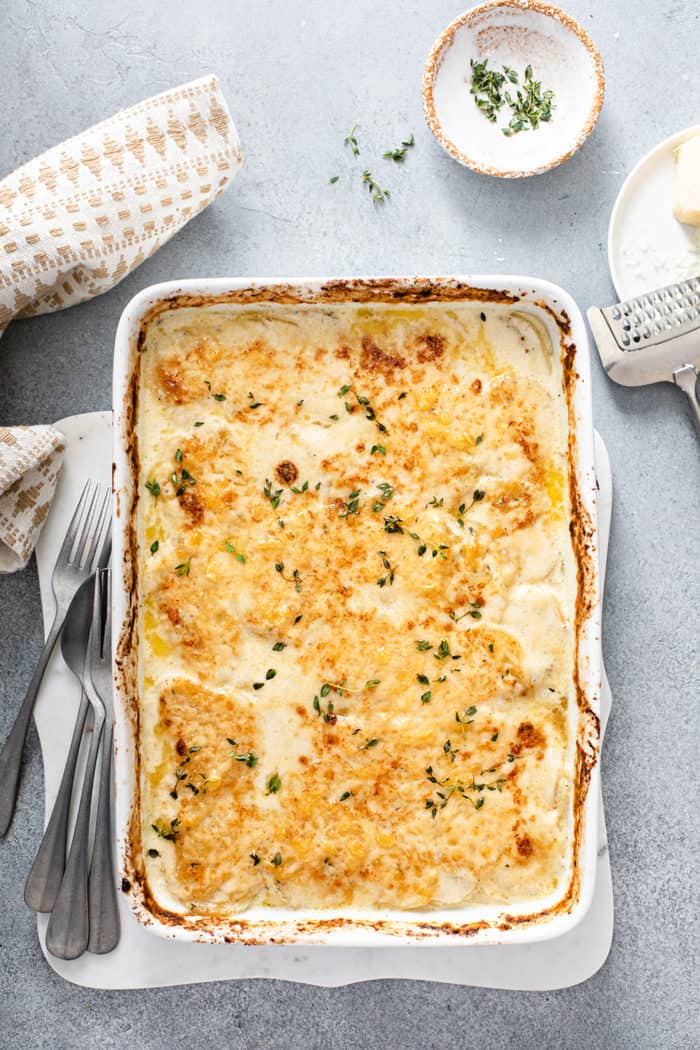 After you've sliced the potatoes, pop them in a bowl of cold water to help get rid of some of the excess starch and keep them from oxidizing.
When the cream sauce is ready, layer the (drained) potatoes across the bottom of a buttered baking dish, then pour the cream over the potatoes.
Cover the pan with foil and bake for about an hour, or until the potatoes are tender.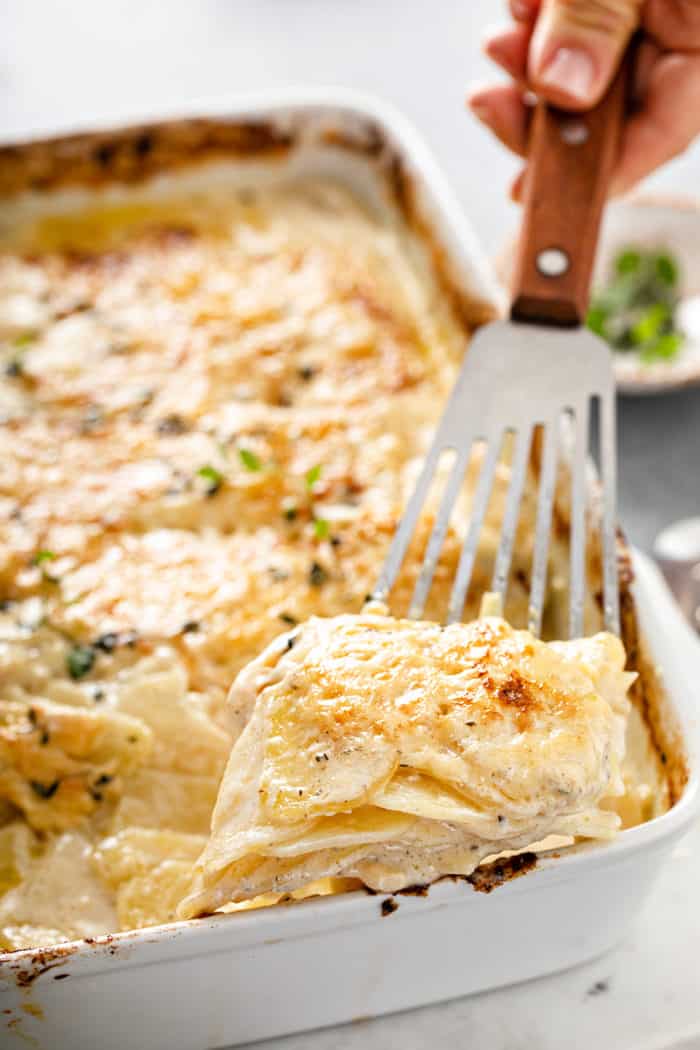 Remove the foil and top with a mixture of gruyere or sharp white cheddar cheese and parmesan cheese. Place the potatoes under the broiler for about 5-10 minutes until the cheese is melted and the top is golden brown.
Be sure to keep a close eye on the potatoes while they're under the broiler! They can go from perfectly golden to burnt pretty quickly, so don't wander too far away while they're browning.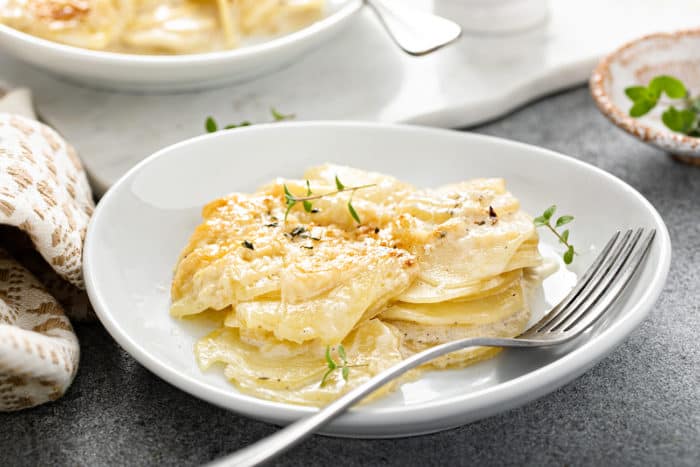 PLANNING AHEAD
If you're planning ahead and figuring out what you can make the day before, add this Potato Gratin to that list.
To make your Potato Gratin ahead of time, assemble the dish and bake it, covered with foil, for 50-60 minutes. Let it cool and then refrigerate overnight.
When you're ready to serve, cover the potatoes with foil and reheat them in a 350°F oven for about 20 minutes or until hot.
Uncover the potatoes, top with the cheeses, and broil for 5-10 minutes.
Voila! You'll impress everyone with this luxe side dish – you don't have to tell them that it wasn't that hard to make. That's our secret.