Chocolate, caramel and salty pretzels come together in this rich and creamy Sweet and Salty Cheesecake! If you love sweet and salty snacks, this cheesecake is for you.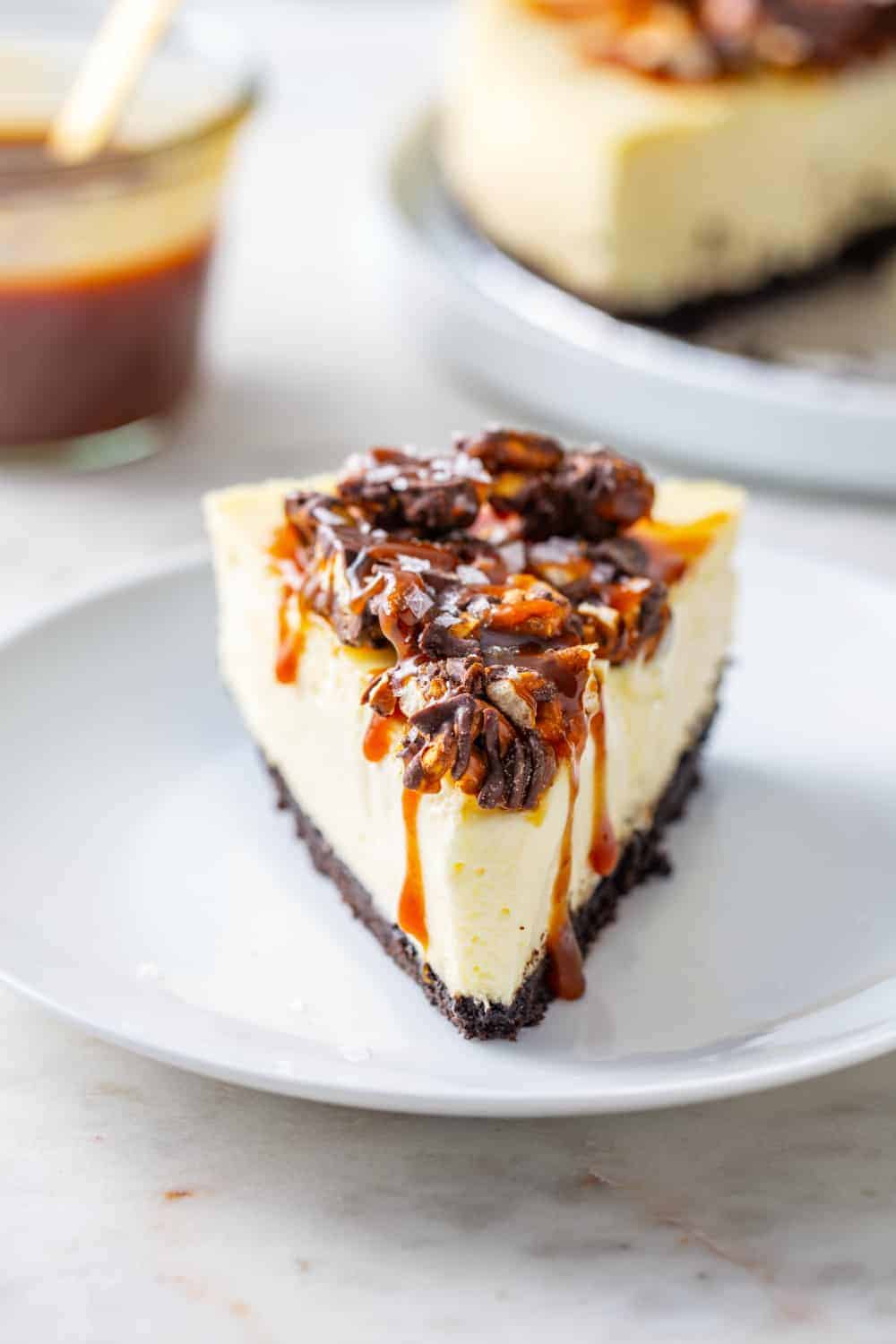 A few months ago my mom and I drove way too far to pick up a couple of cheesecakes from a little farm that just so happens to also have a small cheesecake bakery.
And by small I mean, tiny. Just an adorable little roadside cabin with a couple of freezers that contain some seriously dreamy cheesecake.
They sell their cheesecakes in halves, so you can mix and match flavors to feed a few, or a crowd.
It's first come, first serve, so you have to get there early if you want your favorite flavors.
If you know anything about me, I am rarely early for anything – even cheesecake, so we got there late morning and had about 4 flavors to choose from.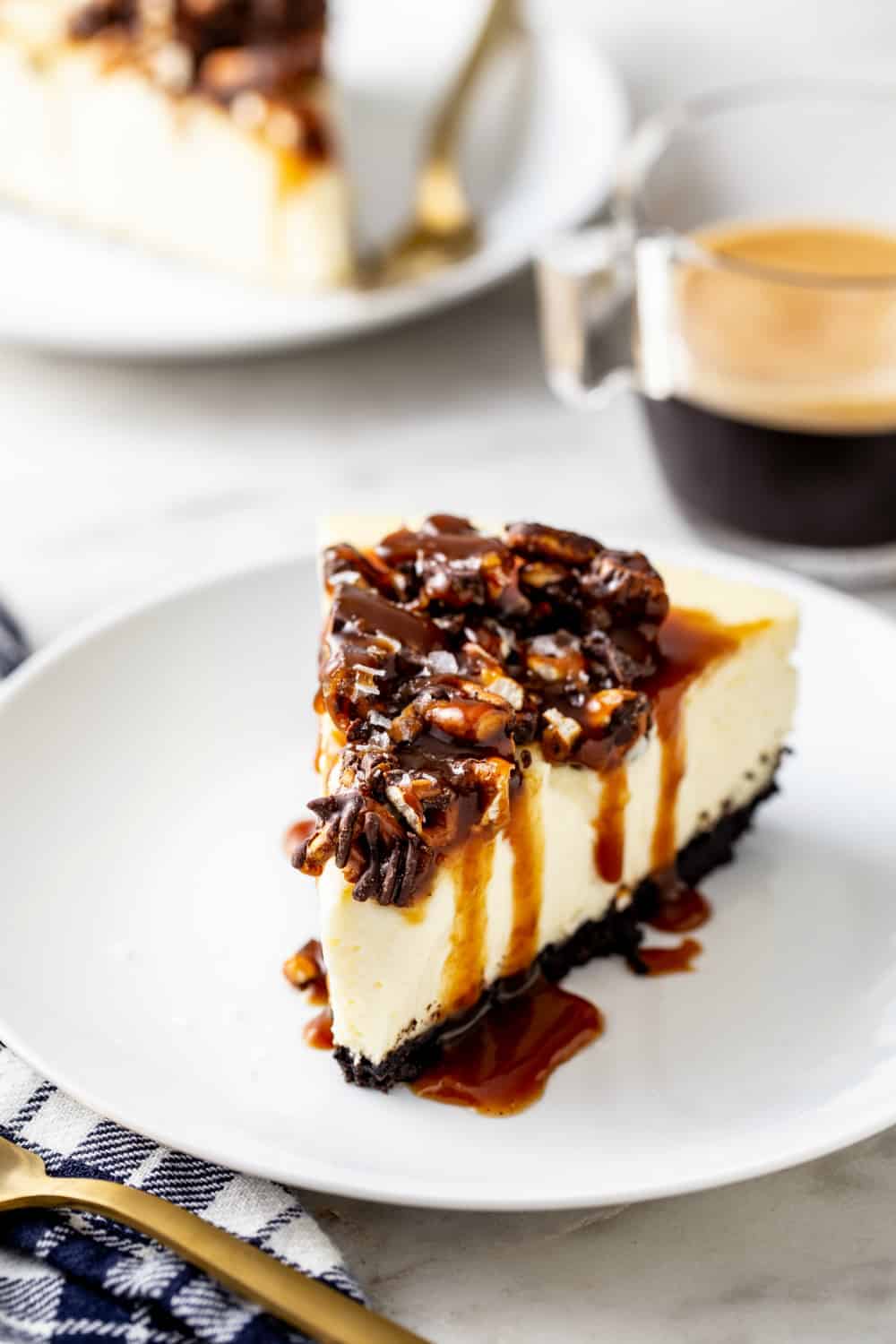 I had my heart set on key lime, but they were all sold out for the day, so we opted for triple berry and sweet and salty cheesecakes.
Since I love berries with cheesecake, I thought it would be the standout, but let me tell you, the sweet and salty cheesecake was incredible, so I just had to try the flavor combination in my own kitchen.
After testing this sweet and salty cheesecake recipe about 4 times, my cheesecake testers (Elle's school staff) can vouch that I finally got it right!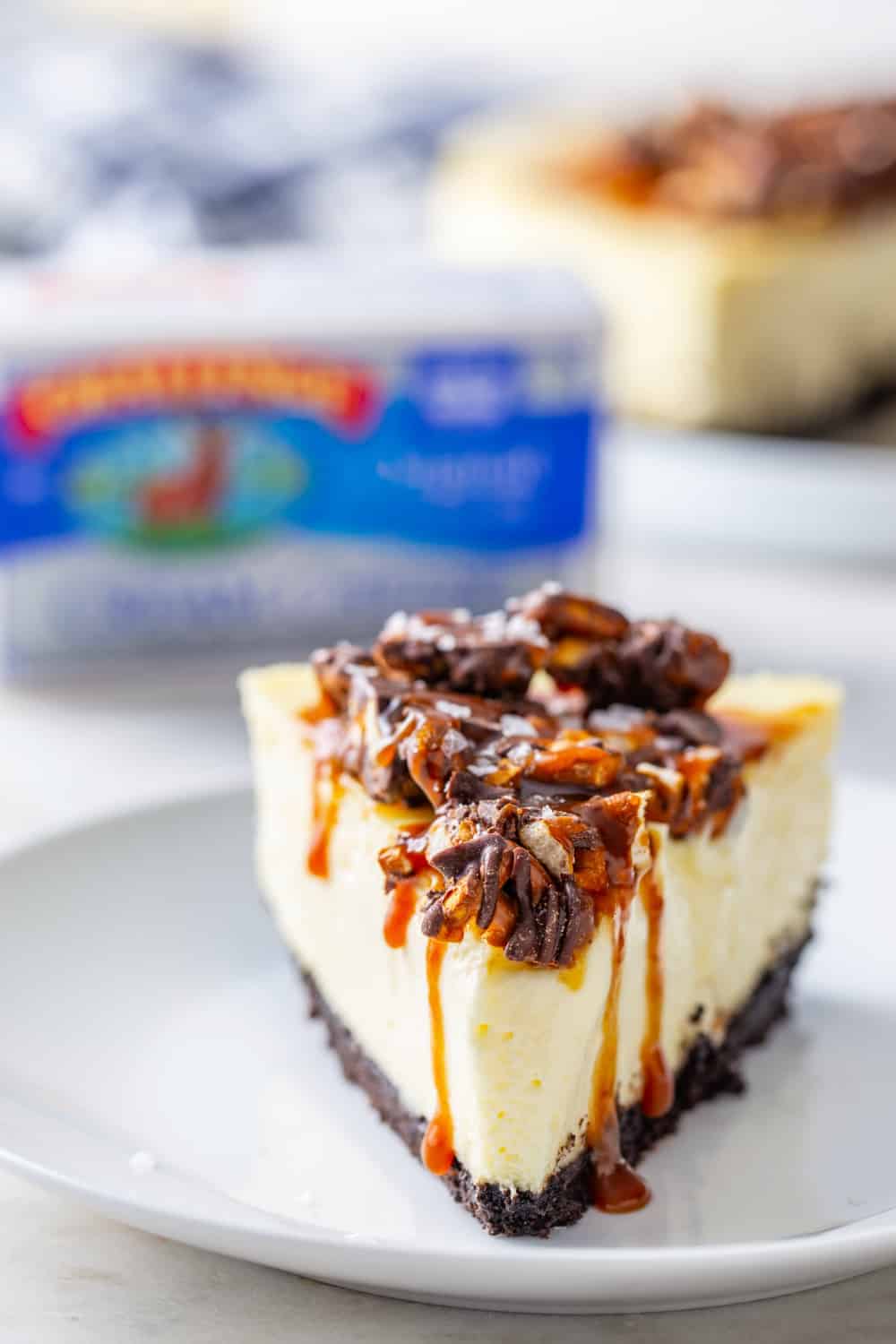 SALTY AND SWEET: THE PERFECT COMBINATION
It feels like people either love or hate the combination of sweet and salty.
Me? I am all for it.
Whether I'm spooning my salted caramel sauce into my mouth or actually enjoying the combination in salted chocolate chunk cookies or salted dark chocolate granola like a normal person, once I start eating something that's sweet and salty, I can't stop.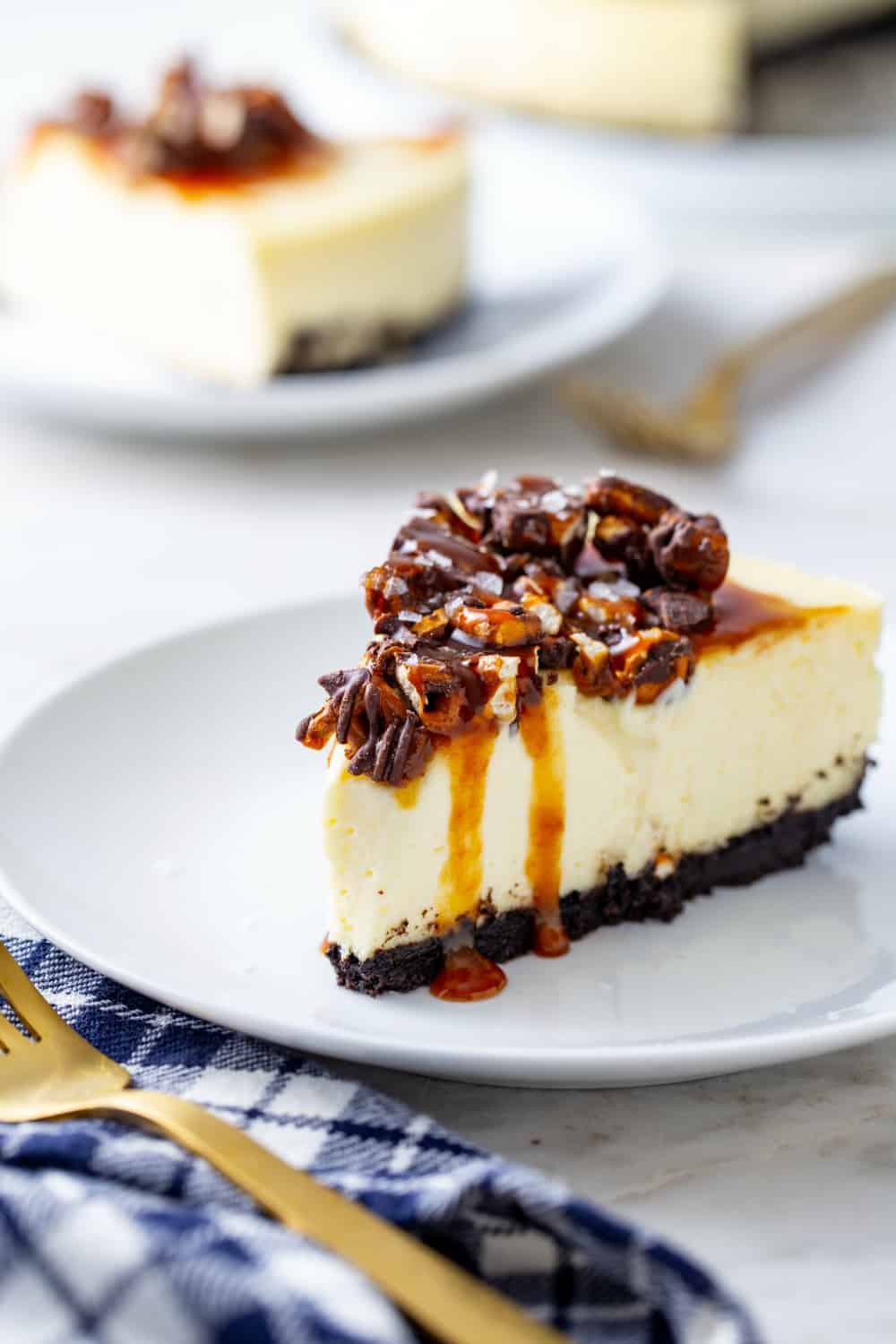 So this Sweet and Salty Cheesecake? It's got pretty much everything I need in one bite.
Creamy vanilla cheesecake on top of a chocolate crust? Check.
Rich salted caramel sauce? Check.
Crunchy, salty pretzels? Check, check, check.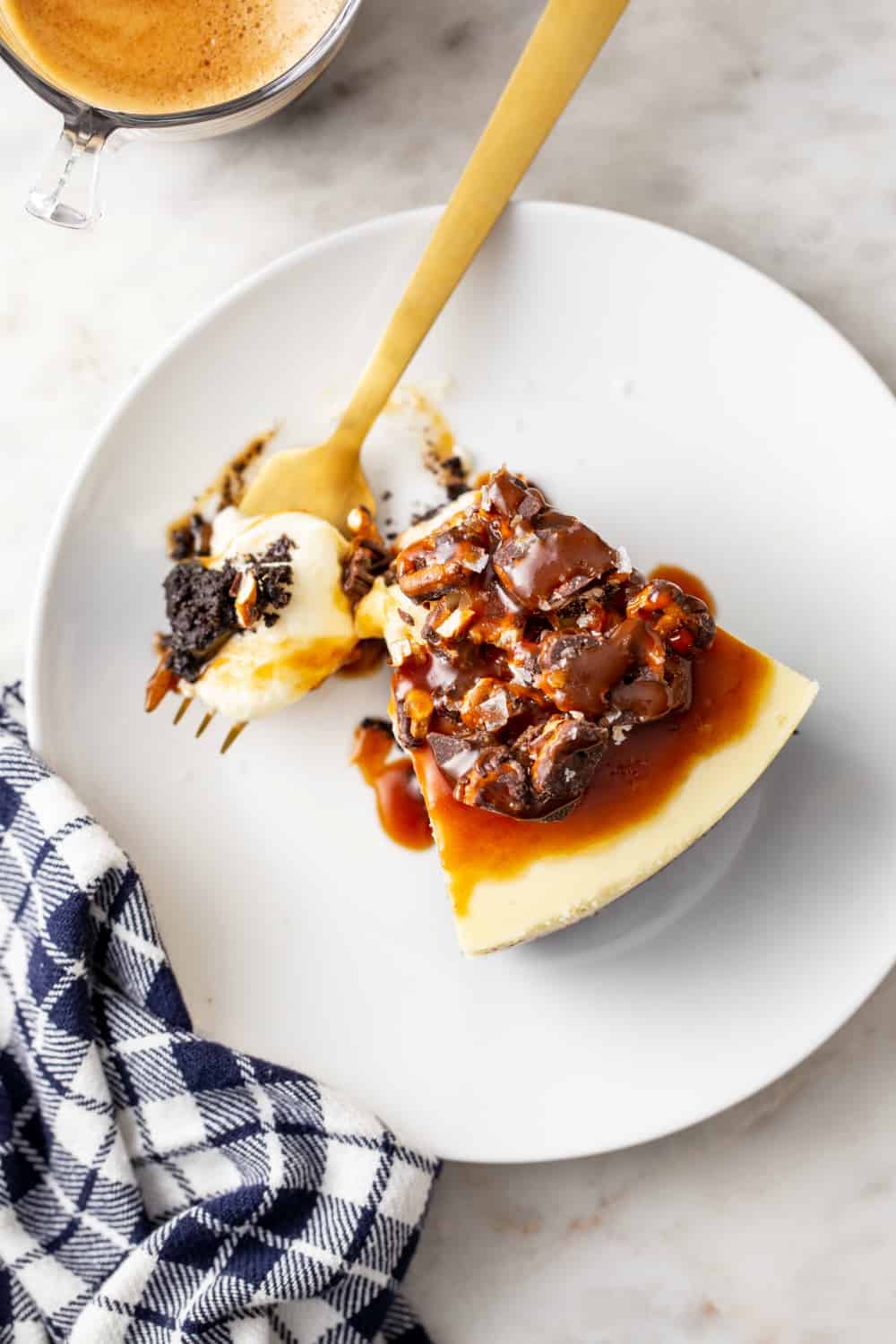 MAKING SWEET AND SALTY CHEESECAKE
Making this Sweet and Salty Cheesecake starts with a chocolate cookie crust. Different from making a graham cracker crust, this one only needs Oreos and my favorite Challenge Dairy Unsalted Butter.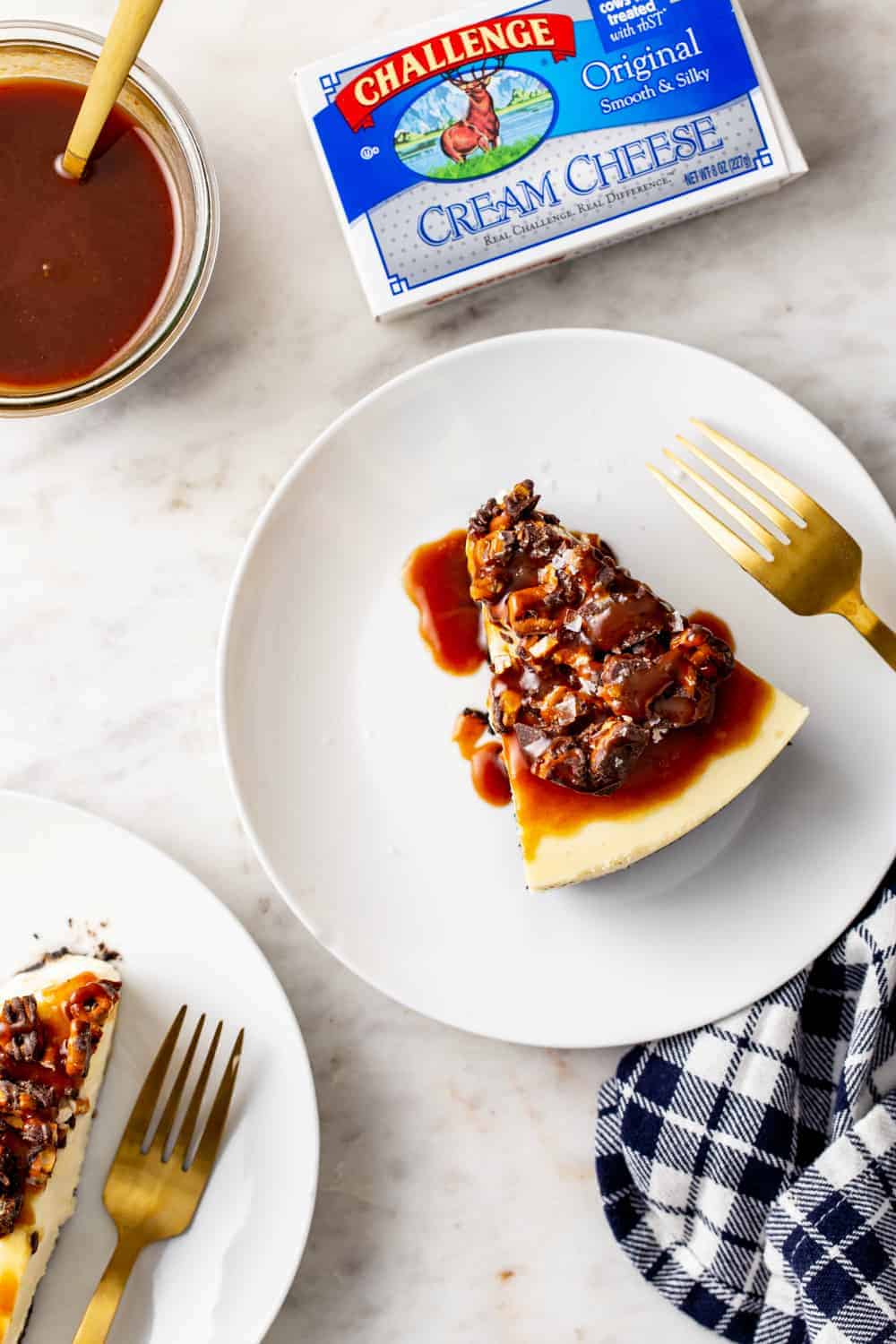 I've been working with Challenge Dairy for years because I truly believe in the quality of their products and use them daily in my home. From their butter to their cream cheese, we always have Challenge Dairy products in our fridge.
In fact, did you know that they are the only dairy product company that controls the whole process from milking the cows, to transporting milk, to packaging the product? How awesome is that?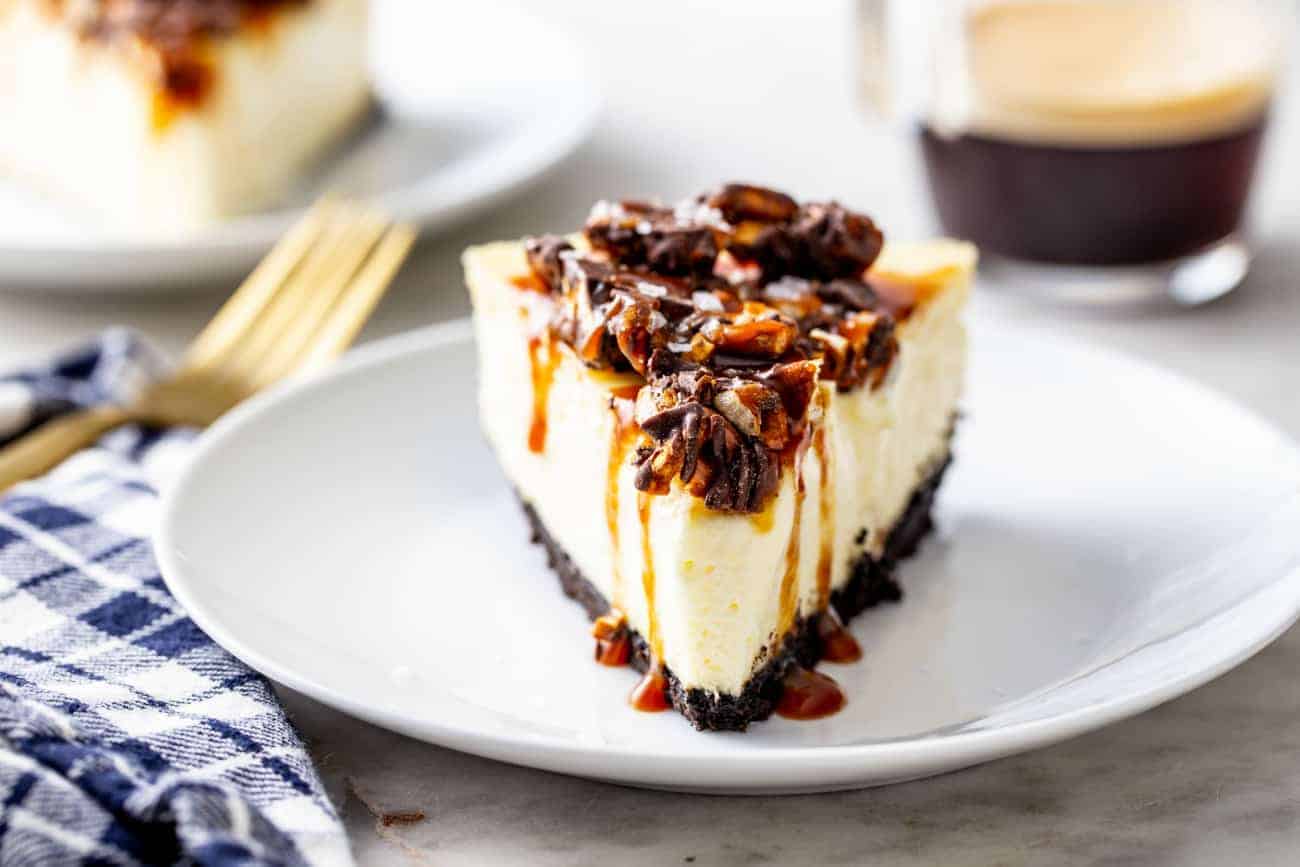 So of course I reach for their butter when making any cheesecake crust. I also grab Challenge Dairy Cream Cheese when making the vanilla cheesecake filling for this recipe.
I mean, if we are going to go all out on this recipe, we may as well use the best products around, right?
The filling for this recipe is a pretty standard vanilla cheesecake. The real magic happens after the cheesecake is baked (check out my guide for how to bake cheesecake in a water bath for tips on getting that crack-free top) and cooled.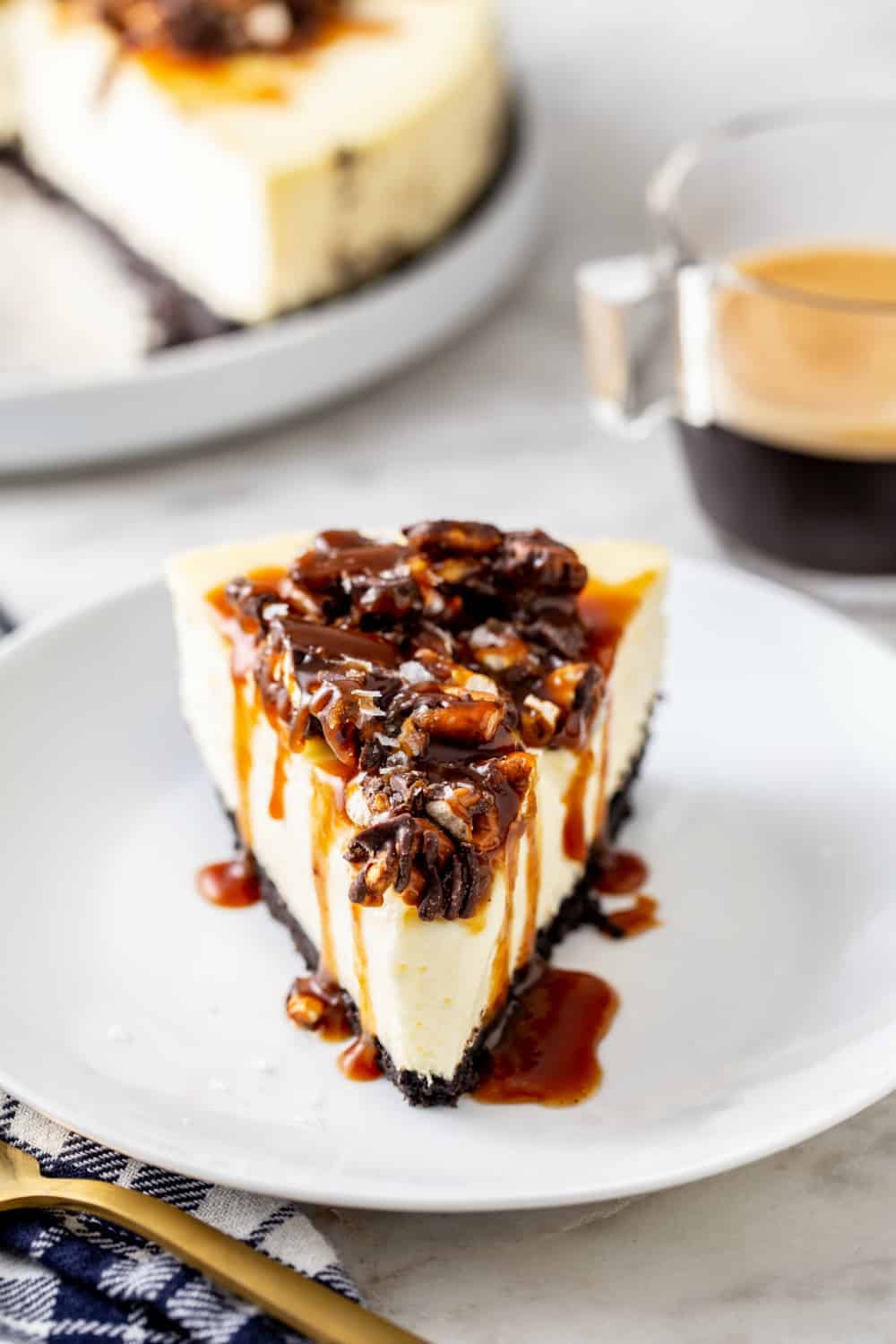 Just before serving, top the cheesecake with salted caramel sauce and chopped pretzels. I love using dark chocolate caramel pretzels for even more chocolate and caramel flavor, but you could use regular pretzels if that's what you have on hand.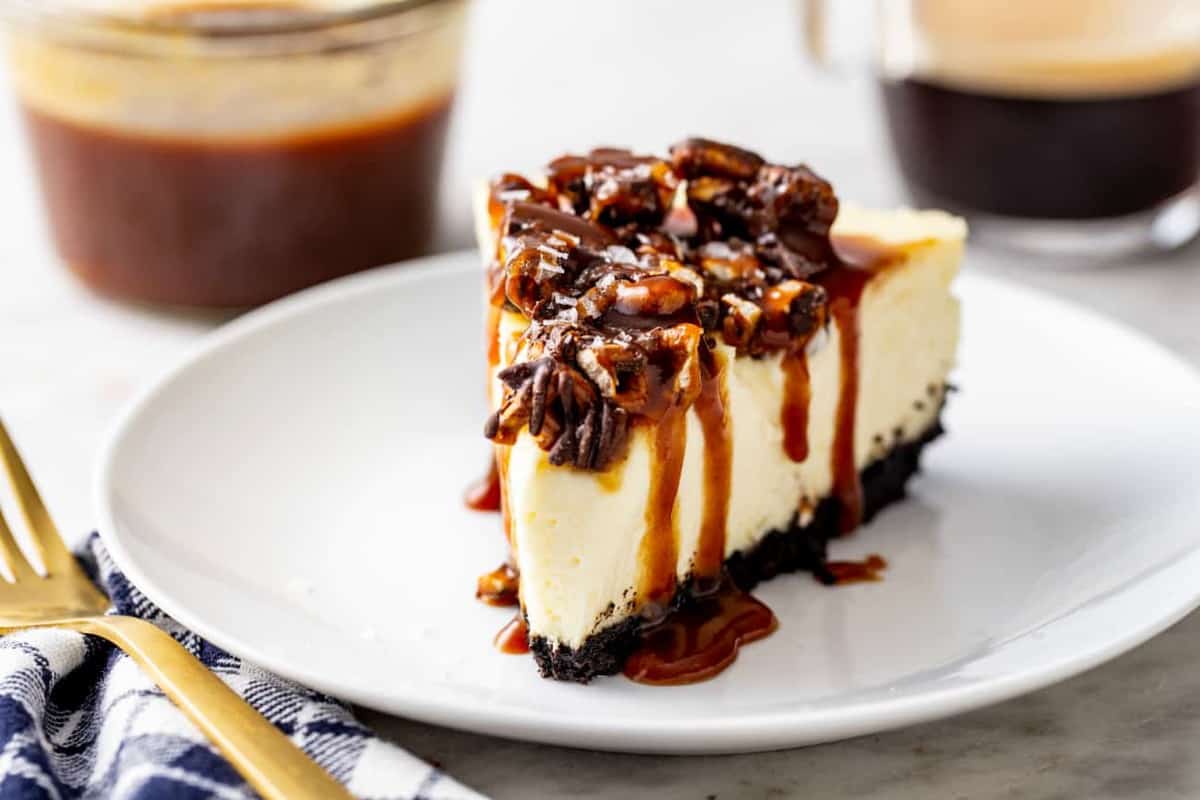 This Sweet and Salty Cheesecake is the ideal recipe for anyone who loves chocolate, caramel, and pretzels – especially combined!