Salted Dark Chocolate Granola is a deliciously crunchy ice cream topping, a rich addition to your morning yogurt, or just a good chocolate snack for your afternoon pick-me-up.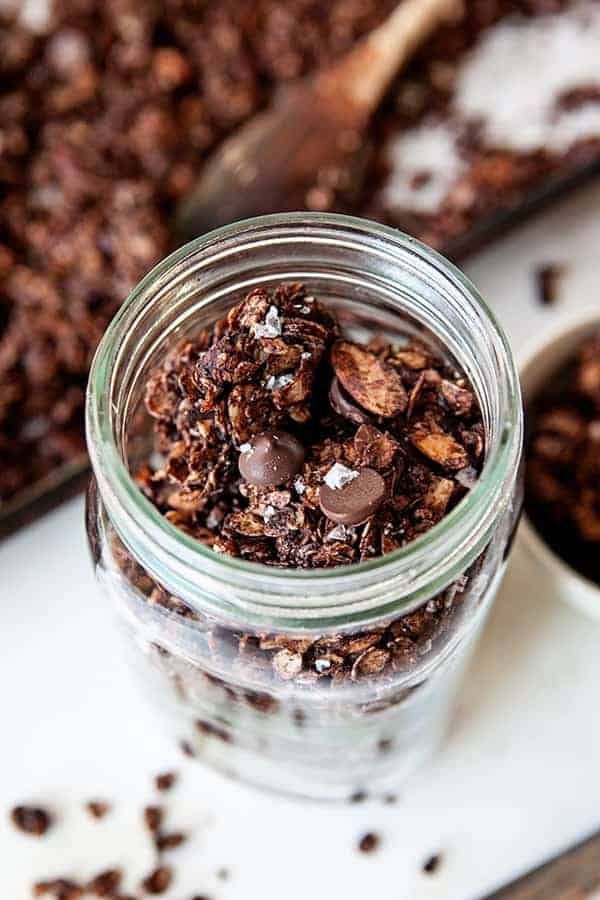 I really love granola but until recently I only thought of it as breakfast food.
I might occasionally pull out my Chunky Tropical Granola recipe for a snack, but more often we eat something like this Chai Spiced Sweet Potato Granola.
This Salted Dark Chocolate Granola, however, has completely changed my mind!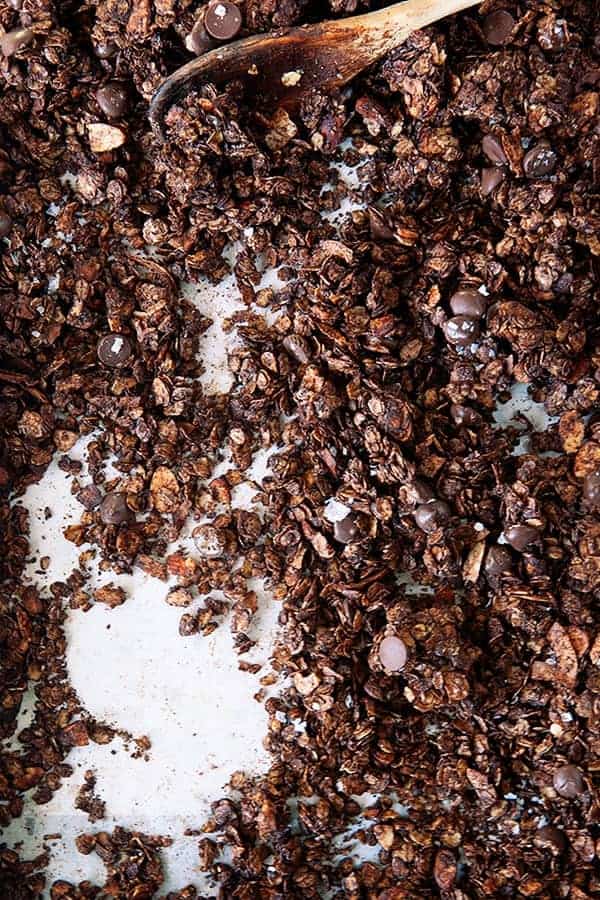 Like so many of my recipes lately, I got the idea for chocolate granola from my toddler. Like most toddlers, he goes from one food phase to another.
His latest food phase is wanting sweets for every meal. His preferred menu would look something like: Popsicles for breakfast, ice cream for lunch, pudding for dinner.
I don't let him eat desserts all day long, of course, but I have found that a little compromise goes a long way. So, to get him to eat his oatmeal for breakfast, I sprinkle in a few dark chocolate chips.
It's still a mostly healthy breakfast and he'll actually eat the whole bowl. I'm calling it a parenting win.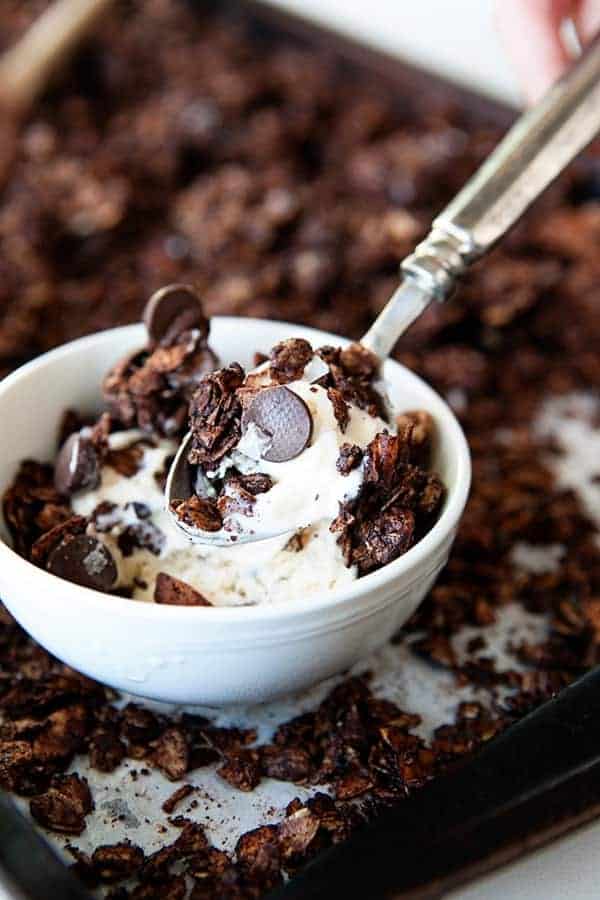 One morning recently, as I was serving up his oatmeal with chocolate, I had a little lightbulb moment. Chocolate chips with granola!
It morphed into this Salted Dark Chocolate Granola as I developed the recipe. To give this granola its rich, deep chocolate flavor, I added both cocoa powder and dark chocolate chips.
It's still a hearty granola with sliced almonds, sweetened lightly with maple syrup and brown sugar. The sea salt flakes add the perfect final touch, making this granola my favorite combination of sweet and salty.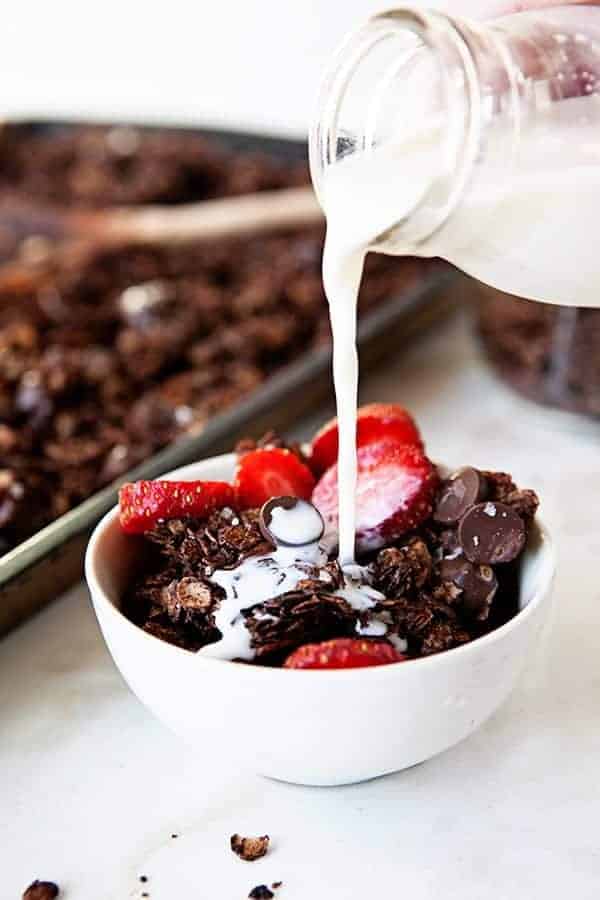 I have eaten this for breakfast. It's especially good with strawberries! After all, it is still granola and even with all the chocolate, it's not terribly unhealthy.
My favorite way to eat it though is as an ice cream topping. It's partly the crunch, partly the rich chocolate flavor, partly those tasty sea salt flakes. Combined, this granola becomes the most delicious treat.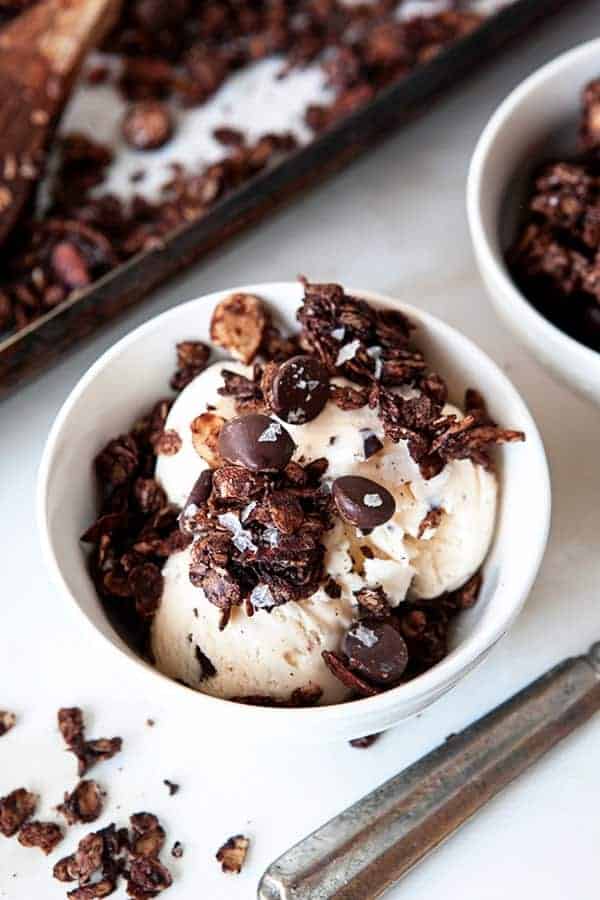 In my book, Salted Dark Chocolate Granola is the ultimate ice cream companion. Try it!
For more tasty granola recipes try Coconut Pecan Granola and Gluten Free Granola Parfaits.