Gluten-Free Granola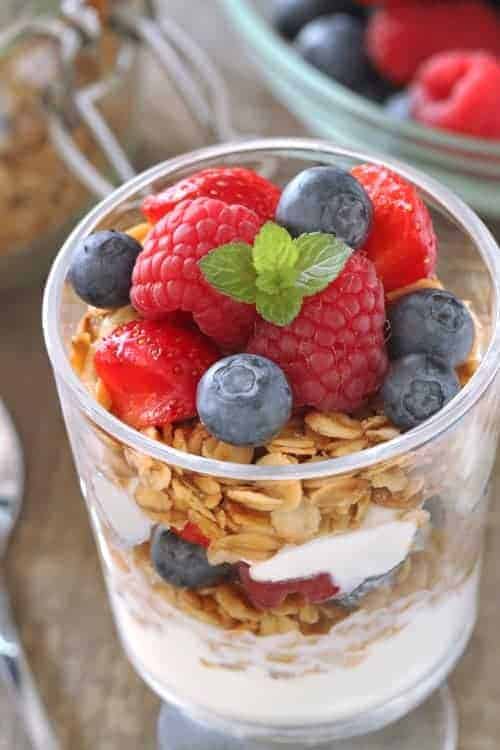 This healthy parfait recipe combines Greek yogurt, berries and homemade gluten-free granola for a quick and easy breakfast treat.
As much as I love baking a little more healthfully, I'm a terrible eater. My day normally starts off with a leftover brownie or piece of cake. I figure if I'm going to eat dessert, I might as well start the day on a happy note and eat it first thing. It's embarrassing.
These gluten-free parfaits are my attempt at a slightly less indulgent breakfast. There's a little honey and sugar in the granola but it's nothing compared to what's in the store-bought version! Have you ever read the nutrition label on a box of granola? It's both incredibly saddening (because it's so delicious!) and kind of horrifying.
The homemade gluten-free granola I used in these parfaits is super simple and calls for only a few ingredients, which you probably already have in your pantry. Speaking of ingredients, the two tablespoons of vanilla isn't a typo! Without the vanilla and almond extract, this granola just wouldn't taste like much, which is why I used so much.
While I thought the almond extract was obvious in the baked and cooled granola, my taste testers didn't even notice it until I told them and then they had something of an a-ha! moment. If you want more of an almond flavor, use 1 tablespoon of almond extract and only 5 teaspoons of vanilla. I wanted to keep the granola simple for the parfaits, but feel free to add in some almonds, other nuts or dried fruit ñ but only after the granola is fully baked.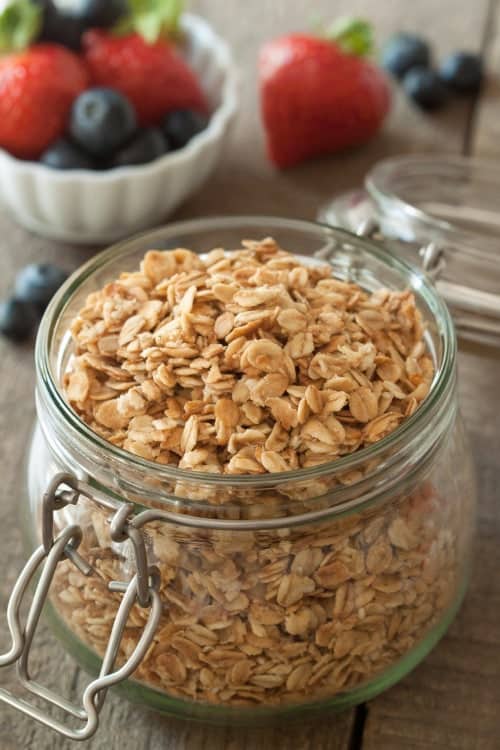 These parfaits are perfect for a healthy July 4th treat! The only drawback is that they can't be prepared in advanced as the granola tends to get soggy about 20-30 minutes after assembling. If you want to bring these to a picnic, a build-your-own-parfait station would be ideal! And if you use gluten-free oats, this is an amazingly simple gluten-free recipe that someone with no experience in gluten-free baking can make for their friends and family.
If you don't have much of a sweet tooth or you're looking for a really healthy breakfast granola, you can totally omit the sugar. I accidentally did that once and it was still sweet enough for pretty much everyone who tasted it, except for me and my enormous sweet tooth! Don't leave out the honey, though, as it'd be the only remaining sweetener.
If you're looking for something a bit more dessert-like, this gluten-free chocolate coconut granola is my all-time favorite. For other gluten-free July 4th treats, check out these gluten-free mini cheesecakes or this gluten-free strawberry rhubarb crumble.
Have a happy and safe 4th of July!
Gluten-Free Granola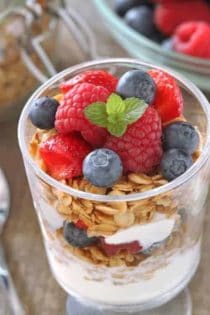 Ingredients:
For the granola:
4 cups gluten-free rolled oats
1/4 cup granulated sugar
6 tablespoons butter, coconut oil, or another type of vegetable oil
6 tablespoons honey
2 tablespoons vanilla extract
2 teaspoons almond extract
1/2 teaspoon salt
For each parfait:
1/4 cup granola
1/2 cup plain or vanilla Greek yogurt
1/2 cup mixed berries, rinsed and patted dry
Directions:
For the granola:
Heat the oven to 325 °F. Line a jelly roll pan with a piece of parchment paper.
In a large mixing bowl, stir together the sugar, butter, honey, vanilla extract, almond extract and salt. Stir in the oats.
Transfer the granola to the prepared jelly roll sheet and spread into an even layer.
Bake for 15-20 minutes, rotating the pan halfway through, until the granola near the edges of the pan starts to brown. Keep a close eye on it as all ovens are different. Stir the granola thoroughly and then bake for another 5-10 minutes or until uniformly lightly browned. The granola will still be soft but will crisp up as it cools.
Let the granola cool completely on the pan. Store in an airtight container for up to 3-4 weeks.
For the parfaits:
Layer 1/4 cup Greek yogurt into the bottom of a dessert glass (my glasses have a capacity of 10-ounces).
Top with 2 tablespoons granola, followed by 1/4 cup berries.
Do one more layer of yogurt, granola and berries.
Serve immediately.
Notes:
If you need these to be gluten-free, make sure all your products are certified gluten-free.
If you leave the granola container open and it becomes soft, you can crisp it back up by baking at 325 degrees F for 5-10 minutes.
Recipe from Texanerin Baking
All images and text ©
Follow Jamie on Instagram. We love to see what you're baking from MBA! Be sure to tag @jamiemba and use the hashtag #mbarecipes!
This post may contain affiliate links. We are a participant in the Amazon Services LLC Associates Program, an affiliate advertising program designed to provide a means for us to earn fees by linking to Amazon.com and affiliated sites.