Salted Chocolate Chunk Cookies are a sweet and salty simple treat. Perfect for tucking into your work lunchbox and for summertime treats around the pool too.
A couple of weeks ago I decided to rekindle my relationship with Rachael Ray. And by relationship, I mean watching her daytime talk show on NBC. Although I'm not much of a TV watcher, I've always enjoyed watching cooking shows – especially Rachael's. She's definitely a talker, but I adore her relatable personality and easy to follow recipes.
Since I loathe watching live TV almost as much I loathe cleaning toilets, I DVR the show and watch it while I'm baking or cooking dinner. I've been reminded that Rachael is, at her core, passionate about food – and that kind of passion makes you want to get into the kitchen and whip up something.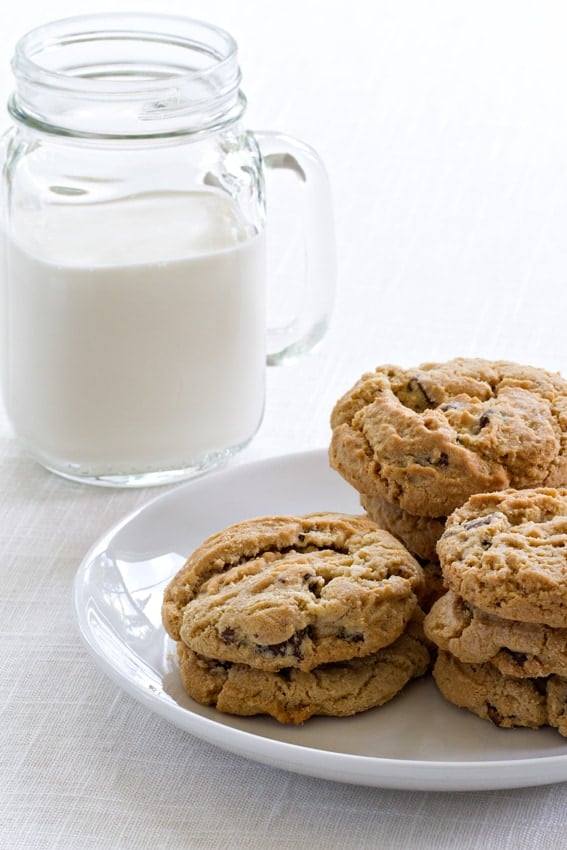 If you've ever tuned into one of her shows, you're probably aware of the fact that she's not much of a baker. So when she was raving about Grant's Chocolate Chip Cookies, I had to print the recipe up immediately. First of all, I love anything sweet that is also salty, but ground oatmeal in the recipe also piqued my interest. I imagined the addition of ground oatmeal could create one heck of a cookie and texture, and that it did. The additional sprinkling of salt makes them absolutely exceptional.
Typically I bake very early in the morning before everyone is awake, or while Elle is taking her afternoon nap. But when I made these cookies, she was in the kitchen helping me every step of the way. From whisking together the dry ingredients and cracking eggs, to scooping out balls of dough – my little babe was so incredibly involved throughout the entire process.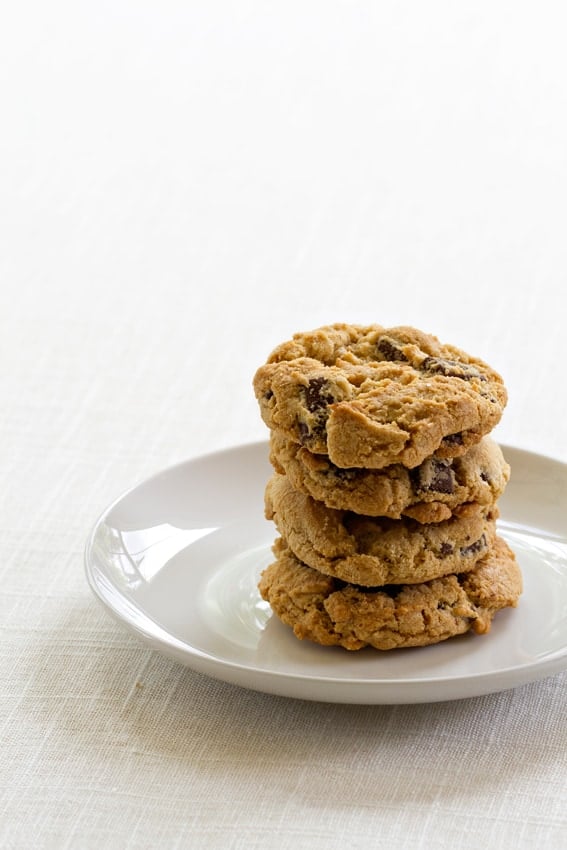 If you follow me on Instagram, you may remember seeing a photo my little cutie pouring flour into a bowl. She's been walking around the house with her own mixing bowls and whisk, creating imaginary cookie dough to feed Elmo and Cookie Monster ever since – which is pretty stinkin' cute!
This recipe will forever bring back those memories for me, which makes it even sweeter. But aside from all that, this is a really good cookie. The kind of cookie you imagine when you've got a hankering for one.
Try my method for how to freeze cookie dough with this recipe and you'll even be able to bake them up any time!
Make them right now – and DVR Rachael for later! Trust me – you'll enjoy that perky cook.
Looking for more chocolate chip cookie recipes? Be sure to try these Gluten-Free Chocolate Chip Cookies and these Chocolate Chip Graham Cracker Cookies! Chocolate chip cookies for the win!