These gluten-free chocolate chip cookies are perfectly soft and chewy and are sure to rival your current favorite!
Before trying these gluten-free chocolate chip cookies, I hadn't really found a gluten-free version that I loved just as much as the traditional kind with gluten. My previous attempts were either gritty or lacking in chewiness. Being as I don't have any issues with gluten, I decided to just be lazy and go back to making my favorite recipe.
When I decided to give it another shot, what I was really hoping for was a gluten-free version of my favorite chocolate chip cookies – the New York Times chocolate chip cookies. If you've never tried them, you owe it to yourself to make them! I've even made a healthier version of those cookies which are just as delicious.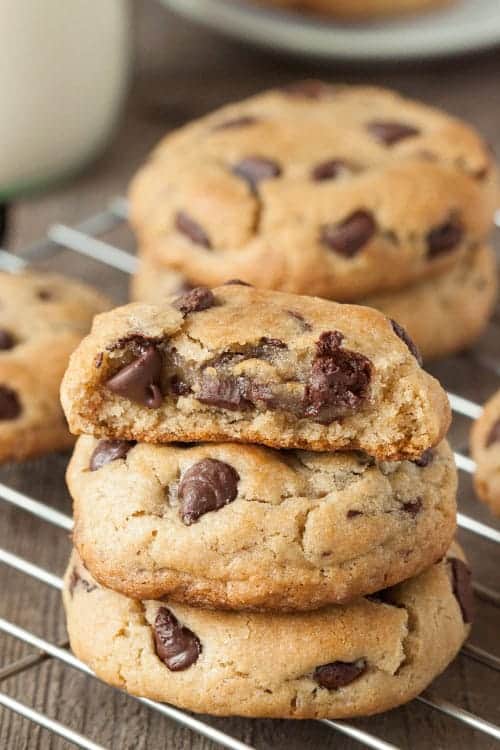 So I found a recipe for gluten-free chocolate chip cookies on the Land O'Lakes website that looked really promising, but I did a few things more like in the original NYT recipe since my goal was to recreate those. First, I refrigerated the dough for 24 hours, which contributes to the awesome texture of the NYT cookies. Then, to get mega-sized cookies, I weighed out 3 1/2-ounce balls of dough. When they came out of the oven, they looked absolutely gorgeous but when I bit into them, I was totally disappointed.
They were extremely gritty and cakey. I remade version after version, all coming out dismally, until I finally decided to just follow the instructions in the original Land O'Lakes recipe. And they came out perfectly!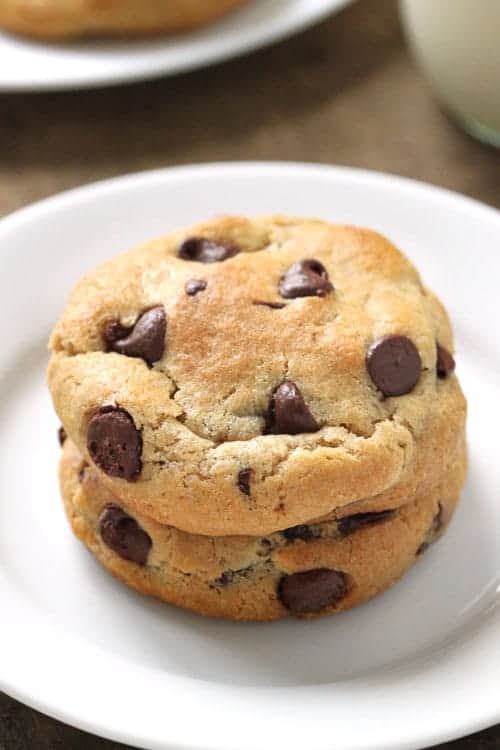 They're not as monstrous as the New York Times cookies, but they're just as chewy and tasty and there's absolutely nothing funky going on with the texture. I shared them with a few people and nobody had a clue that they were gluten-free. And as a bonus, you don't have to chill the dough because it doesn't have any effect on the texture.
I've provided gram measurements for the flour and recommend using them if you have a scale. Most people measure flour a little differently and when it comes to gluten-free baking, which can be a little more finnicky than traditional baking, I much prefer to weigh the ingredients to ensure success. As far as making substitutions for the gluten-free flours listed, I've only tested these with the listed flours so I can't say if any others would work or not. If you experiment, let us know how it goes in the comments!
For more delicious gluten-free recipes, be sure to check out this Gluten-Free Strawberry Rhubarb Crumble and these Gluten-Free Lava Cakes!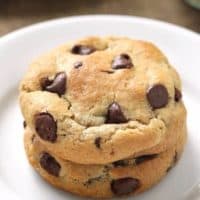 Gluten-Free Chocolate Chip Cookies
These gluten-free chocolate chip cookies are perfectly soft and chewy and are sure to rival your current favorite!
Ingredients
1 1/2 cups (240 grams) white rice flour
1/2 cup (96 grams) potato starch (not potato flour)
1/4 cup (30 grams) tapioca flour
1 teaspoon xanthan gum
1 teaspoon baking powder
1 teaspoon baking soda
1/2 teaspoon salt
3/4 cup unsalted butter, softened
3/4 cup firmly packed brown sugar
1/2 cup granulated sugar
2 large eggs, room temperature
1 tablespoon vanilla extract
1 12-ounce package (2 cups) semi-sweet chocolate chips, divided
Instructions
1. Preheat the oven to 375 degrees F. Line a baking sheet with a piece of parchment paper.
2. In a medium mixing bowl, stir together the rice flour, potato starch, tapioca flour, xanthan gum, baking powder, baking soda and salt. Set aside.
3. In a large mixing bowl using an electric hand mixer or a stand mixer fitted with the beater blade, beat the butter, brown sugar and granulated sugar until light and creamy. One at a time, add the eggs and beat until well combined. Add the vanilla and then gradually add in the flour mixture. Beat just until combined. Stir in 1 1/2 cups chocolate chips.
4. Form balls of dough, about 50 grams or a little less than 3 tablespoons in size, and roll the tops and sides of the balls in the remaining 1/2 cup chocolate chips. Place the balls 2 1/2" apart on the prepared baking sheet.
5. Bake for 9-12 minutes or until lightly browned and the surface no longer appears wet.
6. Let cool for 5 minutes and then remove to a wire rack to cool completely. Store in an airtight container for up to 4 days.