These super decadent gluten-free lava cakes have a raspberry center and make just enough for two!
My husband and I don't really do anything special for Valentine's Day but I always use it as an excuse to make something a little more sinful than I'd normally make – like these raspberry lava molten cakes! I had previously made these molten lava cakes for two with whole wheat flour but wanted to make a gluten-free version to share today. It was a surprisingly easy adaption to make – I just used buckwheat flour. So simple!
Like I mentioned in my gluten-free mint chocolate chip brownies post, buckwheat tastes pretty funky but once cocoa powder comes into play, you absolutely can't taste it. I really doubt anyone would be able to tell the difference between these gluten-free molten lava cakes and a version made with all-purpose flour.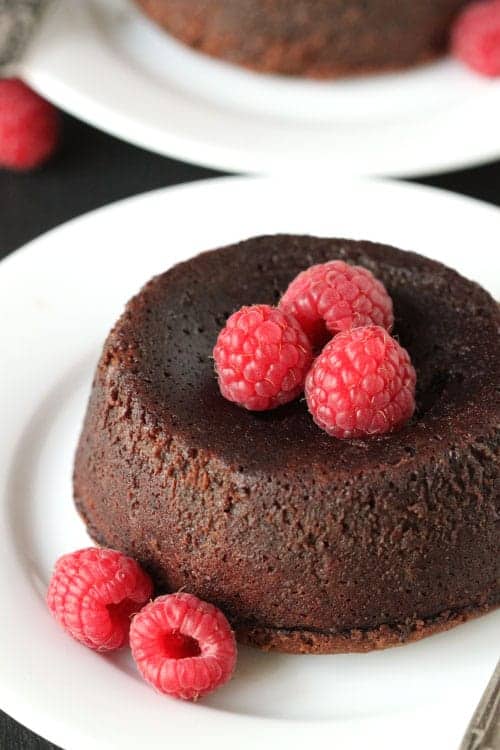 You can't really see by the pictures, but there's just as much chocolate lava as there is raspberry filling. I must have cut into the cake at a very raspberry-filled point because there's only 1 1/2 tablespoons of raspberry filling per cake. It doesn't sound like much but I thought it was the perfect amount!
These are extremely rich and you may even want to split one if you're actually eating this for dessert after a meal and not as your entire breakfast (whoops). If you need more than two, you can easily double the recipe. If you're having a bigger dinner party, try Jamie's flourless chocolate cakes. They're also gluten-free and would be perfect for Valentine's Day!
Halving the recipe, on the other hand, isn't as simple. I do a lot of small batch baking and half an egg yolk just isn't something I like dealing with. If you only want one lava cake, I suggest making the full batch, which is only two, and then freezing the other one. You can save it for a bad day or if you're like me, come across it 3 months later and squeal with joy over your forgotten lava cake. They can also be refrigerated for a few days. Once refrigerated, they're like straight up fudge, but you can microwave them at half power for 10 seconds to get them back to the more lava-like state.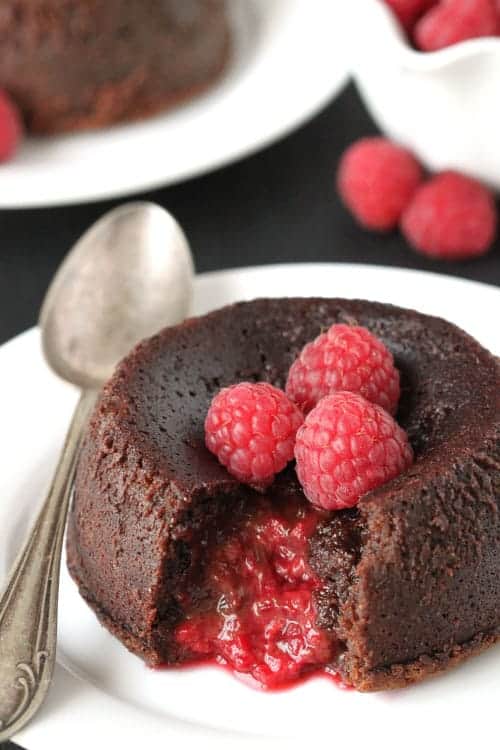 I've seen raspberry molten lava cake recipes that call for coating the raspberries in raspberry jam, but I think in combination with the rich, chocolatey cake, the raspberry filling is perfect as is. If raspberries aren't your thing, you can leave them out and bake the lava cakes a minute or two less.
No matter how you spend Valentine's Day, I think these raspberry molten lava cakes would be a great addition. You just can't go wrong with oozing raspberry and chocolate sauce!