These super fudgy gluten-free mint chocolate brownies couldn't be simpler and are a perfect Christmas treat!
When it's time to plan my Christmas dessert menu, something with chocolate and mint always makes its way to the top of the list. It has such a soothing effect, which is always nice after weeks of holiday preparation!
I've made these mint chocolate brownies a few different ways and my favorite version is also the easiest one to make. Add peppermint extract to the batter and instead of adding frosting, just toss in some chocolate chips! Make sure to use peppermint extract and not mint extract, which tastes more like spearmint and doesn't complement chocolate very well.
If you prefer cakey brownies, you'll want to try another recipe as these are incredibly gooey and fudgy, as long as you don't overmix the batter or overbake the brownies. They're also intensely chocolatey. The key to that is Dutch-process cocoa powder, which imparts a darker and deeper chocolate taste than regular cocoa powder. If you don't have access to it, I recommend Hershey's Special Dark cocoa powder.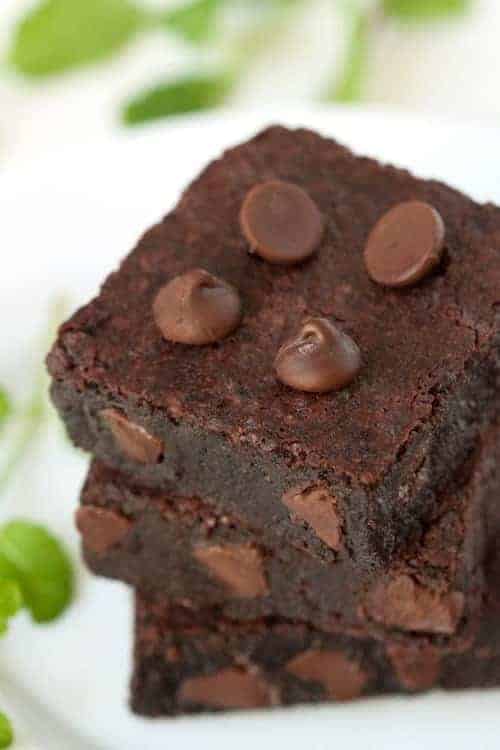 Have you ever baked with buckwheat flour? I was interested in it because it's 100% whole grain, although it's actually not a grain at all, but a seed. I've tried so many recipes with buckwheat and had to throw them all away with the exception of the cocoa powder based treats.
Buckwheat flour is an acquired taste, which I personally think tastes like dirt, but in these mint chocolate brownies, you can't taste it at all. These brownies really taste like they were made with all-purpose flour, despite being gluten-free and whole grain. If you don't have buckwheat, these brownies work just as well with whole wheat flour and if you want to use all-purpose flour, I'd recommend making Jamie's thin mint brownies.
You can leave out the mint extract if you're not a mint chocolate fan and toss in up to 1 cup of whatever add-ins you'd like. Peanut butter chips, nuts, or candy would all work wonderfully here. If you're as crazy about the mint chocolate combination as I am, be sure to check out my gluten-free mint double chocolate cookies.
Looking for More Gluten-Free Desserts?