Gluten-Free Mint Chocolate Chip Brownies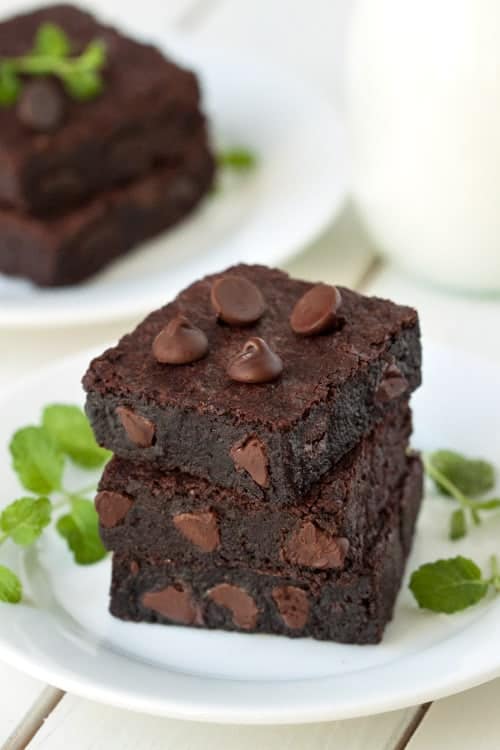 These super fudgy gluten-free mint chocolate brownies couldn't be simpler and are a perfect Christmas treat!
When it's time to plan my Christmas dessert menu, something with chocolate and mint always makes its way to the top of the list. It has such a soothing effect, which is always nice after weeks of holiday preparation!
I've made these mint chocolate brownies a few different ways and my favorite version is also the easiest one to make. Add peppermint extract to the batter and instead of adding frosting, just toss in some chocolate chips! Make sure to use peppermint extract and not mint extract, which tastes more like spearmint and doesn't complement chocolate very well.
If you prefer cakey brownies, you'll want to try another recipe as these are incredibly gooey and fudgy, as long as you don't overmix the batter or overbake the brownies. They're also intensely chocolatey. The key to that is Dutch-process cocoa powder, which imparts a darker and deeper chocolate taste than regular cocoa powder. If you don't have access to it, I recommend Hershey's Special Dark cocoa powder.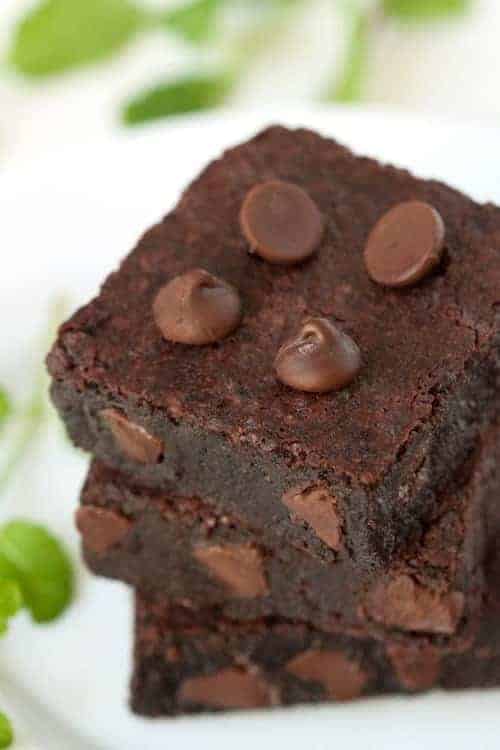 Have you ever baked with buckwheat flour? I was interested in it because it's 100% whole grain, although it's actually not a grain at all, but a seed. I've tried so many recipes with buckwheat and had to throw them all away with the exception of the cocoa powder based treats.
Buckwheat flour is an acquired taste, which I personally think tastes like dirt, but in these mint chocolate brownies, you can't taste it at all. These brownies really taste like they were made with all-purpose flour, despite being gluten-free and whole grain. If you don't have buckwheat, these brownies work just as well with whole wheat flour and if you want to use all-purpose flour, I'd recommend making Jamie's thin mint brownies.
You can leave out the mint extract if you're not a mint chocolate fan and toss in up to 1 cup of whatever add-ins you'd like. Peanut butter chips, nuts, or candy would all work wonderfully here. If you're as crazy about the mint chocolate combination as I am, be sure to check out my gluten-free mint double chocolate cookies.
Gluten-Free Mint Chocolate Chip Brownies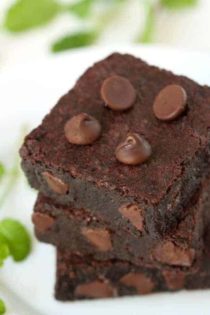 Ingredients:
1 cup buckwheat flour (for a gluten-free version) or whole wheat flour (for a non-GF version)
3/4 cup Dutch-process cocoa powder, sifted if lumpy
1/4 teaspoon salt
3/4 cup + 1 tablespoon unsalted butter or coconut oil*, melted and cooled slightly
1 1/2 cups (300 grams) granulated sugar
1 teaspoon vanilla extract
2 teaspoons peppermint extract
3 large eggs, room temperature
1 1/4 cups semi-sweet chocolate chips or other add-ins
Directions:
1. Preheat the oven to 350°F and line an 8"x8" pan with parchment paper.
2. In a medium mixing bowl, stir together the flour, cocoa powder, and salt. Set aside.
3. In a large mixing bowl, stir together the melted butter or coconut oil, sugar, and vanilla and peppermint extracts. Once combined, add the eggs one at a time, and stir just until combined.
4. Add the dry mixture to the wet and stir just until almost no streaks of flour remain. Do not overmix! Fold in 1 cup chocolate chips.
5. Pour the batter into the prepared pan and bake for 16-20 minutes or until the brownies have formed a thin crust and appear set in the middle. A toothpick inserted into the center or sides will come out wet. The brownies will continue to bake as they sit in the pan and will firm up as they cool.
6. Sprinkle 1/4 cup additional chocolate chips on top, if desired.
7.Let cool completely and then cover and store at room temperature for up to 4 days.
Notes:
* I prefer to use refined coconut oil, which has no coconut taste or smell. If you use unrefined coconut oil, these will likely have some coconut flavor to them.
All images and text ©
Follow Jamie on Instagram. We love to see what you're baking from MBA! Be sure to tag @jamiemba and use the hashtag #mbarecipes!
Looking for More Gluten-Free Desserts?
Gluten-Free Pecan Tarts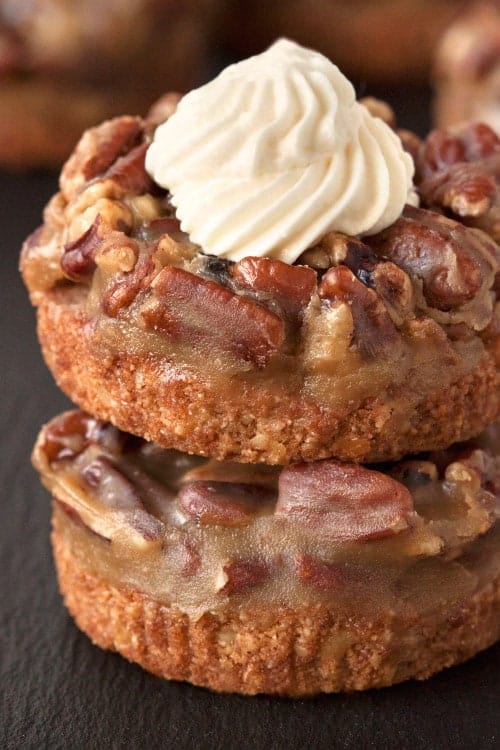 Gluten Free Apple Spice Cookies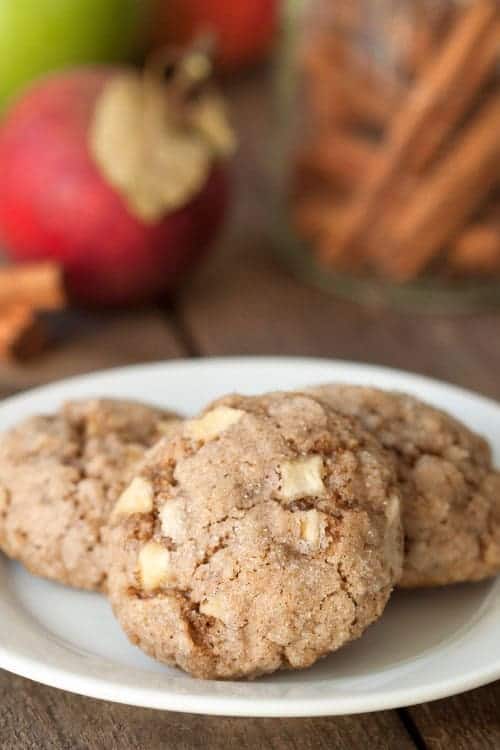 This post may contain affiliate links. We are a participant in the Amazon Services LLC Associates Program, an affiliate advertising program designed to provide a means for us to earn fees by linking to Amazon.com and affiliated sites.