These soft gluten-free apple spice cookies are bursting with fall flavor and because they're oat-based, also happen to be 100% whole grain.
Hi there! I'm Erin from Texanerin Baking, where I blog all about healthier whole grain, gluten-free and grain-free sweets that taste just as yummy as the original not-so-healthy versions. I'll be over here from time to time to share some gluten-free treats with you, starting off with these gluten-free apple spice cookies.
I adapted them from my 100% whole grain chewy oatmeal raisin cookies. It's my favorite oatmeal cookie base and I figured that it'd probably be easy enough to make gluten-free. I added some almond butter to help hold everything together, which is usually gluten's job, and I replaced the whole wheat flour with oat flour. Oat flour is simply ground up oats but it can be quite expensive. Luckily, you can make your own by finely grinding quick or rolled oats in a food processor or coffee grinder. I also increased the cinnamon and added some nutmeg and cardamom, which compliments the apple nicely and turns regular oatmeal based cookies into spice cookies that are just perfect for fall!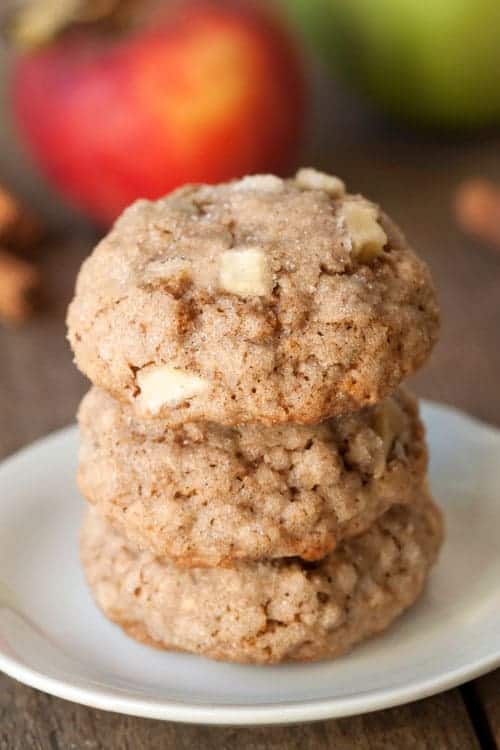 While these apple spice cookies aren't quite as chewy as the original oatmeal raisin recipe, they're wonderfully soft and just a little chewy. I found also that rolling the cookie dough in sugar adds a thin, crisp sugary crust that makes these cookies all the more irresistible.
Because I used oats and oat flour, these apple cookies are 100% whole grain in addition to being gluten-free. While oats are naturally gluten-free, they're often contaminated in the field or during production, so it's necessary to buy certified gluten-free oats if you need these cookies to be gluten-free.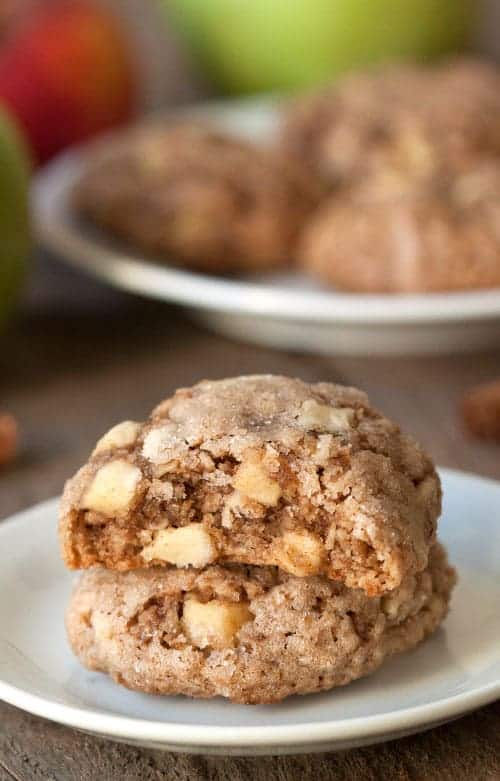 I often get asked if rolled oats can be used in place of quick oats and vice versa. Sometimes it's okay but in these, I definitely recommend quick oats because they yield chewier and less cakey cookies. Coconut oil also contributes to a chewier texture and makes these cookies dairy-free, and while butter does work here, it yields a slightly cakier cookie. I'm all about giving people options so if you don't need a gluten-free version, you can use whole wheat flour (and I'm guessing all-purpose flour would work, too) in place of the oat flour and omit the almond butter.
A lot of gluten-free recipes call for several special flours and other ingredients most non-gluten-free households typically don't have. If you've been wanting to bake something special for friends or family with gluten sensitivities, these soft apple spice cookies are the way to go!