Caramel Coconut Chocolate Chip Cookies are brimming with chocolate, caramel chips, coconut and pecans to create the most popular cookie I've ever made. People will be begging you for the recipe!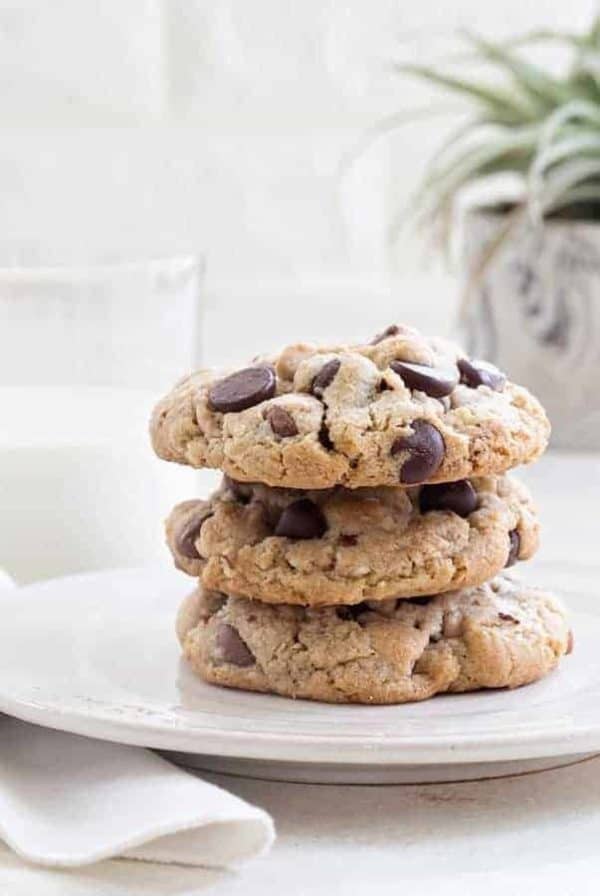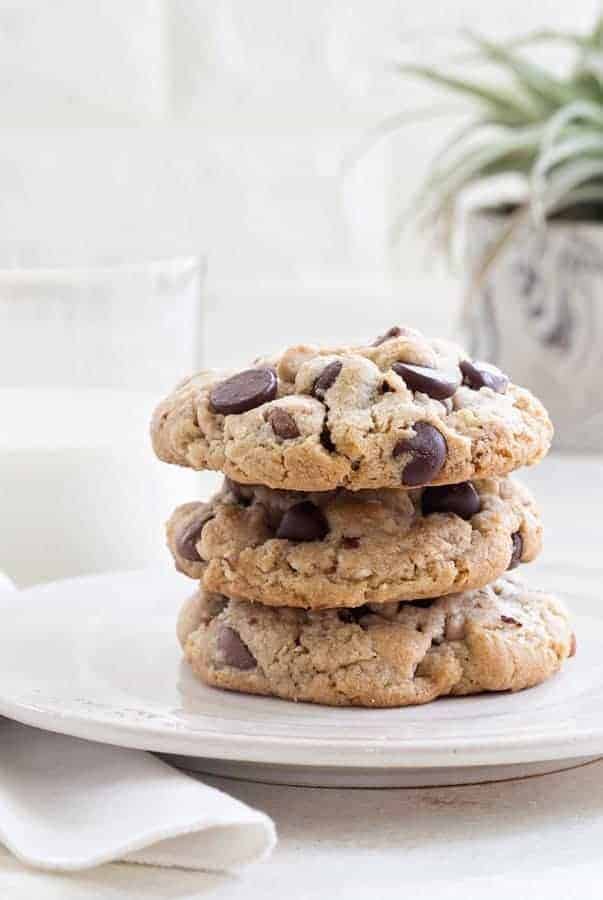 You guys, I've been keeping these Caramel Coconut Chocolate Chip Cookies from you for months. Not intentionally, but because everyone loves them so much, they disappear almost immediately.
I've been baking for years and I've made countless chocolate chip cookie recipes, but this particular recipe has received so much hype in my inner circle over the past few months, it's kind of become my new signature dessert.
Do you have a signature recipe? You know, the recipe that everyone expects you to make and bring to everything and they're super bummed if you show up with store bought fruit salad instead?
If you don't, this one will quickly become that recipe for you.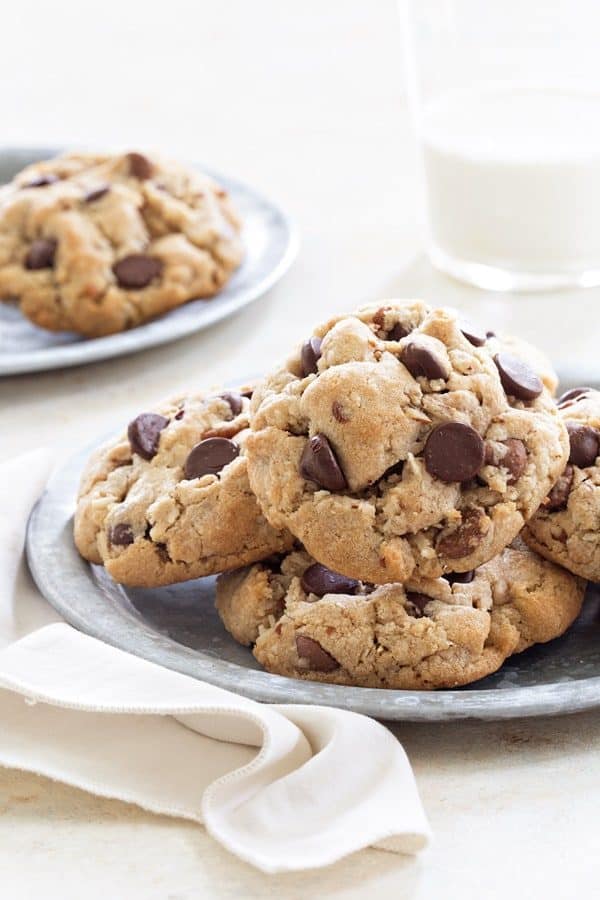 These Caramel Coconut Chocolate Chip Cookies came about back in the spring when I picked up a few packages of the Ghirardelli Caramel Chips at Target. Since I'm a huge caramel fan, I tried them as soon as I got home, but was kind of underwhelmed. Just being honest here.
However, later that week I was cleaning out the pantry and decided to whip up my favorite chocolate chip cookie dough and added in some ingredients that I needed to use up.
I ended up creating a dough loaded with dark chocolate chips, caramel chips, unsweetened coconut, and pecans. Kind of like a Samoa version of a chocolate chip cookie.
And folks, in the words of one of the guys that worked on our patio, they're mind-blowing, died and gone to heaven good. I mean, can you get a better review than that?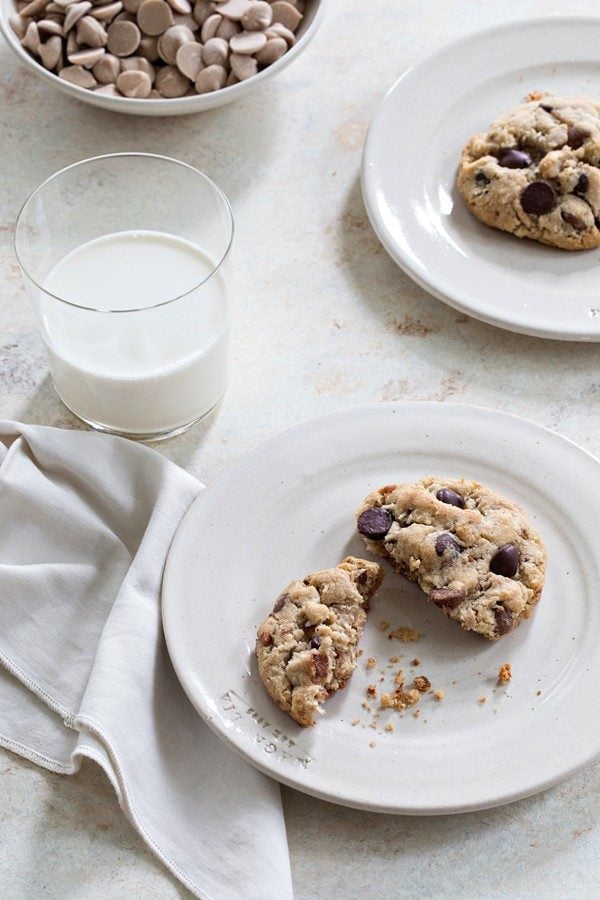 The first couple of times I made these, I shared them with our neighbor who described them as the best cookies she had ever eaten. After my family freaked over them, I knew I had to share them with you, but every single time I've made them, they were gone before I had a chance to photograph them.
If you caught my post for Greek Pasta Salad, you know that we're having our patio installed. And let's just put it this way – I've been a real pain in the ass and have changed several things after they've been installed.
Lucky for me, the crew has been awesome and they just chuckle when I head outside and ask them to measure things for symmetry or question a paver or two that just isn't quite right.
Yesterday was their last day on the job, so we picked up lunch for them at Chipotle and served up these fresh-out-of-the-oven Caramel Coconut Chocolate Chip Cookies for dessert.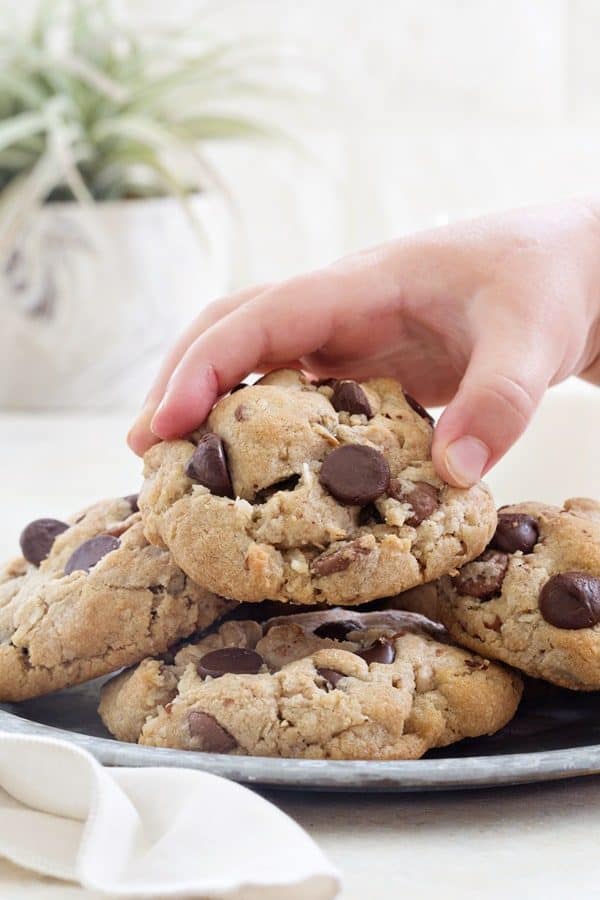 They loved them so much, I baked up the rest of the dough to package up for them to take home. But this time, I saved a few to photograph so I could finally share them here on MBA.
I can take zero credit for the base dough as it's from Jacques Torres and was featured in the New York Times. Pretty much every blogger has posted about it at some point or another. It is, without question, my favorite chocolate chip cookie dough – ever.
Don't be turned off by the fact that you need two, yes, two kinds of flour. Or by the fact that it needs to chill for 24 hours because I promise you – it's 100% worth it.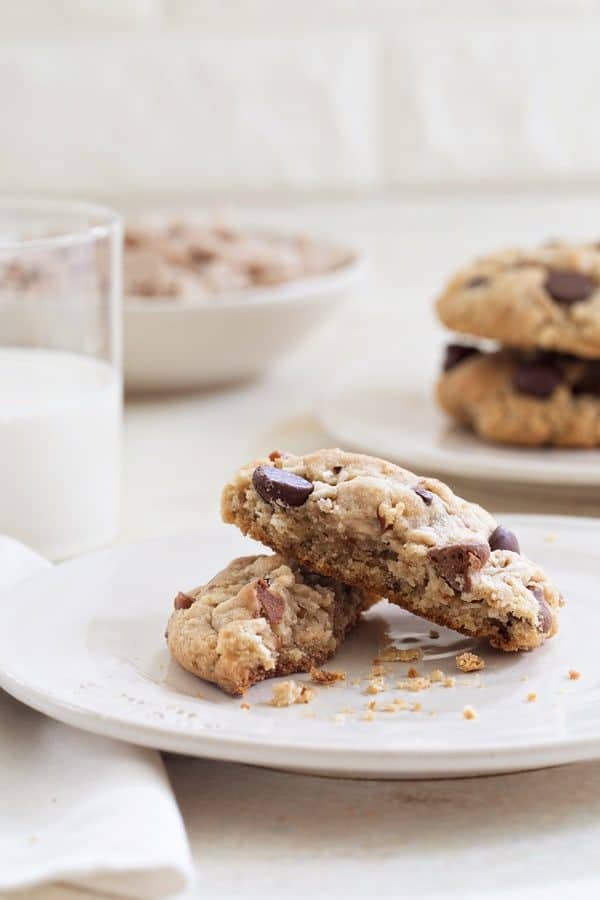 You'll end up like me, stocking bread flour in your pantry just for these cookies. Because we all know, I don't make a lot of bread.
You can even enjoy these cookies fresh from the oven any time by following my tips for how to freeze cookie dough.
I'd really love to know how you like these cookies, and I'd love it even more if you come share pictures of what you whip up in my new Facebook group. It's allowing me to connect with you guys directly in a way I never have before and I LOVE IT.
And I also want to know what your signature dish is! Leave it in the comments, or come tell me on Facebook.
For more delicious cookie recipes, be sure to check out these Lemon Blueberry Muffin Top Cookies and these No Bake Cookies – both are sure fill any cookie craving!