Chocolate zucchini bread is quick, delicious, and the perfect use for the last of your summer zucchini. Enjoy a slice with your morning coffee or serve it up for dessert.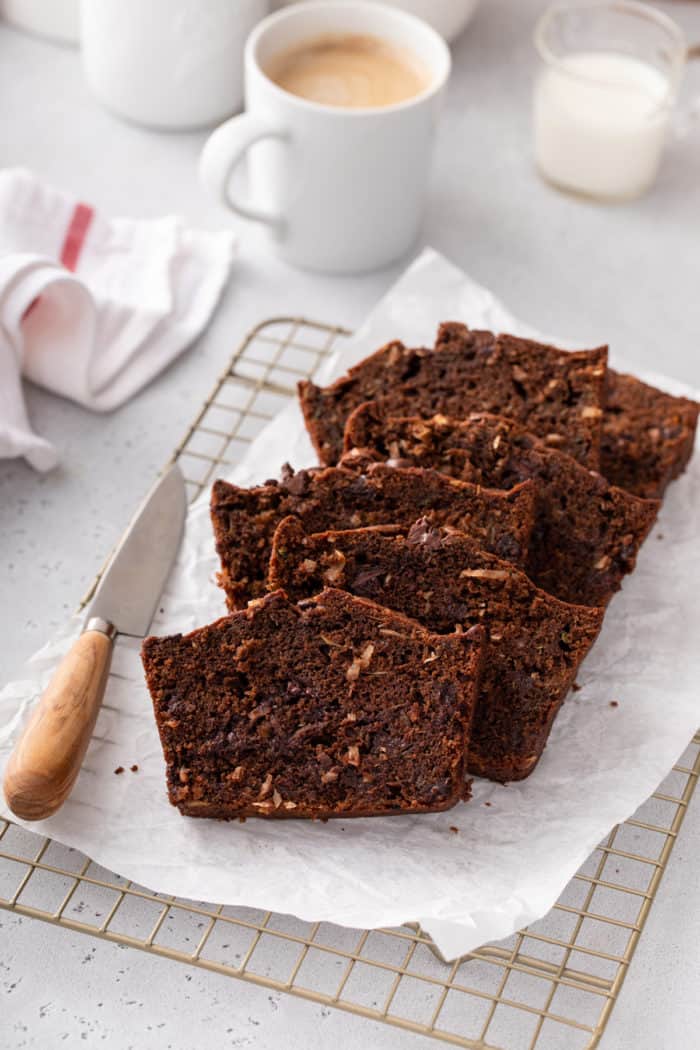 I am well aware that tomorrow is September 1st. I know that Starbucks and Dunkin' Donuts already launched their pumpkin spice drinks.
But I still need a few more days before I can fully let go of summer and enjoy pumpkin bread, butternut squash bread, and even apple fritter bread.
I'm still over here trying to use up the zucchini that keeps appearing on my front porch. So hopefully you can forgive me for still being all in on recipes like zucchini banana bread, classic zucchini bread, chocolate zucchini muffins, and this chocolate zucchini bread.
Trust me – soon enough I'll be bundled up in flannel scarves, drinking all of the homemade pumpkin spice lattes, and eating all of the pumpkin scones I can get my hands on.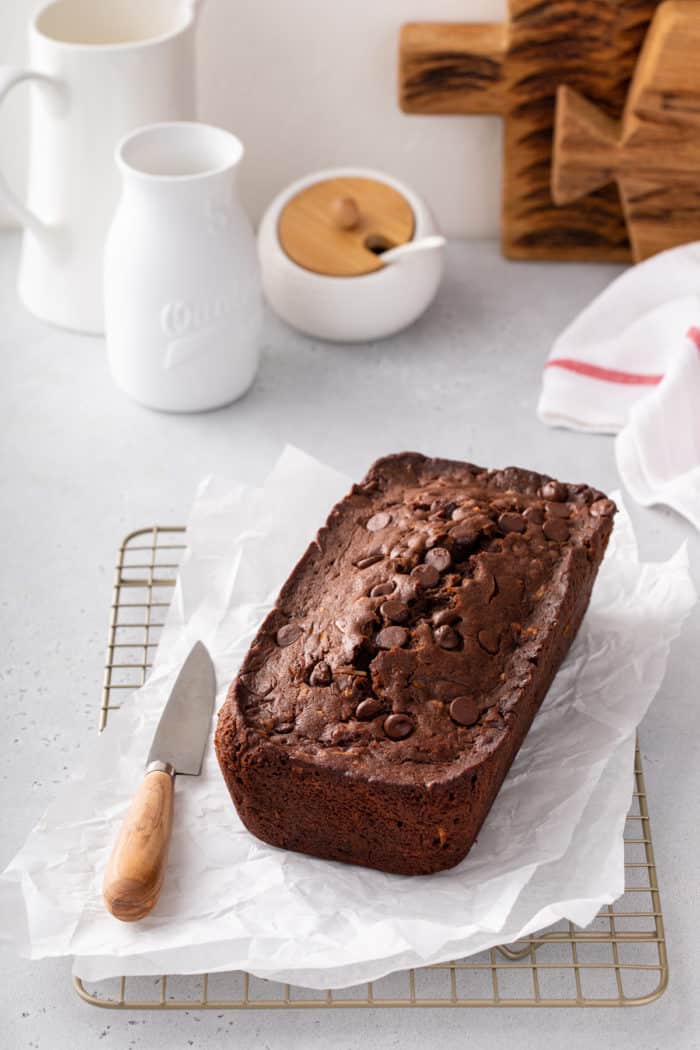 MY CHOCOLATE-COCONUT ZUCCHINI BREAD
This recipe is a chocolate-and-coconut spin on my Nana's zucchini bread recipe, which makes it extra special to me.
To make it super chocolatey, I added both cocoa powder and chocolate chips to the batter.
For the coconut, I used a full cup of coconut oil and added a hefty ¾ cup of shredded sweetened coconut to the bread.
The result is a quick and easy loaf that is moist, packed with flavor, and a great way to use up all of the zucchini my mom brings over from her garden.
Plus, if we've learned anything from my chocolate zucchini cake, it's that my family will only eat zucchini if it's hidden in baked goods. So bring on the chocolate zucchini bread!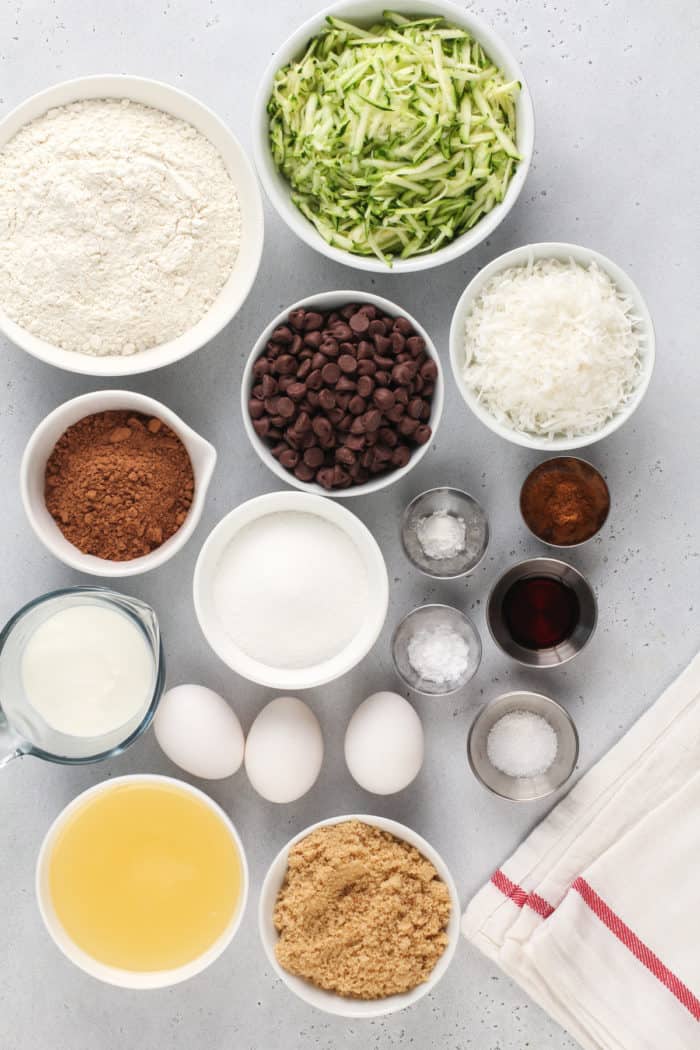 HOW TO MAKE CHOCOLATE ZUCCHINI BREAD
Like most quick bread recipes, this chocolate zucchini bread recipe does not take long to mix together. You can have it in the oven in about 15 minutes. An hour after that, you'll pull 2 of the most fragrant loaves of bread out of your oven.
Key ingredients
Let's talk through a few of the key ingredients in this recipe:
Unsweetened cocoa powder: The first hit of chocolate in this recipe comes from your standard unsweetened cocoa powder. ½ cup will make the batter nice and chocolatey.
Melted coconut oil: To really up the coconut flavor in this bread, I replaced the vegetable oil in the recipe with melted coconut oil. Use unrefined coconut oil for a nice, strong coconut flavor.
Shredded sweetened coconut: I love the texture that shredded coconut adds to this bread, not to mention the extra coconut flavor!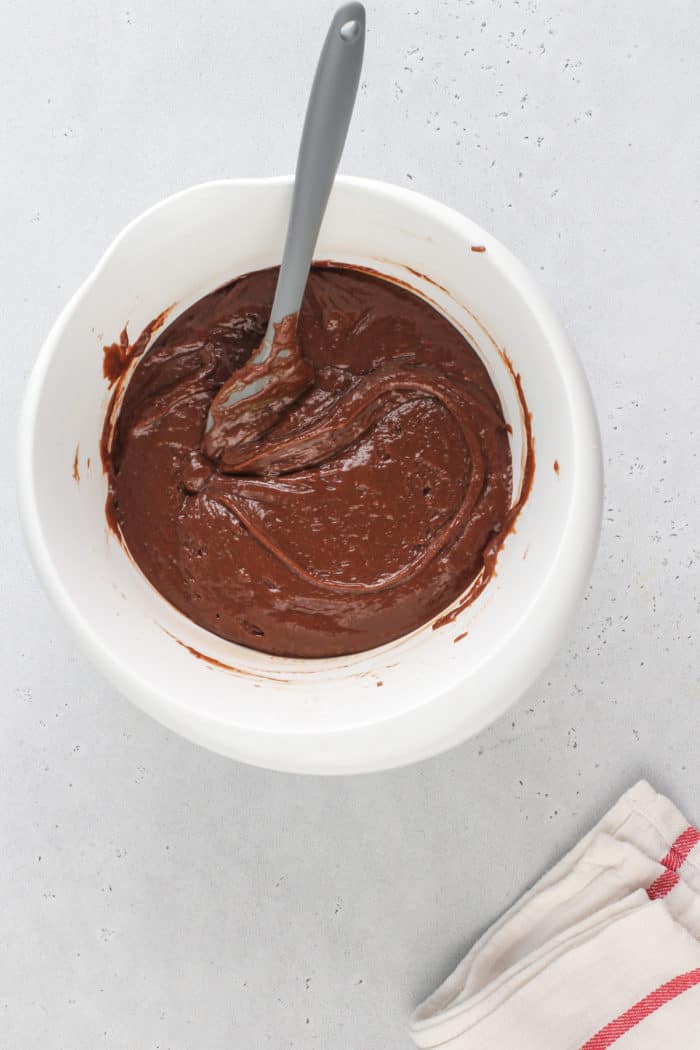 Light brown sugar: This recipe uses a combination of granulated sugar and light brown sugar for sweetness. The brown sugar is especially important; it helps keep the bread more moist than granulated sugar alone. Use my brown sugar substitute if you find you're out of brown sugar.
Sour cream: If you've paid attention to my post on how to make buttermilk, you know that sour cream makes an excellent substitute for buttermilk. It adds the same tang and acidity to the batter as buttermilk and helps keep the bread moist.
Chocolate chips: Why have just one type of chocolate when you can have two? Chocolate chips make this bread doubly chocolatey. You'll love those little pockets of melted chocolate chips throughout!
Grated zucchini: And the star of the show – the zucchini! This zucchini bread has a whole 2 ½ cups of shredded zucchini in it.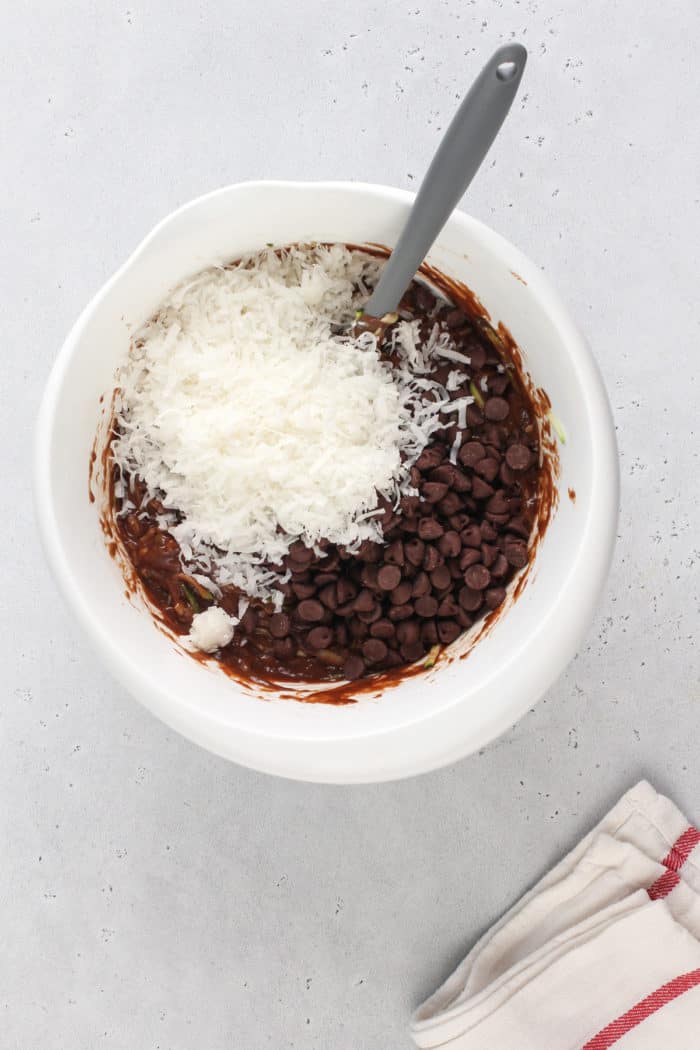 Other ingredients you'll need include:
All-purpose flour
Salt
Baking soda
Baking powder
Ground cinnamon
Eggs
Pure vanilla extract
Make sure you know how to measure flour properly before you start baking!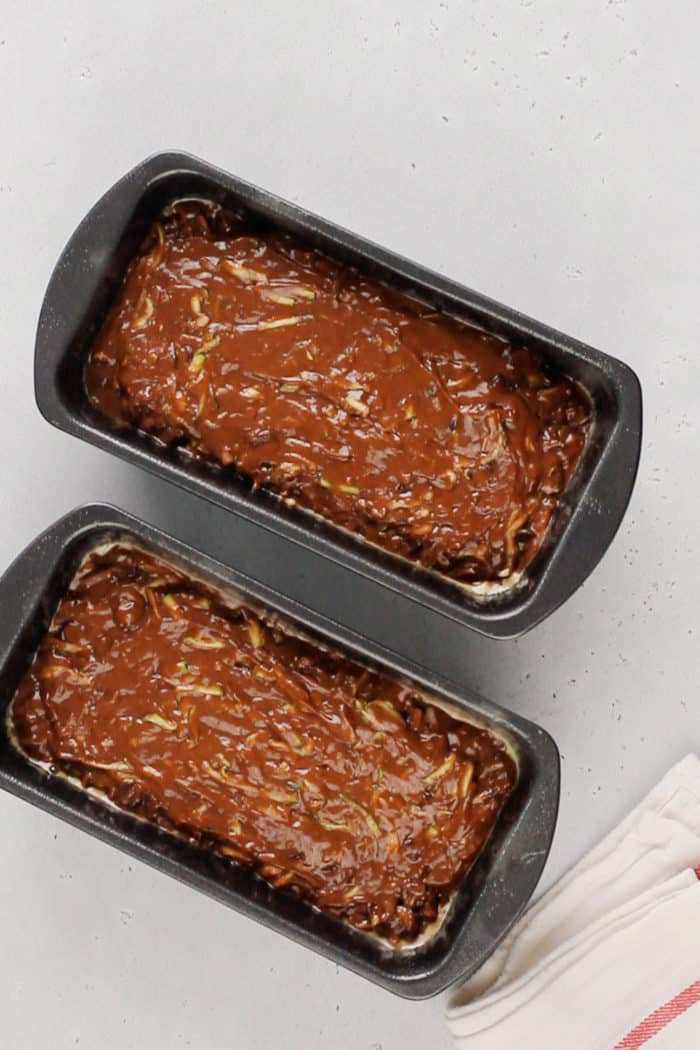 What if you don't like coconut?
Don't like coconut but still want to make this bread?
Simply replace the melted coconut oil with vegetable oil and omit the shredded coconut at the end.
Making this recipe
Like many quick breads, this one starts with whisking together the dry ingredients: flour, cocoa powder, salt, baking soda and powder, and cinnamon.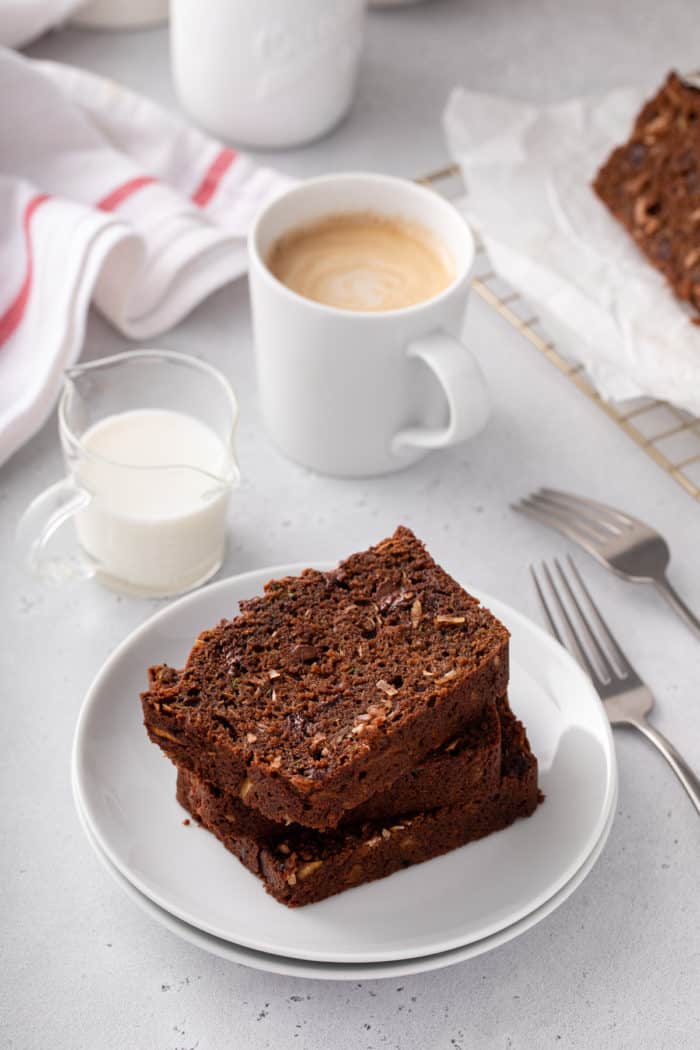 In another bowl, use an electric mixer to mix the coconut oil and the sugars until well combined. Add in the sour cream, then the eggs and vanilla. Mix until thoroughly combined.
Slowly add the dry ingredients to the wet ingredients and stir until just combined. You don't want to over mix!
Fold in the zucchini, followed by the chocolate chips and the coconut. Spread the batter into two greased 8×4-inch pans and bake for about an hour. You'll know the bread is done when a toothpick inserted in the center comes out clean.
I like to let the loaves cool in the pan for about 30 minutes before turning them out onto a wire rack to finish cooling.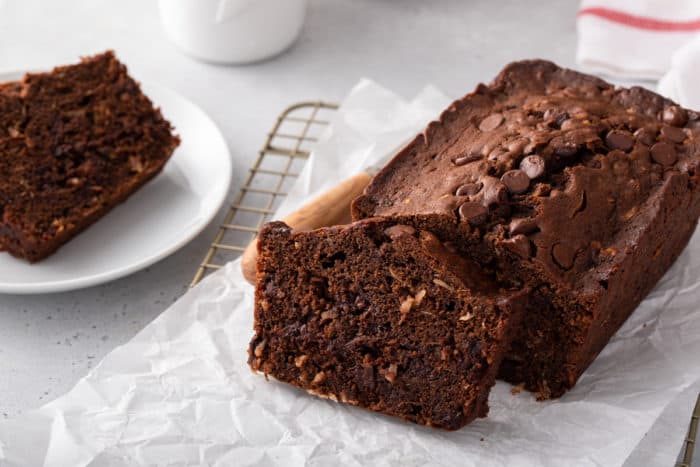 STORAGE AND FREEZING
Store this chocolate zucchini bread, well wrapped, at room temperature for up to 3 days.
Of course, you can always freeze it for later!
Wrap the bread in a layer of foil and then place it in a zip-top freezer bag and freeze for up to 3 months.
You could also freeze individual slices instead of the whole loaf. Wrap each slice in plastic wrap and place it in a freezer bag.
When you're ready to enjoy, either let the loaf thaw at room temperature overnight or unwrap the individual slices and microwave for 30-60 seconds for a piping hot slice of chocolate zucchini bread.