Well, I made it through my first week back to work. And let me tell ya, hanging out in a second floor classroom while the temps soared to the mid-nineties had me begging for fall temperatures or a rather large air conditioning unit.
Much like my students, I get cranky when I'm hot, so the thought of turning on the oven after work was not happening. In fact, I really didn't do much baking or cooking at all last week – I just kind of adjusted to being awake at ridiculous o'clock and also got caught up on episodes of Big Brother.
Stop judging me! It's become a little bit of a guilty pleasure and I kinda think Frank is adorable. I'm also obsessed with watching him dodge bullet after bullet.
Since I slacked all week, I decided to use my time wisely this weekend and whipped up a last couple of summery desserts. I'm warning you now, once the calendar hits September, I am in full-fledged Fall mode. I don't care if it's still 90 degrees, I will be busting out the pumpkin, apples and cinnamon – so get ready!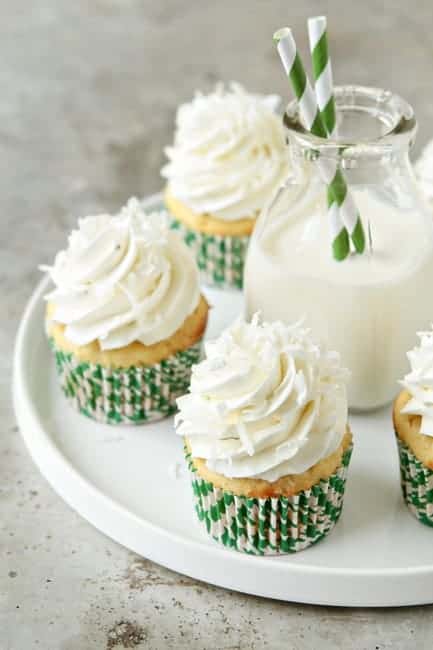 After a quick scan of the fridge and pantry, I realized that not only did I not bake last week, but I was also lacking in the whole grocery shopping department. I did have a few basics, so I decided to make do with what I had – putting off that horrible task for one more day. Hooray for procrastination!
This little impromptu baking session resulted in easy, crazy delicious coconut cupcakes topped with what is probably the best buttercream I've ever made. I kid you not.
The cakes are made simply, with my favorite Doctored Up Cake Mix recipe. The buttercream, however, is transcended with the addition of coconut milk and lime zest with a few fresh, Summery flavors to create one of the most dreamy cupcakes ever.
I'm pretty confident that these Coconut Cupcakes are the perfect way to celebrate the end of Summer!
Coconut Cupcakes with Lime Buttercream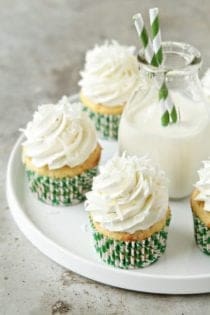 Ingredients:
For the Cupcakes
1 box French Vanilla cake mix (see note below)
1 (3.4 ounce) package Jell-o Coconut Cream pudding mix
1 cup sour cream
3/4 cup vegetable oil
4 eggs, lightly beaten
1 (13-ounce) can unsweetened coconut milk; divided use (see note below)
2/3 cup sweetened shredded coconut
For the Frosting
remaining 9 ounces of coconut milk
2 cups (4 sticks) unsalted butter, room temperature
zest of 2 medium limes
1.5 pounds (about 5 3/4 cups) confectioners' sugar
1 teaspoon pure vanilla extract
1/2 teaspoon coconut extract
Directions:
For the Cupcakes
Preheat oven to 350°F. Line cupcake pan with paper liners or spray wells with non-stick cooking spray.
In the bowl of a stand mixer, fitted with the paddle attachment, or with a hand mixer in a large bowl, beat together the cake and pudding mixes, sour cream, oil, eggs and 1/2 cup (4 ounces) coconut milk. Beat for about two minutes on medium speed until well combined. Fold in the shredded coconut.
Using a large cookie scoop, distribute the batter between 24 muffin wells; about 3 tablespoons of batter per well.
Bake in preheated oven for 18-22 minutes or until the tops of the cakes spring back when lightly touched. Allow cupcakes to cool inside muffin tins for about 10 minutes.
Remove cupcakes from muffin tins and allow to fully cool on a wire rack. Prepare the frosting.
For the Frosting
Place the remaining coconut milk into a medium saucepan with high sides. Over medium heat, bring the coconut milk to a boil, stirring occasionally. Turn the heat down to medium-low heat and reduce the coconut milk for about 20 minutes. Turn the burner off and allow the coconut milk to cool completely. Cover and chill (about an hour), this will cause the coconut milk to thicken up a bit
In the bowl of a stand mixer fitted with the paddle attachment, beat the butter and reduced and cooled coconut milk on medium-high speed for about 5 minutes. Add in the lime zest and mix to combine.
Turn the mixer down to low speed and gradually add in the confectioners' sugar until it is completely incorporated. Add in extracts and mix until incorporated. Turn off the mixer and check the buttercream for taste and texture. Turn the mixer back up to medium-high speed and beat the mixture for about 3-4 minutes or until light and fluffy.
Pipe the frosting onto the cooled cupcakes and if desired, garnish with a dusting of shredded coconut.
Notes:
I used Duncan Hines Moist Deluxe French Vanilla Cake Mix for this recipe.
Coconut milk can typically be found in the ethnic aisle of most grocery stores.
I used a large Star Tip to pipe the frosting.
Recipe edited on 8/29 regarding the chilling process of the reduced coconut milk.
Source: My Baking Addiction
All images and text ©
Follow Jamie on Instagram. We love to see what you're baking from MBA! Be sure to tag @jamiemba and use the hashtag #mbarecipes!
– The Amazon links within this post are derived from an affiliate program. My Baking Addiction receives a small commission on products that are purchased through these links.