Blueberry Cupcakes with Cream Cheese Frosting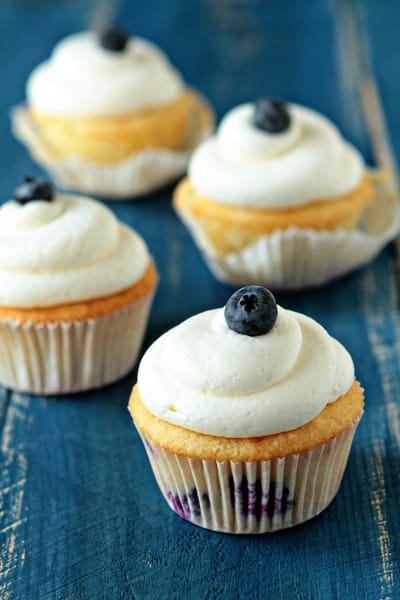 Yesterday I spent the day in the kitchen – literally from 10 am to about 9 pm. My dad and brother were visiting for the day and graciously provided me with a menu to prepare. This "menu" included: taco dip for the Brown's game, braised short ribs, mashed potatoes, sauteed green beans, homemade dinner rolls, peanut butter pie and turtle cookies – oh, and gravy, I must not forget the gravy. And for good measure, I threw a pumpkin roll into the mix.
The kitchen was in constant disarray, but my dad and Jared tried their best to clean up after me. No one stressed out and we just spent the day enjoying each other's company while washing dishes and cleaning the counters about 22 times. I didn't take a single photo and that was okay – the day wasn't about blogging, it was about being with the three most important men in my life – enjoying good food, football and conversation.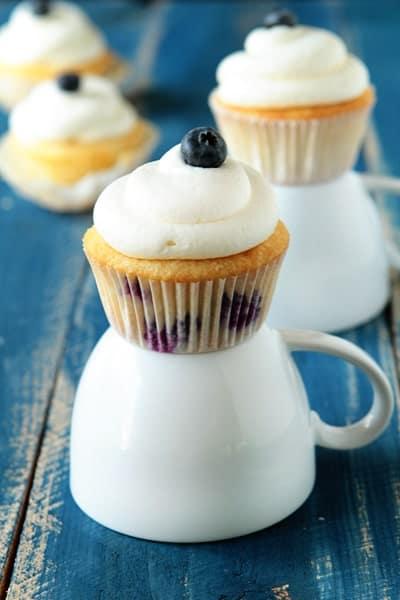 When I sat down to write this blog post, I was tired, my feet were throbbing and the burn on my finger pulsated like no body's business – but I've been wanting to share these delicious Blueberry Cupcakes with Cream Cheese Frosting since I made them a few weeks ago.
I used a new vanilla cupcake recipe and loaded them up with plump, fresh blueberries. Then topped them with a rich and decadent cream cheese frosting. They were moist, tender and bursting with fresh blueberries. The frosting coupled with the fresh berry flavor almost made them taste like blueberry cheesecake – and given my affinity for cheesecake, this was a very good thing.
Blueberry Cupcakes with Cream Cheese Frosting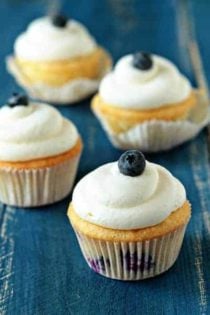 Ingredients:
For the Cupcakes
1 3/4 cups cake flour, not self-rising
1 1/4 cups unbleached all-purpose flour
2 cups sugar
1 tablespoon baking powder
3/4 teaspoon salt
1 cup (2 sticks) unsalted butter, cut into 1-inch cubes; room temperature
4 large eggs
1 cup whole milk
2 teaspoons pure vanilla extract
1 ½ cups fresh blueberries plus 2 tablespoons flour
For the Cream Cheese Frosting
8 ounces cream cheese, softened to room temperature
2 sticks (1 cup) unsalted butter, softened to room temperature
2 pounds confectioners' sugar, sifted
2 teaspoons clear vanilla extract*
Directions:
For the Cupcakes
Preheat oven to 325 degrees. Line cupcake pans with paper liners and set aside.
In the bowl of a stand mixer fitted with the paddle attachment or in a large bowl with an electric hand mixer, combine flours, sugar, baking powder, and salt; mix on low speed until combined.
Add butter, mixing until just coated with flour.
In a medium bowl, whisk together eggs, milk, and vanilla. With mixer on medium speed, add wet ingredients in 3 parts. Be sure to scrape down the sides of the bowl before each addition. Beat the batter until ingredients are thoroughly combined, but do not overbeat.
In a medium bowl, gently toss the blueberries with 2 tablespoons of flour, the carefully fold the blueberries in the batter.
Use a large scoop to divide batter evenly among liners, filling about 2/3 full. Bake, rotating pan halfway through, until a cake tester inserted in the center comes out clean, 18 to 22 minutes.
Transfer to a wire rack to cool completely. Repeat process with remaining batter.
For the Cream Cheese Frosting
In a the bowl of a stand mixer fitted with the paddle attachment on in a large bowl with an electric hand mixer, cream together, cream cheese and butter until well combined.
With the mixer of low, gradually add the confectioners' sugar until thoroughly incorporated and smooth. Add vanilla and mix to combine.
Pipe cupcakes with cream cheese frosting. If desired, garnish cupcakes with a fresh blueberry.
Notes:
Clear vanilla extract was used in the cream cheese frosting recipe to maintain a bright white color. Feel free to substitute pure vanilla extract in its place.
I used the giant round tip from Bake it Pretty to frost the cupcakes. You can view my piping video tutorial within this post.
Cake recipe is slightly adapted from Billy's Vanilla Cupcakes via Martha Stewart.
All images and text ©
Follow Jamie on Instagram. We love to see what you're baking from MBA! Be sure to tag @jamiemba and use the hashtag #mbarecipes!
This post may contain affiliate links. We are a participant in the Amazon Services LLC Associates Program, an affiliate advertising program designed to provide a means for us to earn fees by linking to Amazon.com and affiliated sites.