Yesterday I spent the day in the kitchen – literally from 10 am to about 9 pm. My dad and brother were visiting for the day and graciously provided me with a menu to prepare. This "menu" included: taco dip for the Brown's game, braised short ribs, mashed potatoes, sauteed green beans, homemade dinner rolls, peanut butter pie and turtle cookies – oh, and gravy, I must not forget the gravy. And for good measure, I threw a pumpkin roll into the mix.
The kitchen was in constant disarray, but my dad and Jared tried their best to clean up after me. No one stressed out and we just spent the day enjoying each other's company while washing dishes and cleaning the counters about 22 times. I didn't take a single photo and that was okay – the day wasn't about blogging, it was about being with the three most important men in my life – enjoying good food, football and conversation.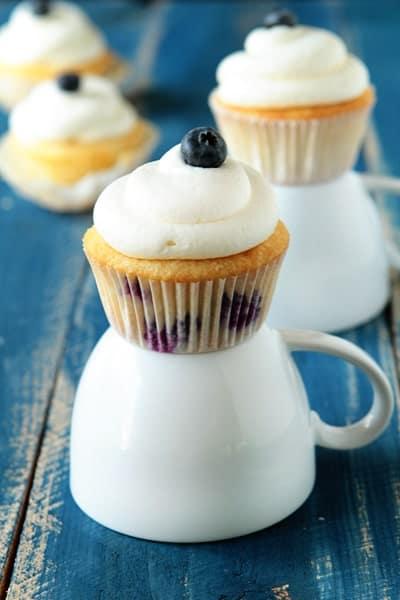 When I sat down to write this blog post, I was tired, my feet were throbbing and the burn on my finger pulsated like no body's business – but I've been wanting to share these delicious Blueberry Cupcakes with Cream Cheese Frosting since I made them a few weeks ago.
I used a new vanilla cupcake recipe and loaded them up with plump, fresh blueberries. Then topped them with a rich and decadent cream cheese frosting. They were moist, tender and bursting with fresh blueberries. The frosting coupled with the fresh berry flavor almost made them taste like blueberry cheesecake – and given my affinity for cheesecake, this was a very good thing.