Marshmallow frosting made with Campfire® Fruit Swirlers is the perfect topping for cupcakes.
The sweet and fruity flavor makes this frosting delightful for spring.
This is a sponsored post on behalf of Campfire® Marshmallows. All opinions are my own. Thank you for supporting the brands that continue to make My Baking Addiction possible.
Since we've moved, one of the most commonly asked questions is, "Do you miss Toledo?" The short answer is.. no. Because it's not the area that we miss, it's the people. Our amazing neighbors, friends, hair stylist, dog groomer, etc. And the local bakery, which isn't necessarily a person, I realize. But I love their frosting, so when I'm listing the people I miss, the bakery gets included, and so does Kroger.
Yes, guys I miss a bakery because they have the most amazing cake and frosting on the planet. Eric actually drove 3 hours round trip to Toledo for my birthday last month, just to pick up a Strawberries and Cream cake. My favorite not-made-by-me cake – in case you were wondering, this most definitely means that I win in the husband department.
I've been dreaming about frosting since we finished it – about 48 hours after Eric returned with it. Luckily we had some help in the eating department, otherwise I may have finished the entire thing on my own. It's some seriously good cake, and some SERIOUSLY good frosting. Driving three hours for cake seems a little ridiculous when it's not a birthday gift, so I decided so calm the craving with homemade marshmallow frosting. It's not the same as that amazing Toledo frosting, but let me tell ya – it's pretty dang delicious.
Yesterday, I woke up super early and decided to whip together a batch of cupcakes. I needed something to slather this magical marshmallow frosting onto, and let's face it, eating out of the mixing bowl with a spatula would've happened. And since our summer vacation is less than 3 months a way – that simply can't go down.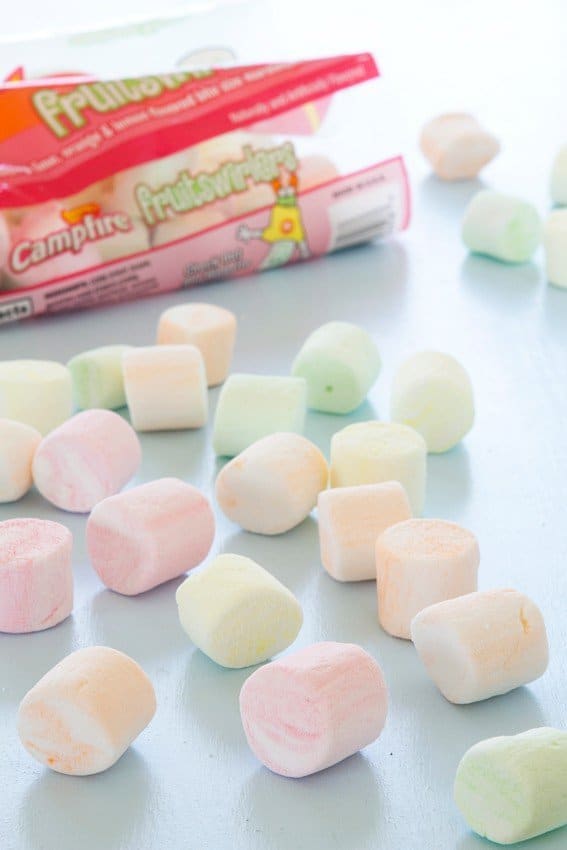 While I've been pretty obsessed with all things marshmallow since I was kid, I've never tasted marshmallow frosting made with actual marshmallows, so naturally, I had to make that happen. And although I toyed with the idea using plain white marshmallows for this recipe, I ended up choosing Campfire® Fruit Swirlers.
If you've never had a Campfire® Fruit Swirler, you are most certainly missing out. They're bite size marshmallows that are exploding with fruit flavor. My dad is wholeheartedly in love with these marshmallows to the point that he can polish off an entire bag in about a day. I chose to use all strawberry flavored Fruit Swirlers in this recipe because I loved the idea of a pale pink frosting. However, you can use a combination of all 4 flavors, or even use Campfire® Mallow Bursts. The Fruit Swirlers did impart a slight fruity flavor to the marshmallow frosting, but the true vanilla marshmallow goodness definitely shines through.
Random fact – did you know marshmallows are sold as candy in the U.K., rather than an 'ingredient'? The things you learn when your bestie is married to a Brit. I guess it gives my dad a little more justification for eating them by the handful, right?
I gotta warn you though, this frosting is bit more involved than a typical America-style buttercream because there is a cooking component, but I promise it's super easy. And the light, fluffy texture is seriously amazing, so it's definitely worth the 10 minute cook time. Trust me, you'll be eating it with a spoon, spatula, and your fingers. Just don't touch anything after!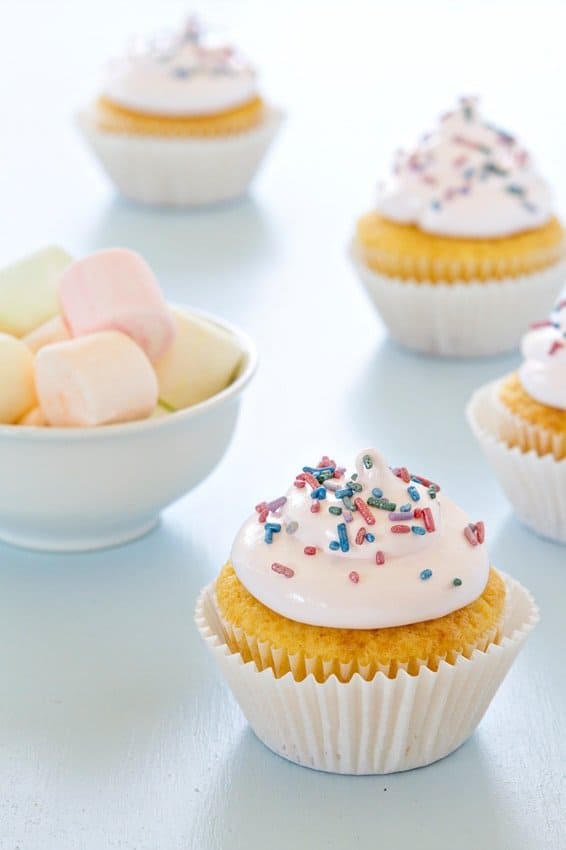 As you may remember from my Ambrosia Trifles, I'm partnering with Emily from Jelly Toast and Campfire® Marshmallows. You'll see more recipes from us, and even more exciting stuff as the year goes on.
We even created a Marshmallow Madness Pin Board where we'll pinning loads of delicious marshmallow recipes from our favorite food sites.
For more information about Campfire® Marshmallows, find them on them on Facebook and Twitter.
If you love marshmallow-y things as much as I do, be sure to check out my Strawberry Marshmallow Fudge and these decadent S'mores Trifles.