This eggless chocolate cake comes together quickly using just one bowl. Serve this tender, single-layer cake with your favorite frosting, fruit sauce, or a dusting of powdered sugar for an easy yet decadent dessert.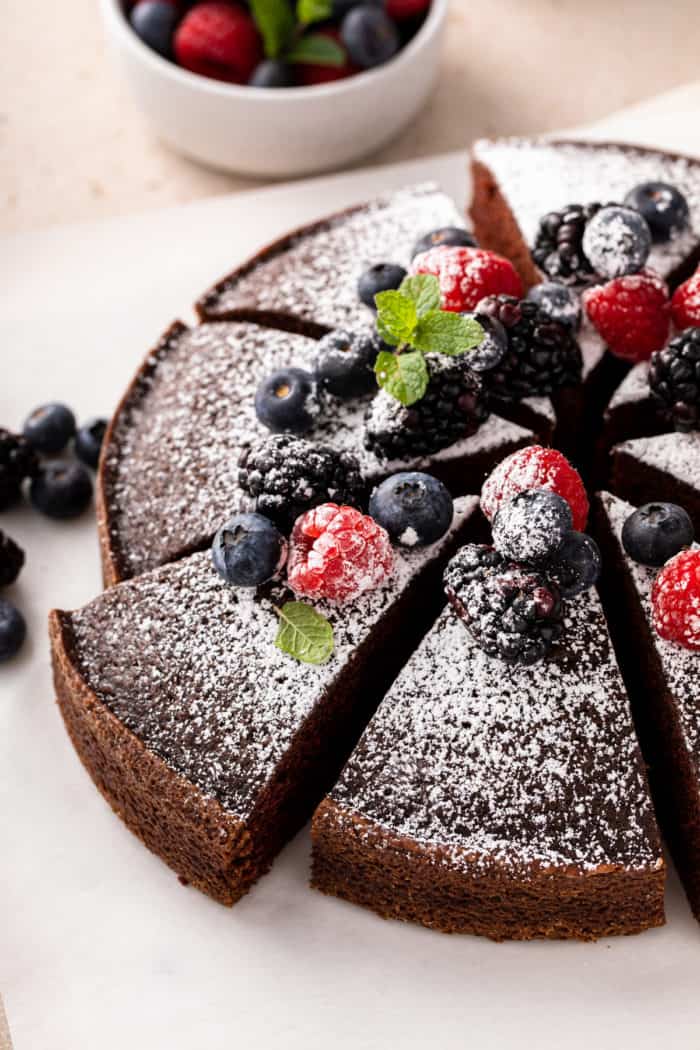 Have you guys been to the store to buy eggs lately?
If you have, you know that the prices are absurd. You know it's bad when even the eggs at Aldi are expensive.
But a baker's gotta bake, ya know? And with Valentine's Day coming up, I know many of us are going to be looking for the perfect dessert to make for our sweethearts.
Lucky for all of us, today's recipe is perfect for anyone trying to save a buck by avoiding eggs and for making for your Valentine.
That's right! This eggless chocolate cake is a rich, single-layer cake that is perfect without any eggs in it. You can even make it vegan if you swap the butter for shortening or a vegan butter substitute.
Is this my new go-to last-minute chocolate cake recipe? It sure is. Give it a try and you'll find out why.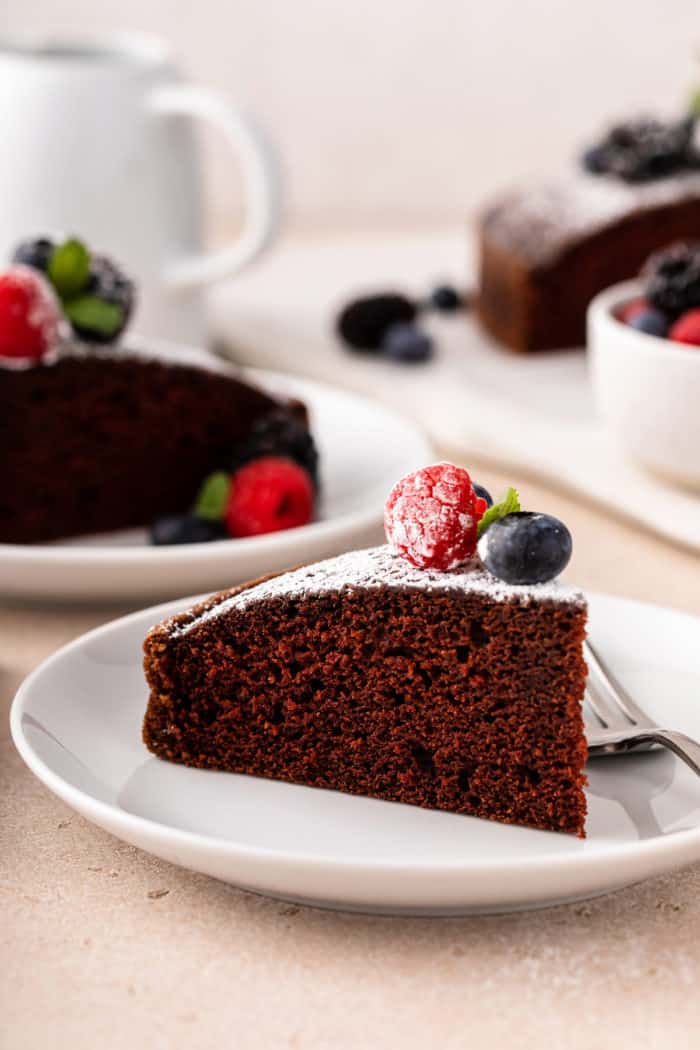 CAN YOU MAKE CHOCOLATE CAKE WITHOUT EGGS?
The recent price of eggs is making a lot of us look for eggless baking recipes these days, but there are a lot of reasons why someone might need an eggless dessert recipe.
Way more people than you might expect (especially kids) are allergic to eggs. Not to mention those on a vegan diet!
These folks deserve to still be able to enjoy a big, delicious slice of chocolate cake. Dontcha think?
When my friend and right-hand-woman Stephie shared her great-grandmother's chocolate cake recipe with me, I knew I had to pass it along to all of you. Not only is it super easy and delicious, it's egg free!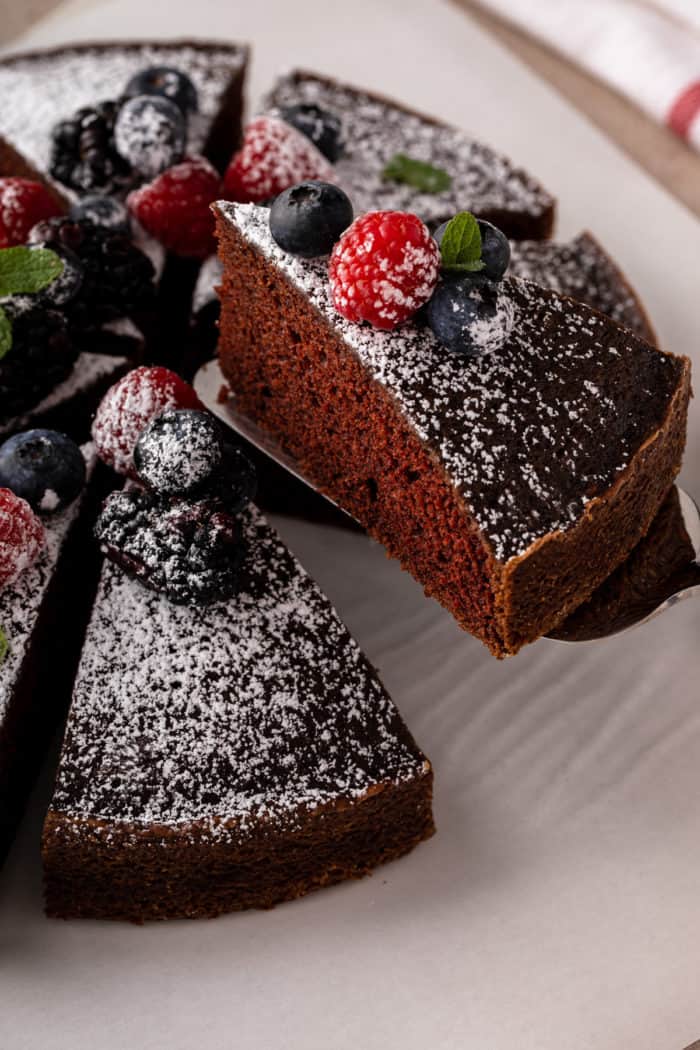 Eggs do a lot of things for cakes, and one of the biggest is providing leavening. In this recipe, a combination of baking soda and vinegar give the batter the lift it needs for a light, tender cake.
No stodgy chocolate cake here!
While my black magic cake and the best chocolate cake recipe both make chocolate cakes that are super moist, this cake has a more tender crumb.
But that doesn't mean it's a dry cake at all! It's just a different type of chocolate cake – but one that is equally delicious.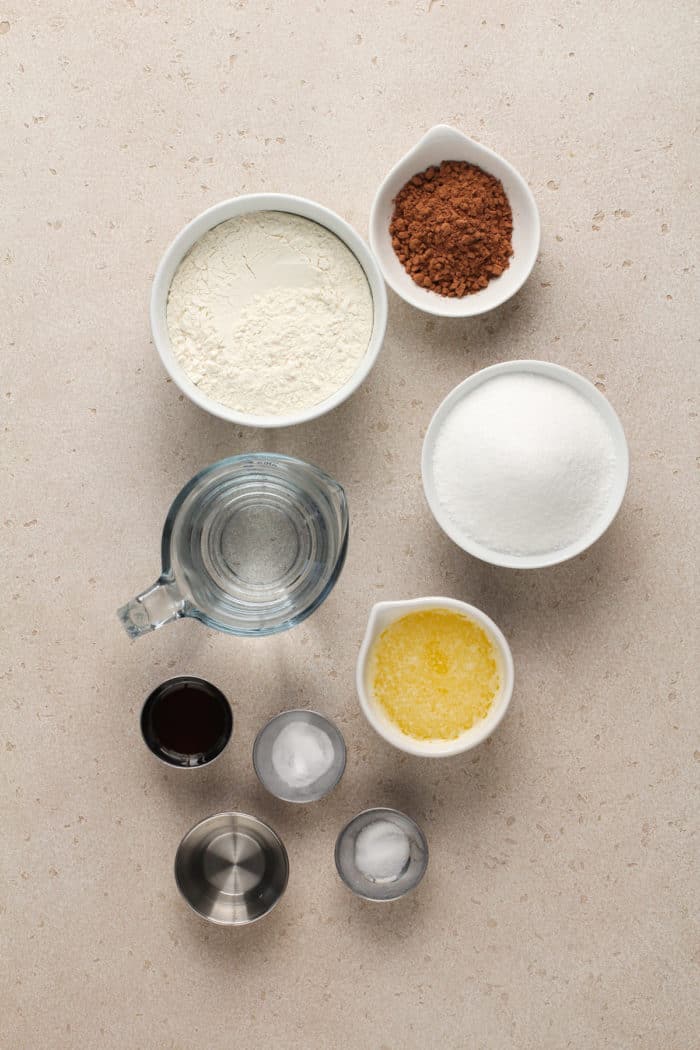 HOW TO MAKE EGGLESS CHOCOLATE CAKE
The first time I saw this recipe, I wondered if it would really work. The ingredient list and directions are so simple, could it possibly make a great cake?
But I trusted the process and I'm so glad I did. This cake is definitely going into my Easy Recipe Hall of Fame!
Ingredients you'll need
This eggless chocolate cake has a very simple ingredient list. You'll need:
1½ cups flour
1 cup sugar
3 tablespoons unsweetened cocoa powder
1 teaspoon baking soda
½ teaspoon salt
1 teaspoon vanilla
1 tablespoon white vinegar
6 tablespoons melted butter or shortening
1 cup warm water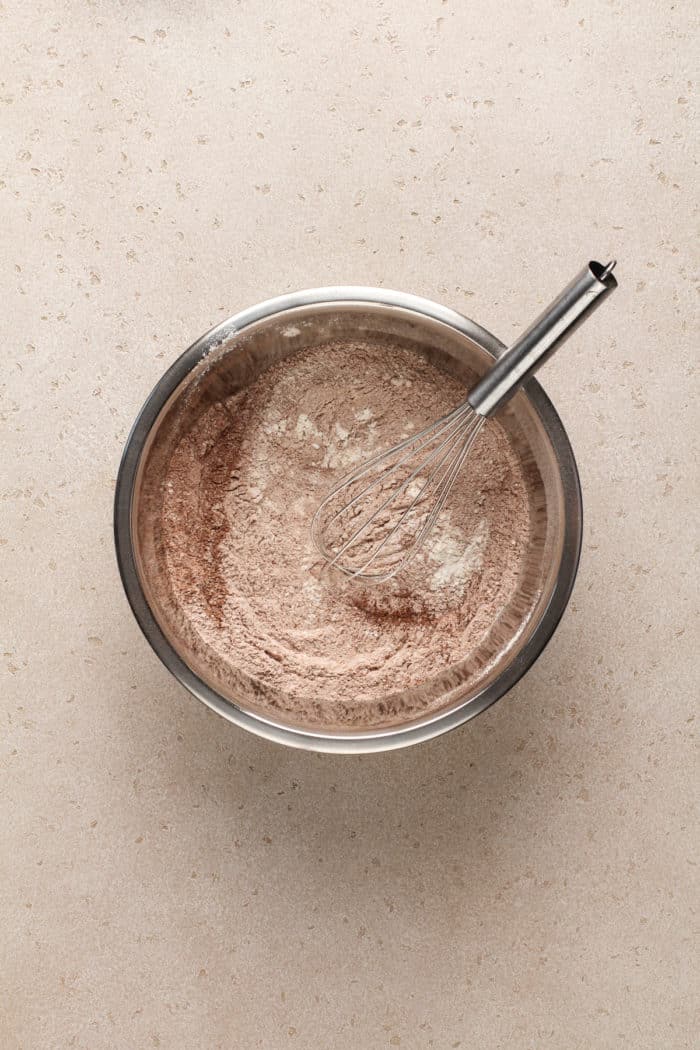 If you need the cake to be vegan, feel free to use melted vegetable shortening or a vegan butter substitute in place of the melted butter.
Don't fret too much about how warm the water is. I have used anything from lukewarm water to hot water and all of it has worked! Just make sure the water is warm and not cold or room temperature.
You definitely don't want this cake to turn out dry, so make sure you know how to measure flour so that you get the same incredible texture that I got in my cake!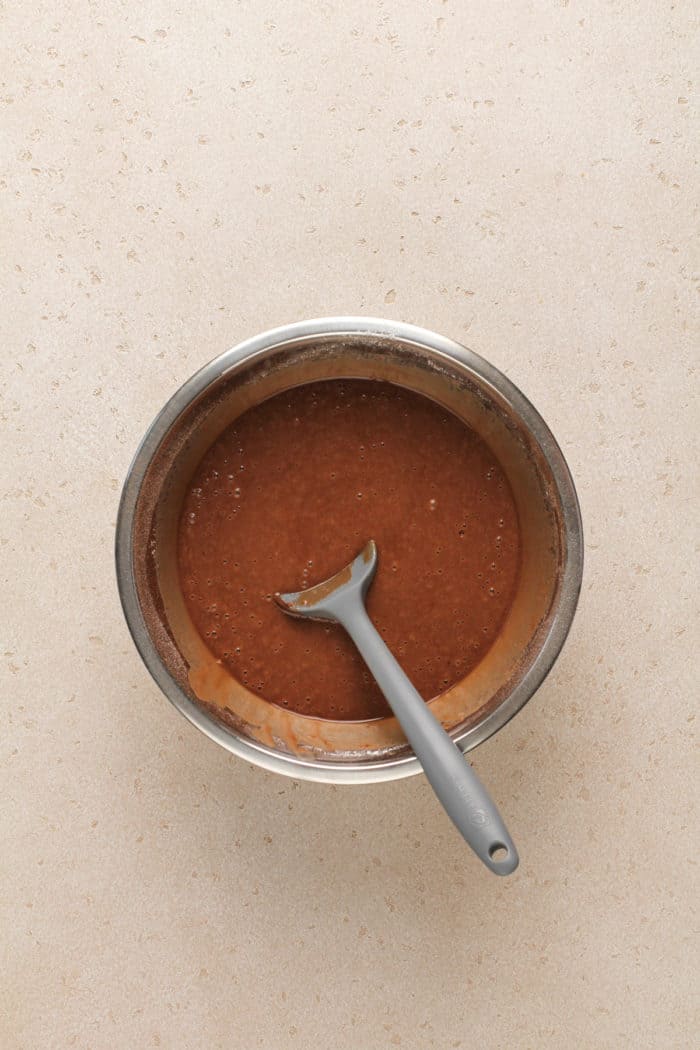 Making this recipe
I adore how simple this cake is to make. Because it is made in one bowl, it's a great recipe for beginner bakers or anyone baking with kids.
And since it makes just a single layer, it would be a great cake to bake up for your Valentine!
Grab your favorite 8-inch cake pan. Grease and flour the pan – you can also use a non-stick baking spray, but I do recommend using something besides just a regular non-stick spray.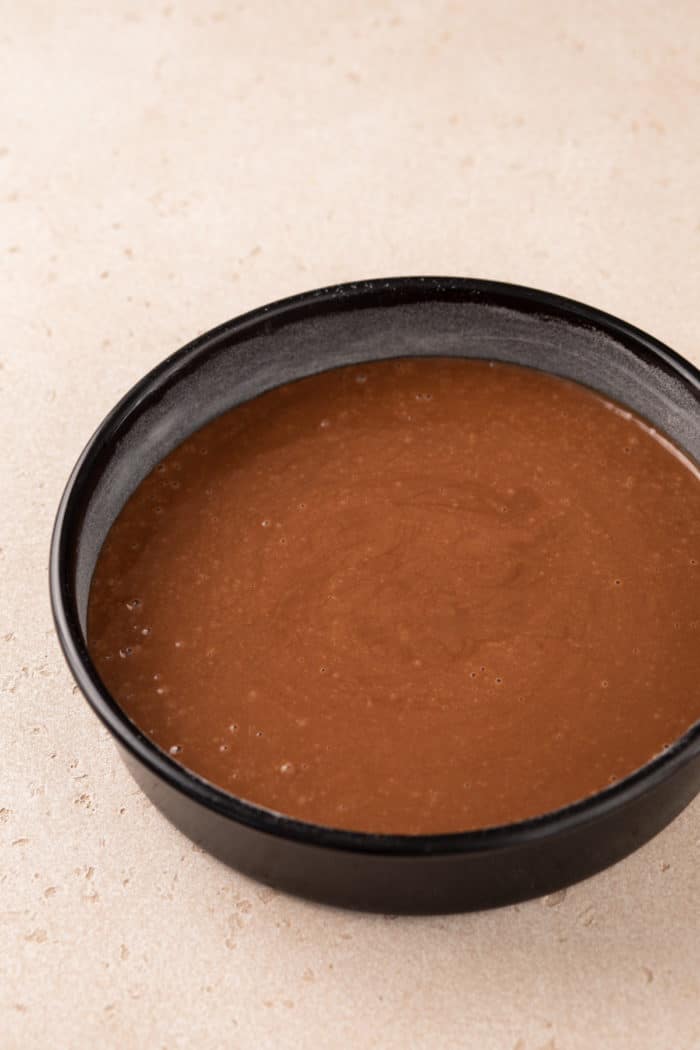 In a large mixing bowl, sift together the flour, sugar, cocoa powder, baking soda, and salt. Add in the vanilla, vinegar, melted butter (or shortening), and the warm water.
Stir until the batter is just combined.
Pour the batter into the prepared cake pan and bake for 30-35 minutes. A toothpick inserted into the center of the cake should come out clean when it is done.
Let the cake cool in the pan before turning the cake out onto a cooling rack and frosting or topping.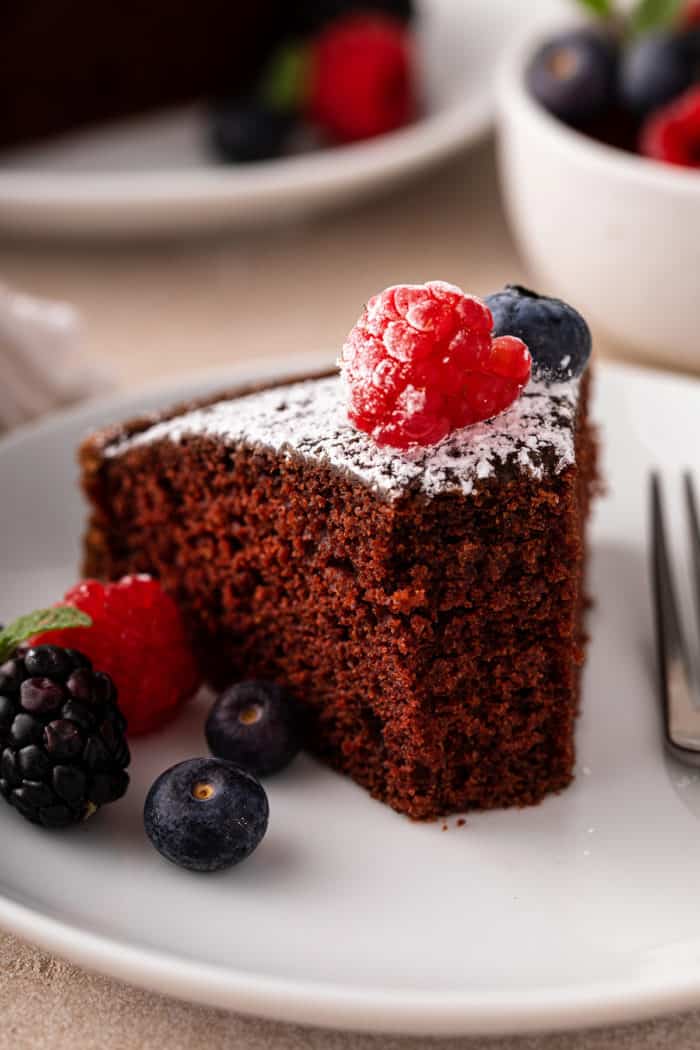 SERVING SUGGESTIONS
This eggless chocolate cake may make a simple one-layer cake, but that doesn't mean it is plain! You can dress up this rich, chocolatey cake in so many ways.
One of my favorite ways to serve this cake is with a beautiful dusting of powdered sugar and fresh berries. Simple but elegant!
You could also serve it with some raspberry sauce or strawberry sauce and a dollop of homemade whipped cream.
And of course, frosting it is always an option! Whether you go for buttercream frosting, homemade chocolate frosting, or cream cheese frosting, you really can't go wrong.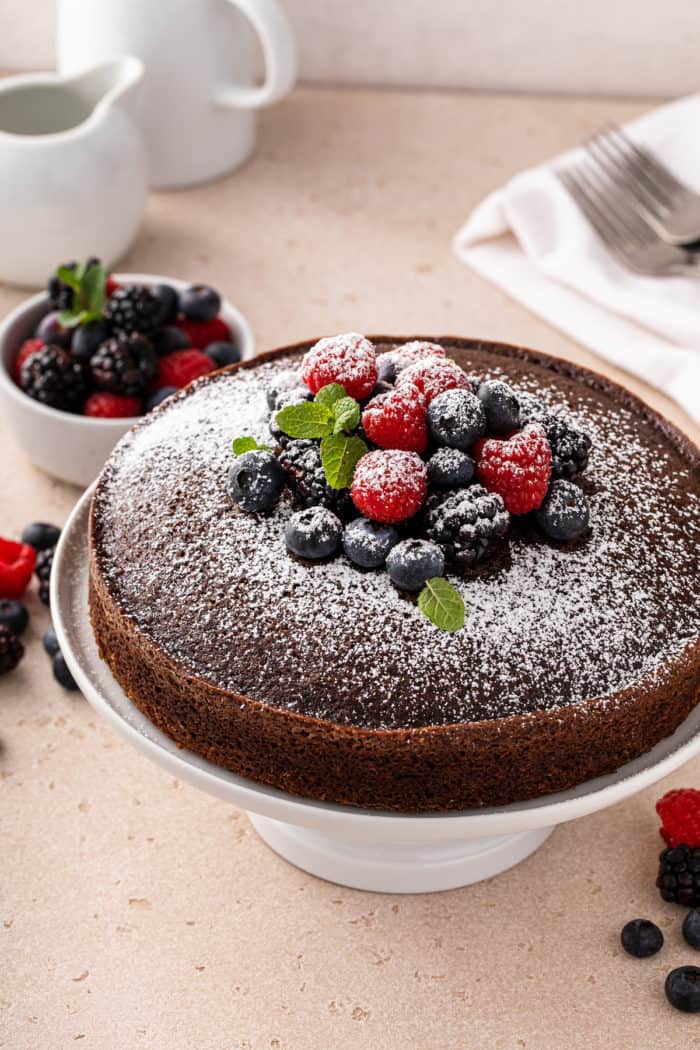 STORAGE
Store your eggless chocolate cake covered at room temperature for up to 3 days.
You can also freeze the cake for later. Wrap it well in a layer of plastic wrap, followed by a layer of heavy-duty foil. Freeze for up to a month.
Let the cake thaw at room temperature, then serve as desired.