Pumpkin Spice Cupcakes are easy to make with a cake mix but taste like you spent hours making them! These easy pumpkin cupcakes are perfect for any fall gathering.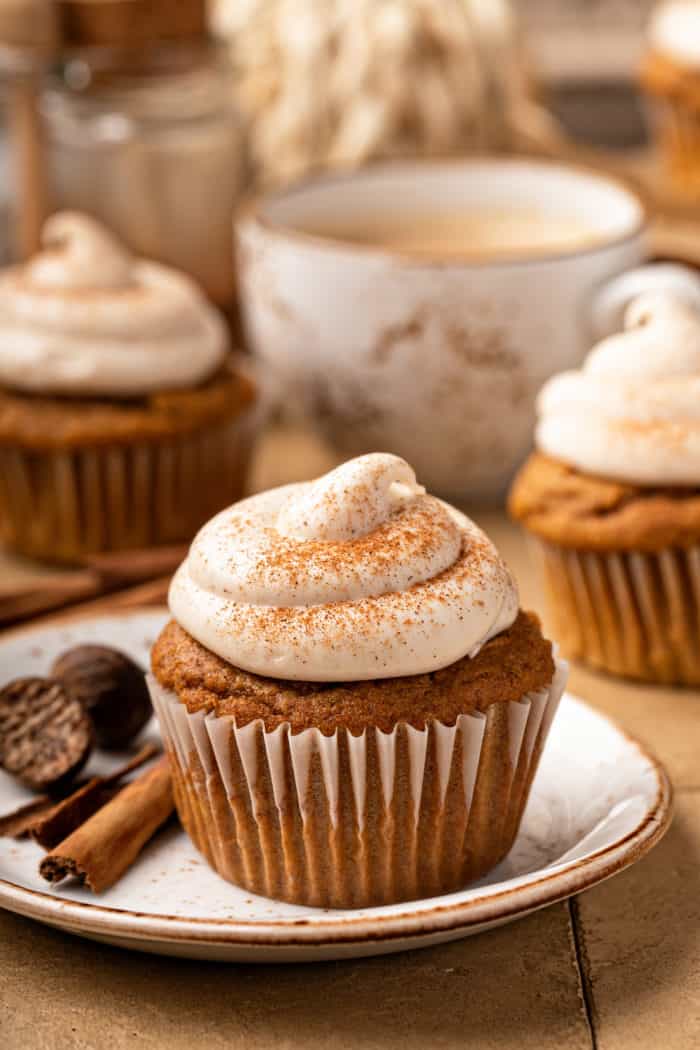 I am all about keeping things simple at this time of year.
Instead of cooking at home, we're ordering pizza and wings for pre-trick-or-treat dinner and I'm whipping up these super simple semi-homemade Pumpkin Spice Cupcakes for dessert. I just plan on topping them with one of those little pumpkin candies you can find near the candy corn to make them a little more festive.
You all know I love my doctored cake mix recipes, and I couldn't resist giving it a seasonal twist.
The result is these pumpkin spice cupcakes that are so irresistibly moist you can't stop at just one!
If you love pumpkin bundt cake, you'll definitely fall for the combo of spice cake mix and pumpkin. The lightly spiced cream cheese frosting makes the cupcakes so special.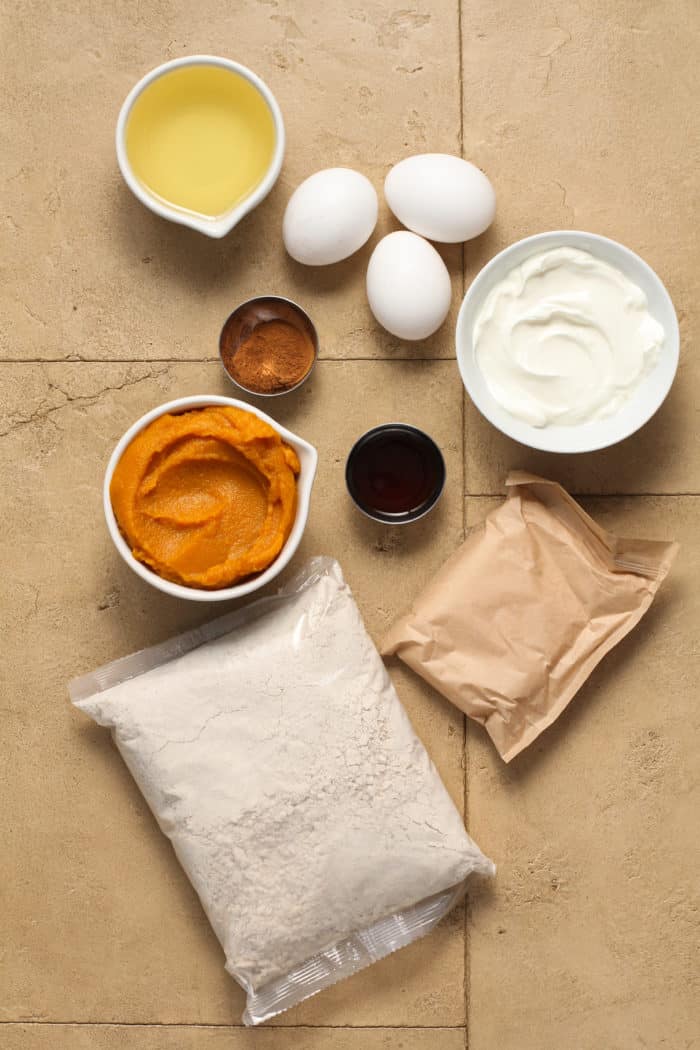 WHAT YOU NEED FOR THIS PUMPKIN CUPCAKE RECIPE
This recipe starts out with a box of spice cake mix. Spice cake mix is already going to be soft and tender, but we are going to make it even better!
Gather up your ingredients:
Spice cake mix
Instant vanilla pudding mix (not ready to cook!)
Sour cream
Vegetable oil
Eggs
Pure vanilla extract (not vanilla essence)
For the frosting, you'll also need cream cheese, butter, and powdered sugar.
This recipe makes 24 cupcakes, so you'll also need either two 12-cup muffin pans, a 24-cup muffin pan, or you can bake the cupcakes in batches.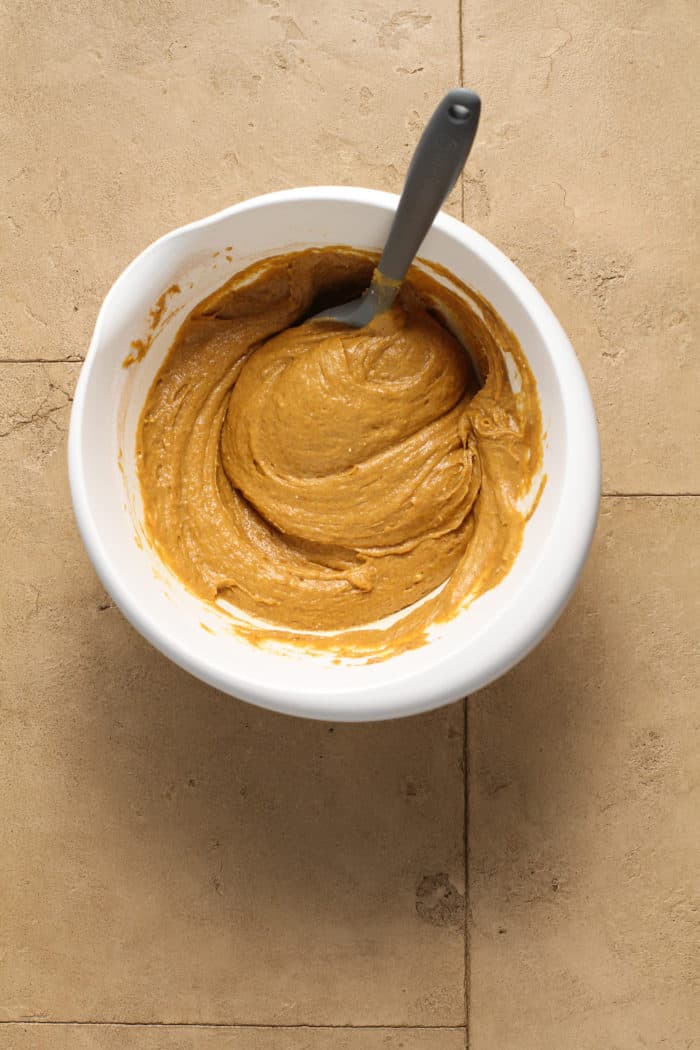 HOW TO MAKE PUMPKIN CUPCAKES WITH CREAM CHEESE FROSTING
In a large bowl, combine the cake mix, pudding mix, and pumpkin pie spice.
Beat in the pumpkin, sour cream, vegetable oil, eggs, and vanilla. You can do this using a stand mixer or with a hand mixer. The batter should be smooth and creamy with no dry bits.
Pour the batter into the muffin cups. I use a large cookie scoop to help make my cupcakes all the same size, but you can use a measuring cup or spoon.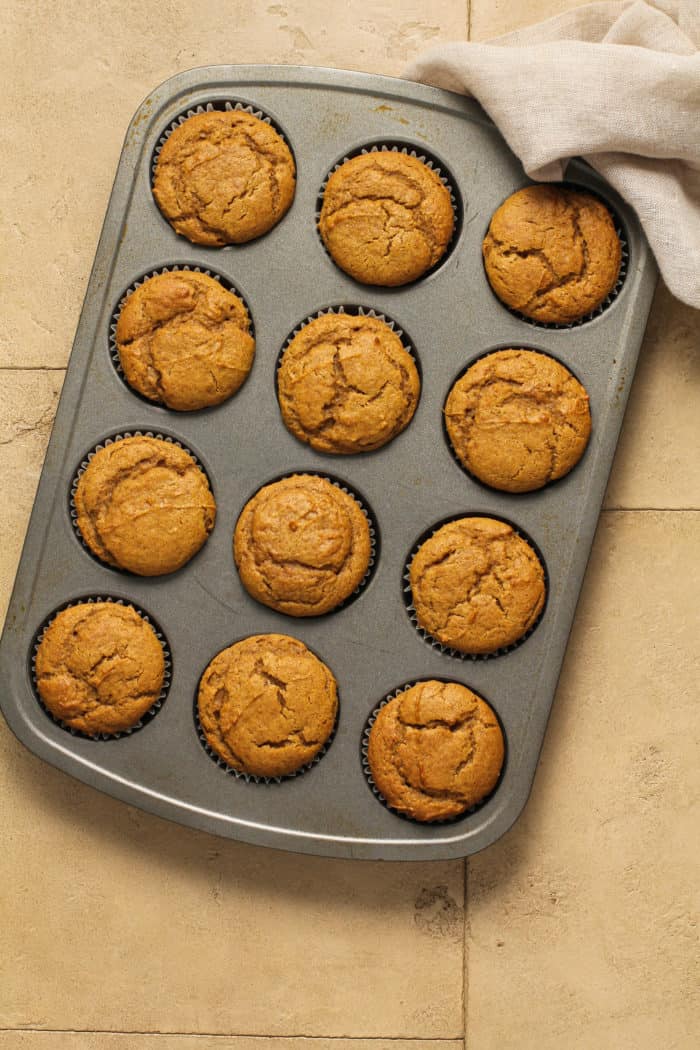 Bake the cupcakes until they have risen and the tops spring back when gently touched. A toothpick inserted in the center will also come out clean.
Be sure to let the cupcakes cool completely before frosting. Cool in the tins for about 10 minutes before transferring to a rack to cool completely.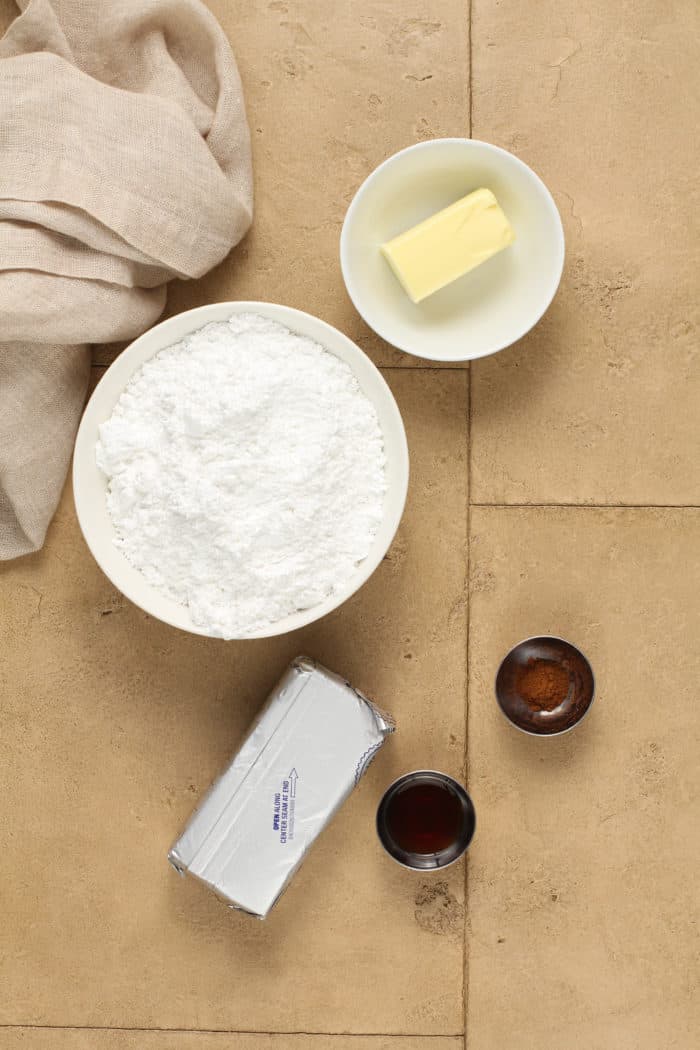 HOW TO MAKE CREAM CHEESE FROSTING
For the frosting, beat the cream cheese until smooth, then add the butter and beat again. This helps ensure a perfectly creamy result!
If you forgot to set your cream cheese out to soften ahead of time, don't worry. I have some great tips for how to soften cream cheese quickly.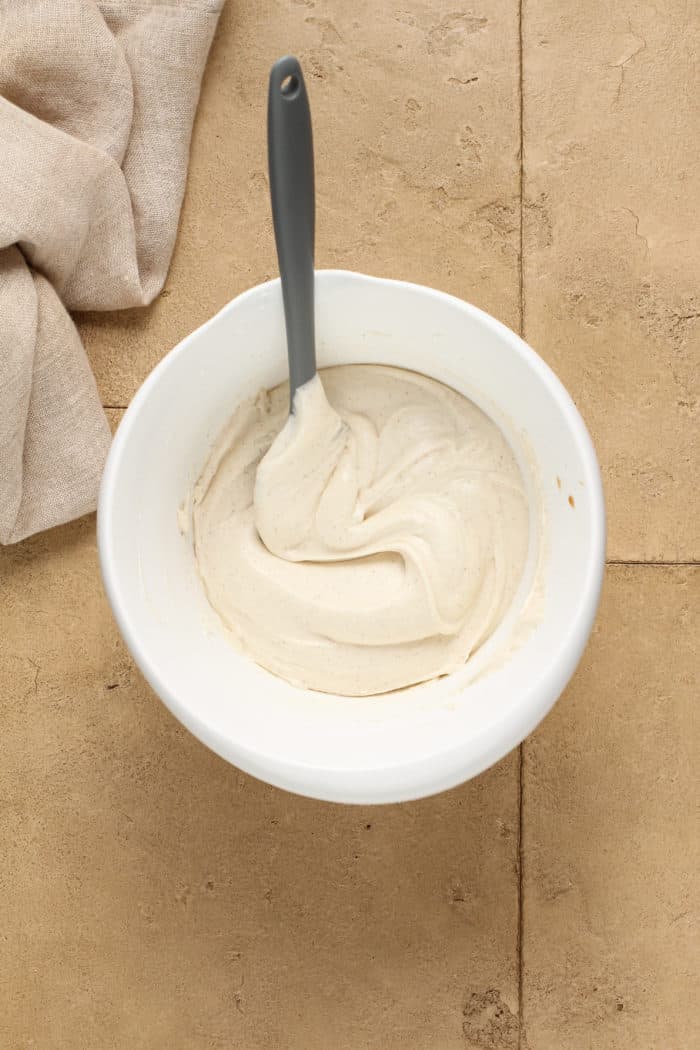 Slowly add the powdered sugar and continue beating until it is all mixed in and smooth. Beat in the vanilla and pumpkin pie spice, then taste and adjust flavorings if needed.
Keep beating until the frosting is very fluffy, then frost the cupcakes using an offset spatula or piping bag.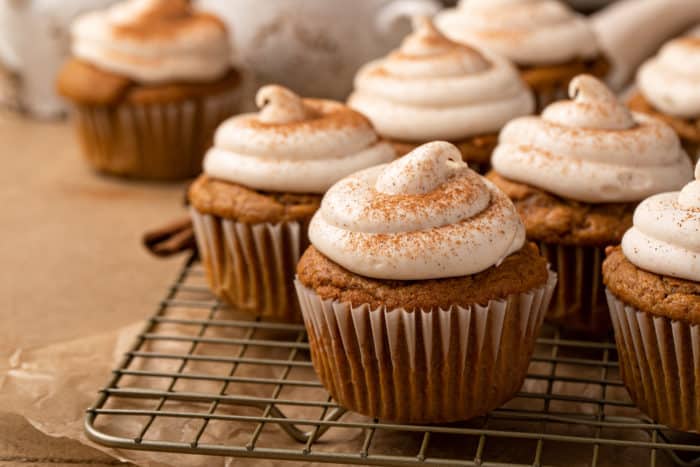 WHAT TO DO WITH LEFTOVER PUMPKIN
Since this recipe only uses 1 cup of pumpkin, you'll likely have some left over for another dish!
Try a batch of my pumpkin molasses sandwich cookies. If you have leftover frosting, it's perfect for these cookies.
My soft and tender pumpkin cookies with vanilla glaze are also a great option.
You can even have pumpkin for breakfast if you make pumpkin baked oatmeal!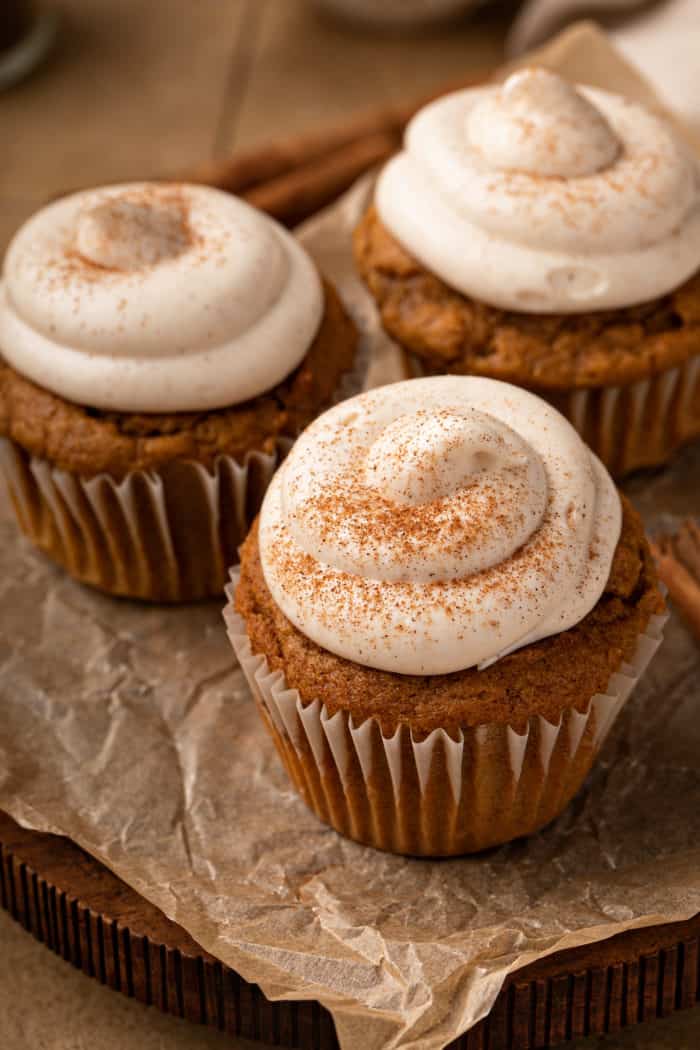 STORAGE TIPS
Store these cupcakes in an airtight container within the refrigerator for up to 1 week, or freeze them for longer storage.
To freeze cupcakes, wait until they are completely cooled. You can either frost them or leave them plain.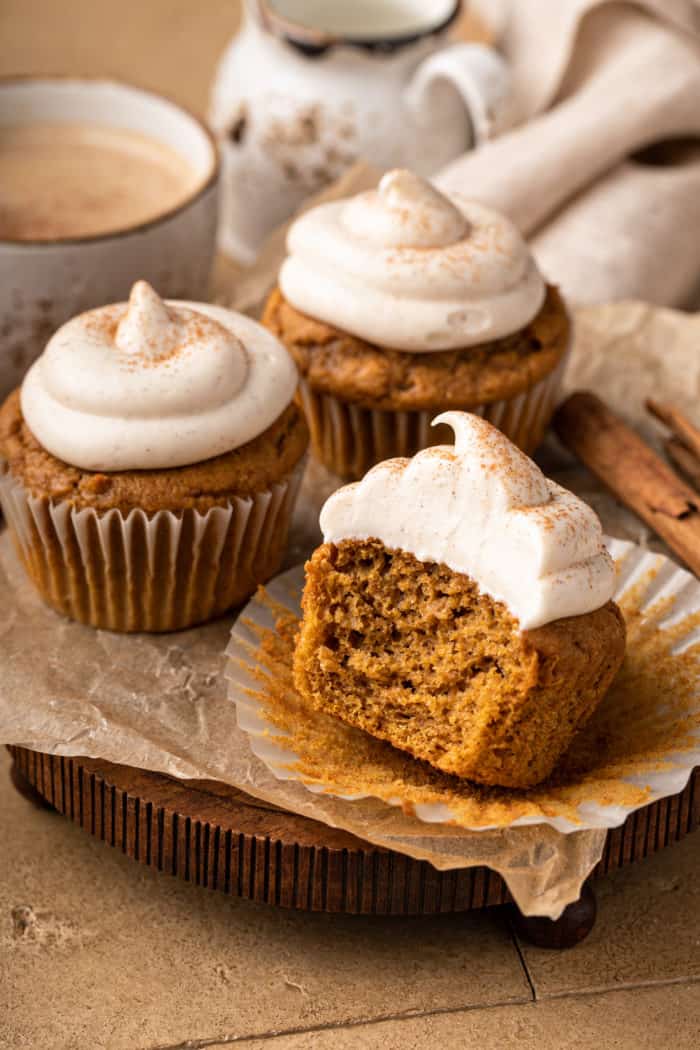 Transfer to a freezer-safe container, seal, and freeze for up to 3 months.
To thaw, let them come to room temperature for about 30 minutes before enjoying.
Of course, these pumpkin spice cupcakes are so good, you won't need to worry about freezing any leftovers — you won't have any!