Last week, we planned a luncheon for a coworker at sort of the last minute, for Friday afternoon. Guess who volunteered to bring dessert? Yep, that'd be me. Only last week was cah-razy busy and I completely forgot about my sweet contribution until about 7pm on Thursday night. At that moment, I was in my pajamas with my rear end firmly planted on the couch, staring at the television while contemplating an 8 o'clock bedtime.
My gut reaction was to stop at a local bakery the following morning, but seriously – what kind of food blogger shows up with store-bought cupcakes? Not this one. One thing for certain though, this girl was not about to change out of her favorite, slightly worn (read holey – you know you totally have a pair) yoga pants to run to the market.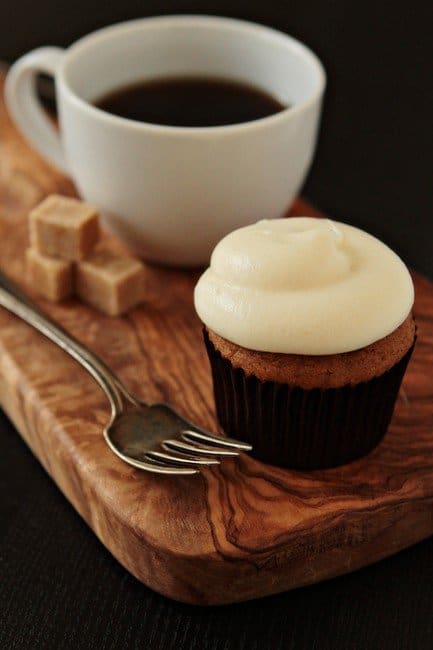 After a quick scan of the fridge and pantry, I came up with a spice cake mix and some pumpkin puree. I decided to wing a recipe adapted from my favorite doctored up cake mix recipe. Only this time, I gave the recipe a seasonal twist.
The result? Honestly, these cupcakes are insane. Moist, flavorful and so perfect Fall. The addition of pumpkin pie spice kicks the spices already in the cake mix into high gear. And although they're quite incredible on their own, Pumpkin Spice Cupcakes were just begging for a swirl of cream cheese frosting. They're sweet, simple and seasonal. What more you could ask for?
Pumpkin Spice Cupcakes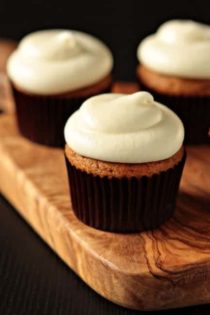 Ingredients:
For the Cupcakes
1 (18.25 ounce) box Duncan Hines Signature Spice Cake (see note section)
1 (3.4 ounce) package instant vanilla pudding mix
1 1/2 teaspoon homemade pumpkin pie spice
1/2 cup sour cream
1 cup pure pumpkin puree
1/2 cup vegetable oil
3 eggs, lightly beaten
2 teaspoons pure vanilla extract
For the Cream Cheese Frosting
2 8-ounce packages of cream cheese, softened
1/2 cup (4 ounces) unsalted butter, softened
1.5 pounds (about 5 3/4 cups) confectioners' sugar
1 teaspoon pure vanilla extract
Directions:
For the Cupcakes
Preheat oven to 350 degrees F. Line muffin tin with paper liners or spray with non-stick cooking spray.
In the bowl of a stand mixer, fitted with the paddle attachment, or with a hand mixer in a large bowl, beat together the cake and pudding mixes, pumpkin pie spice, sour cream, pumpkin, oil, eggs, and vanilla. Beat for about two minutes on medium speed until well combined.
Using a large cookie scoop, distribute the batter between 24 muffin wells; about 3 tablespoons of batter per well.
Bake in preheated oven for 18-22 minutes or until the tops of the cakes spring back when lightly touched. Allow cupcakes to cool inside muffin tins for about 10 minutes.
Remove cupcakes from muffin tins and allow to fully cool on a wire rack. Once cupcakes are cool, prepare your frosting.
For the Cream Cheese Frosting
In the bowl of a stand mixer fitted with the paddle attachment, beat the cream cheese on medium-high speed for about 5 minutes. Add in the butter and continue beating for another 2-3 minutes.
Turn the mixer down to low speed and gradually add in the confectioners' sugar until it is completely incorporated. Add in vanilla and mix until incorporated. Turn off the mixer and check the frosting for taste and texture. Turn the mixer back up to medium-high speed and beat the mixture for about 3-4 minutes or until light and fluffy.
Pipe the frosting onto the cooled cupcakes and if desired, garnish with festive Fall sprinkles.
Notes:
You are using the dry pudding mix. Do not prepare the pudding according to package directions before adding to the bowl.
Some cake mix companies have reduced their cake mix to 15.25 ounces. This recipe performs just fine with the reduced cake mix contents.
This recipe would be awesome with Pumpkin Spice Pudding; however, I did not have any on hand.
Store cupcakes in the refrigerator. Remove to room temperature about 1 hour before serving.
This recipe for cream cheese frosting will generously frost 24 cupcakes. If you aren't a frosting lover, I'd recommend cutting it in half to start with.
Recipe Source: My Baking Addiction
All images and text ©
Follow Jamie on Instagram. We love to see what you're baking from MBA! Be sure to tag @jamiemba and use the hashtag #mbarecipes!