Pumpkin Molasses Sandwich Cookies
Thanksgiving has come and gone, so now it's time to switch my baking gears from all things pumpkin to all things cookies. However, judging from the post title, I can't quite give up my pumpkin obsession, so I figured I'd combine the best of both worlds with Pumpkin Molasses Sandwich Cookies.
Not only am I kind of obsessed with pumpkin, I may need a 12-step program for my addiction to Target. And I'm sure like many of you, I find myself making excuses to visit. Trips that start out focused on essentials like soap, dog food, and paper towels quickly transcend into me redecorating the bathroom. It's a sickness, I tell ya.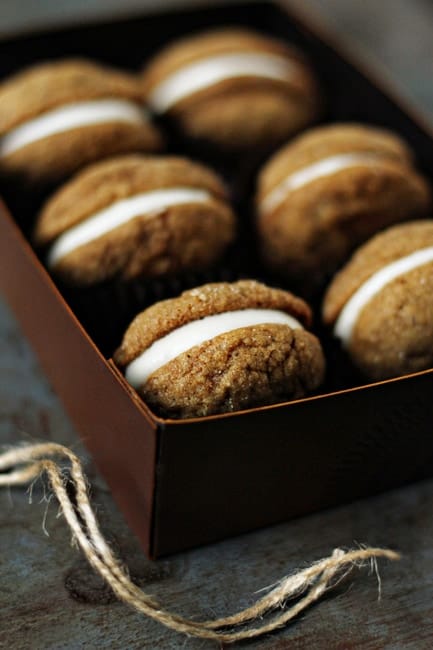 While on a recent trip, I was meandering through the aisles and came across Pumpkin Cheesecake Sandwich Cookies. Hello! Two of my most favorite things in the world combined into a holiday cookie? Sold. Sort of. Instead of chucking the preservative-filled box into my cart, I exercised what little restraint I have while in Target and decided to make them myself. Ya know, because the $2.59 I saved really made a HUGE difference in my overall bill.
The result? Soft and chewy Pumpkin Molasses Cookies sandwiched together with a sweet and tangy cream cheese frosting. Messy? A little, but so worth a little cream cheese on your fingers.
Who says Pumpkin is just for Thanksgiving? Let's take back the gourd and make it an all-Fall treat!
[pinit]

Pumpkin Molasses Sandwich Cookies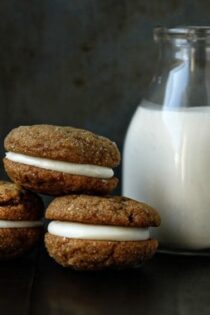 Ingredients:
For the Cookies
2 1/3 cups Gold Medal all-purpose flour
2 tsp baking soda
1/2 tsp salt
1 tablespoon homemade pumpkin pie spice
8 tablespoons unsalted butter, room temperature
1 cup light brown sugar, packed
1/4 cup molasses
2/3 cup pure pumpkin puree
1 large egg
1/2 cup granulated sugar, for rolling
For the Filling
1 (8 ounce) package cream cheese, softened
3 1/2 cups confectioners' sugar, sifted
1 teaspoon pure vanilla extract
Directions:
For the Cookies
1. Whisk together the flour, baking soda, salt, and pumpkin pie spice.
2. Working with a stand mixer, preferably fitted with a paddle attachment, or a hand mixer in a large bowl, beat the butter on medium speed until smooth and creamy. Add the brown sugar, molasses, and pumpkin puree and beat for 2 minutes, scraping down the sides of the bowl as needed. Add the egg and beat for 1 minute more.
3. Reduce the mixer speed to low and add the dry ingredients, mixing until the flour and spices disappear. If flour remains in the bottom of the bowl, mix the last of the dry ingredients by hand to avoid over beating. You will have a very soft dough.
4. Divide the dough in half and wrap each piece in plastic wrap. Freeze for at least 30 minutes, or refrigerate for at least 1 hour. The dough is sticky, so the longer time it can chill the easier it is to work with.
5. Preheat oven to 350°F. Line 2 baking sheets with parchment paper.
6. Put the sugar in a small bowl. Working with one packet of dough at a time, divide it into 24 pieces (or use a small cookie scoop), and roll each piece into a ball. Roll the balls in the sugar, then place dough balls on prepared cookie sheets and use a the bottom of a glass to ever-so-gently press down on the cookies. Do not over crowd.
7. Bake the cookies one sheet at a time for 7-9 minutes, or until the top feels set to the touch. Remove baking sheets from the oven. Let cookies cool 5 minutes on the sheets before transferring them to a cooling rack.
8. Repeat with second batch of dough.
For the Filling
1. In a medium bowl with an electric mixer, combine cream cheese and confectioners' sugar. Mix on low speed until the sugar is incorporated, increase speed to medium-high and mix for about one minute. Add in vanilla and continue mixing on low speed until vanilla in fully incorporated.
2. To assemble the cookies, pipe or spread the filling on the bottom of one cookie. Top with another cookie and press together gently to create a sandwich cookie. Repeat with remaining cookies.
Notes:
- Cookies will keep in an airtight within the refrigerator for up to 3 days.
All images and text ©
Follow Jamie on Instagram. We love to see what you're baking from MBA! Be sure to tag @jamiemba and use the hashtag #mbarecipes!
Disclosure
This post is part of an ongoing relationship between My Baking Addiction and Gold Medal Flour. In June of 2012, My Baking Addiction attended a Farm to Table event in Kansas City to learn why Gold Medal has been America's flour of choice for 125 years. Although this is a sponsored post, the views and opinions expressed are our own and based upon our personal experiences with Gold Medal Flour.
This post may contain affiliate links. We are a participant in the Amazon Services LLC Associates Program, an affiliate advertising program designed to provide a means for us to earn fees by linking to Amazon.com and affiliated sites.