Pumpkin Cookies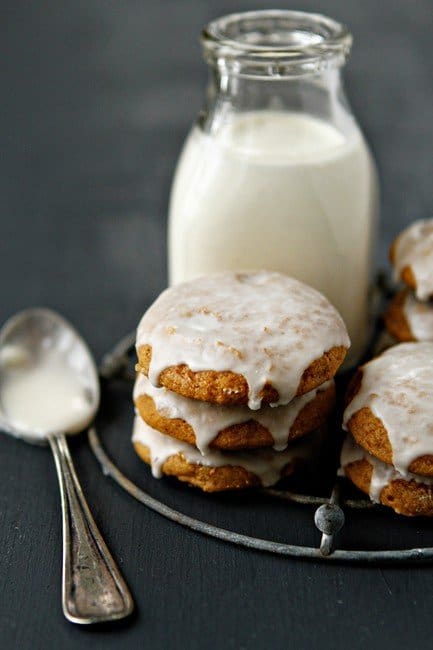 I've been making these Pumpkin Cookies forever. If you've been reading MBA for any length of time, you know that I'm not much of a repeat baker. However, these soft, cake-like pumpkin cookies are a delicious exception. I don't recall making a cookie like this with my Nana, but for some reason the recipe always reminds me of her, which could be why it's been a Fall favorite for so many years.
Last weekend, I was whipping up my fourth batch of Homemade Pumpkin Pie Spice in recent weeks – I'm telling you guys, I am mildly obsessed with this stuff. As I was shaking the fragrant mixture around in a jar, I started to think about these cookies and within minutes, the batter was whirling around in my KitchenAid.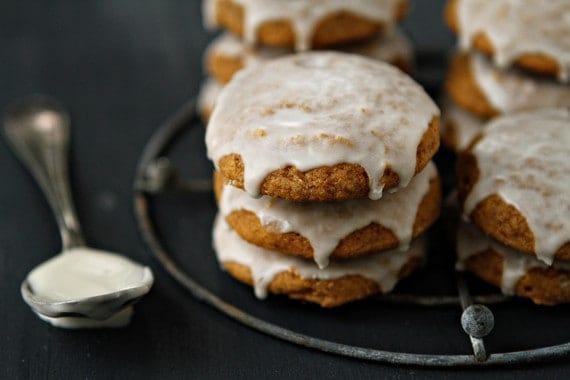 I have posted two variations of this basic pumpkin cookie recipe on MBA in the past. Once with cream cheese frosting and again with a caramel glaze, but this time I decided to keep things a little more laid back with a simple powdered sugar glaze. There was only slight problem – I was out of milk. Well, let me rephrase that, I was out of usable milk. I really need to clean my fridge a little more often.
After a quick refrigerator scan, I decided that I'd make do with a little Vanilla Natural Bliss Creamer from Coffee-Mate and the results were quite delicious. If you fancy vanilla creamer in your coffee, definitely give this one a whirl. It's sweet and creamy and made from cream, milk, and sugar, so it doesn't have that weird oiliness that some creamers have. And not to mention, it makes one hell of a pumpkin cookie glaze!
Whether you're looking for a holiday cookie recipe for an upcoming party, or you just feel like eating your feelings – I promise you, Pumpkin Cookies are the way to go!
[pinit]

Pumpkin Cookies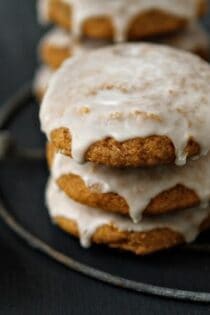 Ingredients:
2 1/2 cups Gold Medal all-purpose flour
1 teaspoon baking powder
1 teaspoon baking soda
1 tablespoon homemade pumpkin pie spice
1/2 teaspoon salt
1/2 cup unsalted butter, softened
1 cup granulated sugar
1/2 cup light brown sugar, lightly packed
1 cup canned pure pumpkin puree
1 large egg
1 teaspoon pure vanilla extract
For the Glaze
1 cup confectioners' sugar
3 tablespoons Vanilla Natural Bliss Creamer OR 1 1/2 tablespoons milk
1 tablespoon melted butter
1/2 teaspoon pure vanilla extract (see note below)
Directions:
1. Preheat oven to 350°F. Line a baking sheet with parchment paper or a silicone baking mat.
2. In a large bowl, combine flour, baking powder, baking soda, homemade pumpkin pie spice, and salt; set aside.
3. In the bowl of stand mixer fitted with the paddle attachment, or in a large bowl with an electric mixer, cream together the butter and sugars. Add pumpkin, egg, and vanilla to butter mixture. Beat on medium speed until fully incorporated and creamy. Slowly add in dry ingredients and mix until combined. Using a medium cookie scoop (1 1/2 tablespoons), drop dough onto prepared cookie sheets. Spray the bottom of a glass with nonstick cooking spray and ever so slightly, flatten the tops of the cookies.
4. Bake in preheated oven for 12-15 minutes. Allow cookies to cool on pan for a few minutes before removing them to a wire rack to cool completely.
5. To Make the Glaze: Combine confectioners' sugar, creamer OR milk, melted butter, and vanilla. Add milk as needed, to achieve glaze consistency.
6. Place a piece of parchment or wax paper on your work surface and place a wire rack on top of the paper. Dip the top of each cookie into the glaze and place the cookie onto the wire rack allowing the glaze to drizzle down the sides of the cookie. Allow glaze to firm up before serving.
Notes:
- If you are using milk for the glaze, I would suggest bumping up the amount of vanilla extract to 1 teaspoon.
- These cookies are best served the day they are made. However, if storing them, I recommend keeping them at room temperature. Do not place them in an airtight container as it could cause the cookies to become too soft and slightly sticky.
My Baking Addiction adapted from allrecipes
All images and text ©
Follow Jamie on Instagram. We love to see what you're baking from MBA! Be sure to tag @jamiemba and use the hashtag #mbarecipes!
Disclosure
This post is part of an ongoing relationship between My Baking Addiction and Gold Medal Flour. In June of 2012, My Baking Addiction attended a Farm to Table event in Kansas City to learn why Gold Medal has been America's flour of choice for 125 years. Although this is a sponsored post, the views and opinions expressed are our own and based upon our personal experiences with Gold Medal Flour.
This post may contain affiliate links. We are a participant in the Amazon Services LLC Associates Program, an affiliate advertising program designed to provide a means for us to earn fees by linking to Amazon.com and affiliated sites.