Brian often does our mid-week grocery shopping, I typically include a detailed list and even accompany that list with visual aids (photos) on occasion. You see, I am a self-proclaimed control freak and he is a chronic over buyer…especially when the shopping list includes meat. So, if I am not specific, he will come home with 10 pounds of beef in tow and virtually nothing else besides maybe a bag of beef jerky and a 12 pack of Coke. Okay, I am being a little dramatic here, but not by much! Serious question though…does meat over buying run prevalent in males? I think it does.
Long story short, he went to the store last week ill-equipped to shop…i.e., no Jamie created list. I asked for limes and ended up with a giant bag of lemons. Hey, beggars can't be choosers right, at least he does some grocery shopping. So I bit my tongue and changed up my lime cupcake baking plan, simply subbing in lemons for the limes.
I used my go to white cake recipe from Dorie Greenspan and simply adapted it to up the lemon factor. I then slathered on lemon cream cheese frosting and topped with a large yellow sprinkle and called it a night. The result? Not only do these look adorable, but they are now my new favorite cupcake, they're moist with an incredible crumb and bursting with lemon flavor. I am betting my original plan for lime cupcakes would be equally as delicious. If you make a lime version, definitely stop back and let me know how it goes! Maybe I'll just have to send Brian back to the store, but this time I'll text him a pic of a lime. Thanks so much for stopping by…have a great day!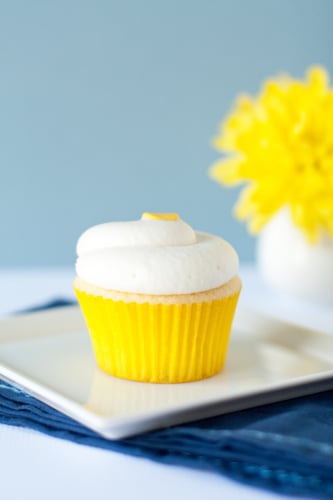 Looking for more luscious lemon recipes? Give these a look-see:
Lip Smacking Lemon Bars from My Baking Addiction
Chewy Lemon Sugar Cookies from My Baking Addiction
Lemon Buttermilk & Rhubarb Cake from Honey & Jam
Roasted Lemon Chicken Wings from Three Many Cooks
Are you swooning over the fab yellow liners and giant sprinkles pictured? Check out Bake it Pretty to order!

Lemon Cupcakes with Cream Cheese Frosting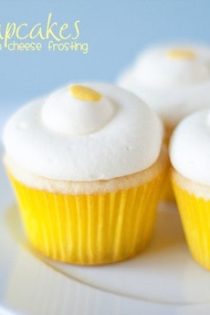 Ingredients:
For the Cake
2 1/4 cups cake flour
1 tablespoon baking powder
1/2 teaspoon salt
1 1/4 cups buttermilk
4 large egg whites
1 1/2 cups sugar
lemon zest from two lemons
1 stick (8 tablespoons) unsalted butter, at room temperature
1 teaspoon pure vanilla extract
1/2 teaspoon pure lemon extract
For the Cream Cheese Frosting:
2 (8) ounce package cream cheese, softened
1 stick butter, softened
2 lbs. confectioners' sugar
2 teaspoons vanilla extract
juice of one lemon
Directions:
For the Cake
Center a rack in the oven to 350 degrees F. Prepare cupcake tins by using liners or spray with non-stick cooking spray
Sift together the flour, baking powder and salt.
Whisk together the milk and egg whites in a medium bowl.
Put the sugar and lemon zest in a mixer bowl or another large bowl and rub them together with your fingers until the sugar is moist and fragrant. Add the butter and, working with the paddle or whisk attachment, or with a hand mixer, beat at medium speed for a full 3 minutes, until the butter and sugar are very light.
Beat in the extracts, then add one third of the flour mixture, still beating on medium speed. Beat in half of the milk-egg mixture, then beat in half of the remaining dry ingredients until incorporated.
Add the rest of the milk and eggs, beating until the batter is homogeneous, then add the last of the dry ingredients.
Finally, give the batter a good 2-minute beating to ensure that it is thoroughly mixed and well aerated. Place the batter into the cupcake tins.
Bake for 18-22 minutes, or until the cupcakes are well risen and springy to the touch – a thin knife inserted into the centers should come out clean. Cool on wire rack.
For the Cream Cheese Frosting:
Using a mixer, blend the butter and cream cheese together until well combined.
Gradually add in the confectioners' sugar until fully incorporated.
Finally mix in vanilla and lemon juice and mix until combined.
All images and text ©
Follow Jamie on Instagram. We love to see what you're baking from MBA! Be sure to tag @jamiemba and use the hashtag #mbarecipes!