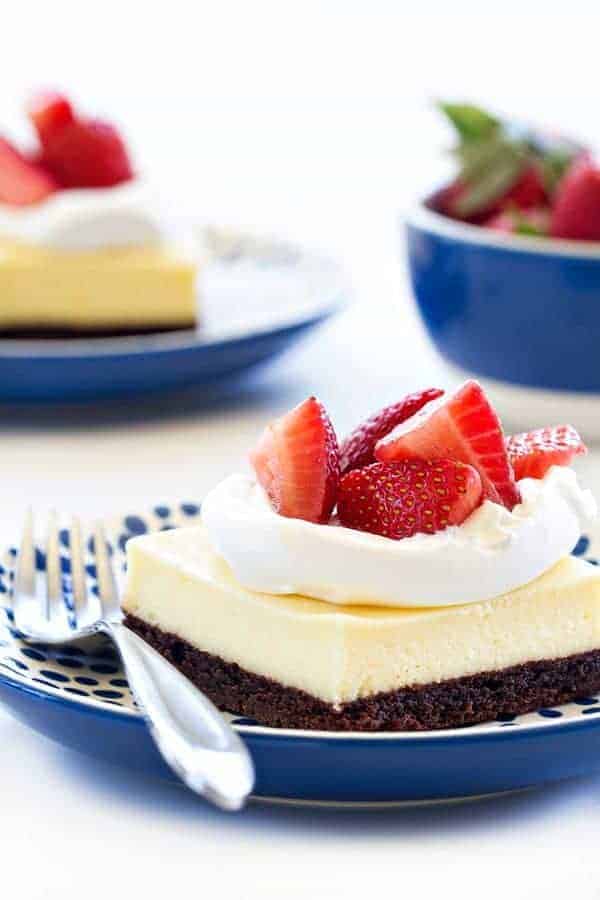 Cheesecake Brownies have delicious layers of fudgy brownie and creamy cheesecake. Add some fresh berries, and you've got one epic springtime dessert.
This post is sponsored by Challenge Dairy. Thank you for supporting the brands that make My Baking Addiction possible.
It's no secret I love cheesecake. It's our family go-to dessert for just about every occasion, from birthdays to Tuesdays. We are 100% of the time a cheesecake-loving family.
I've combined it with cookie dough for these Cookie Dough Cheesecake Bars, and even pretzels for this Salted Caramel Cheesecake, and now brownies!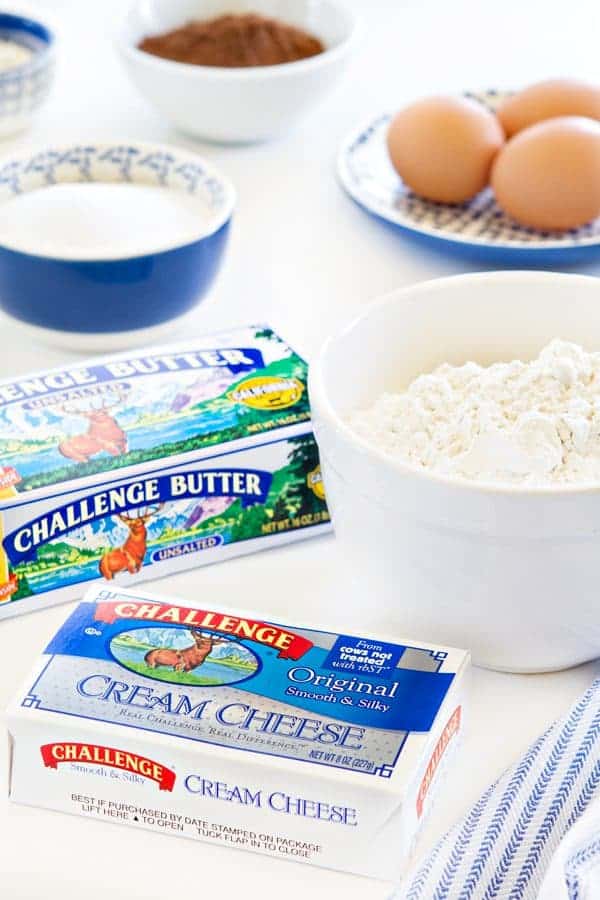 The original version of this recipe from Challenge Dairy had just a slim layer of cheesecake coupled with a thick layer of brownies, but friends, that's not going to cut it around here. So we've got a thinner layer of deeply delicious fudgy brownies, and extra creamy and tart cheesecake goodness. I've topped the whole shebang with whipped cream and gorgeous springtime strawberries that have been tossed in a bit of sugar to make them extra sweet.
There's so much to love about this recipe. The brownie base is my favorite kind of brownie – fudgy and dense, with just the right amount of crusty edges that make you go for a corner piece every time.
And the cheesecake layer couldn't be simpler. Only four ingredients needed to make the most luscious layer added to a brownie I've ever had. Delicious cream cheese, sugar, vanilla and eggs are all you need to make a delectable layer of cheesecake to top those equally delectable brownies.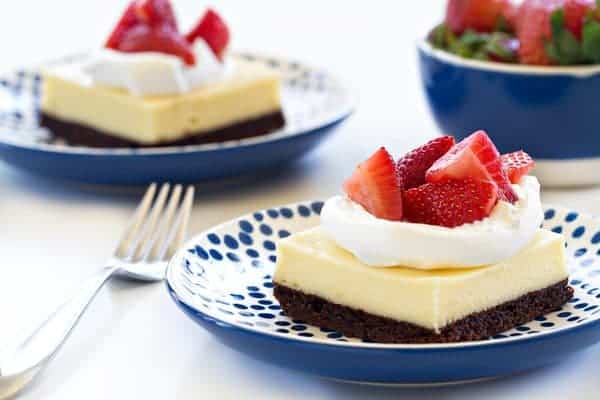 I made these Cheesecake Brownies using Challenge Dairy butter and cream cheese. I love working with their products! Challenge butter is made the old fashioned way, from the freshest milk and cream from happy cows at local dairies. They're the only dairy product company that controls the whole process from milking the cows, to transporting milk, to making the butter, to packaging.
After I made these the first time, I started thinking that really, what needs to happen, is Strawberry Cheesecake Brownies. I'll be using Challenge's Cream Cheese for that too, because Challenge prides itself on its fresh products and continues that tradition by only using real ingredients in its products like real, naturally sweet strawberries in its strawberry cream cheese. I just love that and think strawberry cream cheese will take this recipe to the next level!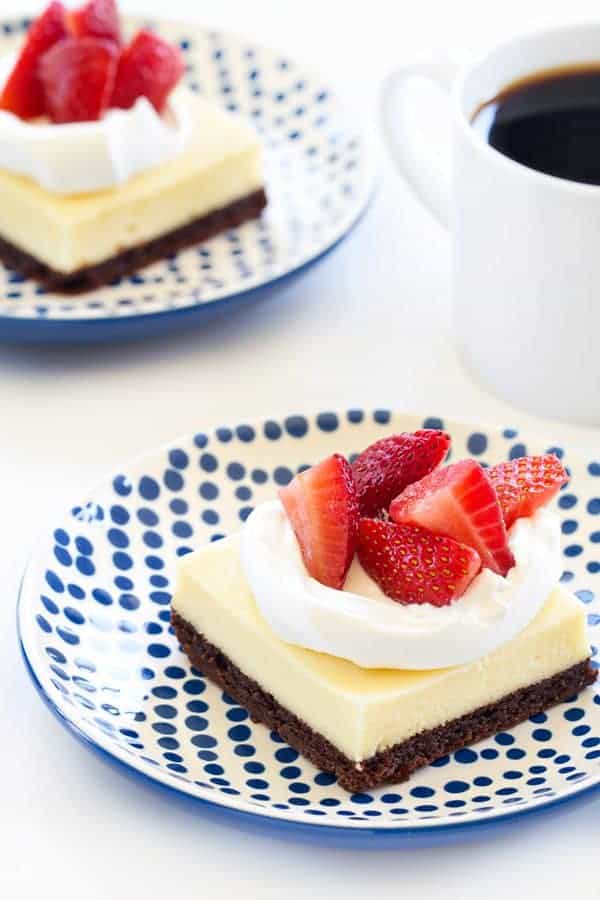 Since we're talking strawberries, let's talk springtime berries in general. We just love them around here – going through entire packages of berries in a day is no strange happening in this house. You can use any berries you want, going for a mix or just one kind, like I did here.
Spoon the berries onto the cheesecake layer or whipped cream, if you're feeling extra fancy. The only thing left to do is DEVOUR. And devour you will, trust me. This is one dessert that's straight up perfect for birthday parties, spring picnics, potlucks, and church suppers. I can guarantee pretty much everyone will be raving about what a wonderful baker you are. Boom.
For more delicious recipes using Challenge Dairy, be sure to check out these No-Bake Strawberry Lemonade Cheesecakes and this lovely Peach Crisp.
Cheesecake Brownies
Yield: 12 servings
Prep Time: 20 minutes
Cook Time: 1 hour 7 minutes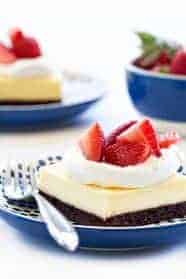 Ingredients:
For the Brownie Base:
6 tablespoons Challenge Unsalted Butter , room temperature
1/2 cup granulated sugar
1/2 cup packed light brown sugar
2 large eggs, room temperature
1 teaspoon pure vanilla extract
1/2 cup all-purpose flour
1/4 cup + 2 tablespoons unsweetened cocoa powder
1/4 teaspoon salt
For the Cheesecake
3 (8-ounce) packages Challenge Cream Cheese, room temperature
3/4 cup granulated sugar
3 large eggs, room temperature
2 teaspoons pure vanilla extract
Directions:
For the Brownie Base:
Preheat oven to 350°F. Spray an 9x9-inch baking pan with nonstick cooking spray.
In the bowl of a stand mixer fitted with the paddle attachment, or in a large bowl with an electric hand mixer, cream butter and sugars until light and fluffy, about 2 minutes.
Beat in eggs and vanilla and mix until combined.
In a medium bowl, whisk together the flour, cocoa, and salt. Fold dry ingredients into creamed mixture by hand and mix until well blended.
Spread mixture into prepared pan.Bake 15 to 17 minutes or until the center of the brownies are mostly set. Allow brownies to cool on a cooling rack while preparing the cheesecake layer.
For the Cheesecake Layer:
In the bowl of a stand mixer fitted with the paddle attachment, or in a large bowl with an electric hand mixer, beat the cream cheese and sugar until combined. Beat in eggs and vanilla and mix until fully incorporated.
Pour cheesecake batter evenly over the brownie base.
Bake in preheated oven for 45-50 minutes or until the cheesecake is almost set. They edges should appear to be completely set, but the center should have a slight jiggle to it.
Cool to room temperature then refrigerate for 4-5 hours. Cut into bars and serve with fresh berries.
This recipe is adapted from Challenge Dairy. You can also use an 8x8-pan which will yield thicker cheesecake brownies.

39 Responses to "Cheesecake Brownies"