These strawberry popsicles are sure to become your go-to treat all summer long! Made with fresh strawberries, Greek yogurt, and just a bit of honey, these popsicles are a hit with adults and kids alike.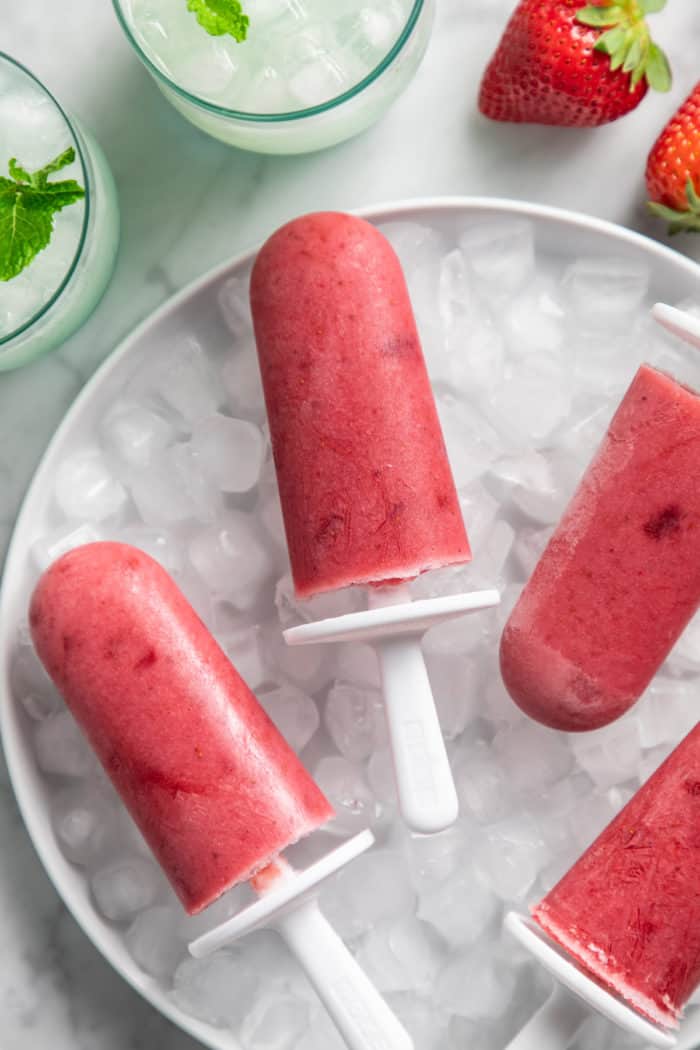 This post contains affiliate links.
If you're a parent or grandparent, you know that summer is prime popsicle time.
As soon as the heat hits, I know we have to keep the freezer stocked with popsicles, even if it's just a box of freeze pops, alongside containers of rocky road ice cream and no-churn ice cream.
I mean, there's nothing better after getting out of the pool on a hot summer day than lounging with a popsicle in hand.
Even though I love fancy-pants popsicles like roasted berry goat cheese popsicles, prosecco popsicles (for the adults), and banana split popsicles, sometimes I just want to stock the freezer with something super classic.
These strawberry popsicles are being made on repeat this summer. They are just as easy as running out to buy a box of popsicles and are easily a top craving around here right now.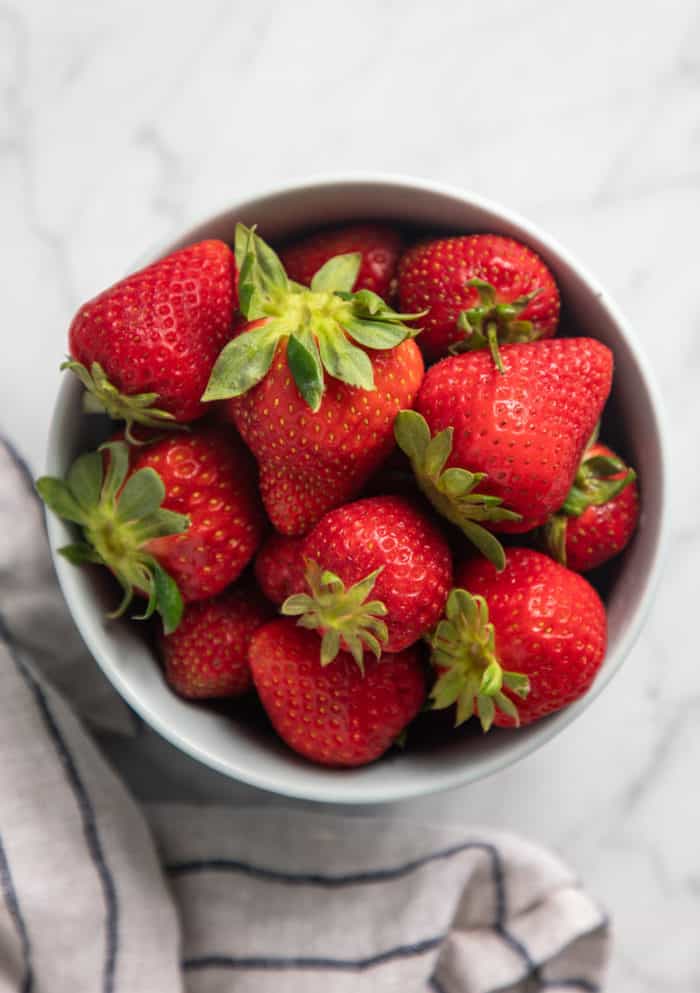 EASY HOMEMADE STRAWBERRY POPSICLES
Have you ever had those Outshine fruit popsicles? They are so good but also kind of expensive.
I love them because they are packed with so much fruit. The texture of them is amazing – not icy at all.
Even though these homemade strawberry popsicles aren't an exact copycat of the Outshine ones, the creamy, fruity texture reminds me a lot of them.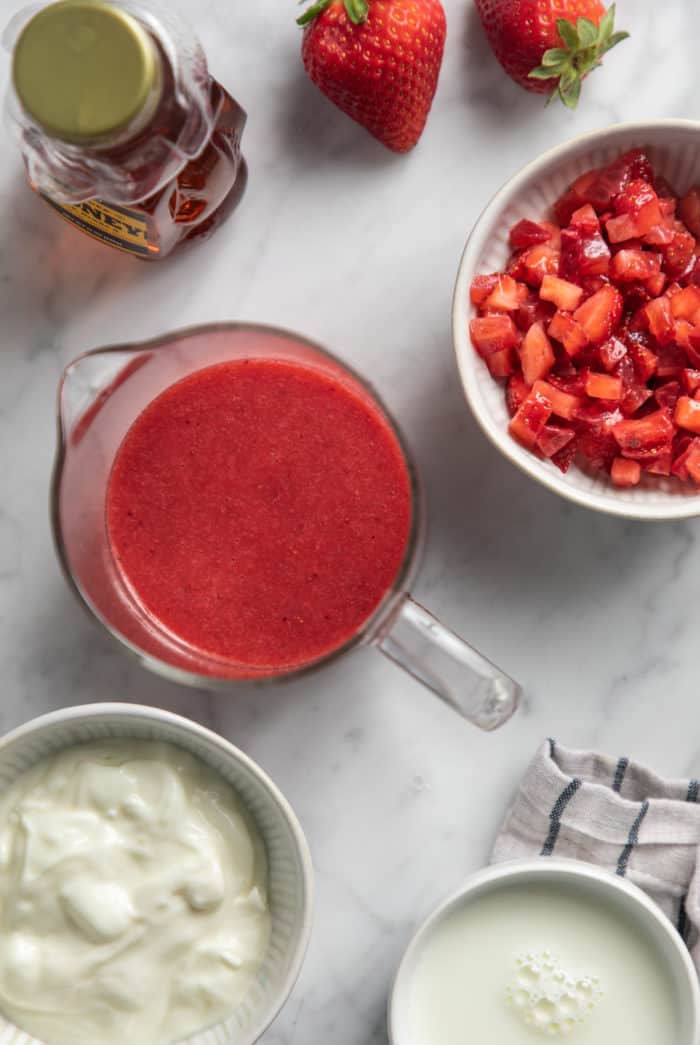 These homemade popsicles are made primarily with fresh, ripe strawberries. I also riffed on my peaches and cream popsicles and added some Greek yogurt to the mix to keep them creamy, add a bit of tangy flavor, and sneak in some protein.
Not to sound like "that mom," but I also love that these have just a smidge of honey in them instead of a bunch of sugar. The fresh strawberries are sweet enough that I don't think they need a bunch of sugar!
So even though my family thinks they're a great summer treat, I can feel good knowing that they're mostly just enjoying fresh fruit and a bit of yogurt instead of something with a lot of added sugar.
Oh, and they're incredibly easy to make!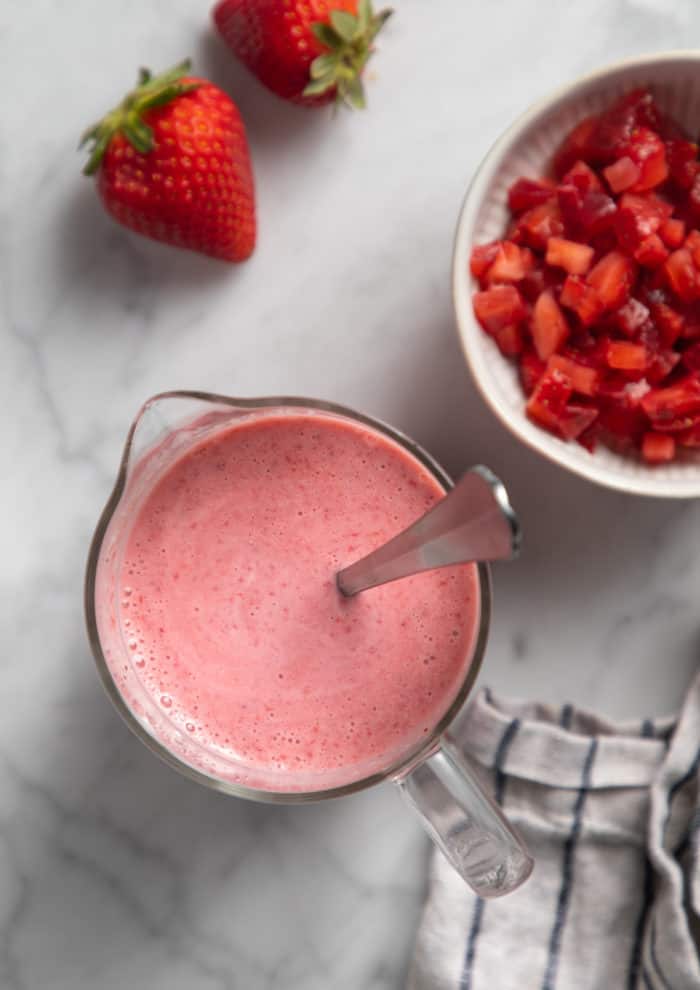 HOW TO MAKE STRAWBERRY POPSICLES
If you find yourself with loads of fresh strawberries on hand, this popsicle recipe is a must-try.
Ingredients you'll need
There's a time and a place for long ingredient lists, but this recipe isn't one of them. You'll only need 5 simple ingredients to make these popsicles:
Fresh strawberries
Milk
Greek yogurt
Honey
Vanilla extract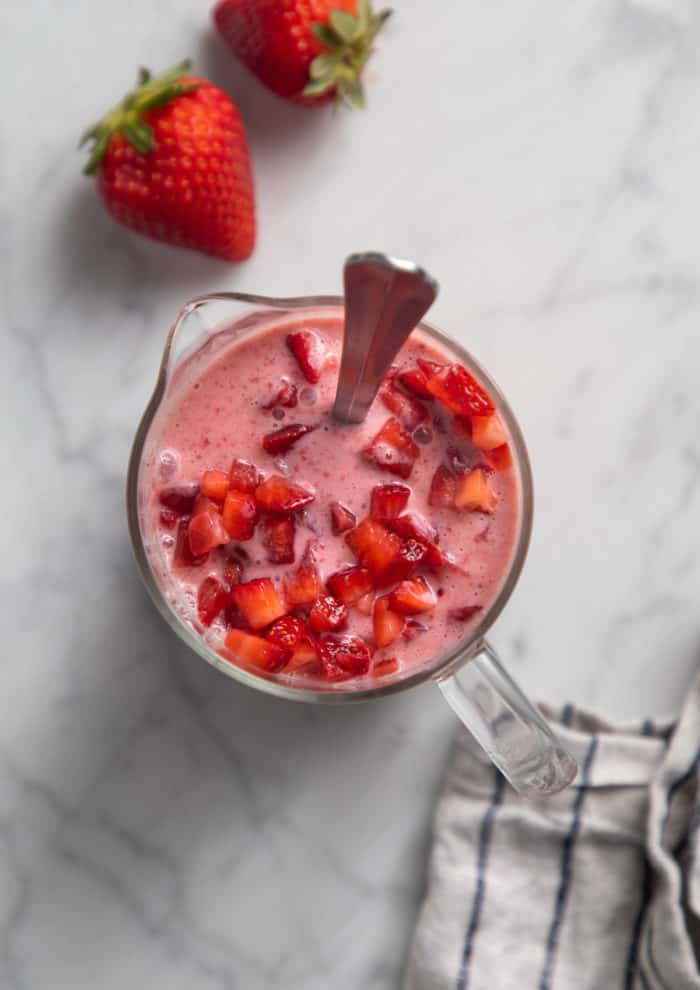 These are all ingredients I keep on hand at all times, especially during the summer months.
In fact, if you regularly enjoy yogurt with fruit for breakfast, consider these popsicles a frozen treat version of that!
You will need 1 cup of strawberry puree for the base of this recipe. To get 1 cup of puree, you will need about 2 cups of hulled and halved strawberries.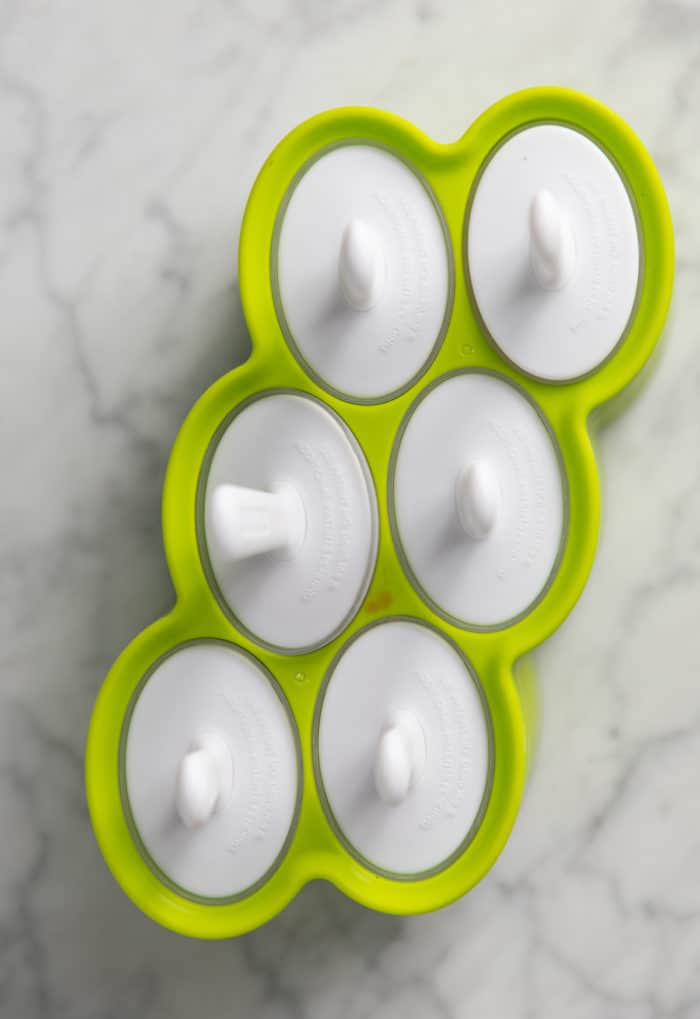 Can you use frozen strawberries?
If you are out of fresh strawberries or want to make these popsicles when strawberries are out of season, the good news is that you CAN make this recipe with frozen strawberries.
Simply thaw the frozen strawberries before pureeing them and proceed with the recipe as written.
The final popsicles won't have the same perfectly creamy texture as when they are made with fresh strawberries, but the flavor is still great and they are still the perfect summer treat!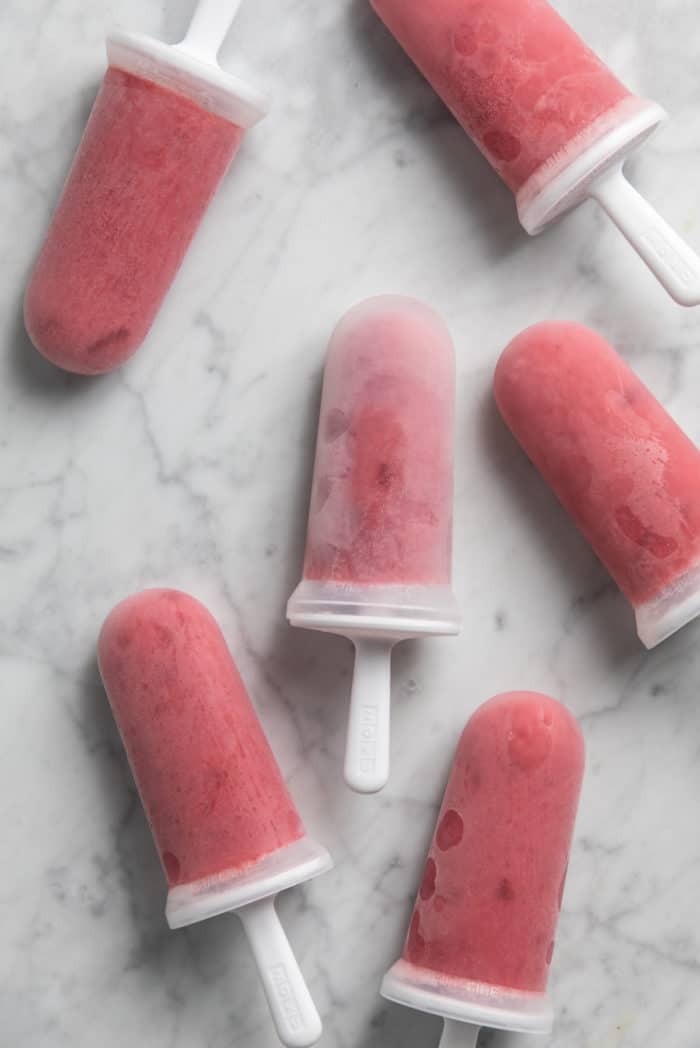 Tools you'll need
The two main things you'll need, in addition to measuring cups and a bowl, is a blender or food processor (to puree your strawberries) and popsicle molds.
I like to use a 3.25-fluid ounce popsicle mold. If you use this size, you will get 6 popsicles from this recipe.
If you want to use a smaller or larger size mold, just keep in mind that the recipe will make more or fewer popsicles respectively and may take less or more time to fully freeze.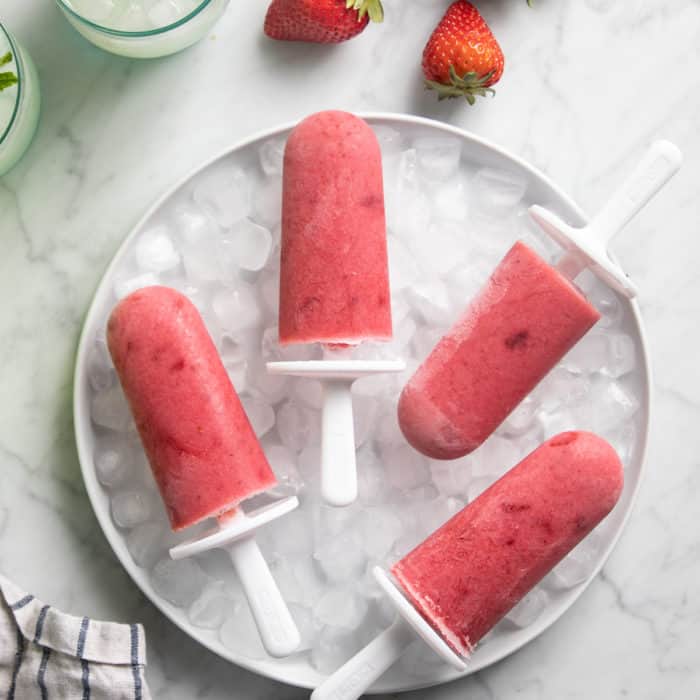 Making this recipe
To make the popsicle base, simply whisk together the strawberry puree, milk, yogurt, honey, and vanilla.
Stir in the diced strawberries and pour the mixture into your popsicle molds. Make sure not to overfill the molds!
Add your popsicle sticks and freeze the popsicles for at least 4 hours, although they may need more time to fully set depending on your freezer.
Once they're fully frozen, you're ready to enjoy your homemade popsicles!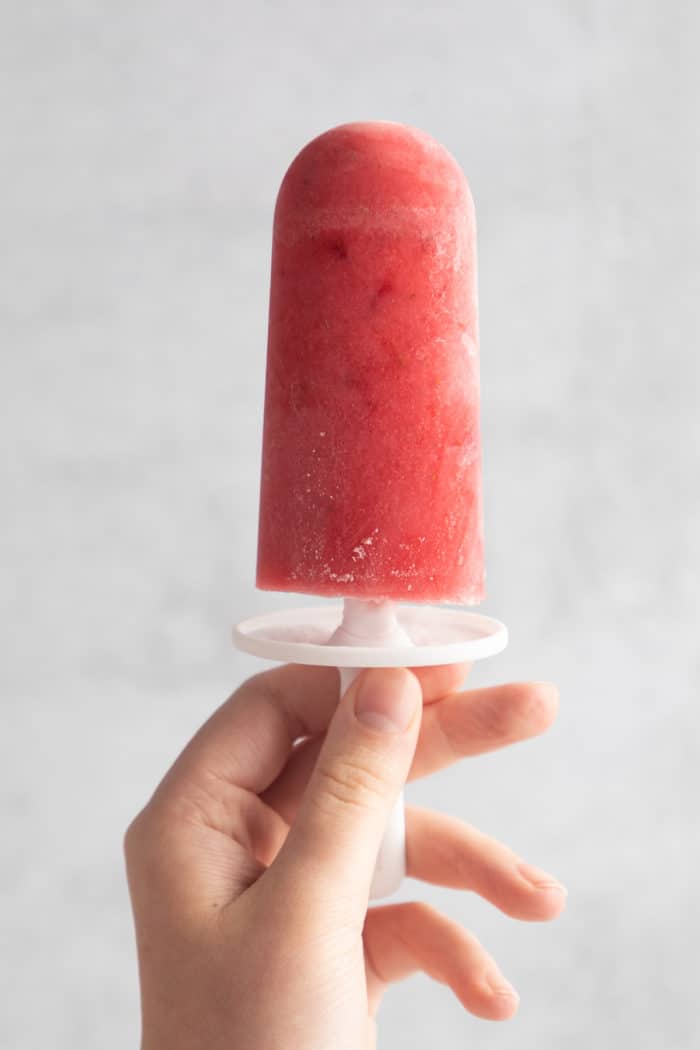 RECIPE VARIATIONS
There are a few different ways to change up this recipe to accommodate dietary restrictions, food allergies, and your own personal preferences!
For a dairy-free version, use your favorite dairy-free milk and yogurt. Using a coconut-based milk and yogurt would be especially delicious with the fresh strawberries.
For a vegan version, use your favorite dairy-free milk and yogurt and replace the honey with agave nectar or maple syrup.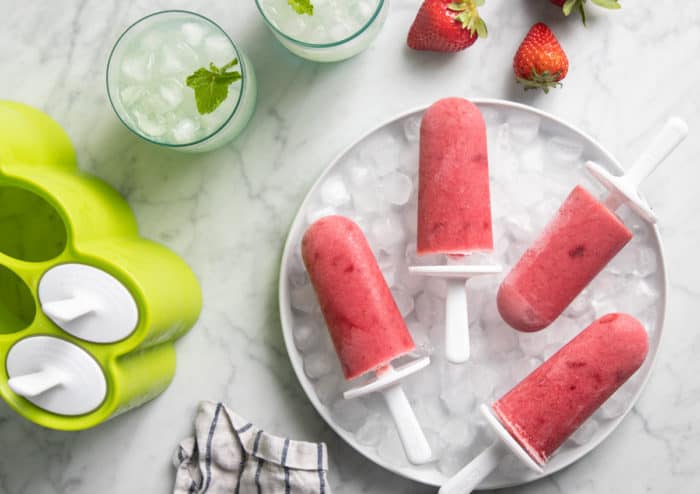 Try swapping the plain Greek yogurt with a flavored Greek yogurt, such as vanilla, honey, or strawberry.
And lastly, don't limit yourself to just making this recipe with strawberries! Sure, it's a strawberry popsicle recipe, but that doesn't mean you can't try it with other fruits!
Give this recipe a try with raspberries, peaches, mango, blueberries, or a combination of your favorite fruits. Your only limit is your imagination!
Give these strawberry popsicles a try for your next swim party, summer movie night, or simply for the perfect treat on a hot day. The whole family will love them!