Sweet and tangy Roasted Berry Goat Cheese Popsicles are the perfect icy treats to help beat the summer heat.
We're smack dab in the middle of July and in Ohio, that means heat along with some unbelievable humidity. Oh, the humidity. It's months like these that I pretty much boycott my oven. I avoid it at all costs and typically break out any no-bake dessert that I can think of. Think no-bake cheesecakes, ice cream and popsicles. Yes, popsicles are quite the treat when the humidity is through the roof.
The fun thing about popsicles is that they are insanely easy to make. Just put the ingredients in the popsicle molds and then freeze. The waiting game is the hardest part of the entire process. My kids love picking a flavor of popsicle for the week. Sometimes we use fruit purees and other times we use greek yogurt as a base for creamy popsicles.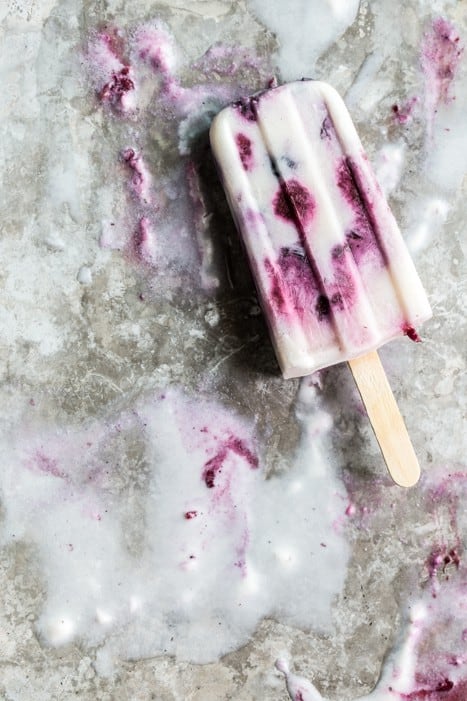 Last week, I had some leftover Roasted Berry Sauce and wanted to transform it into a batch of popsicles. I have a serious thing for goat cheese in dessert like with my mini key lime coconut cheesecakes. There is something about the tangy goat cheese that loves hanging out with sugar and honey. They're dessert BFF's.
These Roasted Berry Goat Cheese popsicles are an unexpected combination of tangy and sweet. The goat cheese is sweetened with honey and a touch of vanilla and cardamom. Then it's swirled with a bit of roasted berries and frozen to create lovely creamy, fruity popsicles. These pops are the best kind of humidity cure. Well, these and a crazy powerful air conditioner.
Roasted Berry Goat Cheese Popsicles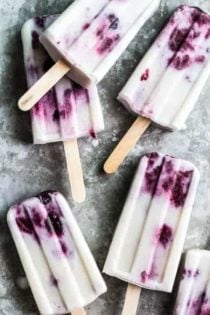 Ingredients:
EQUIPMENT
3 oz popsicle molds
INGREDIENTS
1 cup milk
4 ounces goat cheese
3 tablespoons honey
1/8 teaspoon cardamom
1/4 teaspoon vanilla extract
1 recipe roasted berry sauce
DIRECTIONS
Directions:
In a small sauce pan set over medium/low, gently heat milk, goat cheese, honey, cardamom and vanilla extract. Whisk constantly until milk mixture is warm and goat cheese is completely melted into the milk. Set aside to cool.
Spoon 1 scant tablespoon of berry mixture into the bottom of each popsicle mold. Pour in a bit of the milk mixture until molds are halfway filled. Drop 1 more scant tablespoon of berries in each mold and top with milk mixture. Freeze according to manufacturer's directions (usually 4-6 hours). Gently unmold pops and enjoy!
Recipe from Jelly Toast
Some product links within this post are affiliate links.
All images and text ©
Follow Jamie on Instagram. We love to see what you're baking from MBA! Be sure to tag @jamiemba and use the hashtag #mbarecipes!
For More Roasted Berry Goodness, check out these recipes:
Roasted Berry S'mores from Jelly Toast