Lemon pizzelles are topped with mascarpone whip, tangy lemon curd and roasted berries to create summer berry napoleons.
On a recent trip to Whole Foods I reacquainted myself with mascarpone, and I've been obsessed with it ever since. Tell me I'm not the only one that goes through obsessive phases with random foods! Last month it was roasted chick peas, this month mascarpone.
If you've never tried mascarpone, it's pretty much a smoother, fancier, more expensive version of cream cheese. If you've ever had Tirasmisu for dessert, odds are you've had mascarpone.
With a couple of tubs of mascarpone hanging out in fridge, I decided to do something a little more creative than smear it on saltines with berry preserves. Which is totally delicious by the way and just a little more upscale than my typical saltine/butter/preserves version. Can you tell I have a thing for saltines too?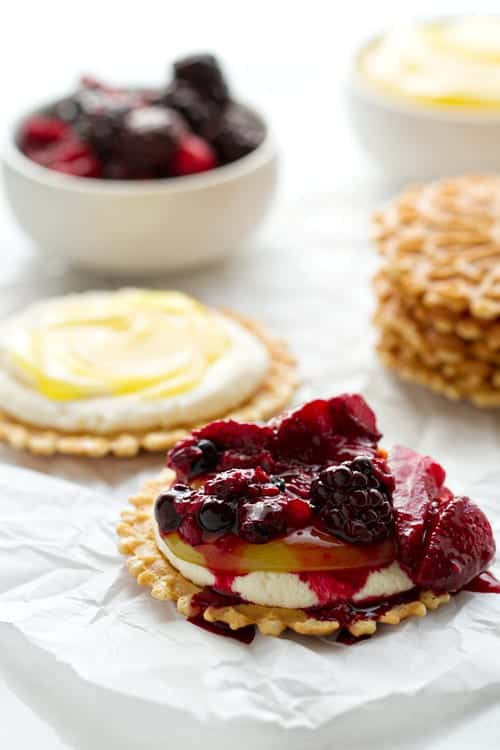 Another one of my summer obsessions is roasted berries. A few weeks ago, Emily and I were working on a video project which included her Roasted Berry S'mores and I fell hard for those berries. I seriously wanted to spoon and slurp them straight from the jar, but I decided to keep it somewhat classy and simply chow down on them in s'mores form.
I've made Emily's Roasted Berry Sauce three times since that day and I can attest that is amazing on just about everything from ice cream and s'mores to pizzelles. And after spooning it over store-bought pizzelles for breakfast, the idea for Roasted Berry Napoleons was born.
It honestly doesn't get much better or seasonal than loads of roasted berries piled on layers of mascarpone whip and homemade microwave lemon curd.
These Roasted Berry Napoleons are my new favorite Summer dessert – they're simple, delicious and oh, so summer! Whip up a batch for your next impromptu cookout or for the 4th of July, I promise it'll be love at first bite!
Plan on making this recipe? Snap a picture of your delicious creation and share it on our Facebook page, Instagram, or Twitter using the hashtag #mbarecipes. Have an easy summer dessert idea you'd love to share? Follow us on Pinterest -we'd love to mingle with you!
Roasted Berry Napoleons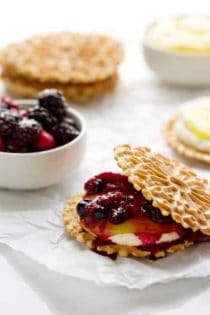 Ingredients:
Directions:
1. In a small bowl, combine sugar and lemon zest mix with clean fingertips until the sugar becomes moist and fragrant.
2. In a medium bowl, combine the mascarpone, heavy cream, vanilla, and sugar/lemon zest mixture. Beat mixture with an electric mixer until medium-firm peaks form.
3. Spoon or pipe a thin layer of marscapone whip into the top of a pizzelle Next, add a layer of lemon curd, followed by a layer of roasted berries. If desired, top with another pizzelle. Serve immediately.
Follow Jamie on Instagram. We love to see what you're baking from MBA! Be sure to tag @jamiemba and use the hashtag #mbarecipes!
If you love mascarpone, check out these other desserts:
Tiramisu Brownies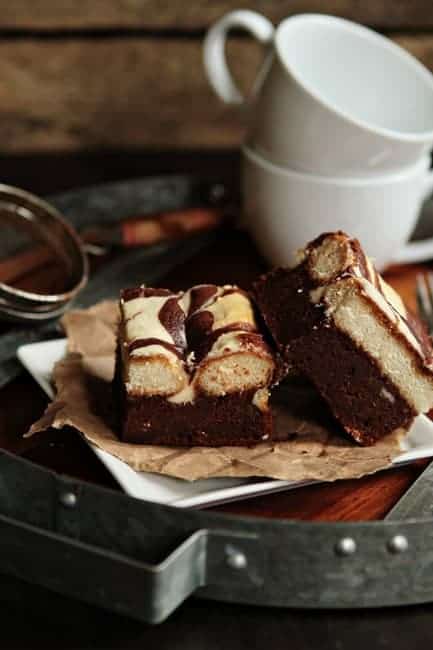 Blueberry Trifles with Mascarpone Whip