Vanilla ice cream, roasted berries and a splash of Chambord liqueur combine to create a delicious milkshake that is bursting with summer flavor!
Milkshakes. They're my jam right now. I'm still dreaming of my Salted Caramel Milkshake from last week! They're quick, easy, delicious and the perfect way to beat this ridiculous Summer heat. Plus, who doesn't like milkshakes – especially when they're loaded with roasted berries, booze and whipped cream.
Yes, I'm still obsessed with Emily's roasted berries and I'm fairly certain they'll continue to be a staple in my summer recipes for months to come. From Roasted Berry Napoleons to this Berries and Cream Milkshake, they simply make everything just a little more delicious!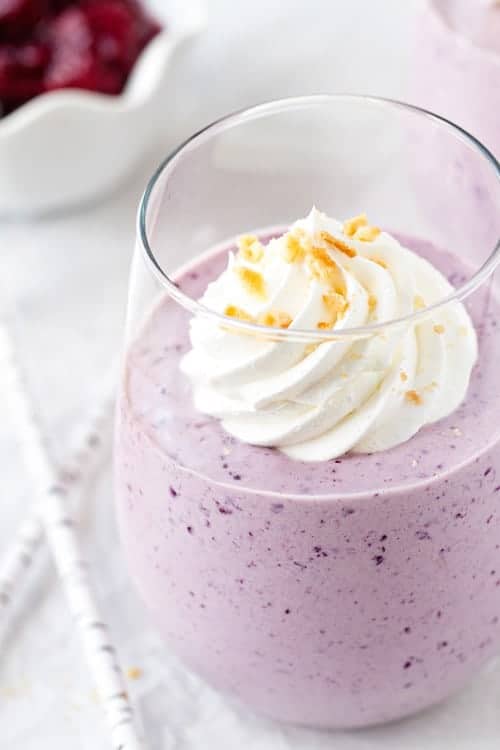 When Julie from The Little Kitchen and Lindsay from Love & Olive Oil decided to dedicate an entire week to all things milkshake, I just had to get in on the action – I mean how could I say no to the hashtag #MilkshakeWeek? Be sure to click through to their sites, because they're giving away some pretty awesome items to get you milkshakin' in style!
I'm fairly certain that Berries and Cream Milkshakes are going to be your new favorite Summer dessert. And since they're so quick to blend up, they're perfect for those weekend barbecues when you need to chill out and serve up a little something sweet to your family and friends.
Berries and Cream Milkshake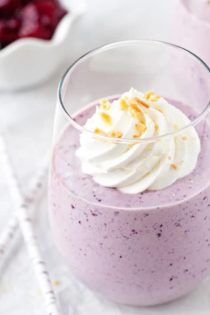 Ingredients:
2 cups (about 4 scoops) packed vanilla bean ice cream
1/3 cup milk (I prefer whole milk)
1/2 cup roasted berries, chilled
1 ounce Chambord, optional
Optional Garnishes
whipped cream
waffle cookie crumbs
Directions:
Place ice cream, milk, roasted berries and Chambord into a blender and blend on medium-high speed until thoroughly combined. If desired, top with whipped cream and waffle cookie crumbs. Serve immediately.
All images and text ©
Follow Jamie on Instagram. We love to see what you're baking from MBA! Be sure to tag @jamiemba and use the hashtag #mbarecipes!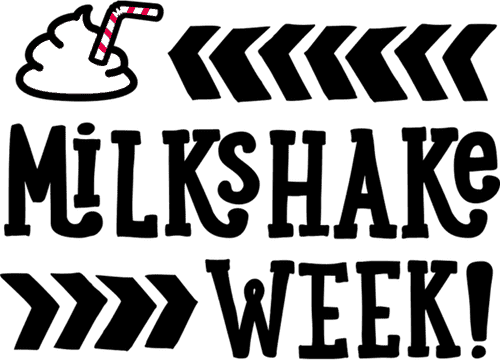 Since a milkshake isn't quite a milkshake without someone to share (and slurp) it with, you'll definitely want to check out some of these delectable milkshake creations from some of my amazing blogging friends!