Salted Caramel Milkshakes made with vanilla bean ice cream, salted caramel sauce and dark salted caramel chocolate. They're the perfect way to chill out and indulge!
In case you thought my affinity for salted caramel was a thing of the past, I'm going to go ahead and take things to a ridiculously indulgent, delicious level with Salted Caramel Milkshakes. Sorry. Not really. You'll totally thank me after you take one sip.
I've been in a milkshake kinda mood lately, which I think is caused by the fact that it's a gazillion degrees coupled with 1000% humidity. Seriously. I haven't done my hair in days, it's not even worth it. With the time I save doing my hair, I'll make you guys milkshakes instead – decadent milkshakes topped with loads of whipped cream, swirls of caramel, and sprinkles – because what's a milkshake without sprinkles?
Eric is not much of a fan of my milkshake shenanigans. Don't get me wrong, he loves a good shake, but he's definitely a purist when it comes to this sweet, cold beverage. His milkshakes begin and end with chocolate – no fun add ins – unless of course we're talking about a few Oreo cookies. But that's where his milkshake customizations stop. Chocolate Malts? Not a chance.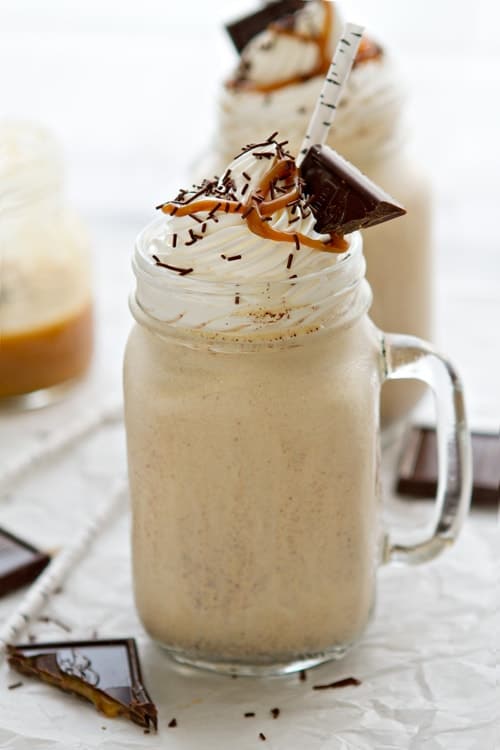 I, however, think the more over-the-top, the better. Don't you? It's not just milkshakes that get my over-the-top treatment, though. The thing is, with it being a bajillion degrees, I haven't really wanted to eat much of anything. It's all about the cool, refreshing liquids, all the time. So, I've been drinking my calories. From juice to iced tea to milkshakes, it's all about keeping my palate happy and my body temperature below 106°F.
I typically start my day with a smoothie or green juice of some sort, so my Blendtec definitely gets a daily workout and performs like a champ – every single time. And while most blenders might struggle with loads of ice cream and chocolate candy, my trusty Blendtec whips through shakes, smoothies and green juices with ease.
It's been a godsend this last week when all I want to do is guzzle ice cold beverages. It even makes a mean frappuccino, thank goodness – because running to the local coffee shop for one of those five times a day can get expensive fast. Plus, I'm sure I'd get really weird looks and I'm so not a fan of those.
I'll be posting a giveaway for a chance to win your very own Blendtec here on MBA, and soon one of you will be whipping up more milkshakes, juices, frappuccinos and soups than you know what to do with. Just remember to start with this Salted Caramel Milkshake! Check back tomorrow evening for your chance to win!
Plan on making this recipe? Snap a picture of your delicious creation and share it on our Facebook page, Instagram, or Twitter using the hashtag #mbarecipes. Have an easy summer dessert idea you'd love to share? Follow us on Pinterest -we'd love to mingle with you!
Salted Caramel Milkshake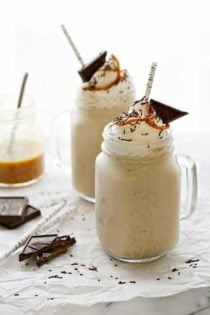 Ingredients:
2 cups (about 4 scoops) packed vanilla bean ice cream
1/2 cup milk (I prefer whole milk)
3 tablespoons salted caramel syrup (see note below)
4 Ghirardelli Dark Chocolate and Sea Salt Caramel Squares
Optional Garnishes
whipped cream
chocolate sprinkles
Directions:
Place ice cream, milk, caramel syrup, and Ghirardelli Dark Chocolate and Sea Salt Caramel Squares into and blender and blend on medium-high speed until thoroughly combined. If desired, top with whipped cream, caramel sauce and chocolate sprinkles. Serve immediately.
Notes:
You can use store-bought salted caramel sauce or simply add an extra 1/2 teaspoon of salt to my homemade caramel sauce.
All images and text ©
Follow Jamie on Instagram. We love to see what you're baking from MBA! Be sure to tag @jamiemba and use the hashtag #mbarecipes!
If you love salted caramel, check out these other desserts: