Rich chocolate ice cream combines with malt powder to create the perfect milkshake.
Chocolate Malt Milkshakes are something that will forever remind me of my dad. I have fond memories of chasing down the Mr. Softee truck with a fistful of quarters for two Screwballs (I totally need to find these for at-home consumption) and a Chocolate Malt with extra malt.
Back then, malts weren't really my thing. However, I desperately wanted to love them just because Dad did. I'd sneak sips of his when he wasn't looking in an effort to acquire a taste for that nutty, malty flavor. Eventually I started to love them – although my preference was, and still is, a vanilla malt heavy on the extra malt.
Since my dad is all about malt, I'm sure it comes as no surprise that he's mildly obsessed with Whoppers Robin Eggs. And my typical hoarding ways compelled me to buy one too many bags this Easter season. When I was telling Eric all about the Mister Softee chasing days of my youth, he divulged that he's never – in his whole life – had a malt. What?! Of course I immediately had to fix the situation.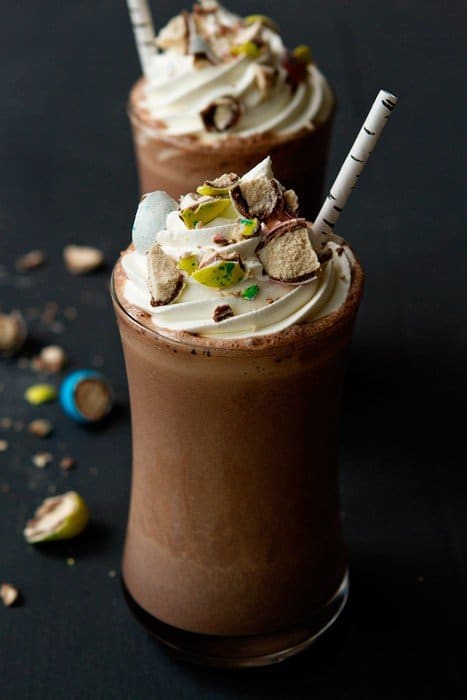 Armed with my Blendtec, chocolate ice cream, and a jar of malt powder, I set out to make Eric a chocolate malt lover. I poured the thick, rich shake into a glass and finished it with a swirl of whipped cream and crushed Whoppers Robin Eggs – ya know, just because I'm over the top like that. And… he hated it. His face was reminiscent of a toddler experiencing a pickle for the first time. I tried to bribe him into taking another sip; however, he dry heaved, so I gave up and drank it myself.
Clearly malt is an acquired taste, for sophisticated palates like my dad's and mine. I've decided to take the glass (malt shake glass, that is) half full perspective. So what if Eric doesn't care for chocolate malt shakes? More for me! And don't you worry – I'll raise Elle right. She'll learn to love chocolate and vanilla malt shakes like her mama and grandpa.
Chocolate Malt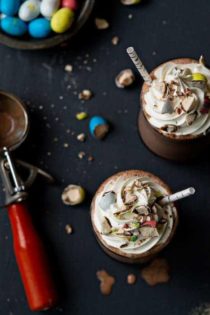 Ingredients:
2 cups chocolate ice cream
1/2 cup whole milk
1/4 cup malt powder (less or more to taste)
Optional Garnish
whipped cream
chopped Whoppers
Directions:
Place ice cream, milk and malt powder into and blender and blend on medium-high speed until thoroughly combined. If desired, top with whipped cream and chopped Whoppers. Serve immediately.
All images and text ©
Follow Jamie on Instagram. We love to see what you're baking from MBA! Be sure to tag @jamiemba and use the hashtag #mbarecipes!