Wow your Valentine with these super easy Berry Oreo Cookie Balls. No-bake, full of love and all the sprinkles you can handle.
As I've been saying for weeks, I'm all about easy recipes due to our upcoming move. If I'm being honest, no-bake recipe are even better. Especially when those recipes include lots of chocolate and adorably festive Valentine's Day sprinkles.
Guys, we're entering a scary time: it's almost time to pack the kitchen. I'm pretty certain it will be the absolute worst. Take a normal kitchen and times it by like 100 because I have more glassware, dishes, flatware and linens than you can imagine. It's a problem. A food blogger problem, but a problem nonetheless.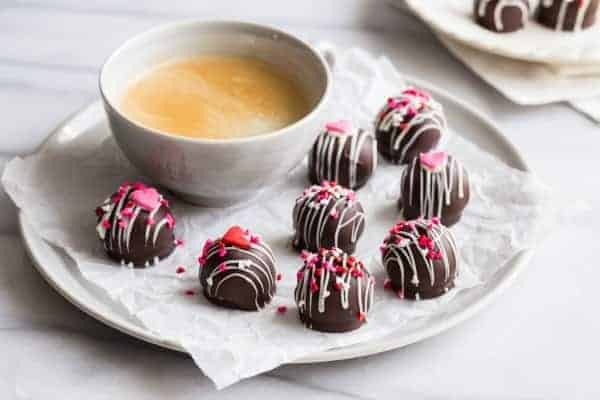 Armed with rolls of bubble wrap and what I'm hoping are enough boxes, I'm ready to conquer this task early next week. I'm seriously wishing there was a moving company that accepted cookies and cupcakes as a method of payment. But I checked, and it's not a thing. Not even a dad and brother thing. Sigh.
Oreo Cookie Balls are always one of my go-to recipes for any occasion. Not only are they ridiculously simple, they're also incredibly easy to customize for any holiday or special event. And they always seem to disappear from the dessert table in a flash – I mean who can resist poppable bites of candy covered Oreos? Certainly not this girl.
I originally planned to use the new Red Velvet Oreos in this recipe, but I can't find them anywhere. I'm still on the hunt though because I want to use them in another recipe later this month.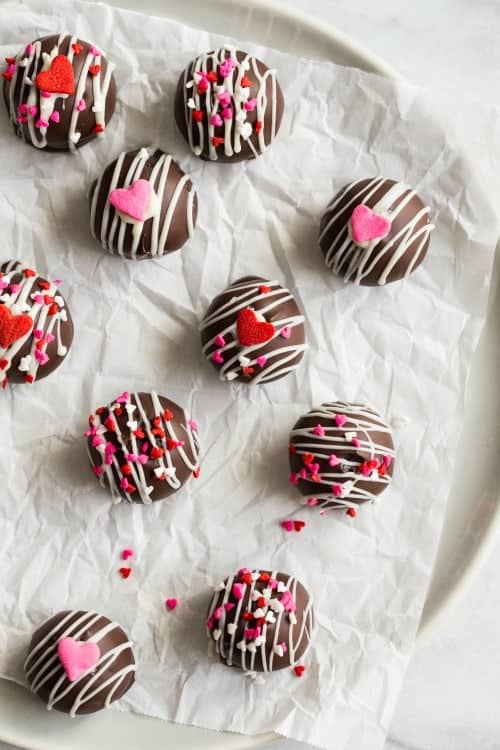 Not to worry, Oreo has some non-seasonal cookies that work just as well. Have you tried the Berry Burst Ice Cream Oreos? Chocolate and sweet pink berry cream – gotta love that. They're perfect here, and especially for Valentine's day.
Covered in candy coating and adorable heart-shaped sprinkles, what's not to love? You've got to make these Berry Oreo Cookie Balls, you guys. They're so simple and perfect for sharing with everyone you love!
Photo Credit: Emily Caruso of Jelly Toast

Looking for more delicious Oreo recipes? be sure to check these out!
No Bake Cookies and Cream Cake