Saltine Toffee is a fun and easy candy to make during the holidays! This salty-sweet treat is perfect for gifting.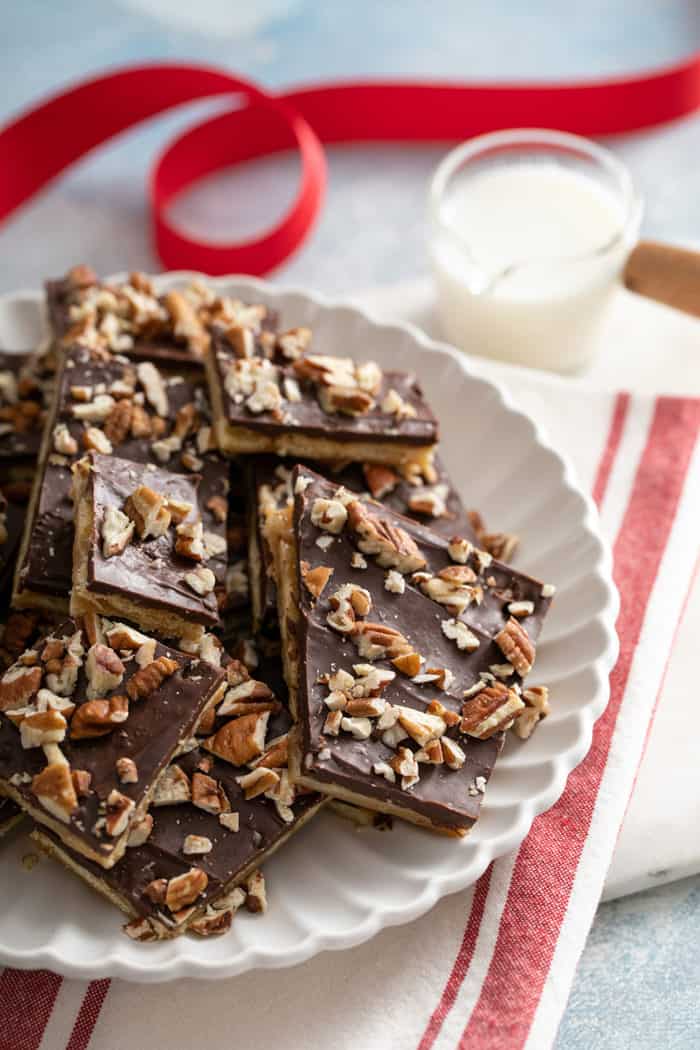 I'm not sure where saltine toffee originated, but I'm sure glad it did. Sweet, salty, crunchy — what's not to love?
If you're into making homemade candies for the holidays like homemade marshmallows or turtle pretzel candy clusters, saltine cracker toffee is a must-add to your list.
This toffee recipe is great because it is so easy, and you might even already have everything on hand!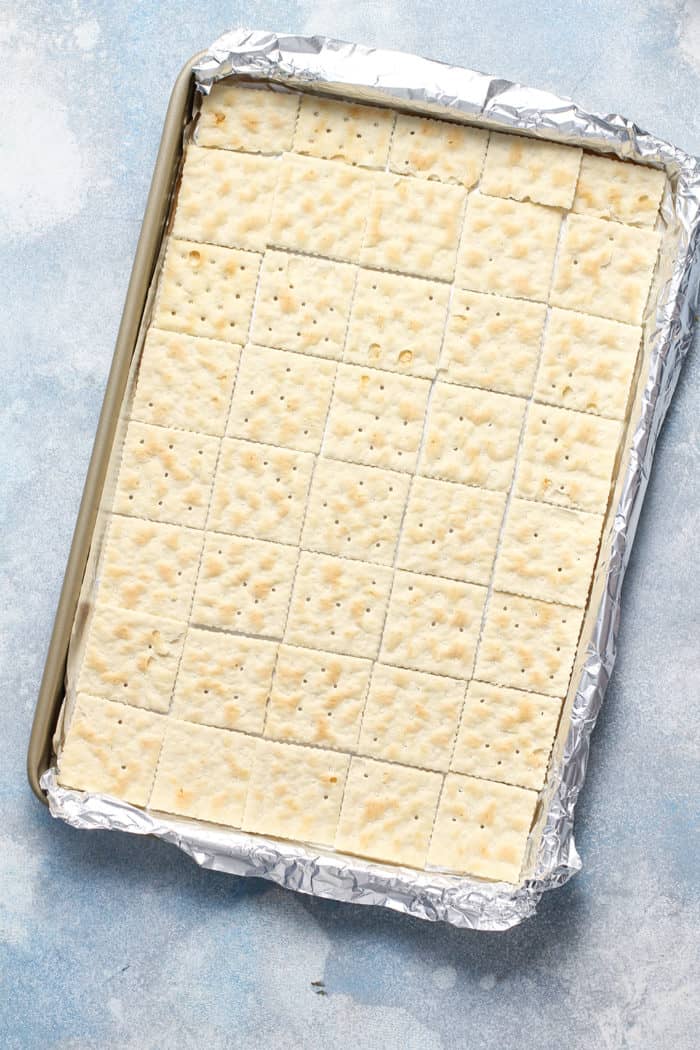 WHAT IS TOFFEE MADE OF?
Toffee is one of the easiest candies to make at home. All you need is butter, brown sugar or molasses, and a watchful eye.
Cooking butter and brown sugar together creates butterscotch. If you continue to cook it to what is called "hard crack" stage like in pecan brittle, you've made toffee.
For this recipe some of the cooking is done in the oven, making it even easier. You don't need a candy thermometer here, but make sure to set the timer!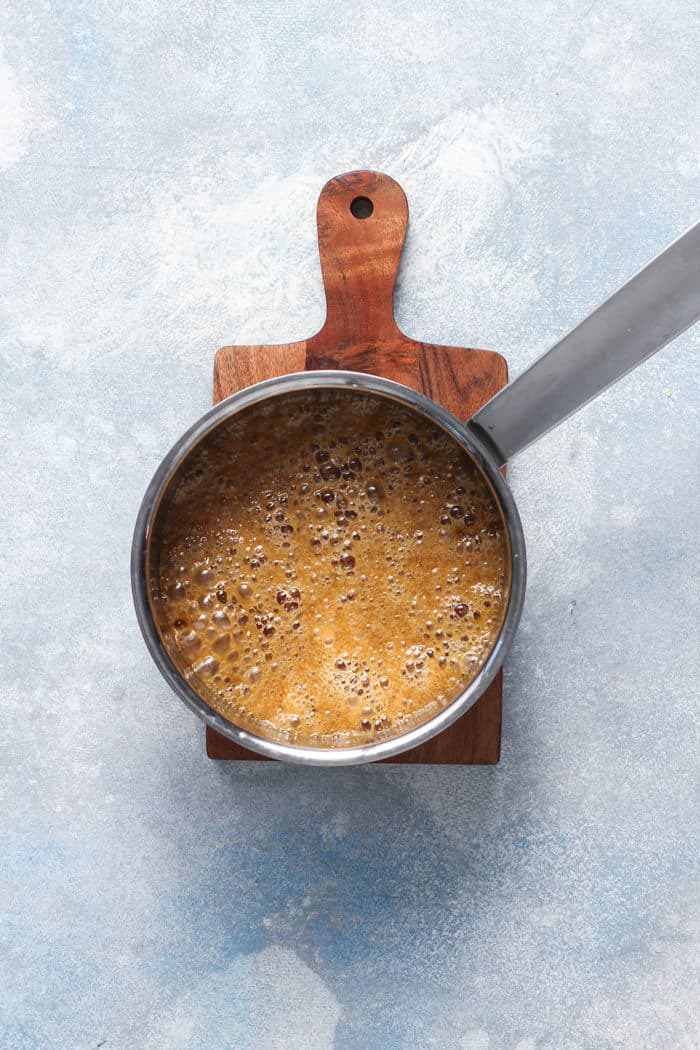 HOW TO MAKE SALTINE TOFFEE
To make this toffee recipe, you'll first need to preheat the oven to 400°F, and then prepare the pan.
Take a rimmed baking sheet and line it with foil. Make sure it comes up on the sides a little; you might need to overlap two pieces of foil to cover the whole pan. Lightly coat the pan with nonstick spray.
Open the saltine crackers (make sure to use salted!) and arrange a single layer in the pan, making sure the edges of the crackers are touching. You should be able to fit about 40 crackers into a standard baking sheet.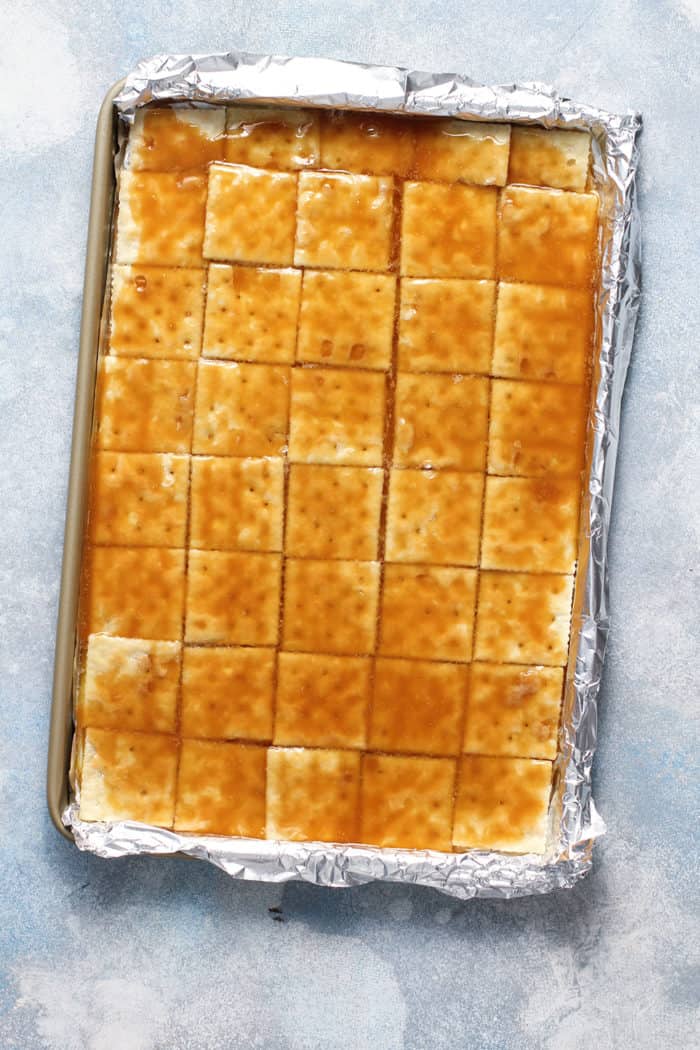 Grab a saucepan and set it over medium heat. Add the butter and brown sugar, and stir often to help the mixture melt.
Once bubbles start to form, set your timer for 3 minutes and continue to cook, stirring as needed.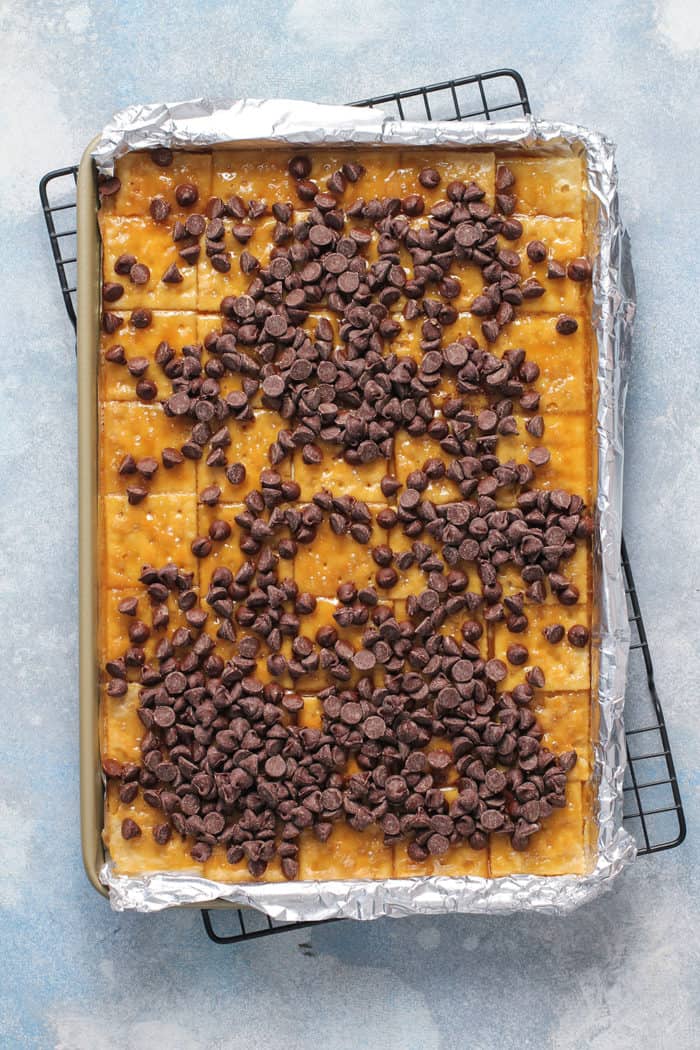 Now, here you need to work quickly! When the timer is up, immediately pour the liquid evenly onto the saltine crackers. You can use a silicone or offset spatula to smooth out the toffee.
Place the baking sheet in the oven and bake for 5 minutes. You'll notice the toffee will be very bubbly, and the crackers might be floating on top of it.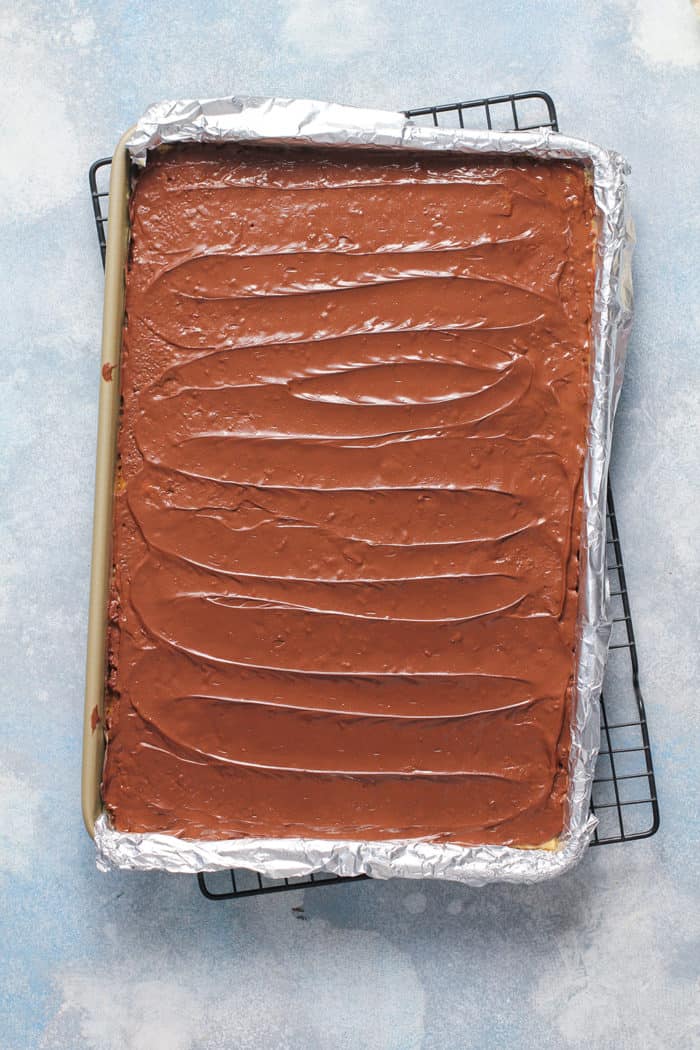 Sprinkle on the chocolate chips and then return the pan to the oven for just a minute or two. You only need the chocolate soft enough to spread.
Use your spatula to spread the chocolate evenly across the toffee, then sprinkle on chopped pecans.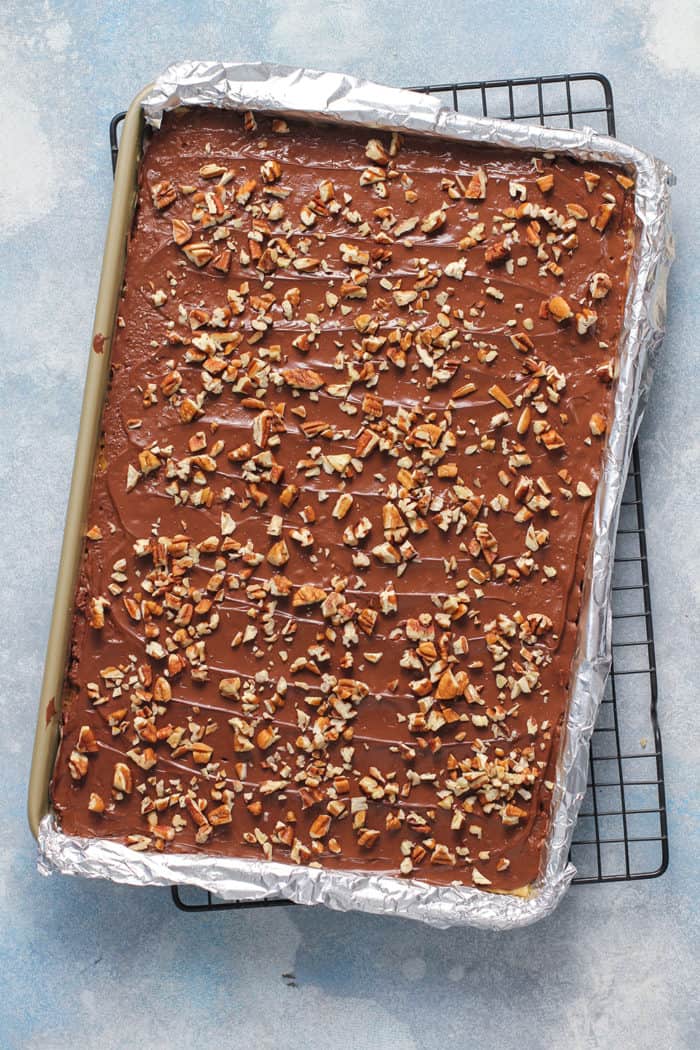 Make sure to let the toffee cool completely before breaking apart into pieces. It's hard to resist, but worth it!
Store the finished saltine toffee in an airtight container.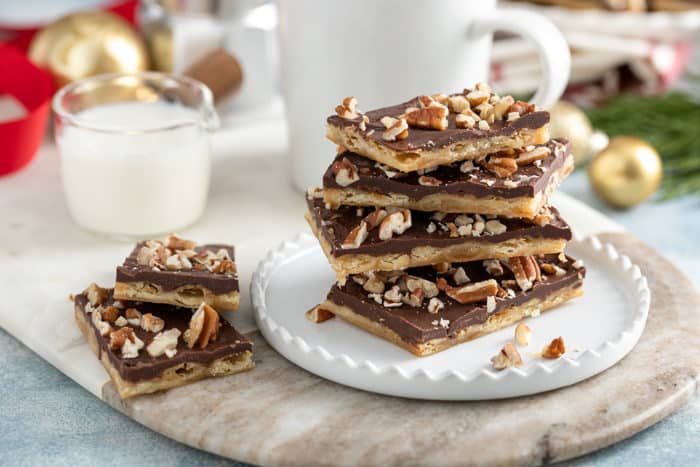 VARIATIONS FOR SALTINE CRACKER TOFFEE
This recipe is great for customizing, especially if you're giving as gifts!
Swap the chocolate. Try it with white chocolate, extra dark chocolate, or go for a marbled look by using multiple varieties. You can even use broken up chocolate bar pieces instead of chocolate chips.
Go nuts! I love pecans, but this is also good with almonds, walnuts, pistachios, cashews, or even peanuts.
Add dried fruits. Dried cranberries or chopped dried cherries make an excellent addition. Sprinkle them on with or without the nuts after spreading the chocolate.
Make it festive! Who doesn't love sprinkles? Add your favorite colors or holiday blend to match with the season.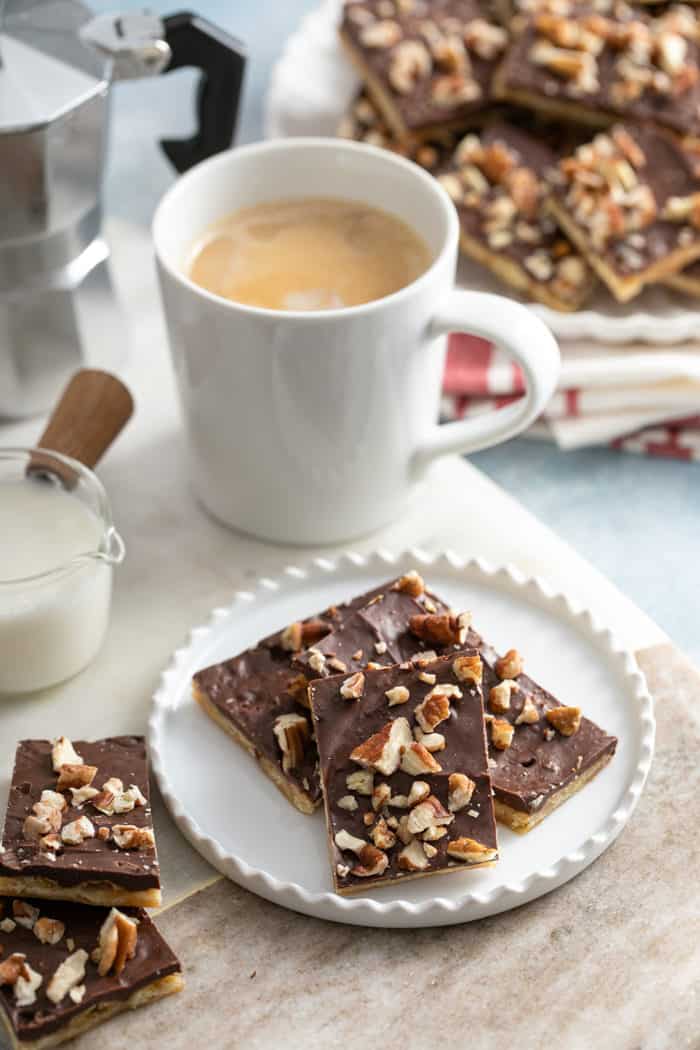 Need some other quick and delicious homemade holiday candies? Try my peppermint sugar cookie bark and peppermint oreo cookie balls! Or try making a more traditional version of homemade toffee!