Turtle Pretzel Candy Clusters made with Ghirardelli Dark and White Melting Wafers are a combination you won't want to miss. Caramel, pecans, and salty pretzels combine into small bites of pure happiness.
This is a sponsored post written by me on behalf of Ghirardelli®.
So, you may be starting to see a theme here on My Baking Addiction. Lots of no bake recipes. Lots of small bite, easy recipes that come together in no time – just like these No Bake Peanut Butter Bars. There's a reason for that; we officially have a crawling baby.
My friends tried to warn me what a game changer it is, once the babe is crawling. But holy moly, you guys. You guys. Elle is everywhere. Even places I didn't think she could get to. We're having to get really creative in our kid-containment. It got real interesting here, real fast.
Because I feel like I can't take my eyes off that adorable little mischief maker for a second, I am all about the easy desserts this holiday season. Sure, pumpkin rolls and pumpkin cheesecake will always have their place in my heart. But with a crawling baby around? Ain't nobody got time for that.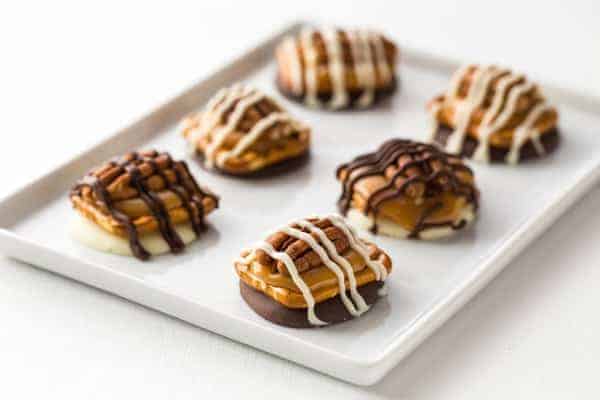 Enter these Ghirardelli® Turtle Pretzel Candy Clusters. Not only are they incredibly adorable, they make both a fantastic small-bite dessert and homemade gift. These are hardly any effort at all – chilling takes more time than anything else about the dessert. You can serve them on a pretty Christmas themed plate, or package them up in plastic bags with pretty ribbon and tags. Christmas gifts, done!
Seriously though – all you need is a microwave, some parchment paper, a spoon, and a ziptop bag. That's it. In no time, you'll be popping these Ghirardelli® Turtle Pretzel Candy Clusters into your gob. And let me tell you, once you've had one, you'll be hard pressed to stop.
Dark and white candy melts make a magical combination. Add caramel and salty pretzels, plus the added sweetness and crunch of pecans? Irresistible, I tell you.
If you're looking for more festive holiday recipes, be sure to head over to Ghirardelli's website and check out their Small Bites recipe selection. Emily (Jelly Toast) and I joined forces to create and photograph a variety of delicious recipes like these Mini Chocolate Raspberry Brownie Trifles just in time for the holidays! Stay tuned to MBA over the next month or so for more holiday inspired desserts.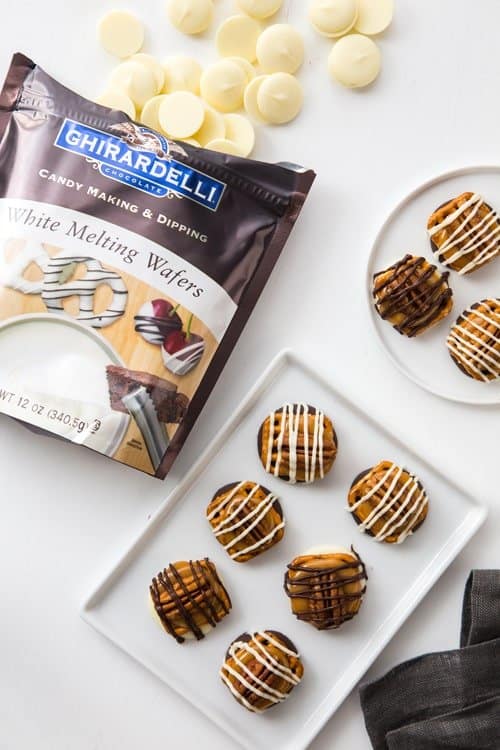 Ready to see me live on video making bite size desserts like these?
On November 15 at 11am ET, I'll be co-hosting the Ghirardelli® Holiday Prep Kitchen live-streamed event alongside Bon Appétit Magazine's Executive Chef Mary Nolan and Emily from Jelly Toast! We'll be showing you how to prepare bite-size Ghirardelli recipes like this one, share baking and entertaining tips and answer your baking questions. Let us know if you have any questions you'd like us to answer using the hashtag #ICanBake. Tune in HERE for the event.
Disclosure: This post is sponsored by Ghirardelli®; however, the views and opinions expressed on My Baking Addiction are my own, and based upon my experiences with Ghirardelli® products. Thank you for supporting Ghirardelli® and the brands that continue to make My Baking Addiction possible.