Sweet and Salty No Bake Peanut Bars are made with a layer of crushed pretzel sticks and creamy peanut butter and topped with melted Ghirardelli® 60% Cacao Bittersweet Chocolate Chips.
This is a sponsored post written by me on behalf of Ghirardelli®.
If you caught my post yesterday for No Bake Cranberry Cheesecakes, you're probably asking yourself why I'm posting yet another no bake recipe. Well, that's simple – it's the holiday season, and I think we all need to arm ourselves with a few delicious no bake recipes. Whether you're faced with a work potluck or impromptu holiday entertaining, I've got you covered with the help of Ghirardelli®.
I've become obsessed with Ghirardelli®'s chocolate chips over the years. Their mini semi-sweet chips make it into my mouth by the handful when I have a chocolate craving more than I'd care to admit publicly. They have some of the best white chocolate chips around, in my opinion, and the new melting wafers? Incredible. Their 60% Cacao Bittersweet Chocolate Chips are one of my favorites to use in delicious recipes like these No Bake Peanut Butter Bars.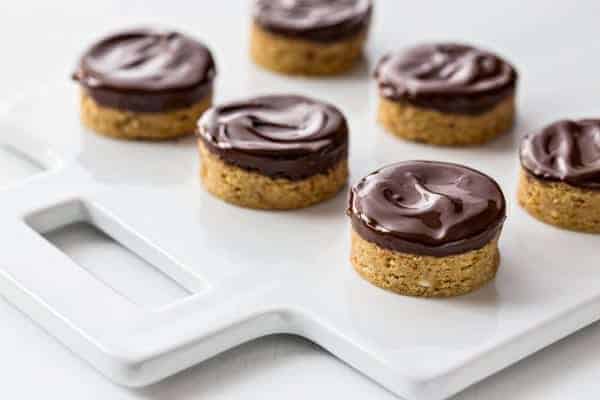 These deliciously sweet and perfectly salty No Bake Peanut Butter Bars are pretty much over the top, if I do say so myself. It's like a bite of peanut butter cup, but a thousand times better. Crunchy pretzels take these little bars from 'pretty good' to 'I better give these away before I eat the whole pan'. Not that I did that or anything. *cough*
You might also be looking at these photos and saying to yourself, "Jamie, those are round, not rectangular. Can we really call them bars?", and I'm going to go out on a limb and say, yes, yes we can. Using a small biscuit cutter to cut out the bars makes for a visual pop on the dessert table. The circular shape also takes an incredibly simple recipe and makes it just little more fancy-schmancy! Who can resist a poppable bite like that?
Topped with melted Ghirardelli® 60% Cacao Bittersweet Chocolate Chips and a little peanut butter, I'm telling you, you won't be able to eat just one. Nor will anyone else, so if you feel like doubling the recipe, I won't blame you. Being no bake, they're utterly easy, and should be a go-to for the dessert table from now until January 1st, trust me.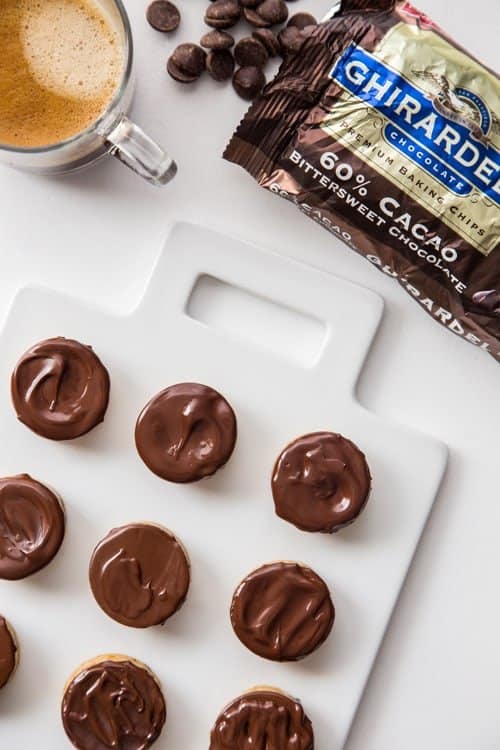 If you're looking for more scrumptious and festive holiday recipes, be sure to head over to Ghirardelli's website and check out their Small Bites recipe selection. Emily (Jelly Toast) and I teamed up to create and photograph a variety of incredible recipes like this Autumn Spice Caramel Corn just in time for the holidays! Stay tuned to MBA over the month or so for more chocolate, holiday inspired desserts.
And now on to some pretty exciting (also nerve-wracking and anxiety-inducing), news, guys!
On November 15 at 11am ET, I'll be co-hosting the Ghirardelli® Holiday Prep Kitchen live-streamed event alongside Bon Appétit Magazine's Executive Chef Mary Nolan and Emily from Jelly Toast! I'll show you how to prepare bite-size Ghirardelli chocolate recipes like this one, share baking and entertaining tips and answer your baking questions. Let me know if you have any questions you'd like us to answer using the hashtag #ICanBake. Tune in HERE for the event. You can also join the event group HERE on Facebook.
Disclosure: This post is sponsored by Ghirardelli®; however, the views and opinions expressed on My Baking Addiction are my own, and based upon my experiences with Ghirardelli® products. Thank you for supporting Ghirardelli® and the brands that continue to make My Baking Addiction possible.