Chocolate Almond Kiss Cookies take that traditional holiday cookie and spin it on its head. Heavy on the almond flavor, and twice as delicious.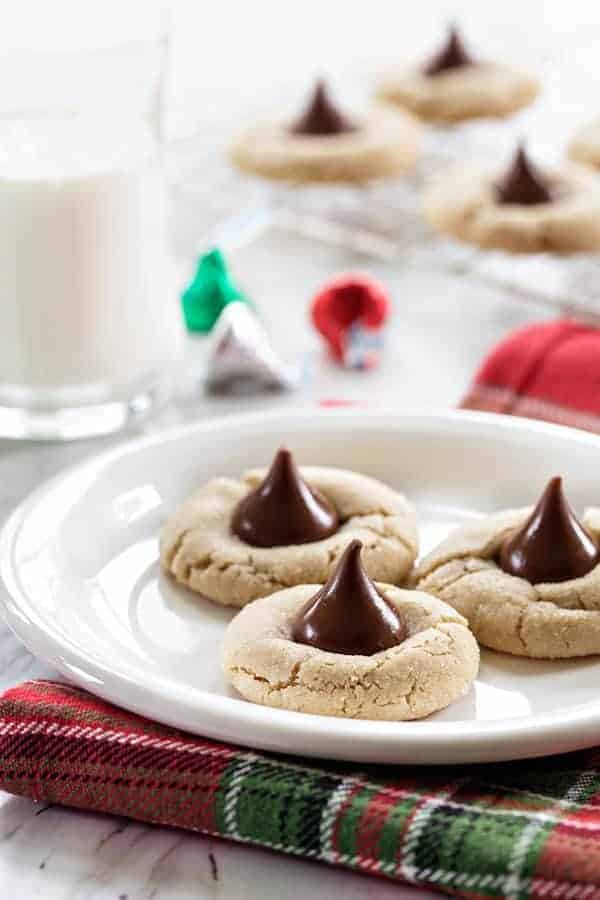 This is a sponsored post on behalf of TapInfluence and Glad®. Thank you for continuing to support the brands that make My Baking Addiction possible.
I'm starting my resolutions a little early this year. Inspired by an exploding pantry, full of hoarded cookie ingredients, and an influx of very cute Glad® storage containers, I decided it was well past time to get some organization happening in there.
And wouldn't you know it, I stumbled on some almond meal weeks away from expiration, and no less than SEVEN bags of chocolate kisses in varying flavors.
Oh, Jamie.
Even I rolled my eyes at me.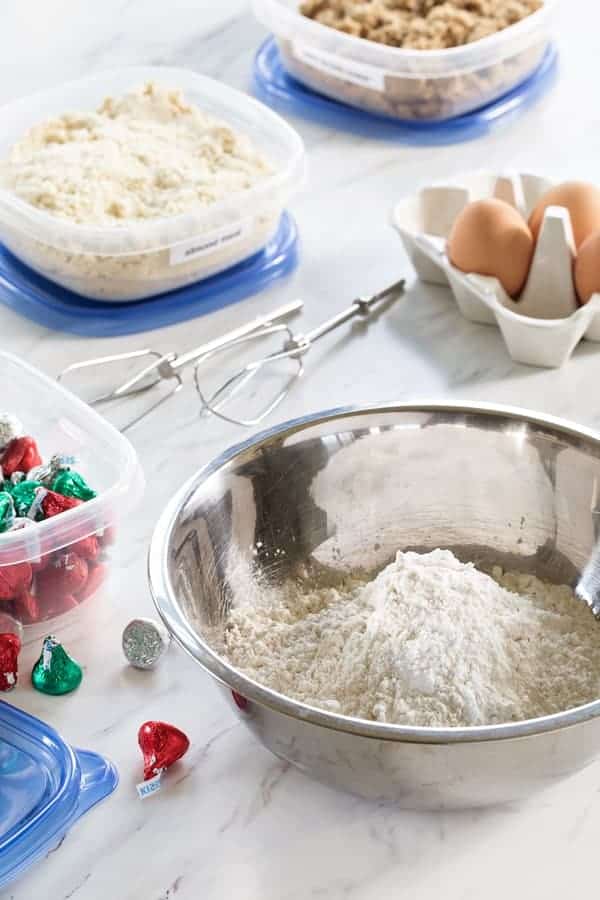 First things first, I combined the like Kisses in their own Glad® containers, and labeled them. The containers stack way better than bags, and now it's easy to see that yes, I do in fact have four bags of the candy cane kisses, and am not allowed to buy any more right now.
Plus, having them in the airtight containers makes me feel better that the chocolate will be protected from other items in the pantry, and somewhat better from temperature changes too. A layer of insulation is always good for chocolate. Otherwise it can get that funky white chalky look to it.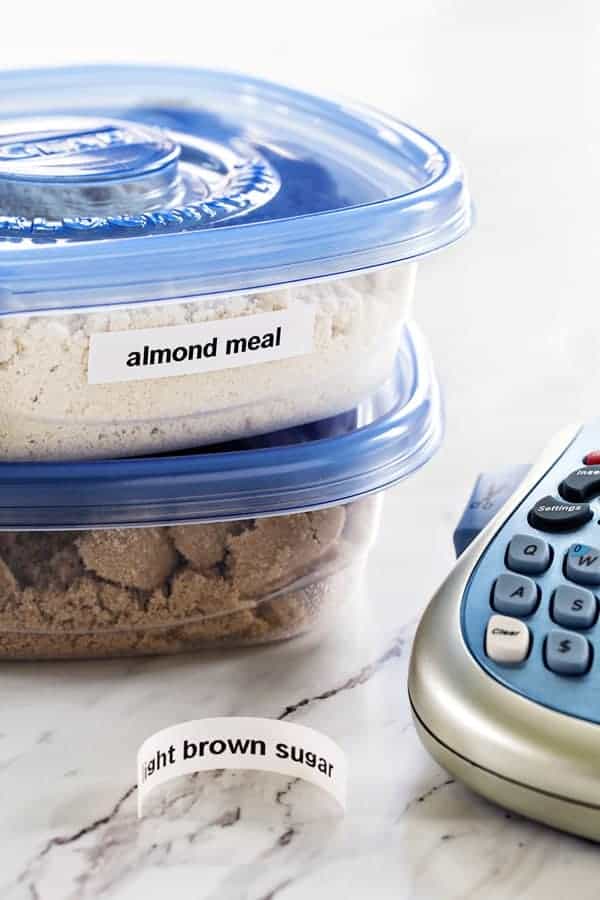 Now, back to that almond meal. I've made plenty of kiss cookies in my time. They're a Christmas classic, after all. And it's easy enough to switch them up by adding a crunchy almond kiss to the mix, but I went for milk chocolate because Elle is not a fan of almonds.
But I decided to kick up the almond flavor a bit by adding in almond meal and some almond extract. If you love that almond flavor, these are the cookies for you.
Adding almond meal to the dough means the cookies are nice and chewy in texture. But it also means that they get crumbly and soft after a day or so, instead of overly tough and dry.
Keeping them in the airtight Glad® containers means they're fresh for three days, and perfect for gifting, to everyone you know.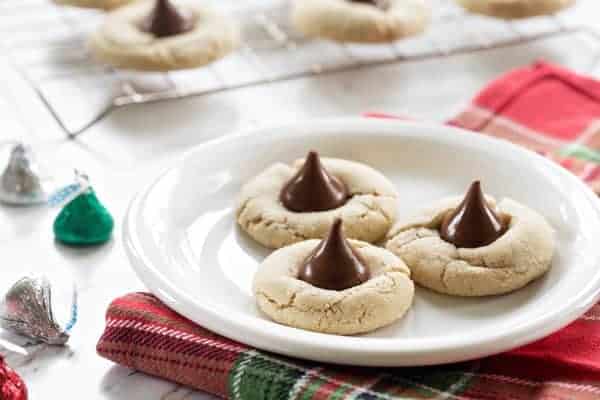 My Dad pretty much inhaled these Chocolate Almond Kiss Cookies.That guy never lets me down.
If you're in your own disorganized pantry funk, I highly suggest following these steps to get into the holiday spirit and get inspired by what you have on hand:
Organize the Kitchen
I started in the pantry, then moved on to the refrigerator and freezer. When I made this dough, I ended up freezing about half of the formed cookie dough balls for a later date.
They're kept in a Glad® container, neatly stacked, with rows of parchment (you can also use wax paper) between each layer. You can write directly on the lids with a Sharpee, or use a label maker like I did – what can I say, I'm kind of obsessed with my label maker! We're set the next time we have a craving for almond cookies, whether we have kisses on hand or not. (Let's face it. We'll always have kisses on hand.)
Check expiration dates on packages and jars. If you don't expect to use something immediately, or can't freeze it in a Glad® container for a later date, donate it to your local food bank, or give it to a neighbor.
Organize your Glad® Containers
Containers for giving, containers for keeping, and even more for freezing and leftovers.
Get a myriad of sizes and prints, and "assign" certain styles to certain jobs, such as the Christmas prints being only for gifting, and the blue lidded sets being only for leftovers.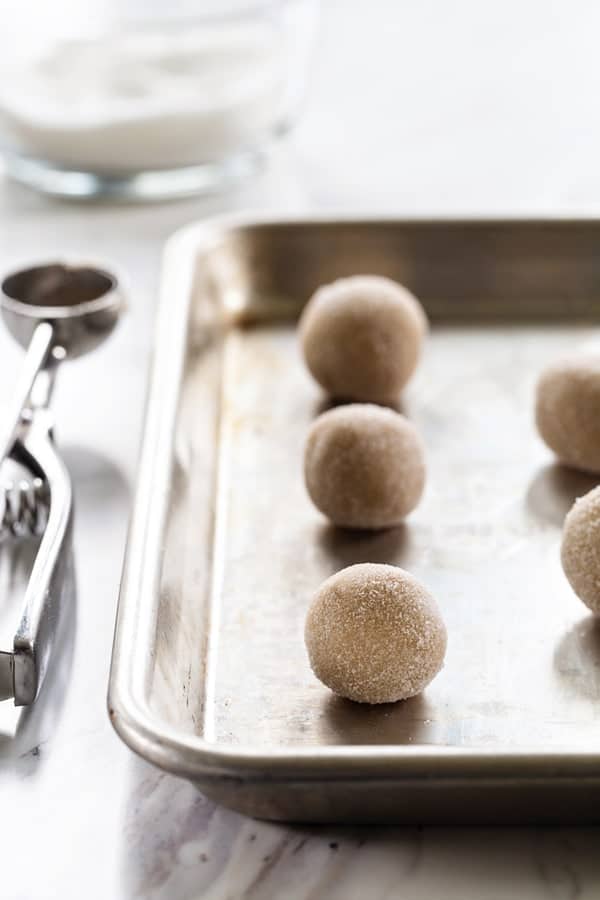 Grab the Essentials
If you're about to get into a cookie baking session, you need to make sure you have plenty of the essentials on hand; all-purpose flour, sugar, brown sugar, vanilla, and leavening agents.
I find removing flour and sugars from the bags they're purchased in makes for a much more organized, and clean, pantry. No accidental spills out of a paper bag here, no thank you!
Using a large, wide container makes scooping flour or sugar way less messy too, so it's a long-term win.
Now is the time to make sure your baking soda and baking powder are in good working order, or purchase more. If you don't remember when you bought it, it's probably time to replace it!
Baking chips, sprinkles, pumpkin and cranberries. Make a plan for what you're whipping up, and make sure all of these things are on hand.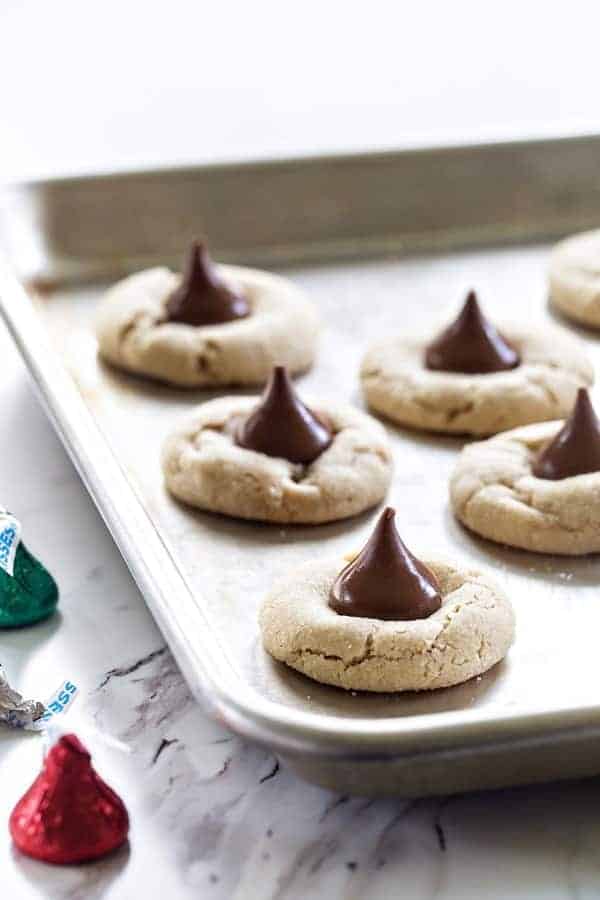 Get to Baking!
Remember to plan for your cooling station. Don't ever put even slightly warm cookies in a Glad® container.
Their wonderful airtight structure can cause condensation if a lid is placed on the container while there is still some warmth in the baked good, so use these containers as they're intended – when the cookies are completely cool.
I hope you love these Chocolate Almond Kiss Cookies as much as we do and found these tips useful! I'd love to hear some of your favorite tips and tricks. Happy baking!
Fore more delicious holiday cookies, be sure to check out these Crispy Ginger Cookies and these Peppermint Mocha Cookies.
This is a sponsored conversation written by me on behalf of Glad Food Protection. The opinions and text are all mine.