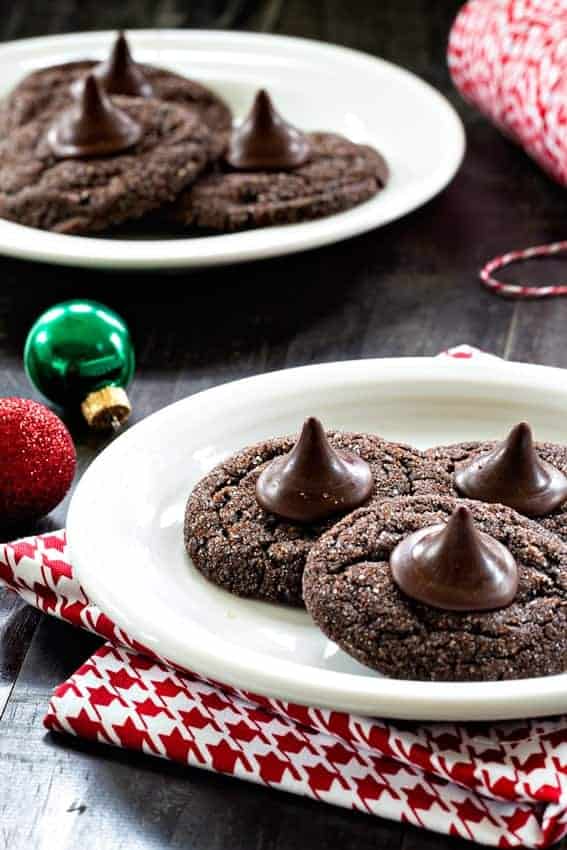 Chocolate Mint Kiss Cookies are the sweetest addition to your holiday cookie platter. They're chewy, minty and loaded with chocolate flavor.
This post is sponsored by Silpat. Thank you for supporting the brands that continue to make My Baking Addiction possible. All opinions are my own.
Obviously, I love to bake and always have, but this holiday baking season is a little more special because I have two extra cute, chubby hands helping me out in the kitchen.
I'm in the kitchen a lot – between testing recipes for My Baking Addiction and whipping up lunches and dinners, Elle has noticed that it's pretty much my favorite place in our home. She's become so curious and interested in the entire process – the girl can even crack an egg!
We're having a blast creating fun and meaningful memories – even if things tend to get a little messy while she's mixa-mixing. Santa has noticed and just might be bringing her a kitchen of her very own this year!
Last week Eric came home from the market with a couple of bags of holiday Hershey's Kisses. I'm a total sucker for the Peppermint Crunch Kisses, but the Dark Chocolate Mint Truffle variety really caught my eye and I thought they'd be the perfect topper for a festive, holiday kiss cookie.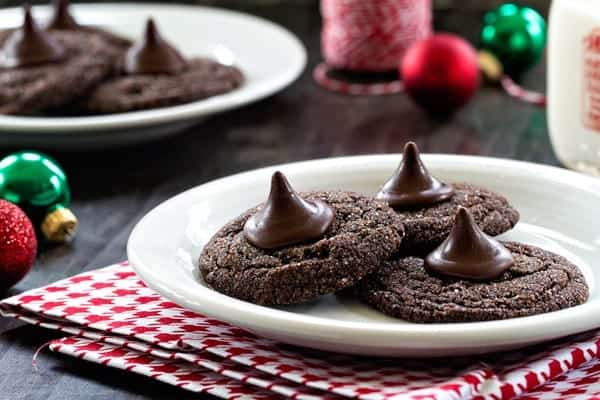 Of course, we'll be making our favorite Sour Cream Cut Out Cookies and Peanut Butter Blossoms, but this year, Chocolate Mint Kiss Cookies are definitely going to go on Santa's cookie plate.
They're chocolatey, chewy, and the fresh pop of mint makes them so perfect for the holiday season. But if you're not a fan of mint, you can easily swap in your favorite kiss flavor. I'm thinking Cookies 'n' Cream and Caramel would be pretty amazing too!
My little sous chef helped me every step of the way with these Chocolate Mint Kiss Cookies. From whisking the dry ingredients to placing the kisses into the center of each cookie – I'm telling you, the little babe was grinning ear to ear the entire time.
Whenever I bake cookies with Elle, I like her to feel as independent as she can throughout the process. Which usually means flour on the floor, butter in her hair and imperfect cookie shapes, but that's what it's all about.
One of her favorite cookie baking tasks is placing the balls of dough onto cookie sheets. However, this typically results in one giant glob of dough in the center of the pan and she's so not a fan of me redistributing them for her. Which is why we've become big fans of the Silpat® Perfect Cookie mat.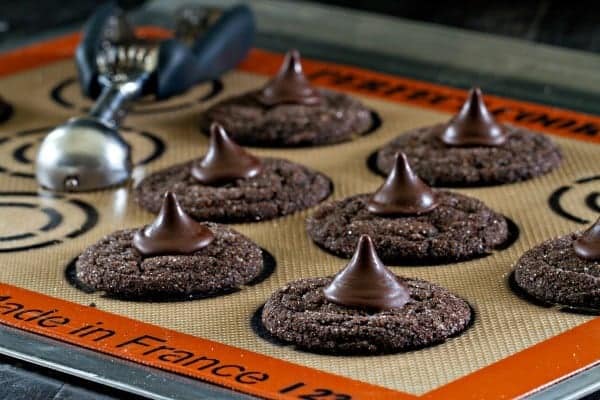 I've been a loyal user of Silpat® non-stick baking mats for years, but the Perfect Cookie Mat has circles printed on it, which acts as a guide for Elle to place the cookies the perfect distance apart – resulting in perfectly spaced cookies every time, without mama's help. Our cookie creations bake evenly and slide right off the pan without using non-stick cooking spray or parchment.
If the Perfect Cookie Mat can help my almost-2-year-old bake up completely uniform, spaced out cookies, I know you'll love it too. Especially when you whip up these Chocolate Mint Cookies, because I'm pretty sure they're going to become a new holiday staple at your house, just like they are at ours.
Looking for more delicious and festive cookies? Check out these Cherry Cheesecake Cookies and these Turtle Cookie Balls.