Sour Cream Cut Out Cookies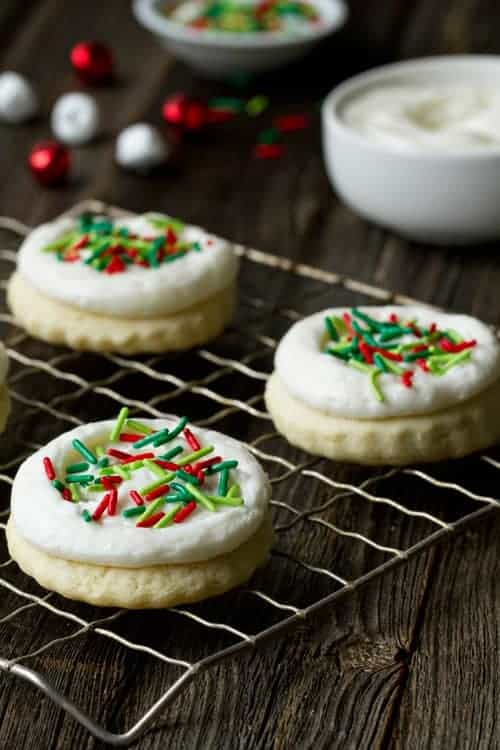 Sweet Sour Cream Cut Out Cookies are a festive addition to any holiday cookie tray. Soft and shiny frosting with festive sprinkles makes them beautiful.
This is a sponsored conversation written by me on behalf of Bon Appetit. The opinions and text are all mine.
You guys, I almost have a toddler on my hands. No joke, Elle is legit trying to stand, and it's kind of freaking me out. I know, I know, we've been working towards this day for months, but that doesn't make it any easier to accept.
Having this baby girl grow faster and faster fills me with a sense of urgency when it comes to our new family's Christmas traditions. I'm as eager to include Eric's family traditions as I am my own (hello, pumpkin rolls and cherry cheesecake!). It's for that reason I'm sharing Eric's grandmother's Sour Cream Cut Out Cookies with you today.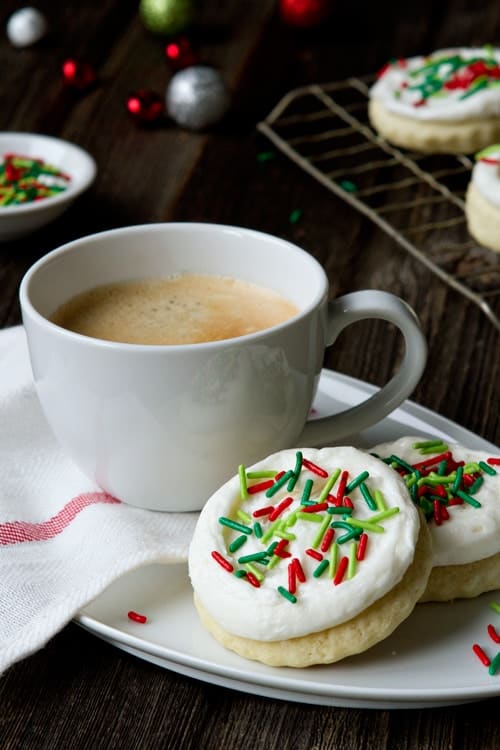 Eric and I have been spending lots of face-to-face time in the kitchen lately, thumbing through the lovely recipe book his aunt put together of all their family recipes. Such a wonderful keepsake, but I'm quickly making my way through it with Eric, planning out what we'll make part of our new family traditions, and what we'll make a little bit new with our own spin on things.
That's where these Sour Cream Cut Out Cookies come in. They are most definitely going to be a new Christmas tradition, with his grandmother's legacy recipe – these are one of the cookies we'll leave out for Santa every year with baby Elle. And when she's grown, I like to think that this recipe will be one of her favorites to pass on.
Amazing things happen when a new family comes together, especially when traditions from both sides create something new. We're adoring these cookies, you guys. They're so soft, cake-like and lovely, it's no wonder Eric's grandma wrote on the recipe card, "This is the one! Soft, beautiful dough – tastes good too!!" with a cute little smiley face.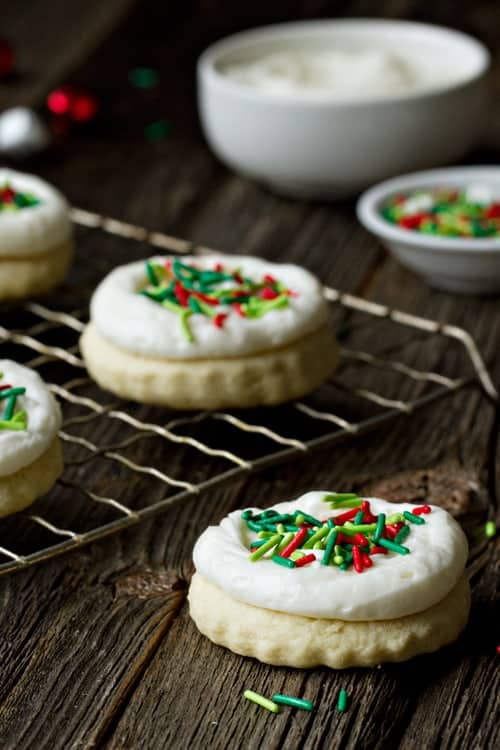 These are the days, my friends, when new traditions are born in kitchens across the world. Be it Christmas, Hannukkah, or Kwanzaa, December is the month when people come together around food and family, enjoying face-to-face time and maybe even some amazing cookies too.
I hope that you enjoy a few of these Sour Cream Cut Out Cookies as part of your new family traditions too, because I promise you, they're amazing!
Also, check out BonAppetit.com's "OUT OF THE KITCHEN," an exploration of the coolest food artisans in America, from spice blenders to knife makers to cider brewers. See how they mastered their crafts—and learn how to apply their knowledge at home.
This is a sponsored conversation written by me on behalf of Bon Appetit. The opinions and text are all mine.
Sour Cream Cut Out Cookies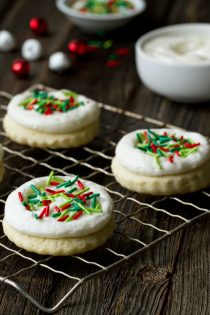 Ingredients:
For the Cookies
1 cup unsalted butter, softened
1 1/2 cups granulated sugar
3 large eggs
1 cup (8 ounces) sour cream
2 teaspoons pure vanilla extract
3 1/2 cups all-purpose flour
2 teaspoons baking powder
1 teaspoon baking soda
For the Frosting
1/3 cup unsalted butter, softened
2 cups confectioners' sugar, sifted
1 1/2 teaspoons pure vanilla extract
1/4 teaspoon salt
2 teaspoons light corn syrup
1 to 2 tablespoons milk
Directions:
1. In the bowl of a stand mixer fitted with the paddle attachment or in a large bowl with an electric mixer, cream butter and sugar until light and fluffy; about 3 minutes. Beat in eggs. Add sour cream and vanilla and mix until thoroughly combined.
2. In another large bowl, whisk together the flour, baking powder and baking soda. Gradually add the dry ingredients to the butter mixture and mix until just combined. The dough will be sticky and very soft. Divide dough in half. Shape each into a disk; wrap
in plastic wrap. Refrigerate for at least 4 hours or until the dough is firm enough to roll.
3. Preheat oven to 350°F and line baking sheets with parchment paper. On a well-floured surface, roll each portion of dough to 1/4-in. thickness. Cut with a floured cookie cutter. Place cookies at least 2 inches apart on prepared cookies sheets.
4. Bake cookies in preheated oven for 10-12 minutes. Allow cookies to remain on cookie sheet for about 5 minutes before using a spatula to carefully remove them to a wire rack to cool completely.
5. Once the cookies are cooled completely, prepare the frosting. In the bowl of a stand mixer fitted with the paddle attachment or in a large bowl with an electric mixer, beat butter, confectioners' sugar, vanilla, salt, corn syrup and enough milk to reach desired consistency. Spread frosting over cookies. If desired, add festive sprinkles.
Notes:
I would not recommend this recipe be used with intricate cookie cutters. The dough tends to puff a bit which may make more detailed cookie cutter designs less prominent.
This recipe is dated 2005 in Eric's grandmother's recipe book. After searching for it online, it appears to have originated from Taste of Home.
All images and text ©
Follow Jamie on Instagram. We love to see what you're baking from MBA! Be sure to tag @jamiemba and use the hashtag #mbarecipes!
This post may contain affiliate links. We are a participant in the Amazon Services LLC Associates Program, an affiliate advertising program designed to provide a means for us to earn fees by linking to Amazon.com and affiliated sites.