Soft and chewy peppermint cookies with cream cheese frosting. With a gluten-free option.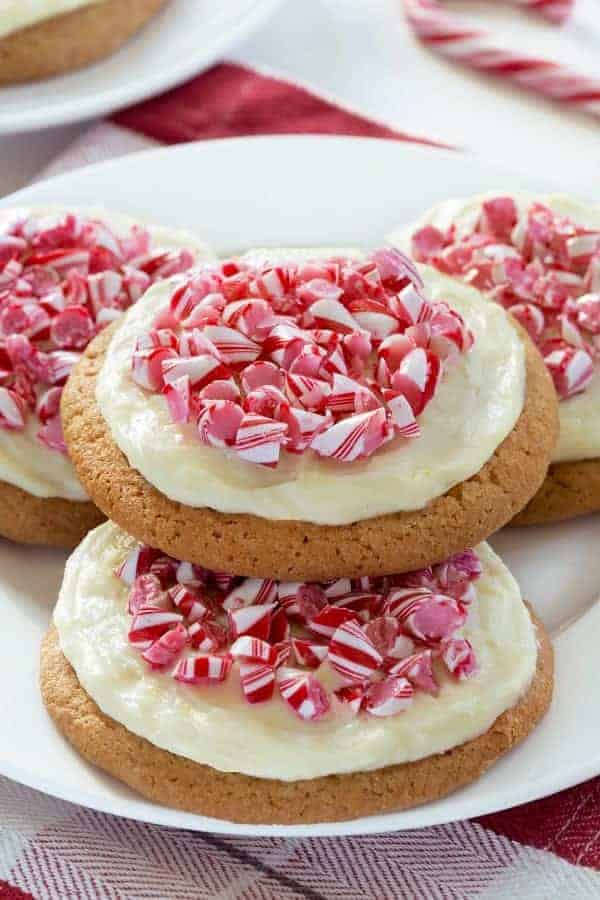 You know what I really love about this time of year? All the parties! I see them as opportunities to bake and share loads of cookies. I'm happy, the hosts are happy, and the guests certainly don't seem to mind all the cookies, either.
One of my favorite flavors around Christmas is peppermint. I'm not really into candy canes but peppermint extract? I can't get enough of it.
I recently posted these chocolate peppermint cookies but I wanted to make another version without the chocolate, basically as a carrier for cream cheese frosting.
Cookies are definitely my favorite holiday treat, especially when they're covered in cream cheese frosting! There's just something about them that I can't resist.
These cookies are delicious with just the cream cheese frosting but they're admittedly not very festive looking. So to top them off, I used chopped candy canes and Christmas sprinkles. A little red or green food coloring in the frosting would also look nice!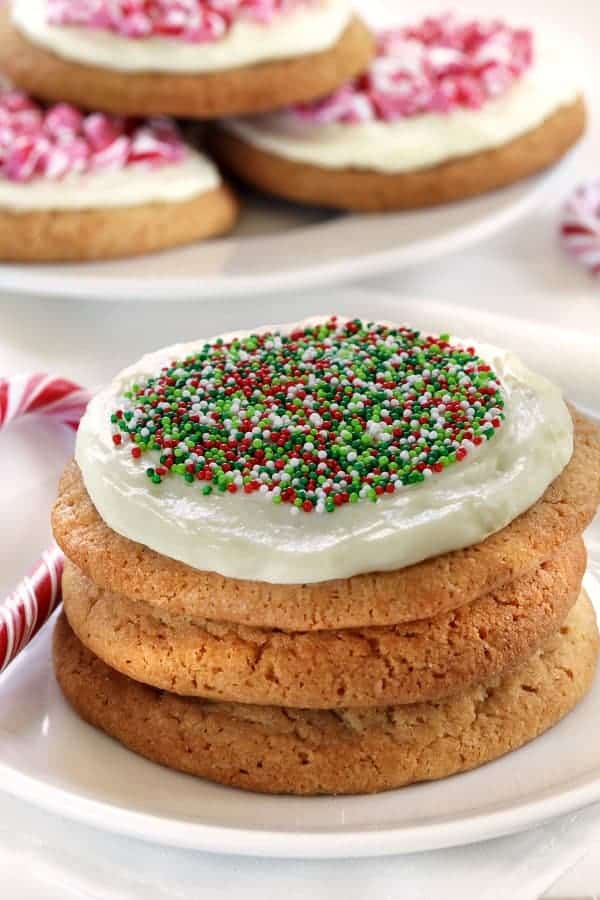 The only thing is that if you add the candy canes or sprinkles while the frosting is still very soft, they'll bleed. To prevent that, just chill the frosted cookies for about 20 minutes before decorating.
I also tried out a mint chocolate ganache version for those of you who don't like cream cheese. As someone who would happily live off of cream cheese frosting, I much preferred that version, but the ganache alternative is tasty, too!
One thing you'll want to pay attention to is the peppermint extract. I ran out of peppermint extract, found some mint extract (which I bought not realizing it was different than peppermint) in my pantry and don't recommend using it in these cookies. It's more spearminty than pepperminty. It's just kind of odd.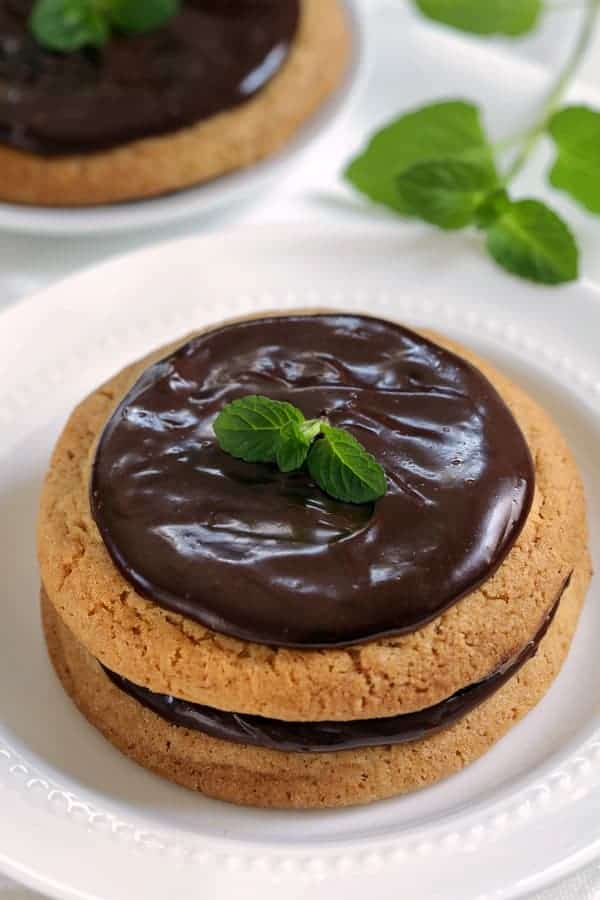 You can make these cookies with all-purpose flour or with gluten-free flour. The two versions are equally delicious and nobody will miss the gluten!
For another mint chocolate treat, try this mint chocolate tart, which can also be made gluten-free or with all-purpose flour. It's super easy, rich and an elegant end to a holiday meal.
Want to make this dough ahead so you can bake these up before a party? Try my tips for how to freeze cookie dough!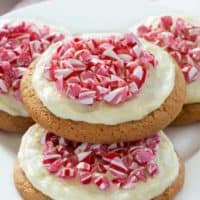 Peppermint Cookies
Total Time:
2 hours
40 minutes
Soft and chewy peppermint cookies with cream cheese frosting. With a gluten-free option.
Ingredients
For the Cookies:
3 1/4 cups all-purpose flour or the gluten-free baking mix listed below*
1 teaspoon baking soda
1/2 teaspoon cream of tartar
1/2 teaspoon salt
1 cup unsalted butter, softened
1 1/2 cups granulated sugar
6 tablespoons brown sugar
2 large eggs, room temperature
2 teaspoons vanilla extract
1 teaspoon peppermint extract
For the cream cheese frosting:
12 ounces (1 1/2 8-ounce packages) cream cheese, room temperature
6 tablespoons unsalted butter, room temperature
3/4 - 1 cup powdered sugar
3/4 teaspoon peppermint extract
1/2 teaspoon vanilla extract
pinch of salt
20 chopped candy canes or sprinkles
For the mint chocolate ganache:
3/4 cup whipping cream or heavy cream
1 1/2 cups semi-sweet chocolate chips
3/8 - 1/2 teaspoon peppermint extract
* If you need these cookies to be gluten-free, make sure all your ingredients are certified gluten-free. While the all-purpose flour version uses 3 1/4 cups of flour, this gluten-free mixture, which yields 3 cups of flour, works great in this recipe:
2 cups white rice flour
2/3 cup potato starch
1/3 cup tapioca flour
1 teaspoon xanthan gum
Instructions
In a medium mixing bowl, stir together the flour, baking soda, cream of tartar and salt. Set the bowl aside.
In a large mixing bowl using a stand mixer or electric hand mixer, beat the butter, granulated sugar and brown sugar at medium speed until light and fluffy. Beat in the eggs, vanilla and peppermint extract at low speed until well combined. On low, gradually add the flour mixture and beat just until combined.
Wrap the dough in plastic wrap and chill for about 2 hours or until firm. Then roll into 1 1/2" (42-gram) balls.
Preheat the oven to 350 °F for the all-purpose flour version or 375 °F for the gluten-free version.
Line a baking sheet with a piece of parchment paper. Place the dough balls 4" apart on the prepared baking sheet.
Bake the cookies for 16-20 minutes or until lightly and evenly browned. Let the cookies cool completely on the baking sheet. While the cookies are cooling, prepare the topping.
If making the cream cheese frosting:
In a medium mixing bowl using a stand mixer or electric hand mixer, beat together the cream cheese and butter until well combined.
Gradually add in 3/4 cup powdered sugar and then the peppermint and vanilla extracts and salt. Add more powdered sugar, to taste.
When the cookies are cool, spread about 3 1/2 teaspoons of frosting over each cookie.
Chill the cookies for about 20 minutes (to harden the frosting a little, which will prevent the candy canes or sprinkles from bleeding) before decorating. Don't chill the cookies too long or the frosting will be too hard for the candy canes to stick.
If making the ganache:
In a small saucepan over medium-low heat, warm the cream just until hot, steamy and on the verge of simmering. Remove from the heat.
Pour this over the chocolate chips, add 3/8 teaspoon peppermint extract and stir until all the chocolate chips are completely melted. Add more peppermint extract, if desired.
Let cool for about 10-20 minutes or until almost room temperature and then spread 1 tablespoon of ganache over each cookie.
Refrigerate decorated cookies in an airtight container for up to 4 days.