Soft and chewy peppermint cookies can be topped with cream cheese frosting or a chocolate ganache and a sprinkling of chopped peppermint candies. Make these with all-purpose flour or follow the alternate directions for a perfect gluten-free version!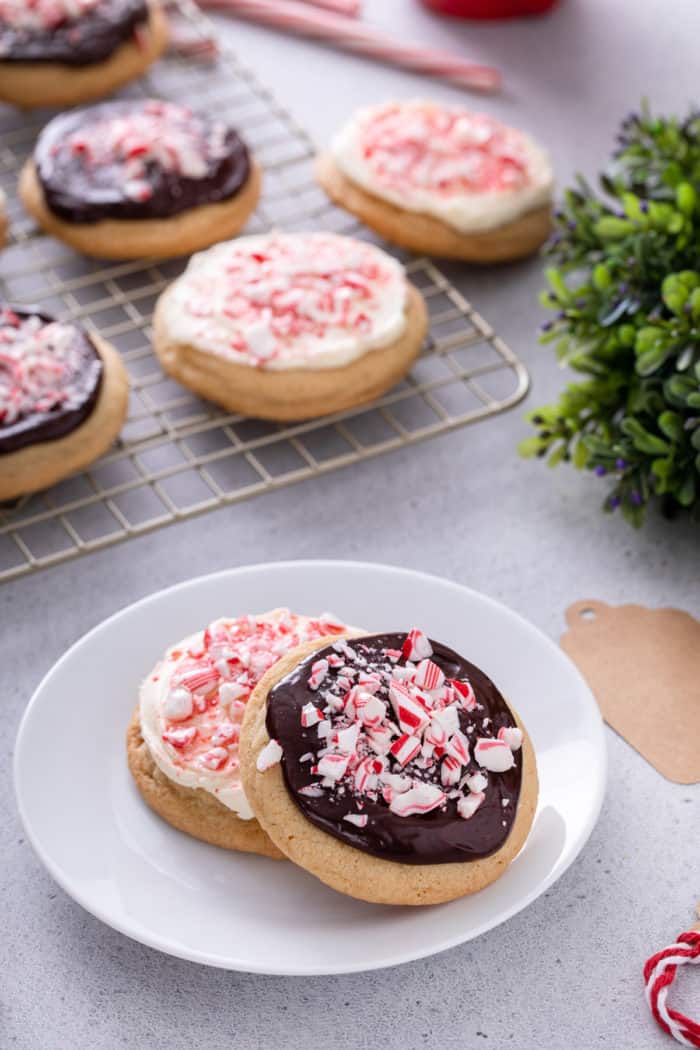 This post contains affiliate links.
You know what I really love about this time of year? All the parties! I see them as opportunities to bake and share loads of cookies. I'm happy, the hosts are happy, and the guests certainly don't seem to mind all the cookies, either.
One of my favorite flavors around Christmas is peppermint. I'm not really into candy canes but peppermint extract? I can't get enough of it.
Chocolate and peppermint are often found together, like in peppermint mocha cookies, peppermint brownies, and chocolate peppermint cookies. But I wanted to make a peppermint cookie without the chocolate, basically as a carrier for cream cheese frosting.
Cookies are definitely my favorite holiday treat, especially when they're covered in cream cheese frosting! There's just something about them that I can't resist.
But don't worry, chocolate lovers, there's an option for a chocolate ganache topping, too!
This recipe is from Erin over at Texanerin Baking. You're going to love it, especially with the gluten-free option so you can make these chewy cookies for all your loved ones!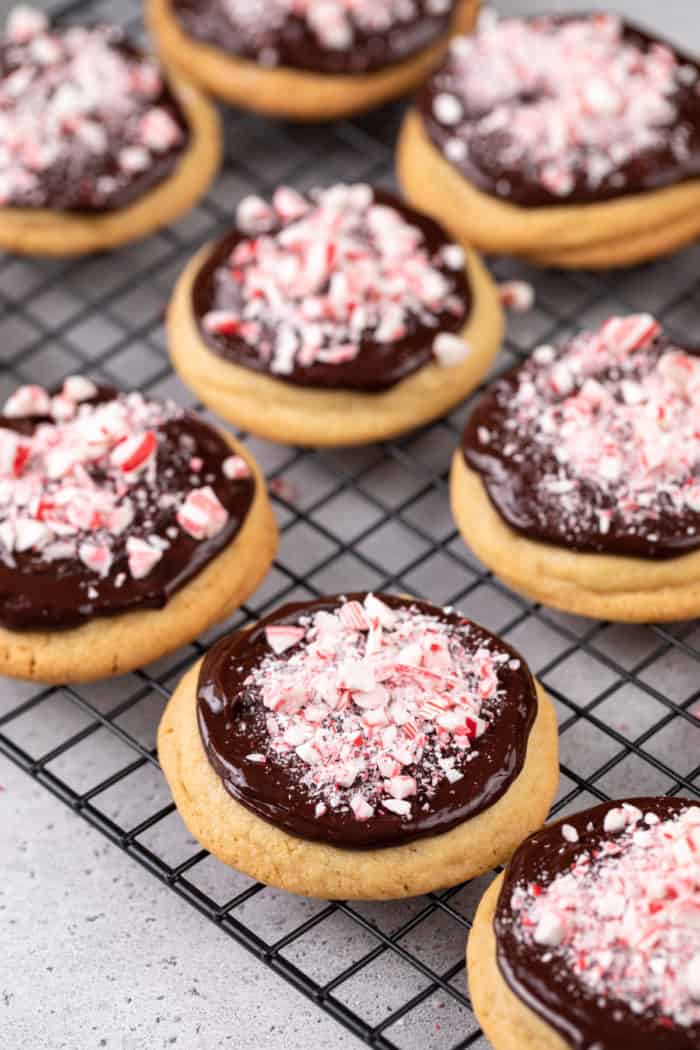 FROSTED PEPPERMINT COOKIES
I love a nice chewy cookie. It's one of the reasons I love my M&M cookies so much! It's hard to beat a cookie that is soft and chewy all at the same time.
That was the texture I was going for when developing these peppermint cookies and I'm happy to say I was successful. The texture is just perfect, especially when paired with the cream cheese frosting.
Now don't get me wrong. You could enjoy these cookies without the frosting. But honestly, what's the fun in that?
I also tried out a mint-chocolate ganache topping for those of you who don't like cream cheese. As someone who would happily live off of cream cheese frosting, I much preferred that version, but the ganache alternative is tasty, too!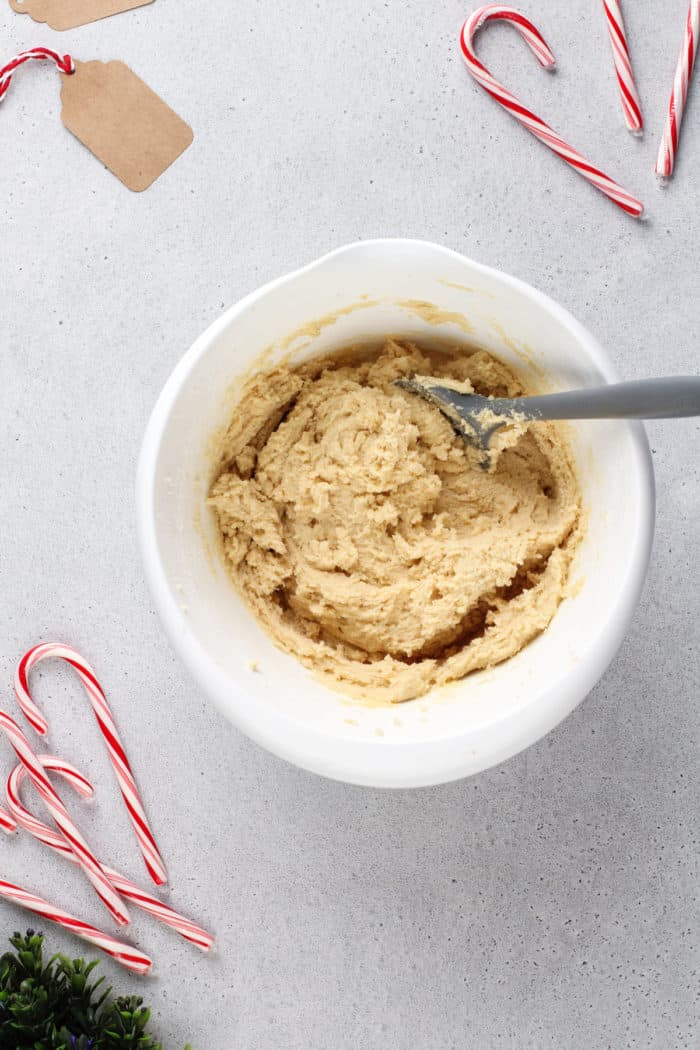 HOW TO MAKE PEPPERMINT COOKIES
These peppermint cookies are pretty easy to make and are great to make ahead for a holiday party or gathering.
Gluten-free option
You can make these cookies with all-purpose flour or with a gluten-free flour mix. The two versions are equally delicious and nobody will miss the gluten!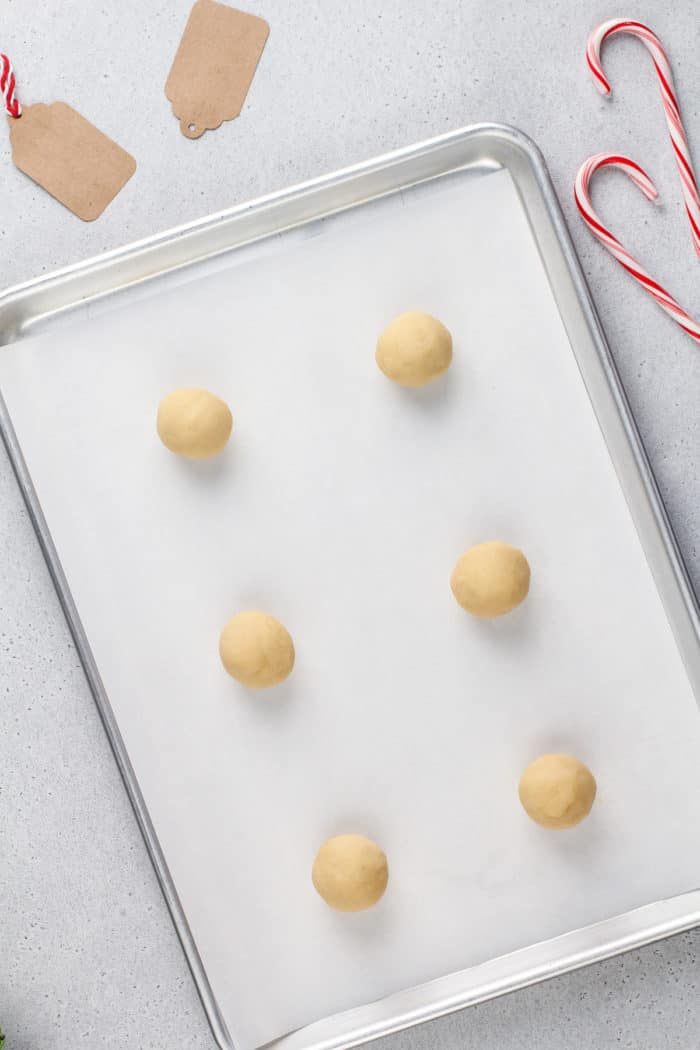 If you are making the standard version, you will use 3 ¼ cups of all-purpose flour. If you are making the gluten-free version, you will use:
Mix the above ingredients together and use this in place of the all-purpose flour.
I know that the mix above only makes just a bit more than 3 cups, but I promise that it works in place of the 3 ¼ cups of all-purpose flour!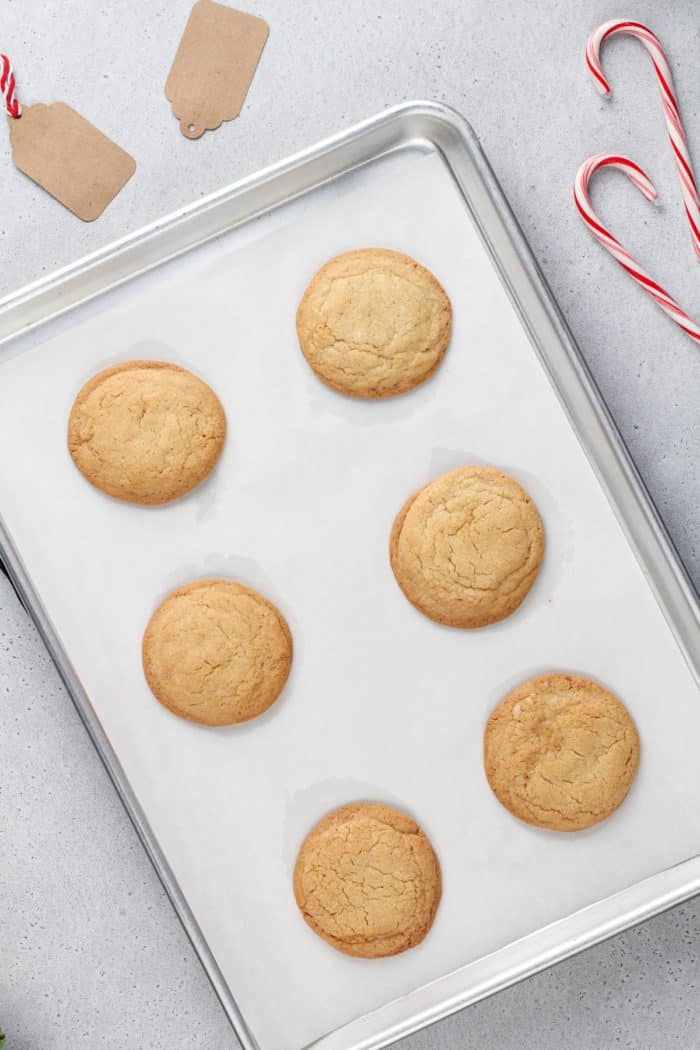 How much peppermint extract should you use in cookies?
Peppermint extract is the main ingredient that gives these peppermint cookies their flavor.
Be careful with this ingredient, though. Only add as much as the recipe states. This stuff is strong and adding too much could make your cookies taste more like toothpaste than anything else!
This recipe makes about 26 cookies and uses 1 teaspoon of peppermint extract. If you want to add peppermint extract to another cookie recipe, I would recommend using no more than 1 teaspoon, especially if you plan to add more peppermint flavors on top in the form of frosting or candies.
Make sure you are using peppermint extract, too.
I ran out of peppermint extract, found some mint extract (which I bought not realizing it was different from peppermint) in my pantry and don't recommend using it in these cookies. It's more spearminty than pepperminty. It's just kind of odd.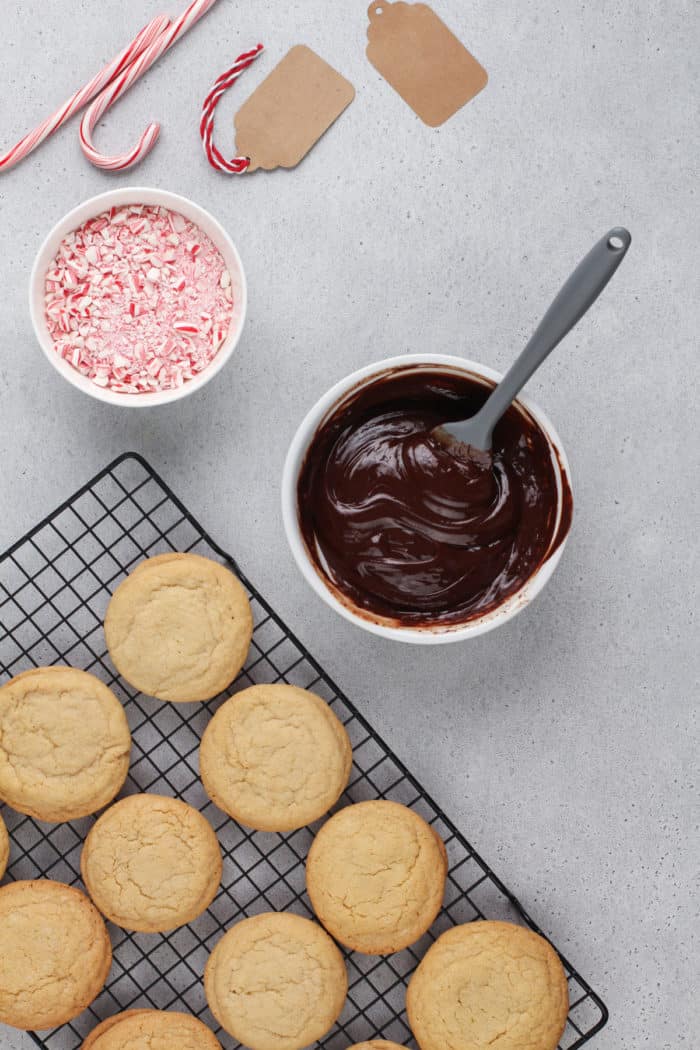 What does cream of tartar do?
If you already glanced at the ingredient list, you might have noticed one ingredient that isn't in a lot of cookie recipes: cream of tartar.
Cream of tartar is crystallized tartaric acid from the inside of wine barrels. It is white and powdery and can be found in the spice aisle at the grocery store.
When used in cookie recipes, cream of tartar helps make cookies chewy by creating air bubbles and preventing sugar from crystallizing too much.
If you don't already have some in your pantry, it's worth picking up at the store to get that great chewy texture in these peppermint cookies!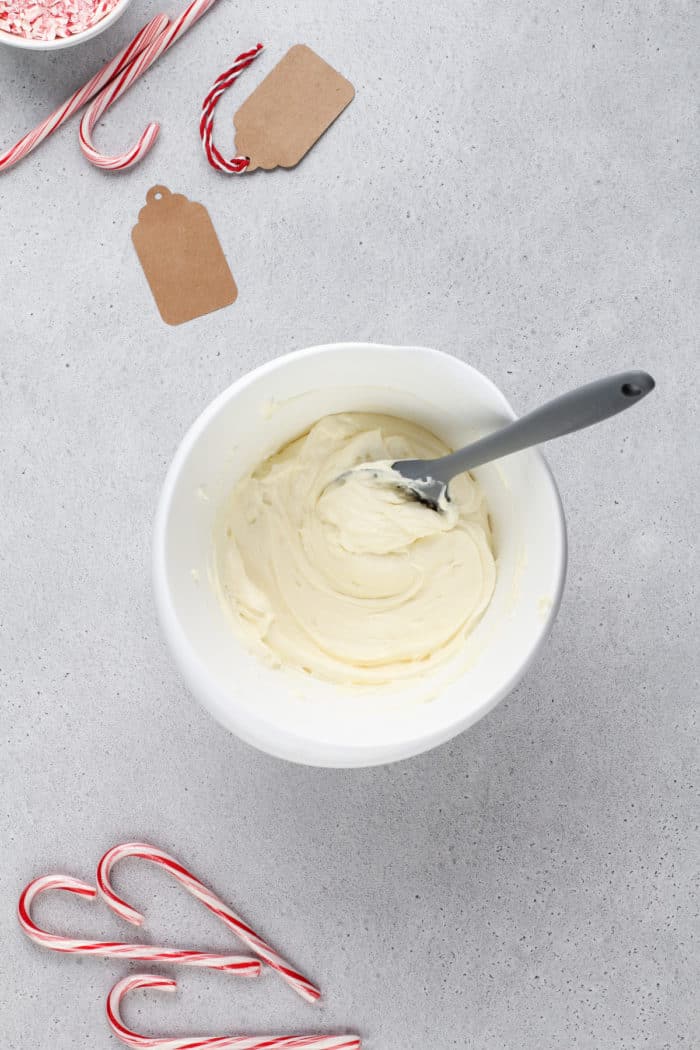 Making this recipe
If you're already making cookies like peanut butter blossoms or thumbprint cookies for the holidays, the process for these cookies isn't all that different.
In a bowl, whisk together your desired flour – either all-purpose or the noted gluten-free mix – with the baking soda, cream of tartar, and salt. Set this aside.
Beat together the butter and sugars with an electric mixer until light and fluffy, then add the eggs, vanilla, and peppermint extract. Gradually add the flour mixture until just combined.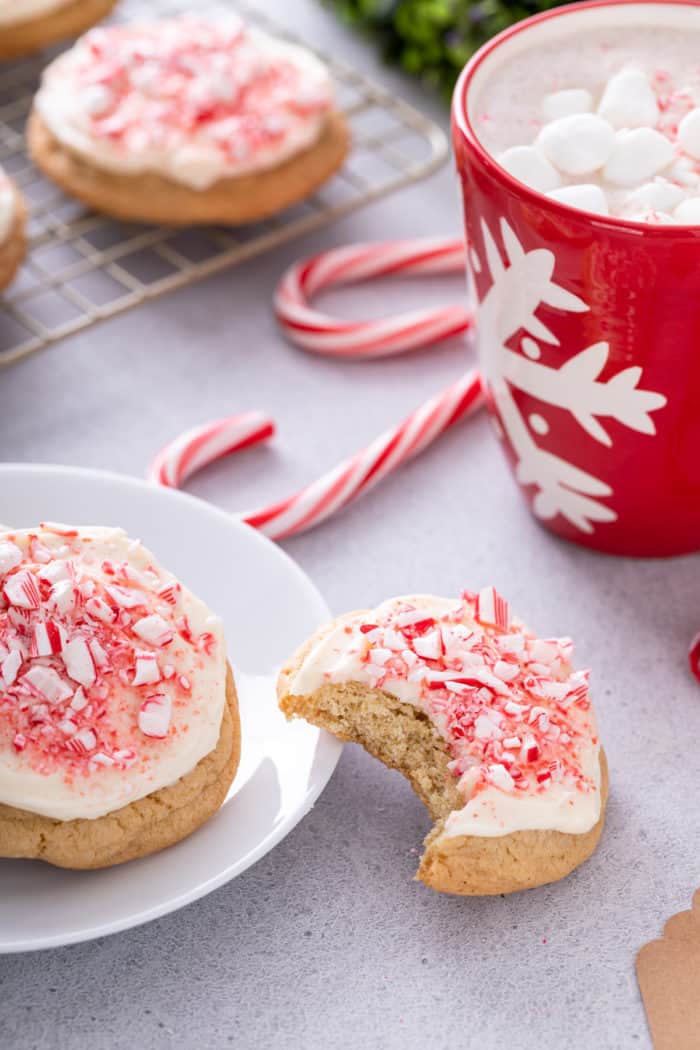 Cover the dough and refrigerate it for at least 2 hours, then roll the dough into 1 ½-inch balls (they will weigh about 42 grams each).
These cookies spread quite a lot, so make sure to place them about 4 inches apart on lined baking sheets.
If you're making the cookies with all-purpose flour, bake them at 350°F; if making the gluten-free cookies, bake them at 375°F. Both versions will need to bake for about 16-20 minutes.
Let these cookies cool completely on the baking sheet so they set properly. Once the cookies are cool, you can add your desired topping!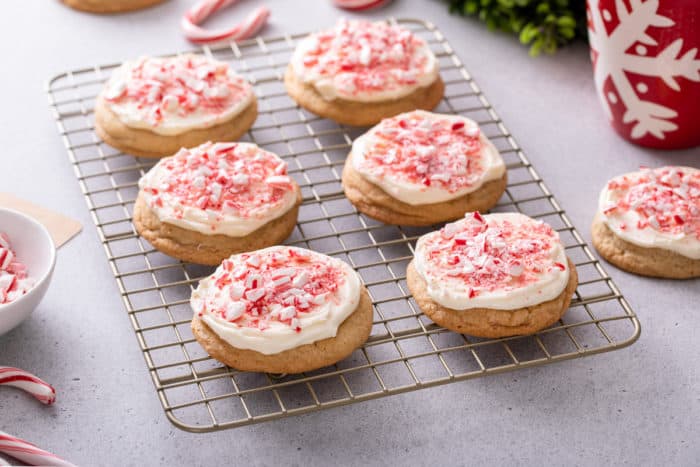 TOPPING OPTIONS
You can make either the cream cheese frosting or the chocolate ganache for these cookies. If you want to do some of each, simply halve both topping recipes.
I like using chopped candy canes or peppermint candies to decorate these cookies and make them even more festive looking.
You can also opt for decorating them with red, green, and/or white sprinkles!
If you're using the cream cheese frosting, chill the frosted cookies for about 20 minutes before adding the candy canes or sprinkles. If you add them earlier, the colors will bleed into the frosting.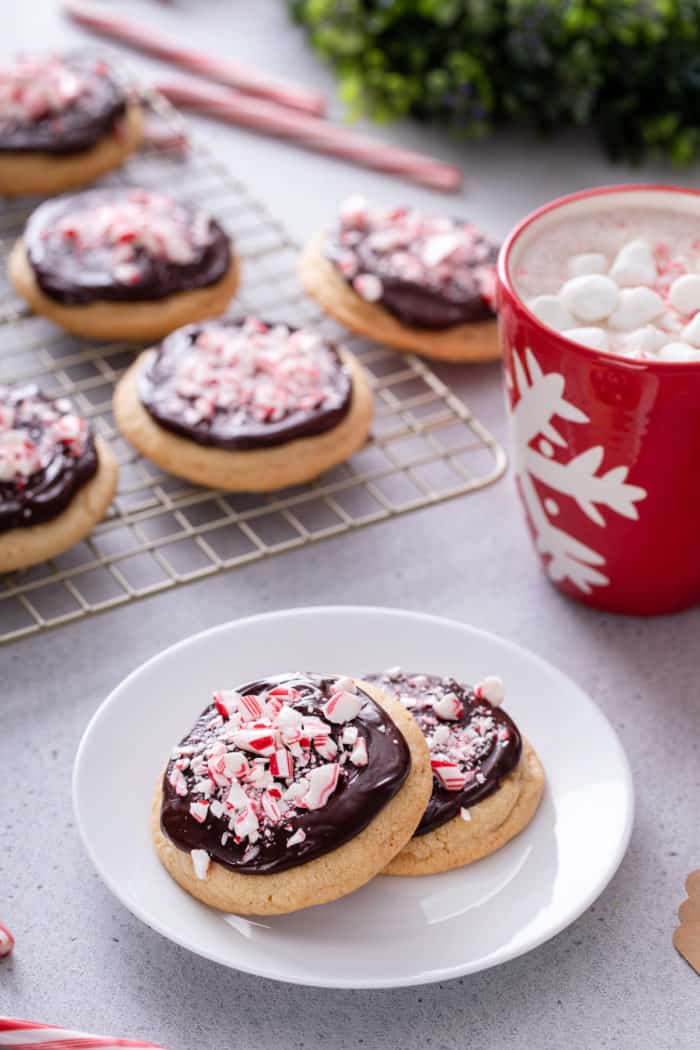 STORAGE
Because of the toppings, make sure to store your peppermint cookies in the refrigerator.
Place them in an airtight container, with pieces of parchment or wax paper between layers of the cookies, in the fridge for up to 4 days.
If you want to make this dough ahead of time, use my tips for how to freeze cookie dough. Add a couple of extra minutes to the cookie baking time if needed after freezing.