Melting Snowman Cookies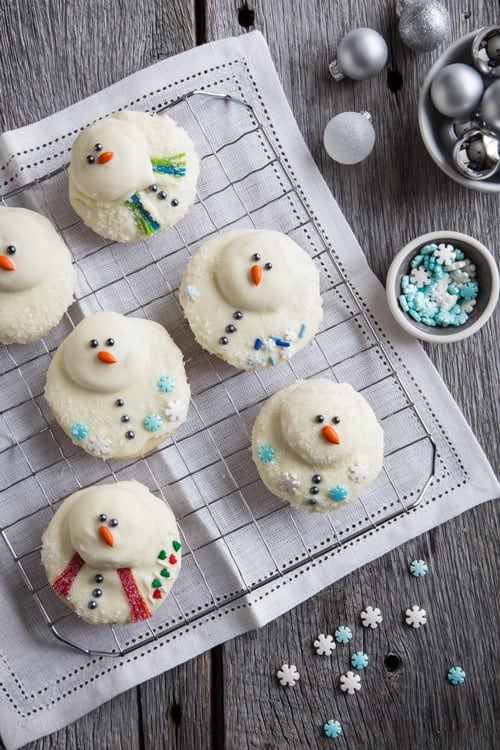 Melting Snowman Cookies are as adorable as they are scrumptious. Kids and grown-ups alike will delight at seeing these on your holiday cookie tray.
This is a sponsored post written by me as a Get Your Betty On for Betty Crocker's Holiday Cookies Brand Ambassador.
I mentioned the other day that we're going the homemade route for a lot of our gifts this year. Cookies, cookies and more cookies, is what I'm thinking. Starting with Peppermint Sugar Cookie Bark and Cranberry Cookies in a Jar and continuing with these ridiculously adorable Melting Snowman Cookies.
I mean, seriously. Who could resist these stinkin' cuties?! Not only are they adorable, they're double decker. Using Betty Crocker™ sugar cookie mix rolled into two different sized dough balls, they're baked up three-dimensionally and covered in almond bark and sprinkles.
They look elaborate. They're not. Not even remotely. What I'm saying is, if I can do them with an almost-11 month old crawling and cooing and wanting Mama to play with her, you can do them too.
I've said before I'm an equal opportunity baker – from my doctored up cake mix recipe to these Melting Snowman Cookies using Betty Crocker's sugar cookie mix pouches, I give you full permission to give yourself a break this crazy holiday season.
We can do amazing things, you guys. We just have to give ourselves enough grace and the tools to get our end results. And when the end results are as cute as this, it's pretty easy to agree that sometimes, a pouch of cookie mix is the way to go.
You can customize your melting snowmen with any color of sprinkles, or even use sour candy strips to create cute scarves.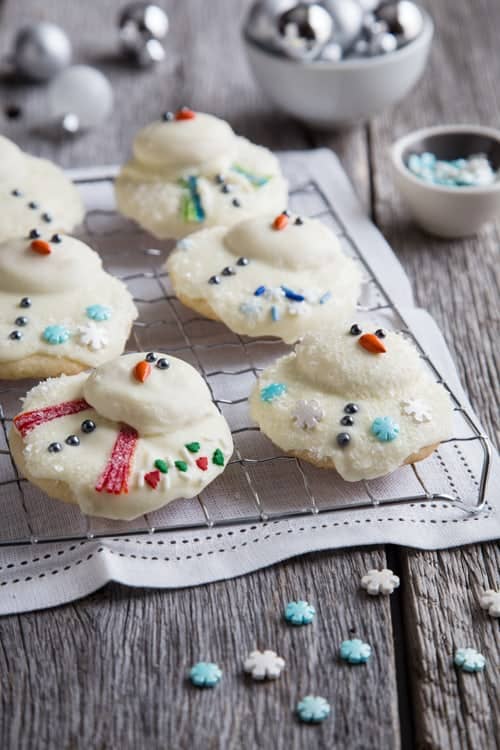 I've said before that I love all the gorgeous decorated cookies that show up this time of year, but I simply don't have the time, patience or skill to flood royal icing into things. I love love love that these Melting Snowman Cookies provide the same look and feel, with a fraction of the effort.
Betty is your go-to for creating simple and memorable holiday moments this year. Betty Crocker's website is chock full of great ideas, and so are their Facebook page, Twitter feed, Pinterest boards, and YouTube channel.
If you're planning a cookie party (which is a great idea, FYI), you must check out the Betty Crocker Kids' Christmas Cookie Corner section of their website. So many great ideas to whip up with the littles in your life. Sounds like a wonderful winter afternoon to me!
Are you ready to #GetYourBettyOn with me? We've got this. It's time to be a holiday superstar!
Melting Snowman Cookies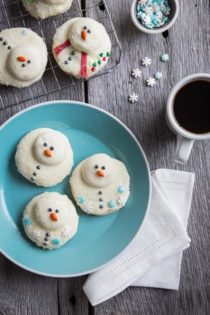 Ingredients:
1 pouch (1 lb 1.5 oz) Betty Crocker™ sugar cookie mix
1/2 cup unsalted butter, softened
1 large egg
1 package (1 lb) vanilla-flavored candy coating (almond bark)
black sugar pearls or black candy confetti
orange candy coated sunflower seeds or orange sprinkles
white sparkling sugar
various festive sprinkles
Directions:
1. Heat oven to 375°F. In medium bowl, stir together cookie mix, butter and egg until soft dough forms.
2. Roll half the dough into walnut-size balls, and then flatten slightly on a parchment-lined or ungreased cookie sheet. Roll remaining dough into marble-size balls, and place on cookie sheet; do not flatten these.
3. Bake 7 to 9 minutes or until edges are lightly golden brown. Cool about 5 minutes or until cookies are firm enough to be transferred to cooling rack. Cool completely before frosting.
4. In large microwavable bowl, microwave candy coating at 30-second intervals until it can be stirred smooth. Cover work surface with waxed or parchment paper.
5. Place a dot of melted coating on bottom of a small cookie and place it toward one edge of a larger cookie. Spoon coating over entire cookie, allowing some to spill over edge of bottom cookie.
6. Place two black sugar pearls or confetti pieces on small cookie for eyes, and an orange candy coated sunflower seed or sprinkle in center for a carrot nose. Place three sugar pearls or black confetti sprinkles as "buttons" on the bottom cookie. Alternatively, you can decorate one large cookie in the same manner, to represent a completely melted snowman.
7. if desired, use cookie icing to draw on arms. Sprinkle with snowflakes or other festive sprinkles; allow to dry completely.
8. Store cookies in airtight container.
Notes:
If you can't find black sugar pearls or confetti sprinkles, use mini chocolate chips turned upside down for snowman eyes and buttons.
If you don't have a microwave, the candy coating can be melted in a saucepan over low heat on the stovetop.
For varied degrees of melted snowmen, decorate single large cookies for a completely melted snowman appearance, or stack them two or three cookies high for a less melted appearance.
Recipe from Betty Crocker
All images and text ©
Follow Jamie on Instagram. We love to see what you're baking from MBA! Be sure to tag @jamiemba and use the hashtag #mbarecipes!
This is a sponsored conversation written by me on behalf of Betty Crocker . The opinions and text are all mine.
This post may contain affiliate links. We are a participant in the Amazon Services LLC Associates Program, an affiliate advertising program designed to provide a means for us to earn fees by linking to Amazon.com and affiliated sites.