Just a few more days until Christmas… which means I have been running around like crazy trying to tie up loose ends and getting everyone checked off my list (this has yet to be accomplished). I have started some baking, but I still have the bulk of it to do this week along with an insane amount of wrapping and shopping…but again I am a procrastinator! My mama recommended this cookie recipe to me and she raved about it's delicate flavor and crumbly texture!
This recipe is from my great aunt, Tudy (her real name is Laverne, although I much prefer her nickname Tudy) and is one of my mom's favorite cookies. According to my cousin Ivy, they are called Powdered Sugar Cookies or Almond Butter Cookies or the Greek name, Koudabiethes. They are very easy to make and contain an obscene amount of butter, but what the hell, it's okay to ingest obscene amounts of butter during the holidays, right? Right.
Although I love to bake homemade treats, I am a sucker for Keebler Almond Crescent Cookies during the holidays. These cookies are sort of reminiscent of the Keebler type without the overly fake almond flavor. If you are a self-professed butter cookie lover, give these a try. If you are still baking for the holidays, definitely stop by tomorrow for an awesome chewy Snickerdoodle recipe that may just knock your Christmas themed socks off!
Have a fabulous day filled with holiday cheer!

Tudy's Almond Powdered Sugar Cookies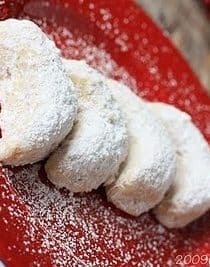 Ingredients:
1 lb butter
3/4 cup ground almonds toasted
1 egg yolk
1/4 cup powder sugar
5-6 cups sifted flour
1 teaspoon almond extract
Directions:
1. Melt butter & remove from heat.
2. Beat in egg yolk and sugar.
3. Gradually add flour and knead for 30 minutes adding more flour as needed. (You should be able to form a shape.)
4. Half way through kneading, add nuts and extract. Shape into crescents or balls. (Obviously, I went the crescent shape although I think I prefer a small ball shape.)
5. Bake at 325 until lightly browned on the bottom. (About 10 min.)
6. Carefully remove from cookie sheet while still warm and coat with powdered sugar.
7. Repeat coating of powdered sugar when cool.
Notes:
- If the dough is too greasy and hard to form into a shape, add more flour.
- You must knead for 30 min. Anything less, they don't turn out right. Definitely use a mixer!
- They are very fragile when they come out of the oven so be careful with that.
- These are a buttery cookie with a crumbly texture..they are definitely not soft or chewy!
All images and text ©
Follow Jamie on Instagram. We love to see what you're baking from MBA! Be sure to tag @jamiemba and use the hashtag #mbarecipes!
[pinit]