If you look forward to that first glass of eggnog every holiday season, these cookies are for you! Eggnog cookies are soft and cakey and filled with the flavors of eggnog. Topped with an eggnog icing and sprinkle of nutmeg, these holiday cookies are bound to be your new favorite!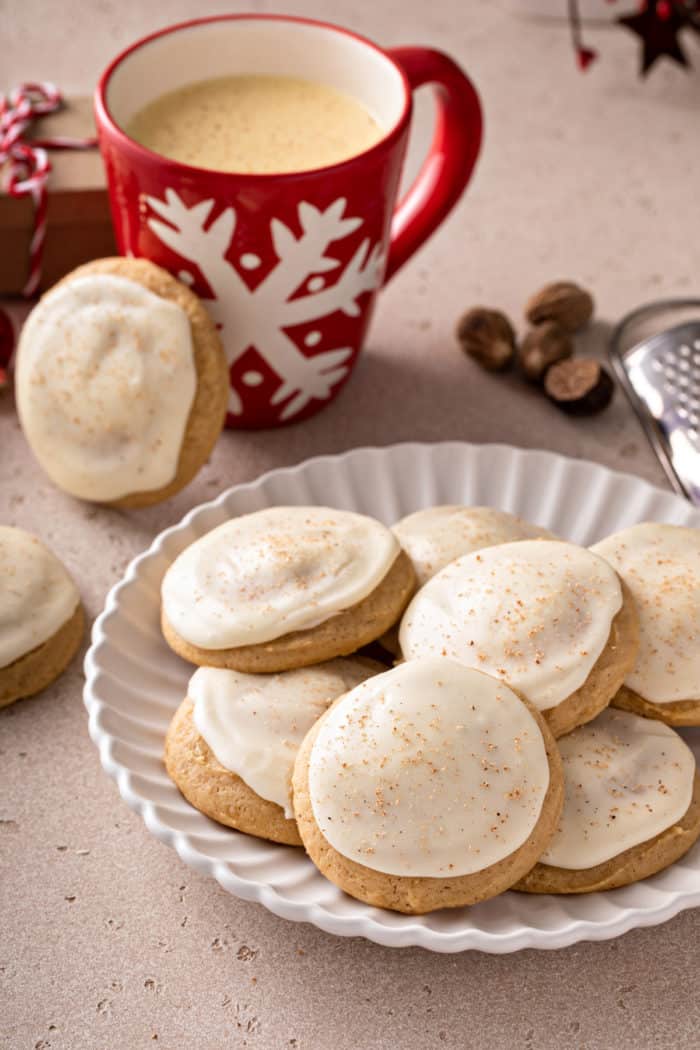 What are some of your favorite holiday cookies?
Peanut butter blossoms are always a must around here. I have friends who can't get through a holiday season without gingerbread cookies or frosted ginger cookies, and others who go wild for snowball cookies.
This is the year that eggnog cookies get added to the holiday-must list. These sweet cookies are soft and cakey with just a bit of chewiness to them and could not be more delicious.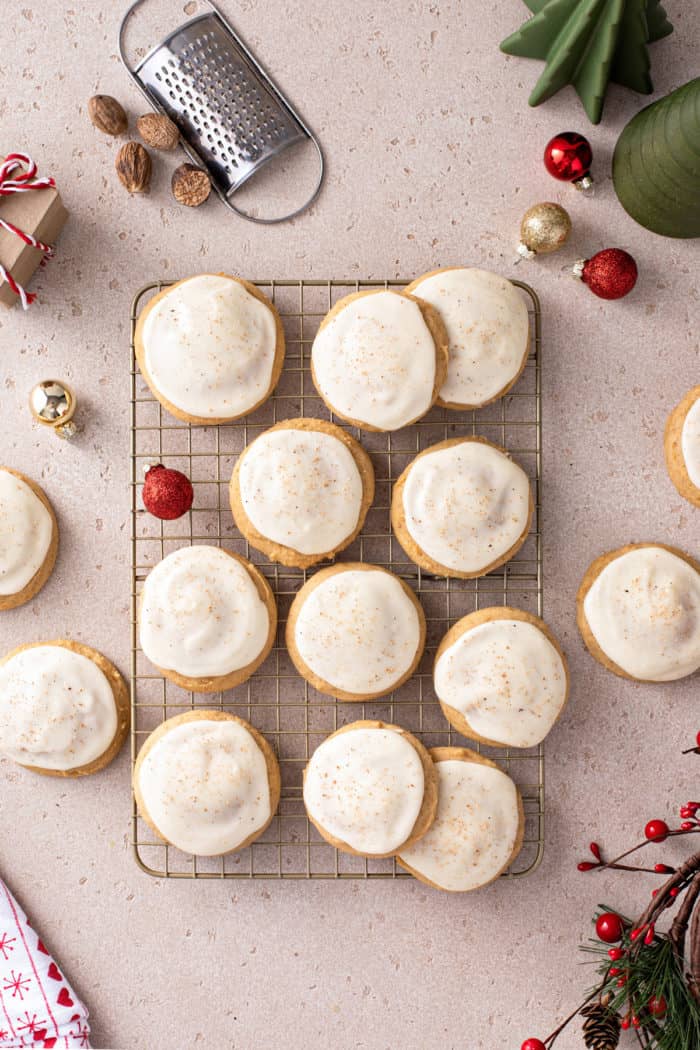 WHAT ARE EGGNOG COOKIES?
People who love eggnog really love eggnog. I have friends who wait all year long for that first sip of eggnog during the holiday season.
I'm not really a fan of drinking eggnog thanks to the texture, but I do love the flavor of eggnog in baked goods.
Luckily, I can whip up a batch of these eggnog cookies to enjoy that nutmeg-forward flavor in cookie form.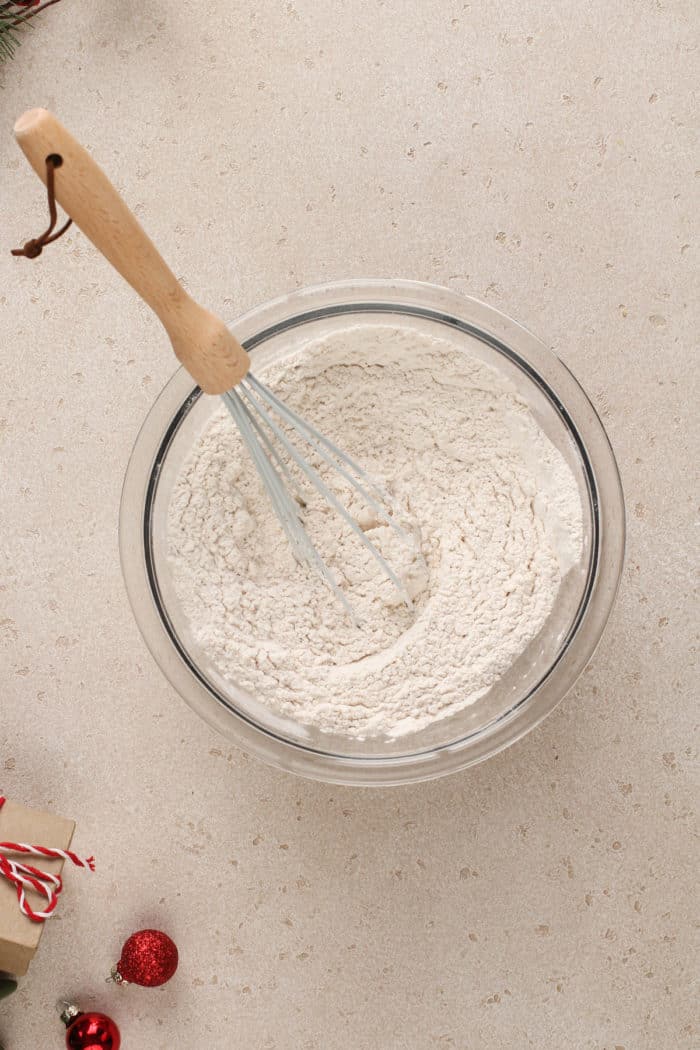 I spent a lot of time researching before I made these cookies. I knew that if I was going to make a batch of eggnog cookies, they needed to have real eggnog in them.
A lot of recipes I saw only had a small amount of eggnog in the dough. In addition to making sure mine had a full cup of eggnog, I decided to complement the eggnog with ingredients like brown sugar and nutmeg to really round out the flavors.
These cookies are soft and a bit cakey (similar to iced pumpkin cookies) and are topped with a simple eggnog icing and a sprinkle of nutmeg. They are simple yet elegant, and have been a big hit with the eggnog lovers in my life!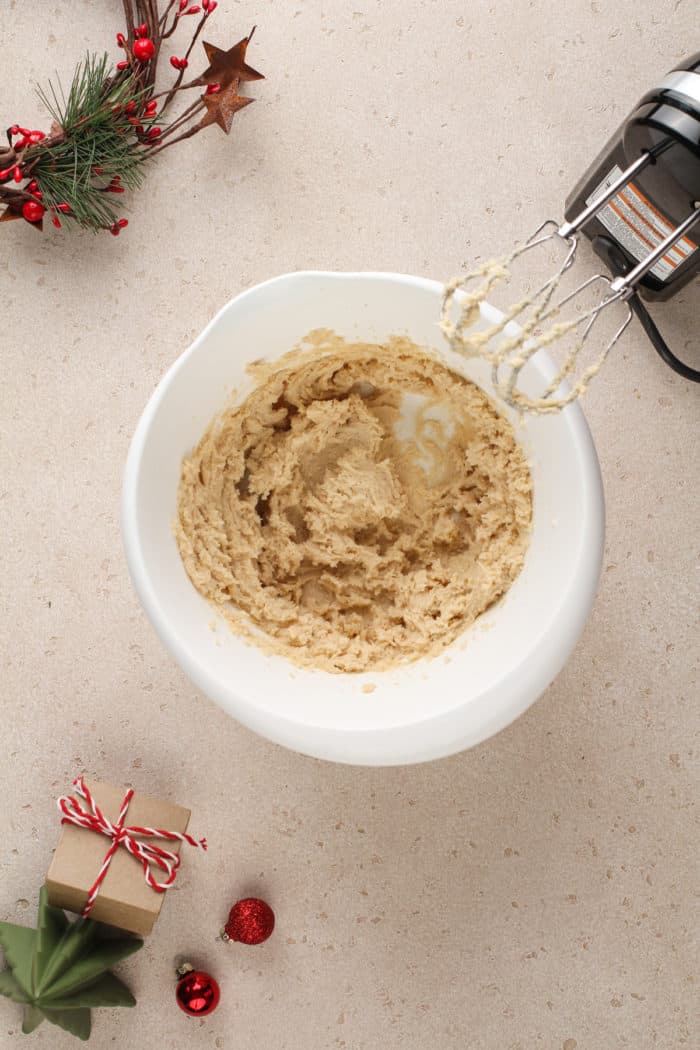 HOW TO MAKE EGGNOG COOKIES
These eggnog cookies are a pretty simple drop cookie. No rolling or cutting, so they're a nice balance to some of the more labor-intensive holiday cookies you might have on your list.
What kind of eggnog should you use?
I wanted my eggnog cookies to be kid friendly, so I used a nonalcoholic eggnog that I bought at the grocery store.
You can usually find eggnog in the dairy section starting in early November.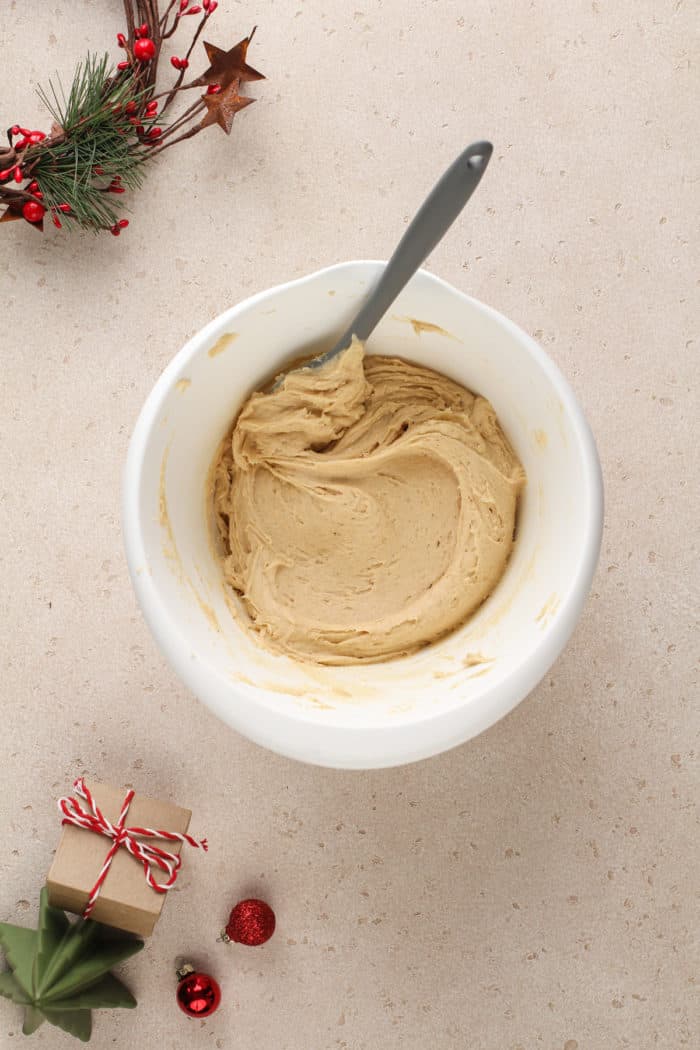 Keep in mind that I used a traditional eggnog, not a flavored eggnog.
If you are planning to feed these to a group of adults, you can go the boozy route and use a spiked eggnog. Keep in mind that most of the alcohol will bake off from the cookies themselves (leaving just the flavor behind), but that the icing will retain the alcohol since it is not cooked.
If you need this recipe to be dairy free, try using my friend Susannah's dairy-free eggnog. Make sure to use vegan butter as well if you go this route to ensure the recipe is entirely dairy free.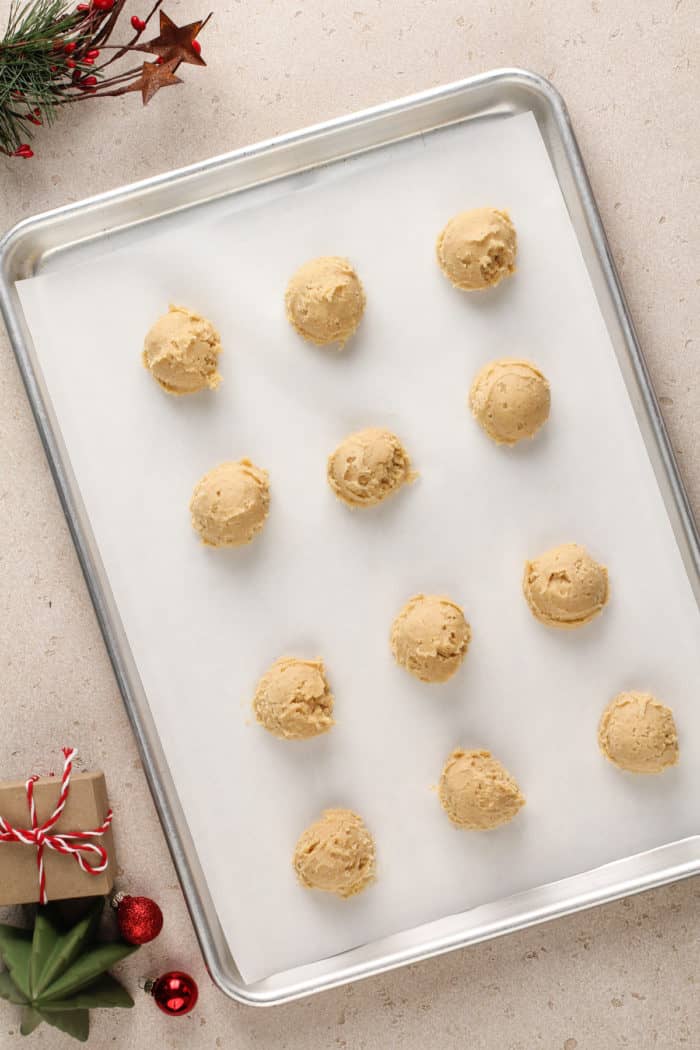 What kind of nutmeg should you use?
Nutmeg is one of the main flavors in eggnog, so it's a pretty important part of this recipe.
Because of this, you will want to use really fresh nutmeg. I always recommend buying whole nutmeg and grating it yourself as you need it using a microplane.
Store whole nutmeg in a jar in your pantry pretty much indefinitely.
If you buy pre-ground nutmeg at the store, the flavor is just not the same, even if you use it right away. You'll notice a much better nutmeg flavor if you grate it yourself.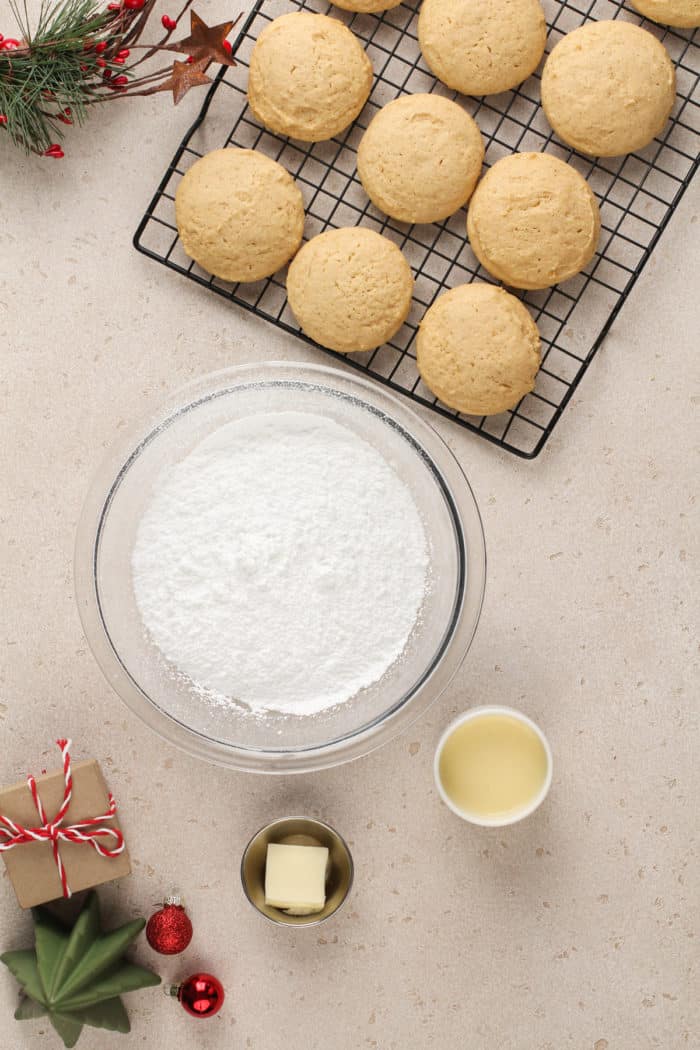 Making this recipe
Start by whisking together the dry ingredients: flour, baking powder, nutmeg, cinnamon, and salt. Set this aside for now.
Using a mixer, beat the brown sugar and granulated sugar with the butter until light and fluffy. This will take about 3 minutes.
Add in the eggnog, egg yolks, and vanilla extract. Beat until the mixture is smooth, then gradually add in the dry ingredients until the dough is just combined.
This dough is pretty soft and sticky, so cover it and refrigerate it for at least 1 hour before proceeding with the recipe.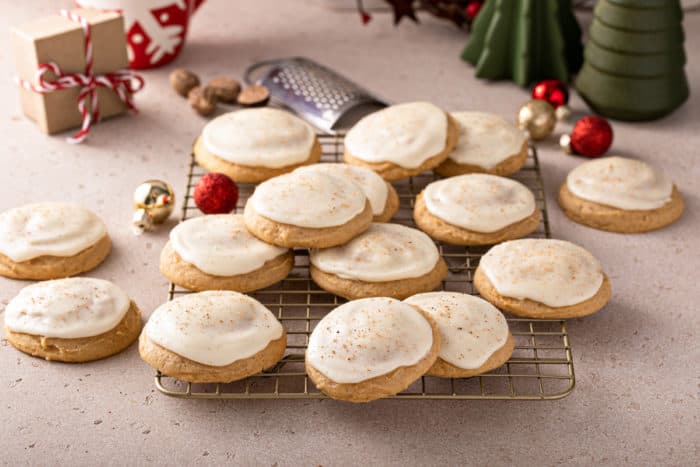 When you're ready to bake the cookies, preheat the oven to 300°F. I know this is low for a cookie recipe, but I promise it's correct! These cookies bake low and slow.
Use a medium cookie scoop to scoop the dough onto parchment-lined baking sheets, then bake for about 20-25 minutes. You want the edges to just be golden.
Let the cookies cool on the baking sheet for a few minutes before moving them to a wire rack to cool completely.
Once the cookies have cooled, beat together the icing ingredients. Spread the icing on the cookies and sprinkle the tops with more nutmeg or even some sparkling sugar while the icing is still wet.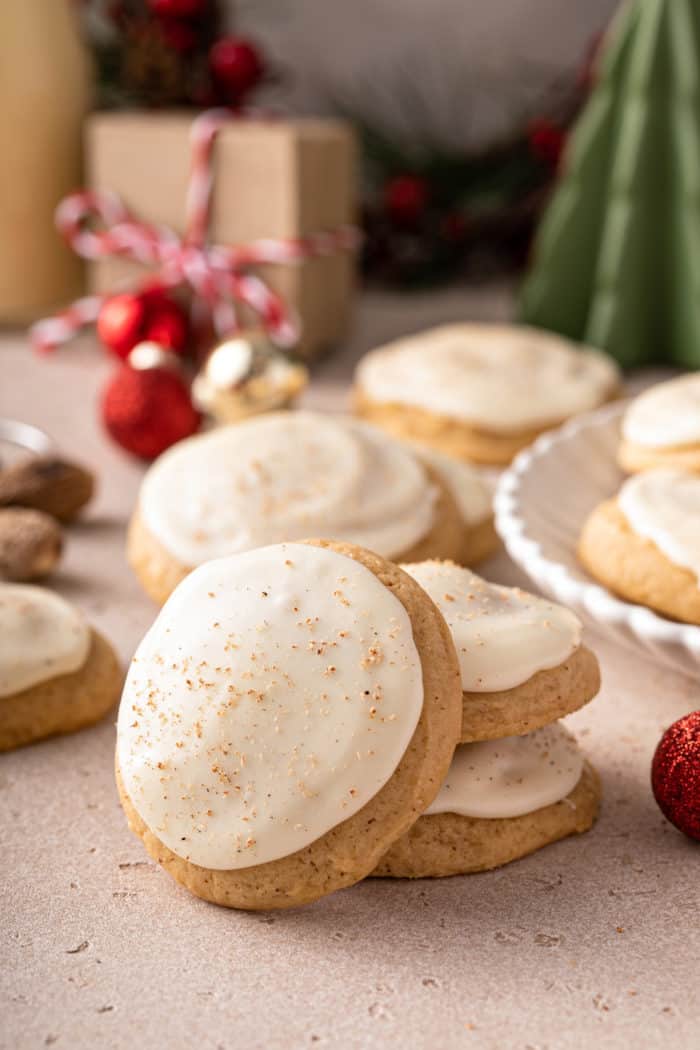 STORAGE TIPS
If you are planning to eat these cookies within a day, they are fine to leave out at room temperature.
If you need to store the cookies, I recommend storing them in the fridge due to the eggnog in the icing.
Place them in an airtight container with pieces of parchment or wax paper between the layers of cookies and keep them in the refrigerator for up to 3 days.
You can also freeze the cookie dough to bake some of the cookies later! Simply follow my instructions for how to freeze cookie dough.
Make these eggnog cookies for an eggnog fanatic in your life. They'll be so happy that you did.