Welcome to the Baker's Dozen Ultimate Cookie Exchange! Today I've united with twelve other incredible food bloggers to bring you a holiday cookie celebration so big, it's being monitored by the North Pole. To see all of the participating bloggers, and to learn more about the valuable giveaways, please visit the Baker's Dozen home site at www.13CookieChristmas.info.
Now for my cookie…

I love the winter months…I am a big fan of snow, decorated trees and cookies. Baking during the holidays is filled with all different varieties of cookies. It's the time of year to share and savor your favorite goodies with friends and family. It's also the time to build memories and traditions that will last a lifetime.
When I was invited to participate in The Ultimate Baker's Dozen, I knew that I wanted to provide you with a cookie that was delicious, but also steeped in tradition.
It is my hope that you will take this recipe, prepare it with someone dear to you and then share the cookies with the special people in your lives. This recipe takes a little time and patience, but it's a great way to spend some much needed quality time in the kitchen with friends and family.
I chose to make "Clothespin Cookies" because these are the cookies that I look forward to every year when visiting my dad and step-mom for the holidays. My step-mom orders these every year from a friend and let me tell you, I eat A LOT of them! These are essentially strips of pastry dough made into a tube shape and filled with buttercream frosting.
Although I was unable to get the recipe that my step-mom's friend uses, I did get my hands on an amazing recipe from The Funny Farm Bakery in Wakeman, Ohio. The owners of the bakery happen to be friends with my mom and they graciously provided me with their recipe and it worked out beautifully! I chose to fill these with my go to recipe for buttercream frosting and the end result was a delicious and truly addictive holiday cookie.
A tidbit of history for you… "Clothespin Cookies" got their name because they were originally formed on round clothespins. You can purchase metal forms like these, but I chose to go old school and use clothespins that I purchased from Michael's.
I hope you enjoy this recipe as much as we do! Please take some time to check out the other fabulous bloggers participating in this event! Have a delectable day and thanks so much for visiting!
Don't want to miss a post? Subscribe to My Baking Addiction!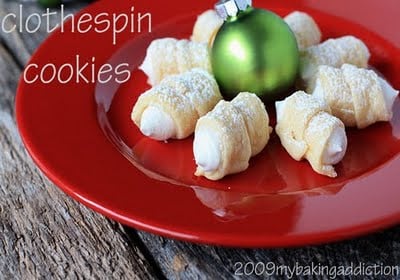 Clothespin Cookies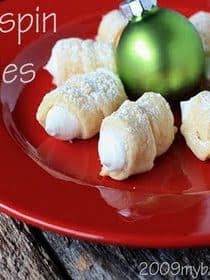 Ingredients:
For the Dough
1 pound of margarine
1 cup cold water
2 tablespoons Crisco
1 tablespoon sugar
2 egg yolks
1/2 tsp Butter Flavoring
4 1/2 cups flour
For the Buttercream Filling
1 stick salted butter - room temperature
1 stick unsalted butter - room temperature
1 cup shortening
1 tablespoon Clear Vanilla extract
1 teaspoon butter flavoring
2 pounds confectioner's sugar (powdered sugar, 10x)
6-8 tablespoons very cold milk
Directions:
For the Dough
1. Place margarine, Crisco, sugar, egg yolks, butter flavoring and flour into the bowl of a food processor. Pulse until well combined. Slowly mix in the water until fully incorporated and dough forms a ball in the bowl of your processor.
2. Remove the dough from the processor and place into the freezer for 45 minutes.
3. Cut dough into fourths. Wrap each quarter in plastic wrap. Chill.
4. Take out one quarter at a time and allow to stand at room temperature long enough that it softens enough that the dough can be rolled.
5. Roll dough out on floured pastry sheet/ board about 1/8 inch thick (or as thin as you can get it). Cut dough into 3/4 inch wide by 3 inch long strips. Wrap around clothes pins or metal forms.
6. Bake (seam side down) at 375 degrees F (200 degrees C) for approximately 9-10 minutes until the bottoms are lightly browned. Slide off forms while still very warm and then cool completely.
For the Buttercream Filling
1. Cream the butter and shortening in the bowl of an electric or stand mixer. Add the clear vanilla extract and butter flavoring and combine well.
2. Begin adding in the sugar and mixing thoroughly after each addition.
3. After all of the sugar has been added and mixed thoroughly, begin adding the very cold milk… one tablespoon at a time, combining very well after each addition (mixer on medium-high to high speed) until you reach the desired consistency.
4. Fill cooled pastry tubes with filling using a pastry bag and sprinkle the cookies with confectioners' sugar before serving.
- from The Funny Farm Bakery
All images and text ©
Follow Jamie on Instagram. We love to see what you're baking from MBA! Be sure to tag @jamiemba and use the hashtag #mbarecipes!
[pinit]