Clothespin cookies are an old-fashioned favorite that your family will love! Tubes of pastry are filled with buttercream frosting and dusted with powdered sugar for a sweet, tender holiday cookie.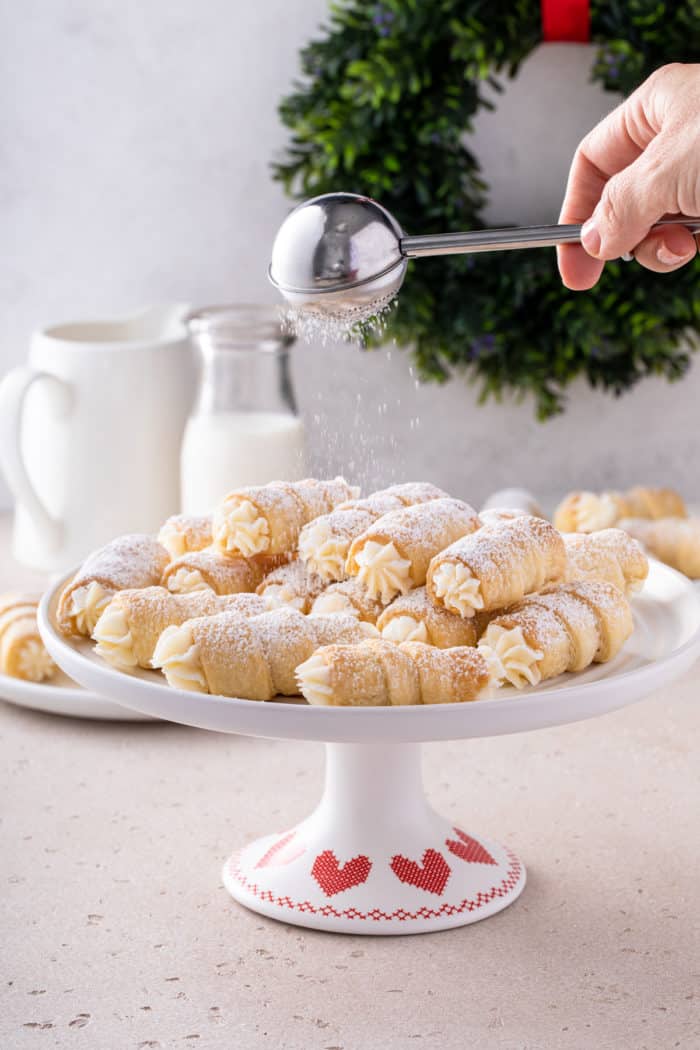 This post contains affiliate links.
There are some holiday cookies that are simple enough, sometimes I make them at other times of the year as a special treat.
We're talking recipes like peanut butter blossoms, chocolate crinkle cookies, spritz cookies, and orange cranberry cookies.
And then there are a handful of holiday treats that take a little more time and effort that I only make once a year at most, but everyone is glad when I do.
Clothespin cookies are one of those recipes. They definitely take a little more patience to make than some of my other recipes, but they're an old-fashioned Midwestern favorite that our family loves.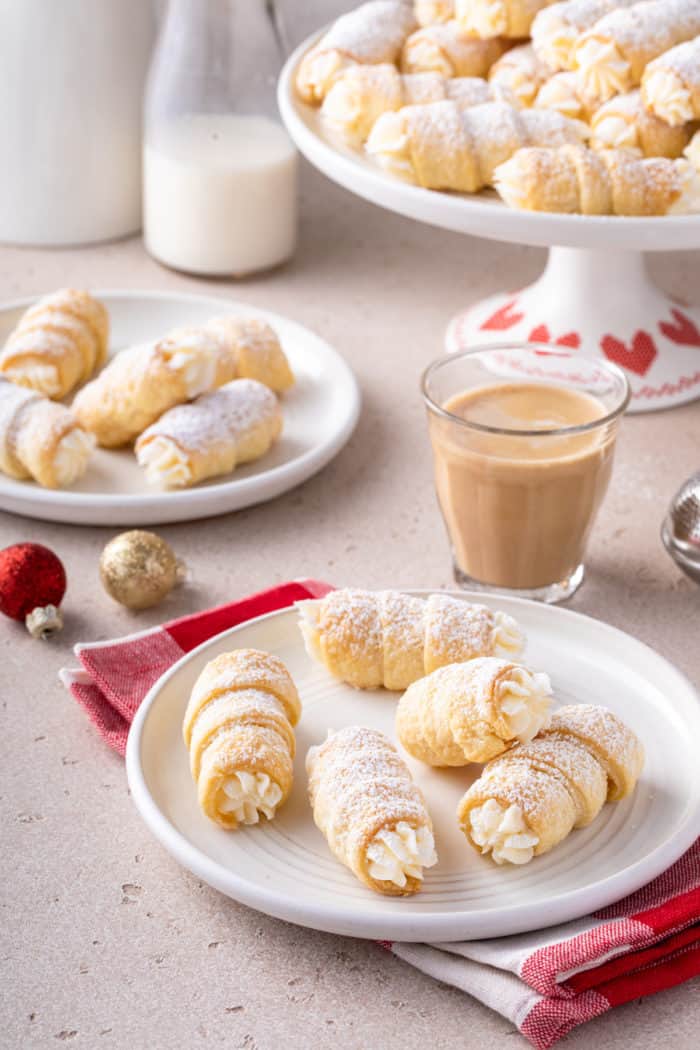 WHAT ARE CLOTHESPIN COOKIES
If you grew up in Ohio, there's a chance you already know about clothespin cookies.
These cookies – also known as ladylocks or cream horns – apparently originated in Eastern Europe and are very popular in Ohio and western Pennsylvania in particular.
Clothespin cookies are made from a light, flaky pastry that is formed into a tube and filled with a whipped cream filling or buttercream frosting. They are often known as "clothespin cookies" because traditionally they were formed and baked around round wooden clothespins.
Clothespin cookies have been a Christmas tradition for our family for years. Every year, my stepmom orders them from a friend and I look forward to eating them when we visit her and my dad for the holidays.
Even though we consider them a Christmas cookie, they are also popular as wedding cookies – another tradition popular to the Ohio and western Pennsylvania area.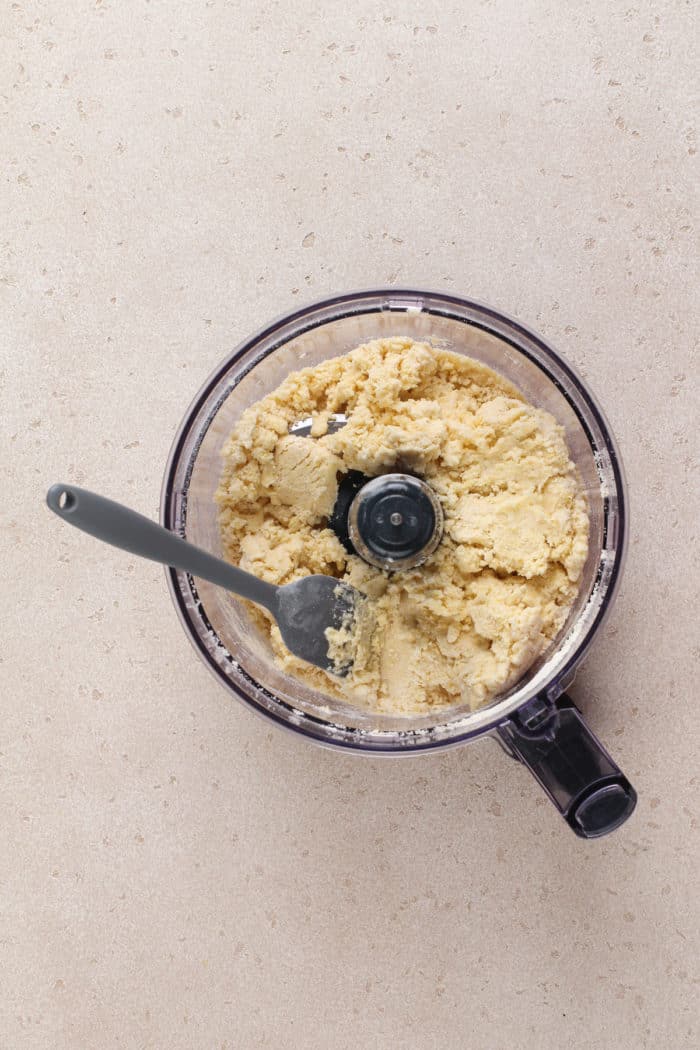 HOW TO MAKE CLOTHESPIN COOKIES
Whether you call them clothespin cookies, ladylocks, or cream horns, these cookies definitely require a little time and patience, but are a great way to spend some quality time in the kitchen with friends and family.
Equipment you'll need
There is one tool you will need to make clothespin cookies that you might not already have on hand.
Even though these cookies were named because they were traditionally formed around round clothespins, I prefer to bake mine around mini cannoli molds these days.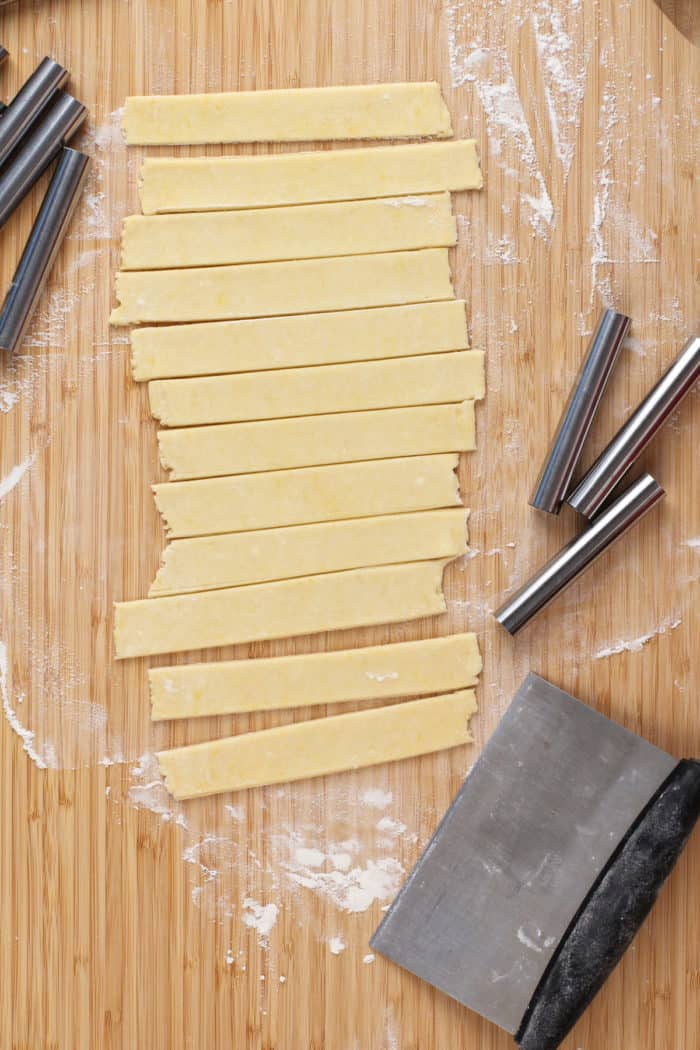 If you choose to use the clothespins instead of the cannoli molds, make sure you spritz them with cooking spray before using them to help the pastry slide off after it is baked.
You will also need: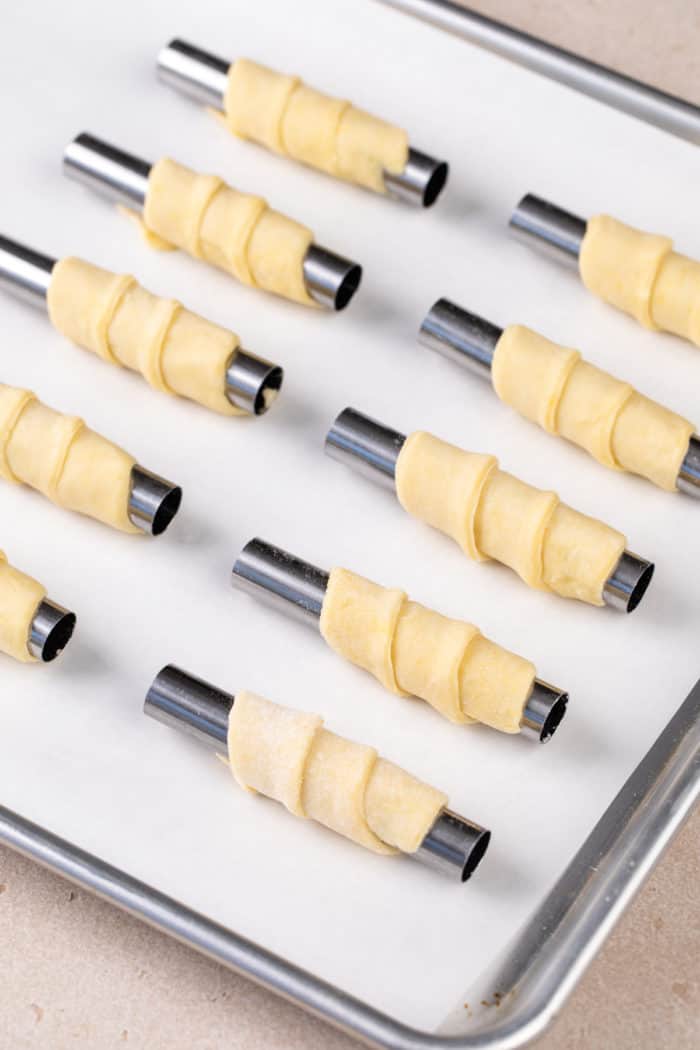 Making the dough
These cookies are made in 3 parts:
Making the dough
Shaping and baking
Filling the cookies
I like making the dough in the food processor. It's really quick and easy, which is nice because it offsets some of the time it takes to shape the cookies.
Add the cold butter, sugar, egg yolks, flour, and salt to the bowl of your food processor. Pulse until well combined, then slowly add the cold water until the dough forms a ball in the food processor.
Remove the dough, wrap it in plastic wrap, and freeze it for 45 minutes.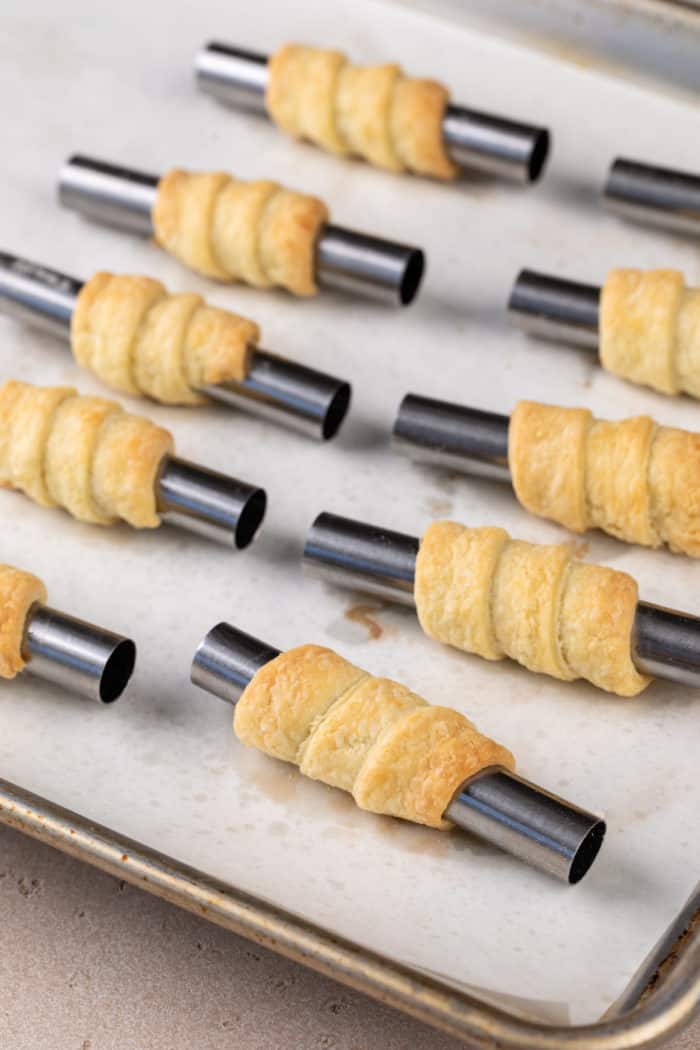 Shaping and baking
Now for the trickiest part: shaping the cookies.
After the dough has rested in the freezer, cut it into fourths. Work with one quarter of the dough at a time, wrapping the rest back up and storing it in the refrigerator to keep it cold.
On a floured surface, roll out the dough into a rectangle measuring just over 12×6 inches. The dough should be quite thin.
Use a sharp knife, a dough blade, or a pizza cutter to trim off the edges of the dough, making a 12×6-inch rectangle. Cut the rectangle into 12 strips, each measuring 1 inch wide by 6 inches long.
Carefully lift each strip, wrapping it around one of the mini cannoli forms or clothespins. Slightly overlap the edges of the dough as you wrap it, forming a tube of dough around the forms.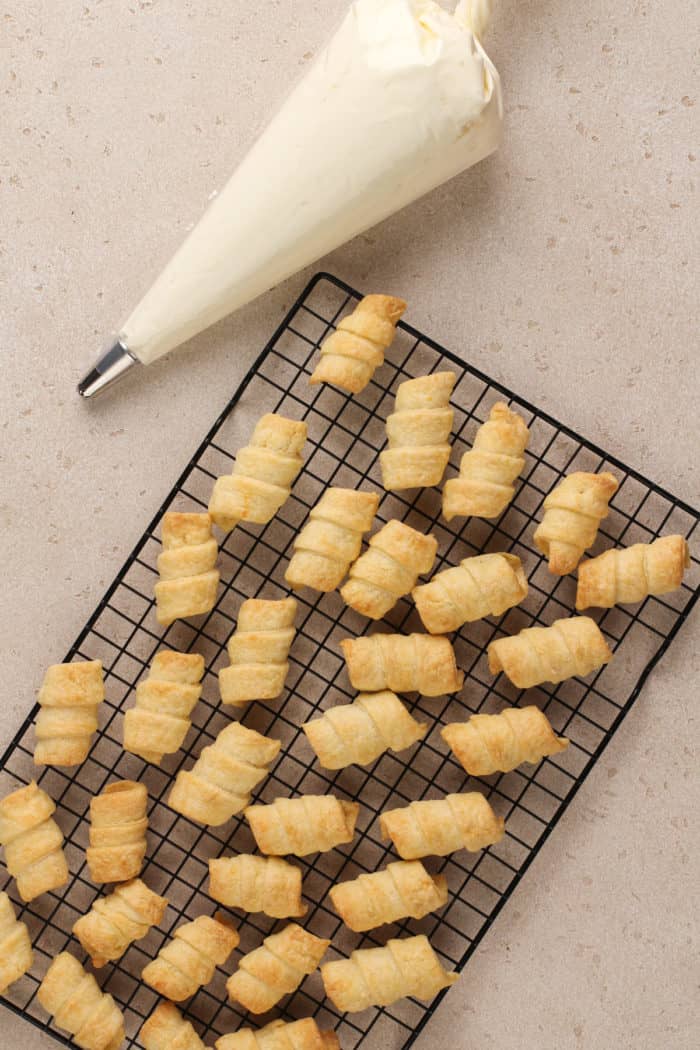 Place the wrapped form (with the dough ends facing down) onto a lined baking sheet. Bake for 10-13 minutes, until the edges and bottoms of the cookies are golden.
Let the cookies cool on the forms for 2 minutes, then carefully remove them from the molds and place them on a wire rack to cool completely.
Since my cannoli form set has 12 molds in it and each quarter of dough makes 12 cookies, I like to roll, shape, and bake one quarter of dough at a time, then let the forms cool completely before repeating with the remaining dough quarters.
If you are using metal cannoli molds, you can cool them quickly by placing them in a heat-proof container and setting them in the refrigerator or freezer to bring them back to room temperature.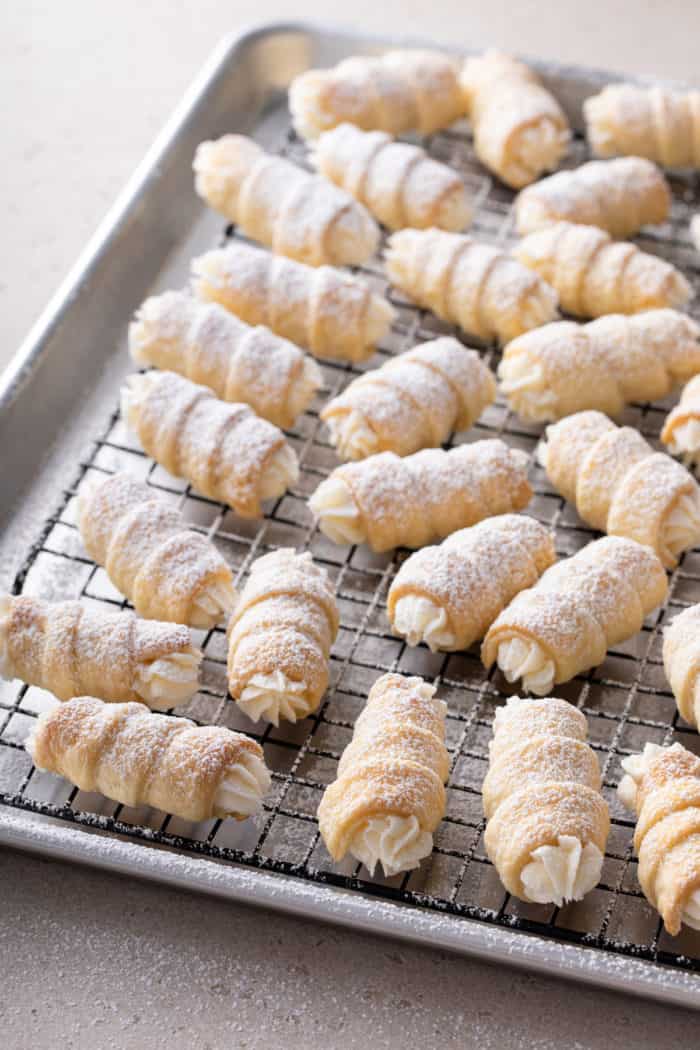 Filling clothespin cookies
Some folks like to fill their clothespin cookies with a whipped cream filling, but I prefer mine with buttercream frosting.
I scaled down my favorite homemade buttercream frosting recipe for this filling and think it is perfect for these cookies.
You want the frosting to be super light and airy so it doesn't overwhelm the delicate pastry of the cookies. The key is mixing it for the amount of time listed in the recipe!
Start by beating the butter on medium-high for 6-7 minutes. Gradually add the powdered sugar and the salt, continuing to beat until the sugar is fully incorporated.
Add the vanilla extract, as well as the cream or milk, and mix until incorporated.
Increase the speed to medium-high again and beat for another 6-7 minutes for a super light, fluffy frosting.
Using a piping bag fitted with a medium piping tip (I like a star tip for this) to pipe the filling into each pastry shell.
Dust the cookies with powdered sugar for the perfect finish before serving.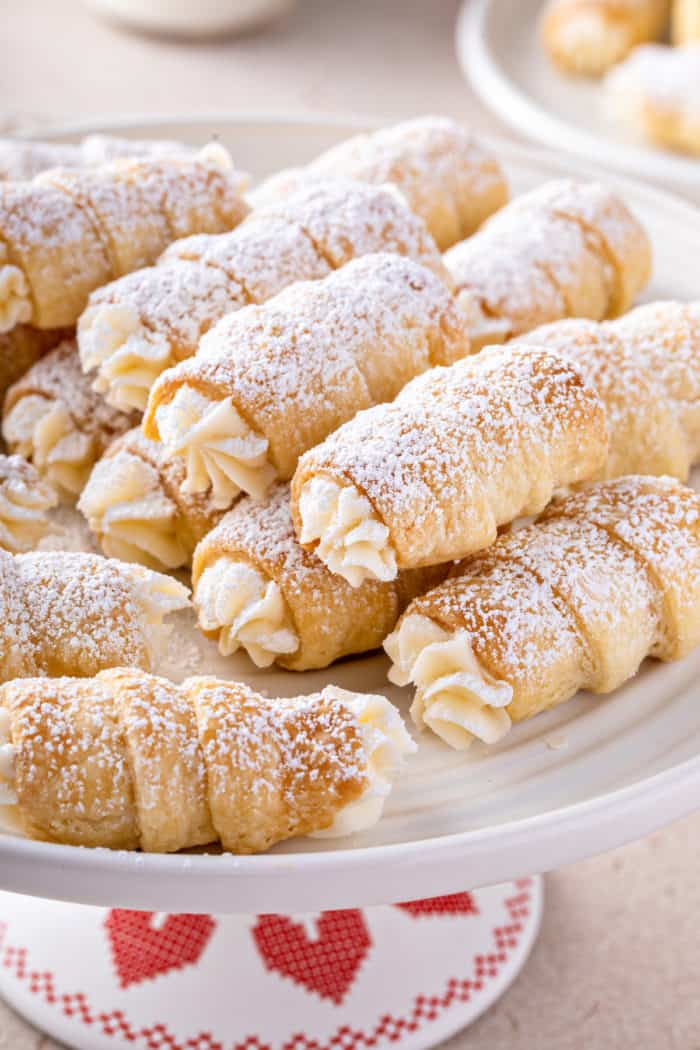 STORAGE TIPS
Store clothespin cookies in the refrigerator. They are best served within a day, but will keep in an airtight container for up to 3 days. I do recommend waiting to dust them with powdered sugar until just before serving.
You could easily make the dough ahead of time and freeze it until you're ready to work with it. Wrap it in plastic wrap and place it in a zip-top freezer bag for up to a month.
Let the dough thaw in the refrigerator overnight before forming the cookies so that it is soft enough to roll out.
You could also freeze the buttercream filling. Make the filling, then freeze it in an airtight container for up to a month.
Thaw the buttercream overnight in the refrigerator. Let it come to room temperature after thawing, then whip it with your electric mixer for a couple of minutes before piping into the cookies.
I don't personally recommend freezing the baked clothespin cookies, as I think thawing can affect the texture of the pastry.