Bright orange and tangy cranberries pair up in these vibrant Orange Cranberry Cookies – the perfect festive cookie recipe.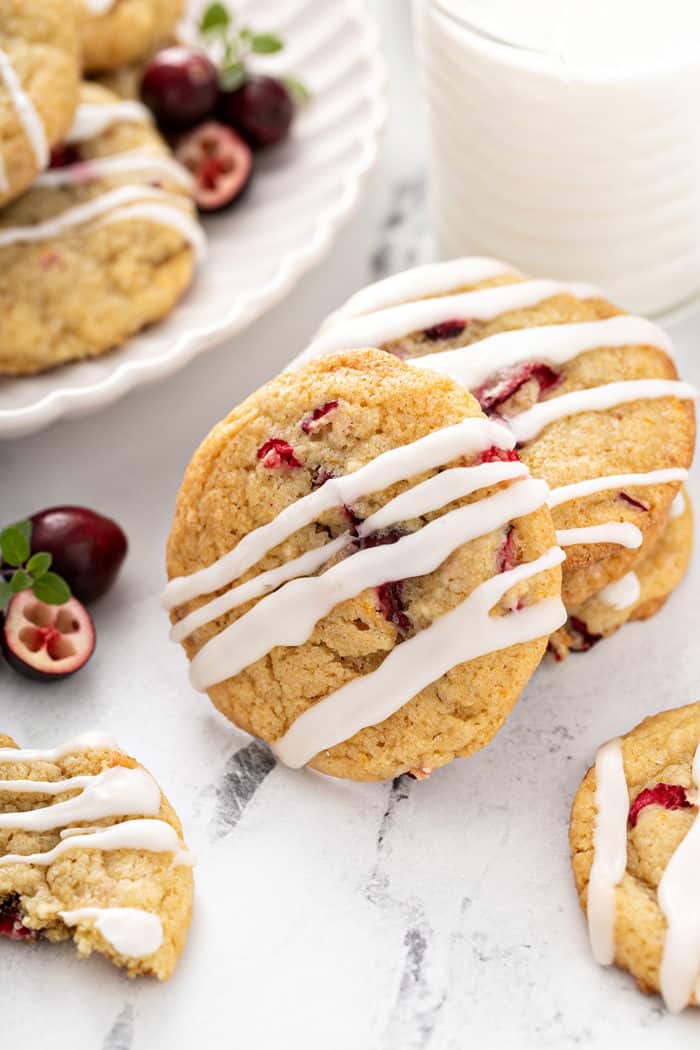 If you're looking for a festive and delicious holiday recipe to add to your cookie trays this year, I've got you covered with these orange cranberry cookies!
These vibrant orange cranberry cookies are so easy to make. Cranberry and orange go together so well and I'm always looking for excuses to pair them up.
I've got cranberry orange scones and Grand Marnier-spiked homemade cranberry sauce, as well as cranberry orange cinnamon rolls and cranberry orange smoothies. You could say I'm obsessed!
Dried cranberries are often the go-to when it comes to cookies, but these fresh cranberry cookies have a great tart flavor that is complemented by the orange glaze.
You can make the glaze or go without, but I just love the added sweetness it brings!
This is such a great Christmas cookie to add to the dessert tray.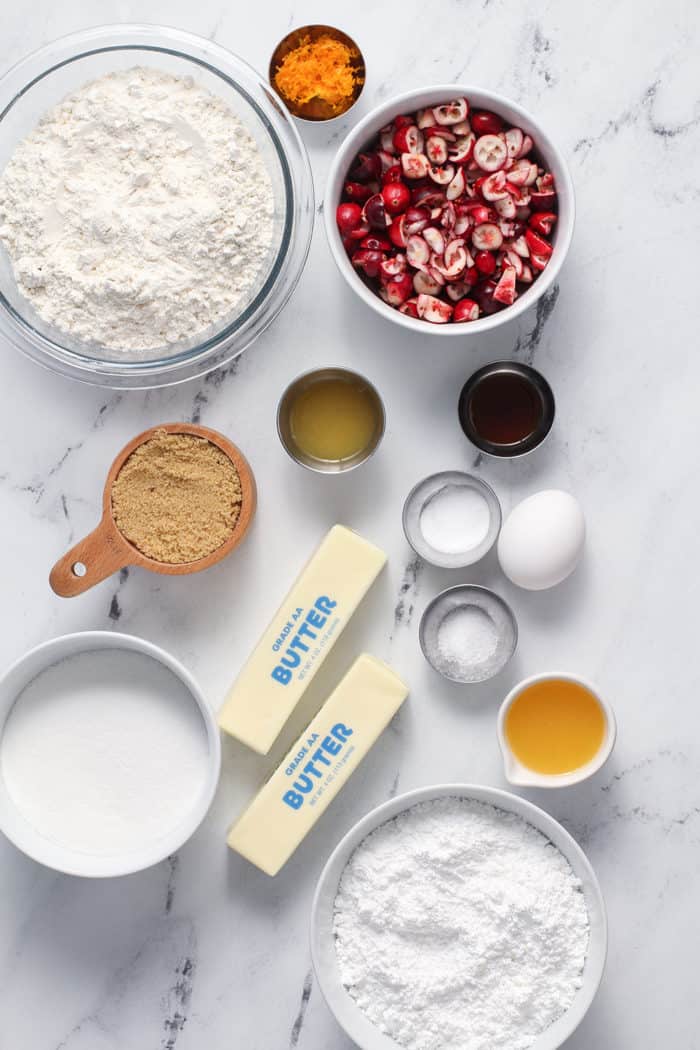 HOW TO MAKE ORANGE CRANBERRY COOKIES
Like most cookies, these start out with the creaming method.
You'll need to make sure to soften your butter ahead of time. Not too soft though! It should not be melty.
Zest your orange using a zester or microplane. Or, use the smallest holes of your box grater. Mix the zest into the sugars and rub with your fingers or use a whisk to blend it well.
Cream together the butter and sugars together. This is easiest with a mixer, but a strong arm will work just as well! I use both white and brown sugars for the best cookie texture.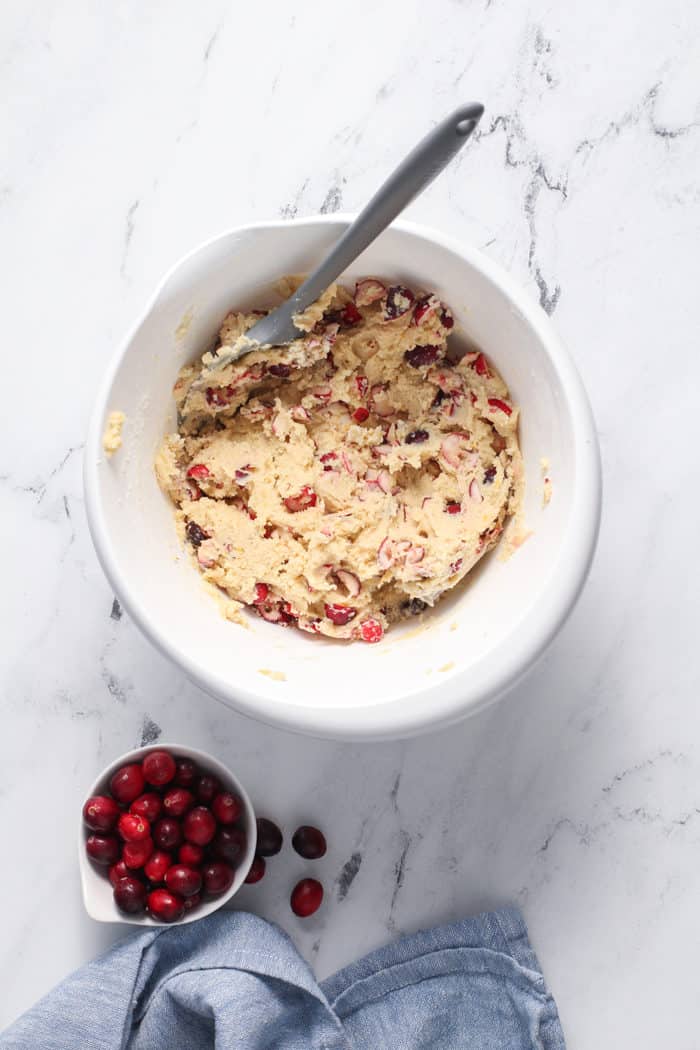 Then, mix in the egg, orange juice, and vanilla until creamy.
In a separate bowl, mix together the dry ingredients. You can do this before or after creaming the sugars, whichever you prefer!
Once you have both components mixed, add the flour mixture to the sugar mixture in increments, until completely mixed in.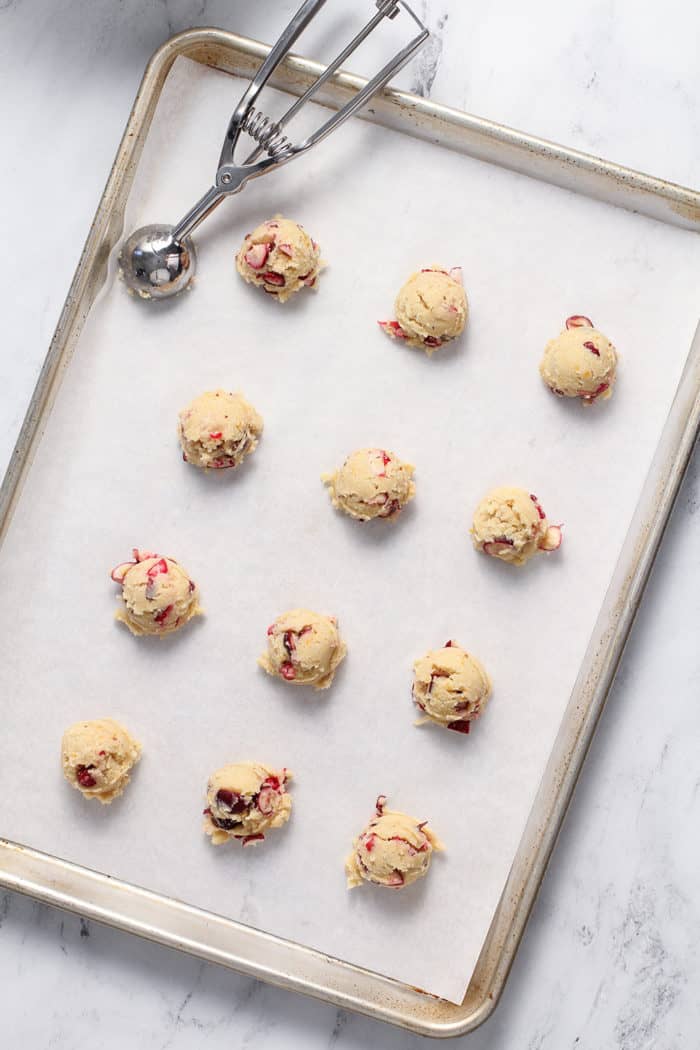 Give your cranberries a quick chop (I use the food processor to make it easy) and fold them into the cookie dough so that they are evenly distributed.
Chill the cookie dough for about an hour, and in the meantime preheat the oven, and line your baking sheets. I use parchment paper, but you can also use a silicone liner.
Scoop the cookies onto the baking sheets and bake for about 12 minutes, or until just browned. I let the cookies cool on the baking sheet for a few minutes before transferring them to a wire rack to cool completely.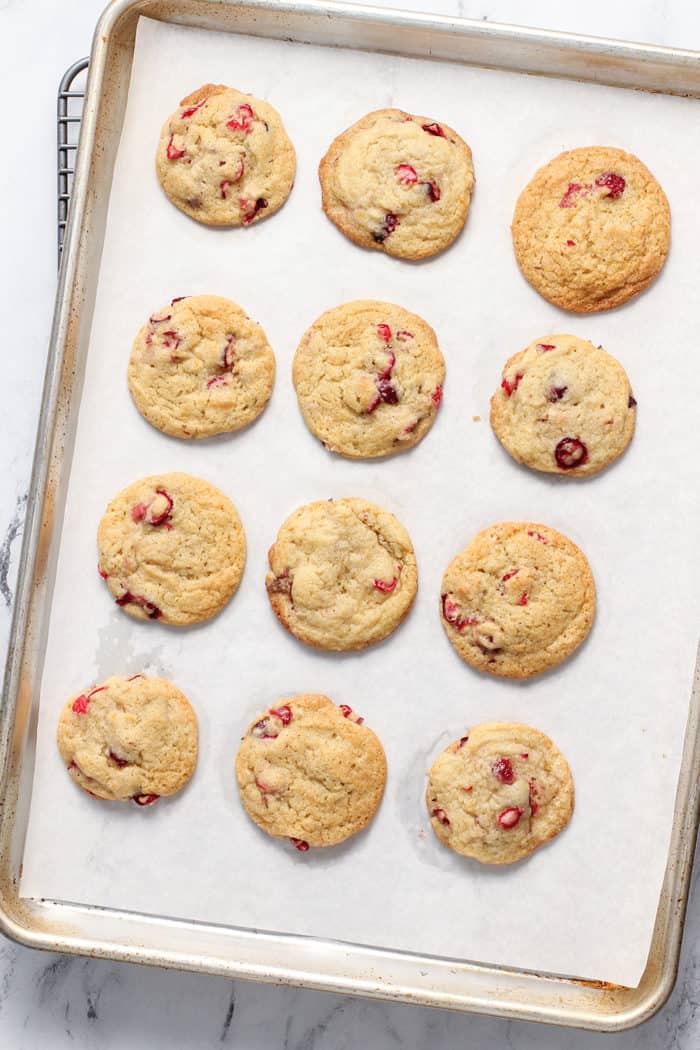 Once they are cooled, mix up the glaze.
All you need is powdered sugar and orange juice! Whisk them together until smooth, then drizzle over the cookies or dip the tops.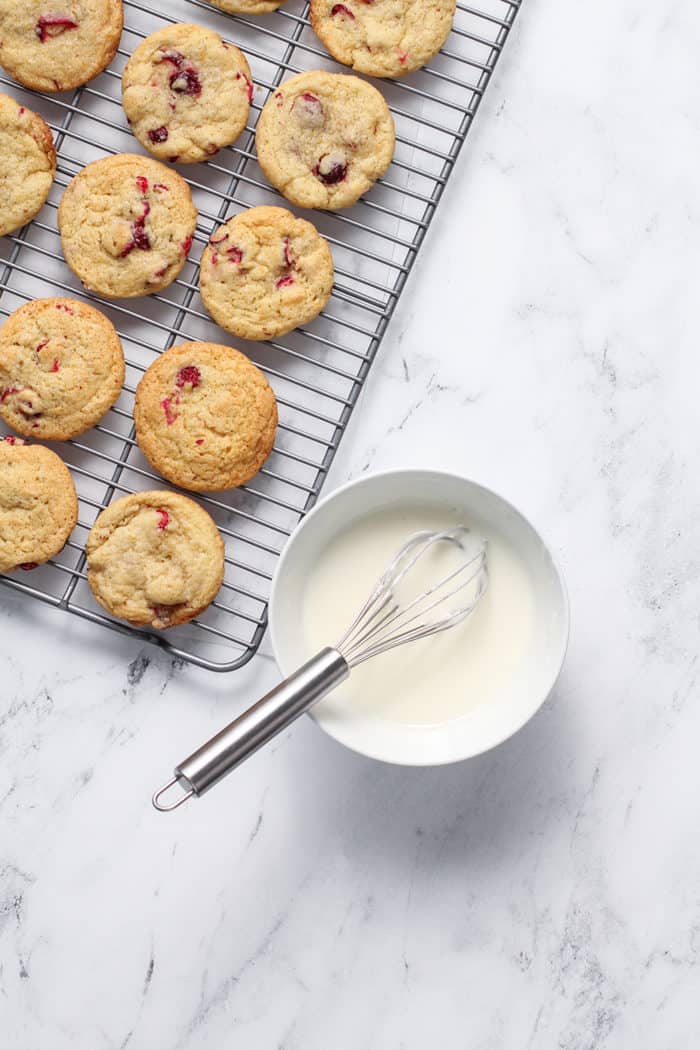 You can also make the icing thicker by adding more sugar, and then spreading on the cookies with a spoon or offset spatula.
The icing will dry as the cookies sit, so be sure to wait until it is set before storing them!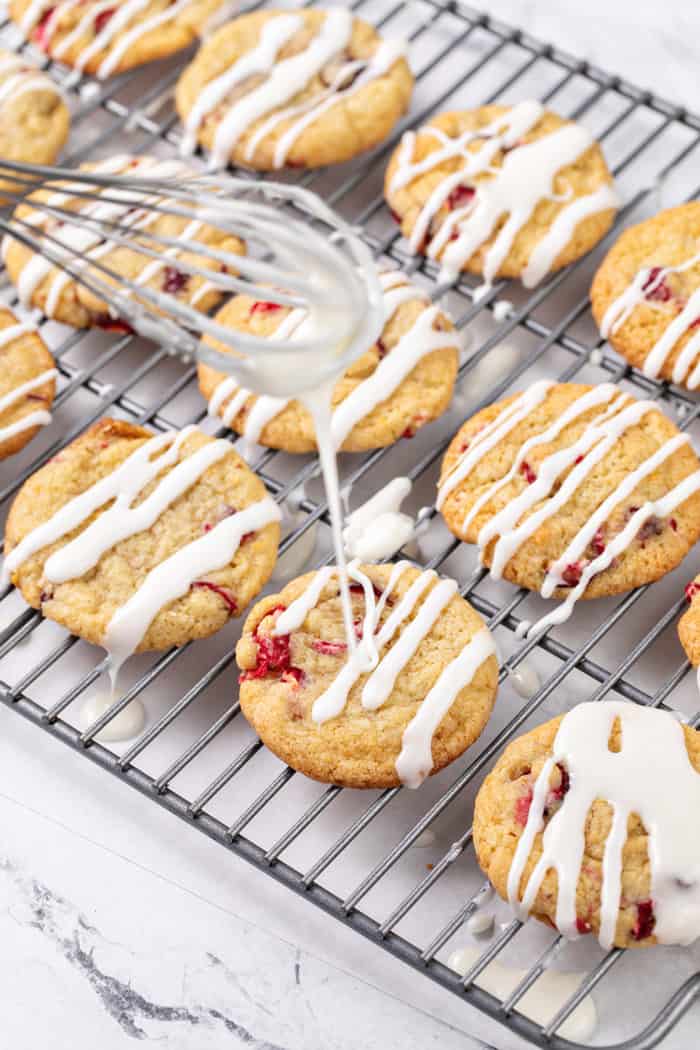 STORAGE TIPS
These orange cranberry cookies will keep in a cookie jar or airtight container for up to a week.
They're best within 3 days though, so if you don't plan to eat them quickly, I recommend freezing half the batch.
That way you can make just as many as you like, and save the rest for emergency cookie situations.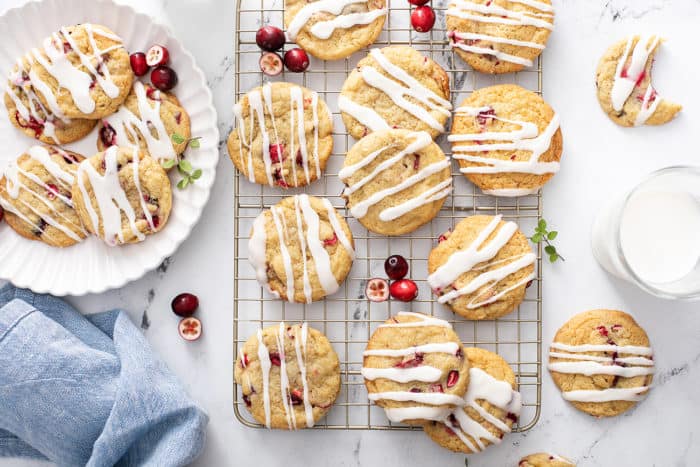 To freeze the cookie dough, scoop them as usual and place onto a lined baking sheet. You can place them closer together since you don't need to worry about spreading, and that way you can get a lot of cookies onto one baking sheet!
Pop the baking sheet into the freezer and chill for about 2 hours, or until the cookie dough balls are completely frozen.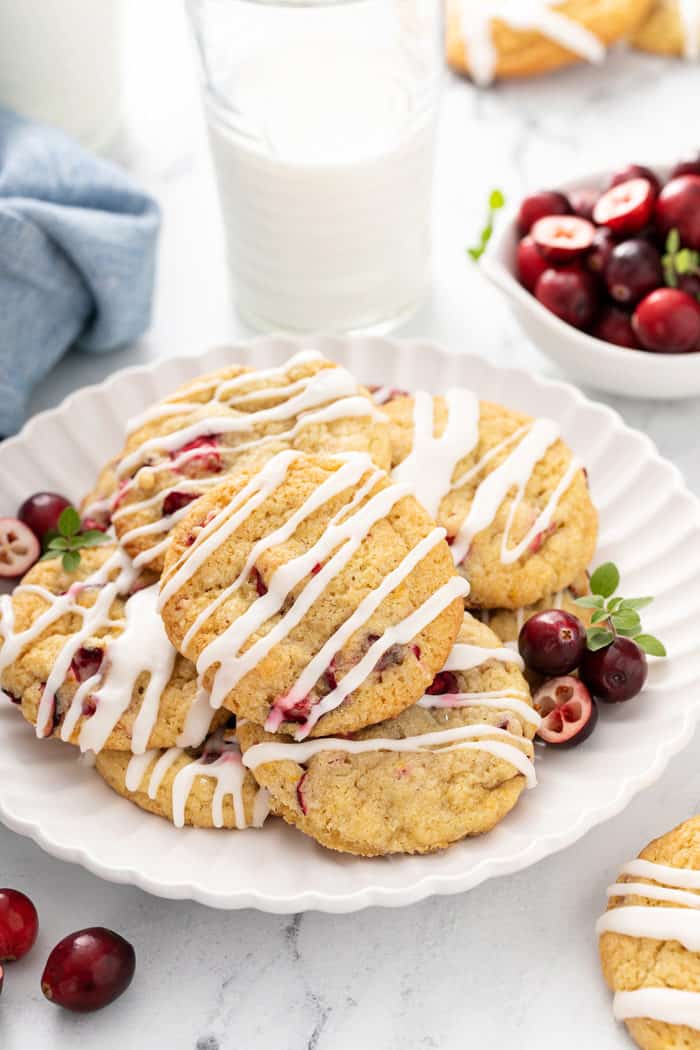 Transfer the balls into freezer-safe ziptop bags or another freezer container. Be sure to label the bag with the type of cookie and baking instructions!
To bake from frozen, simply remove as many cookies as you need. Bake at 375°F for 14-18 minutes. They'll take a little longer to bake from frozen, so keep an eye on them during the last few minutes.
This is one of my favorite cranberry recipes, so give it a try!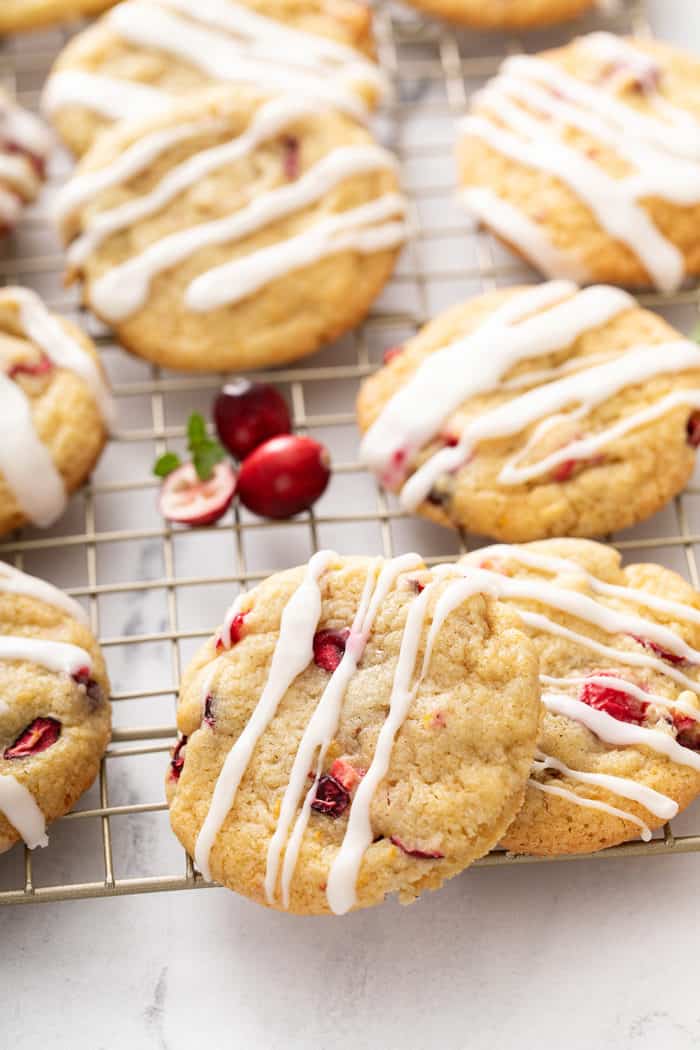 MORE CRANBERRY COOKIES YOU'LL LOVE