Pumpkin Dark Chocolate Cranberry Cookies made with pumpkin, tart dried cranberries, and delicious dark chocolate chips. Meet your new favorite fall cookie!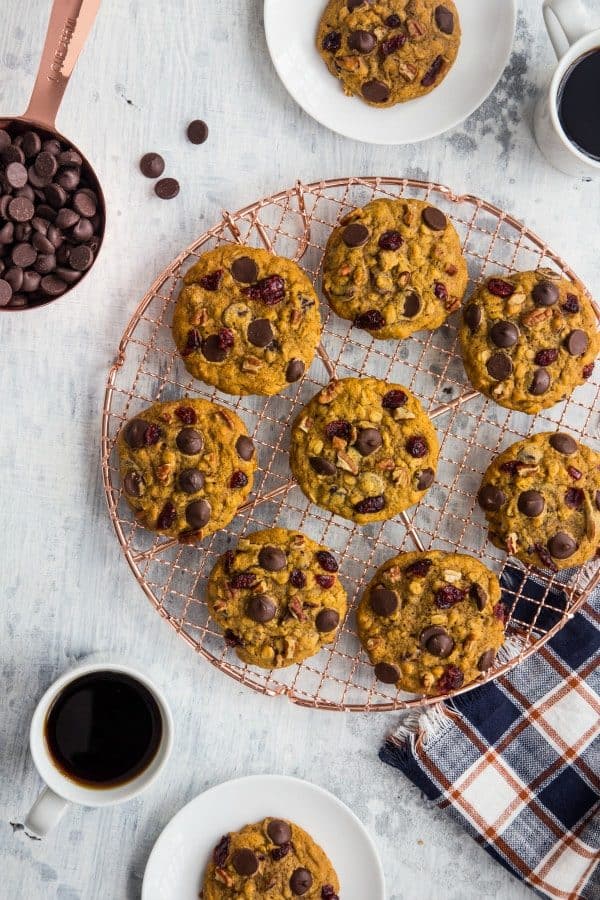 This post is sponsored by NESTLÉ® TOLL HOUSE®. All thoughts and opinions are my own. Thank you for continuing to support the brands that make My Baking Addiction possible.
I am obsessed with these cookies. I've made thousands of cookies in my lifetime, but it's been a while since I made a recipe that I simply couldn't control myself around. I had to get these babies out the door to my dad's work, and quick.
We're in full swing fall baking around here, and I am loving it. As far as I'm concerned, it's the most wonderful time of year. There's a cold snap in the air, and my kitchen is filled with the scent of baking pumpkin, and a recycling bin overflowing with pumpkin tin cans. That is what happiness looks like, you guys.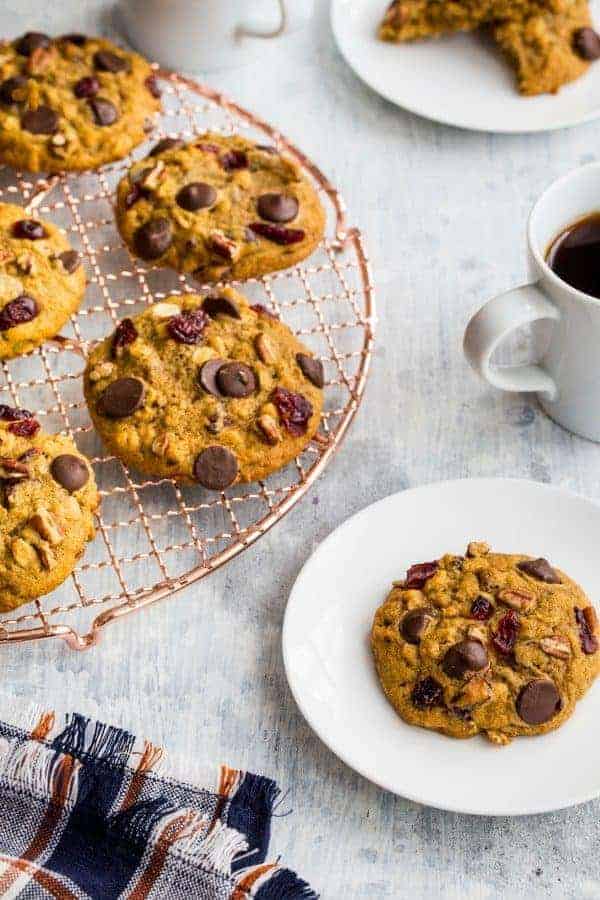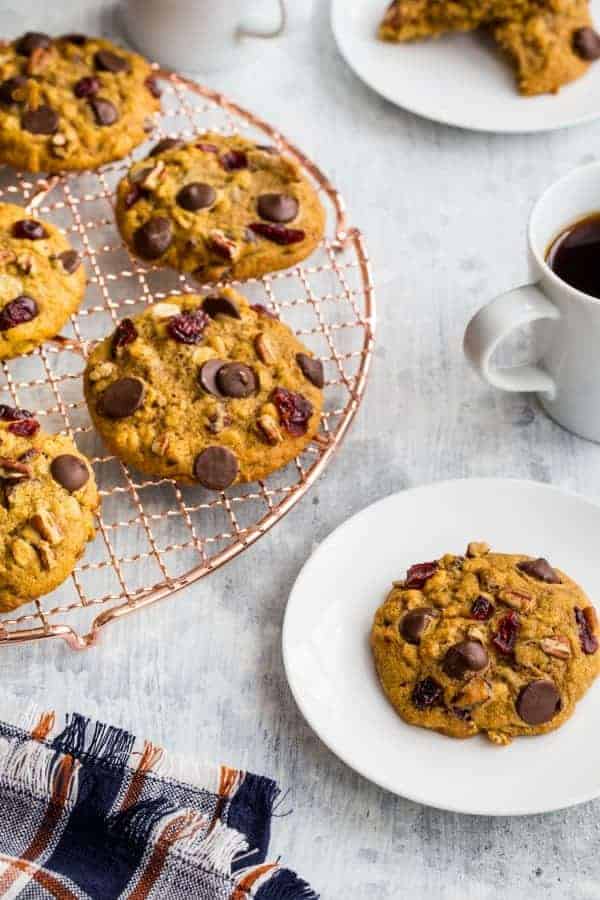 I've made cookies with cranberries before, and dark chocolate before, and even pumpkin before – but never did I think to combine all three. Especially because these are more of an oatmeal based cookie, I personally find them irresistible.
I can't think of a more perfect cookie to kick off your own fall baking than these Pumpkin Dark Chocolate Cranberry Cookies. We've got everything here – oats and pumpkin pie spice, pumpkin and pecans. Dried cranberries and NESTLÉ® TOLL HOUSE® Dark Chocolate Morsels simply kick the entire situation up a notch.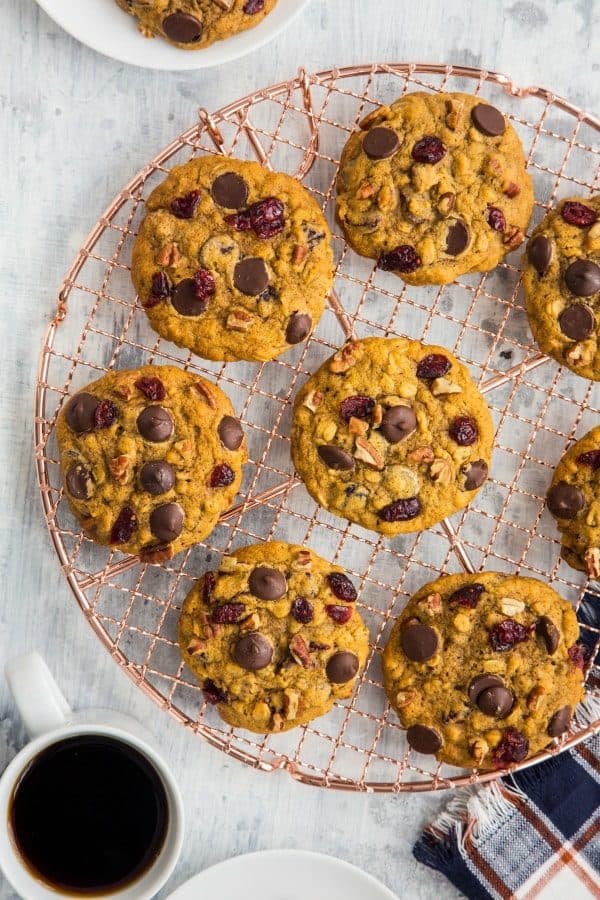 I love keeping the NESTLÉ® TOLL HOUSE® Dark Chocolate Morsels handy and using them whenever I can, because I think they surprise people. When you're used to a semi-sweet (let's face it, more sweet than bitter) chocolate in something, and you get that hit of perfectly rich dark chocolate, it's an extra surprise to an already awesome cookie, brownie, bar dessert, or pie.
Pairing those morsels with dried cranberries is, if I do say so myself, an act of pure genius. The tart and sweet fruitiness marries perfectly with dark chocolate. It's almost like a wine pairing – just without the alcohol.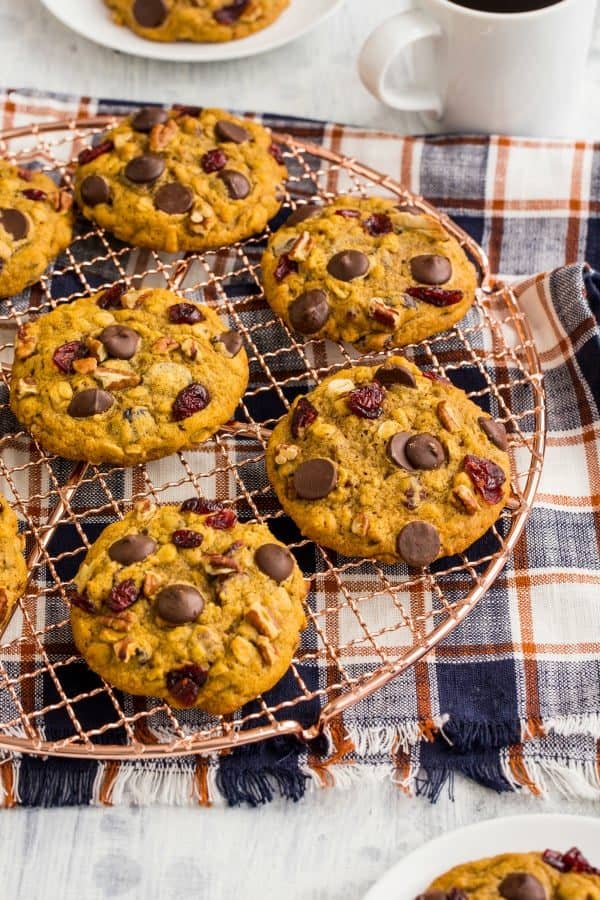 As Elle and I sat at the kitchen bar, munching on these Pumpkin Dark Chocolate Cranberry Cookies just out of the oven with a giant glass of milk between us, I thought about how soon she'll be at school (waaaah!), and I'll welcome her home with these freshly-baked cookies (thanks to my guide for how to freeze cookie dough) every fall. Or tuck them into her lunchbox sans the pecans.
Because they are straight up love – and an excellent way to tell someone that you love them too.
I know you're going to adore these cookies as much as I do, and I can't wait to hear about it!