Add some fall flair to your oatmeal cookies! These Pumpkin Oatmeal Cookies are filled with dried cranberries and white chocolate chips for a twist on your favorite oatmeal cookie.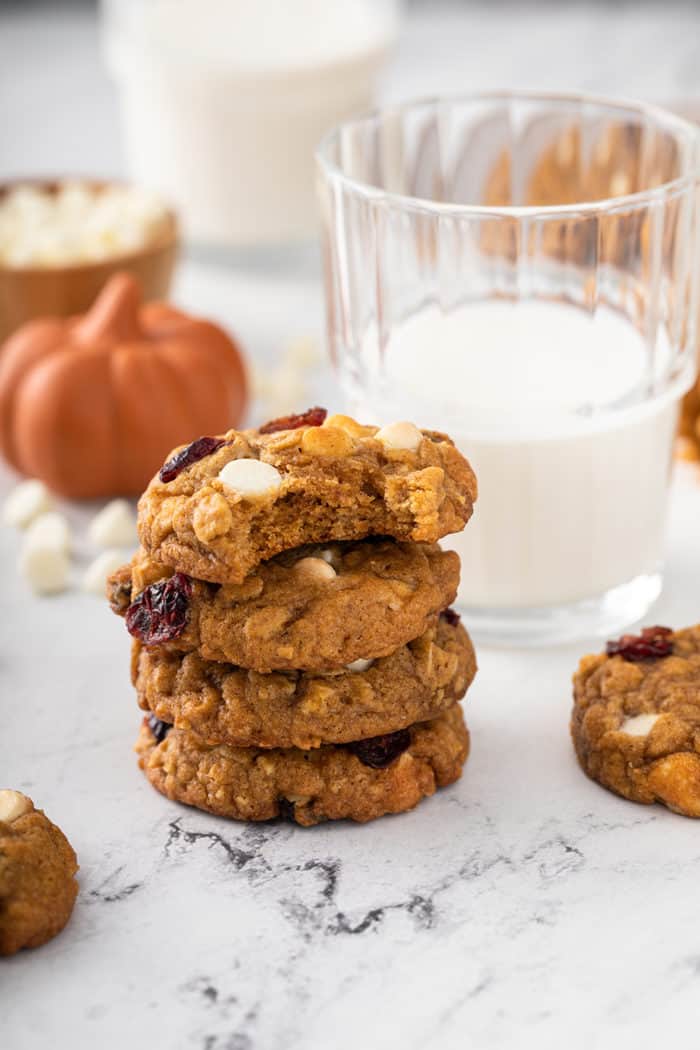 I'm starting to get into cookie mode over here. While in the school pickup line the other day, I made a list of all of the cookie recipes that I want to bake over the holidays.
I must say that I have a pretty good list going with everything from Peanut Butter Blossoms and Crispy Ginger Cookies to these pretty Snowflake Sugar Cookies and classic Gingerbread Cookies.
But before I head into full-on Christmas cookie mode, I decided to whip up a couple of batches of cookies that are full of festive fall flavors.
Pumpkin cookies are a go-to every fall. I've made them even better with my favorite cookie add-ins!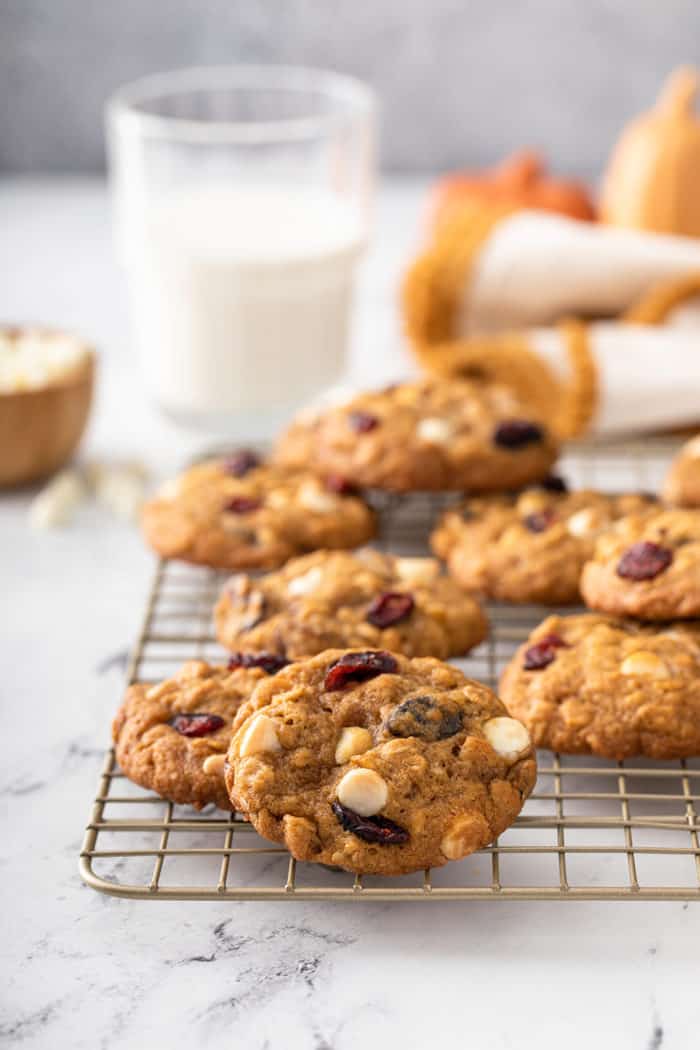 INGREDIENTS FOR PUMPKIN OATMEAL COOKIES
Gather up everything first:
Flour
Old-fashioned oats – these are also labeled as rolled oats. Don't use quick oats!
Baking soda
Ground cinnamon
Salt
Butter, softened to room temperature
Brown and granulated sugars
Pumpkin puree, not pumpkin pie filling
1 egg
Vanilla extract
White chocolate chips
Dried cranberries or dried cherries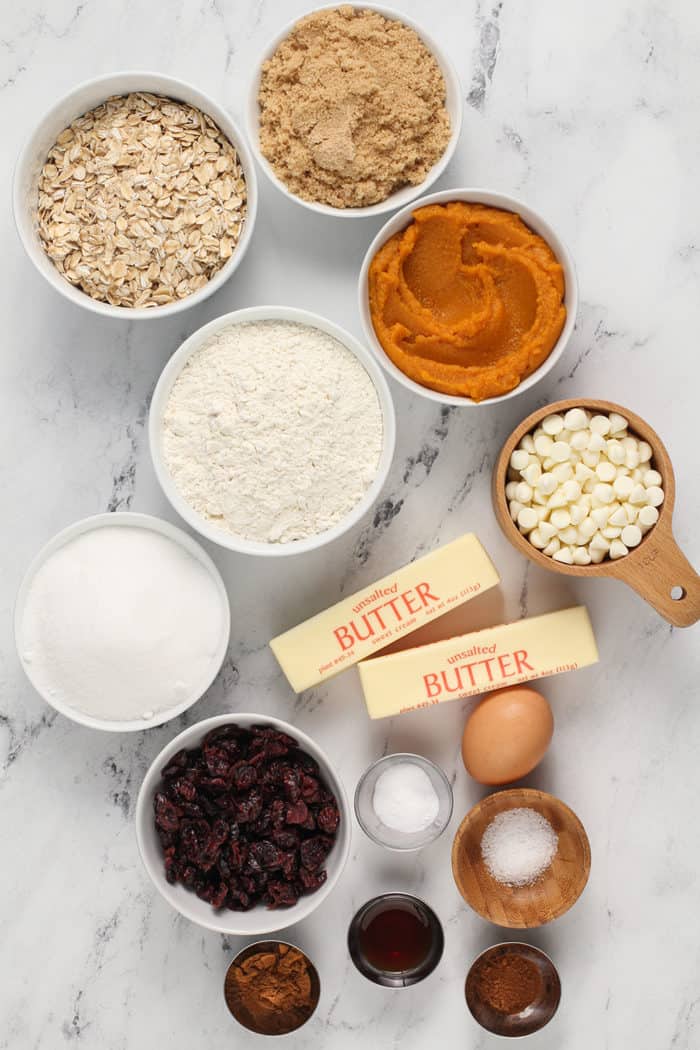 I use parchment paper on cookie sheets to bake these. You can also use silicone mats like Silpat.
I find it helps bake the cookies more evenly, and they make cleanup so easy!
A cookie scoop works great for making evenly sized cookies, or use two spoons to scoop the dough.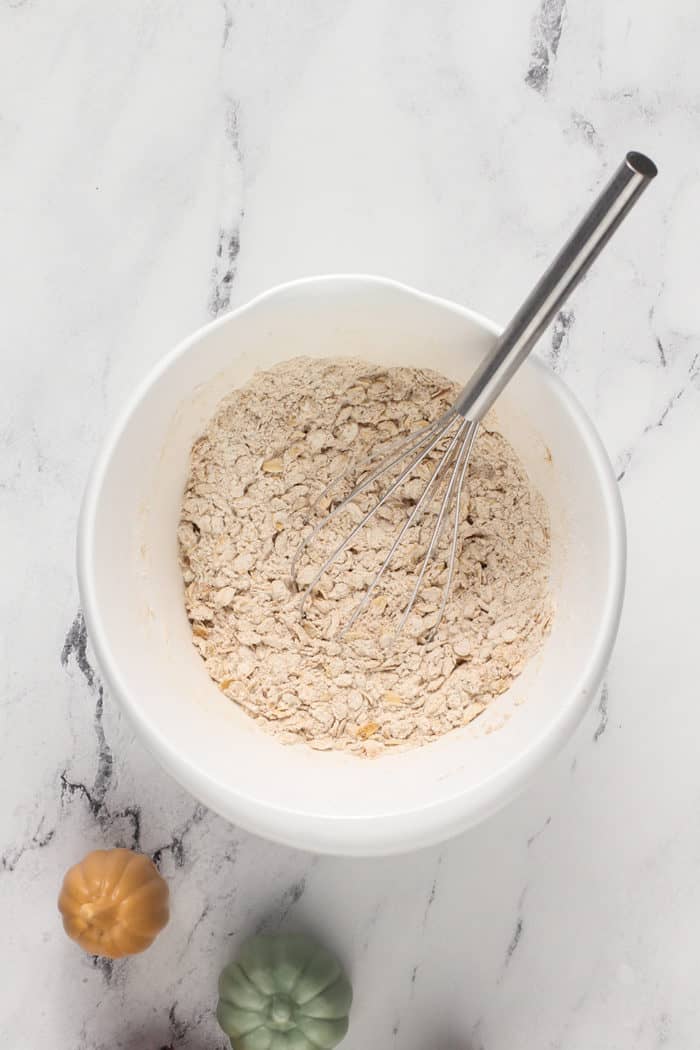 HOW TO MAKE OATMEAL PUMPKIN COOKIES
Don't forget to preheat your oven before getting started! The cookie dough comes together quickly, so you'll want that oven ready in time.
In a medium bowl, mix together flour, oats, baking soda, cinnamon, pumpkin pie spice, and salt.
Yes, we are using both cinnamon and pumpkin pie spice here. We want that full autumn flavor!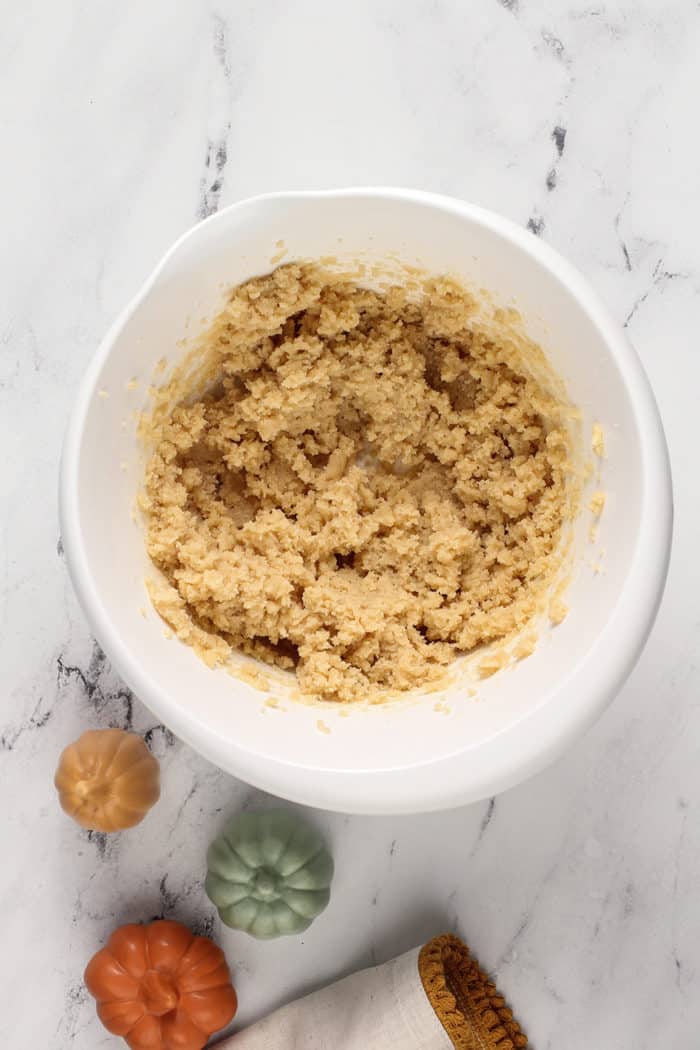 In a large bowl, beat together the butter and sugars until light and fluffy. I use my stand mixer to make this task easier.
Add the pumpkin, egg, and vanilla, and mix again until very smooth.
Then, add the dry mixture, in batches if needed, mixing until everything is incorporated.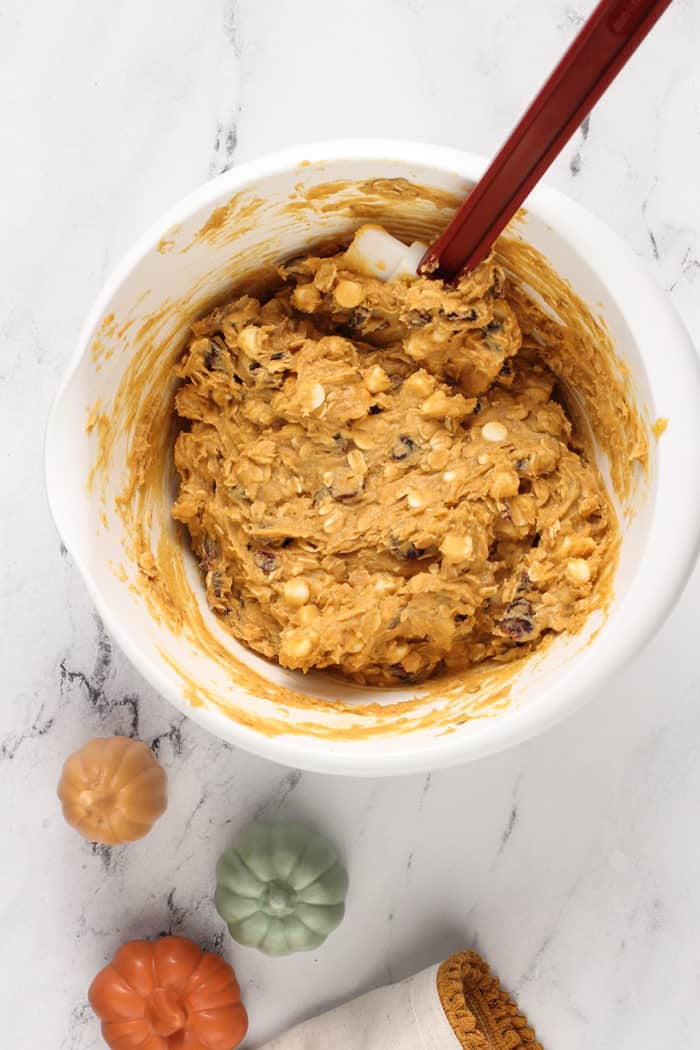 Finally, stir in the white chocolate chips and dried cranberries.
Want to use semisweet chocolate chips (dark chocolate lovers, try my pumpkin dark chocolate cranberry cookies) or dried cherries? Go for it! If using cherries, be sure to chop them into smaller pieces.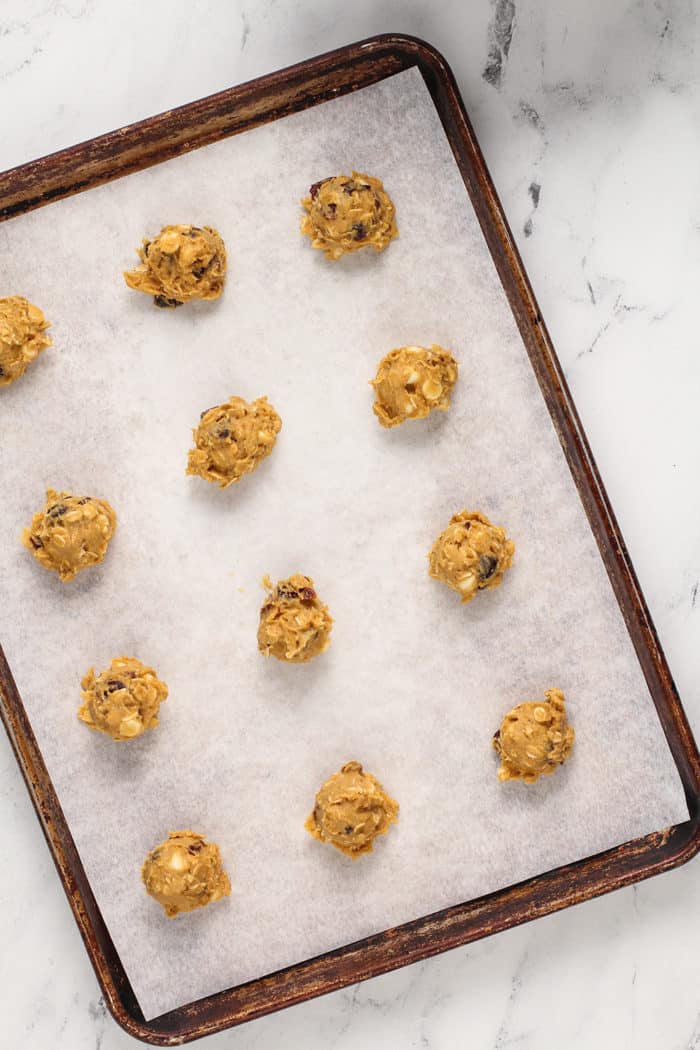 Scoop your cookie dough either with a medium cookie scoop or two spoons and arrange on a parchment-lined baking sheet. Make sure to leave a few inches between each dough ball to allow spreading.
Bake the cookies at 350°F for about 12 minutes, until they are browned. Let them cool on the baking sheets for a couple of minutes, then transfer the cookies to a wire rack to cool completely.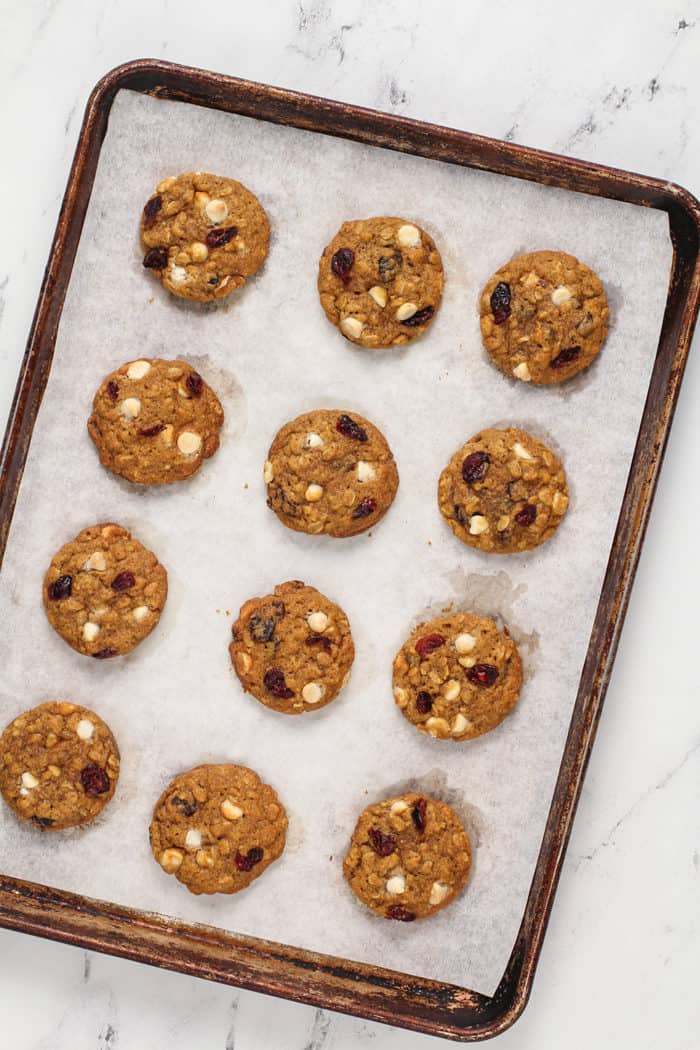 CAN I FREEZE THIS COOKIE DOUGH?
Absolutely! I love to freeze cookie dough so I can bake just a few whenever a craving hits.
Scoop out your dough the same as if you are baking it immediately. Place on the baking sheet in tight rows. This way we can get lots on a single sheet!
Once you've scooped all the dough, place the baking sheet in your freezer. Freeze the cookie dough for at least two hours, then transfer to labeled freezer-safe bags.
When you're ready for a warm cookie snack, just grab as much cookie dough as you'd like and bake.
Because the dough is frozen, you'll need a few extra minutes in the oven for perfect pumpkin oatmeal cookies.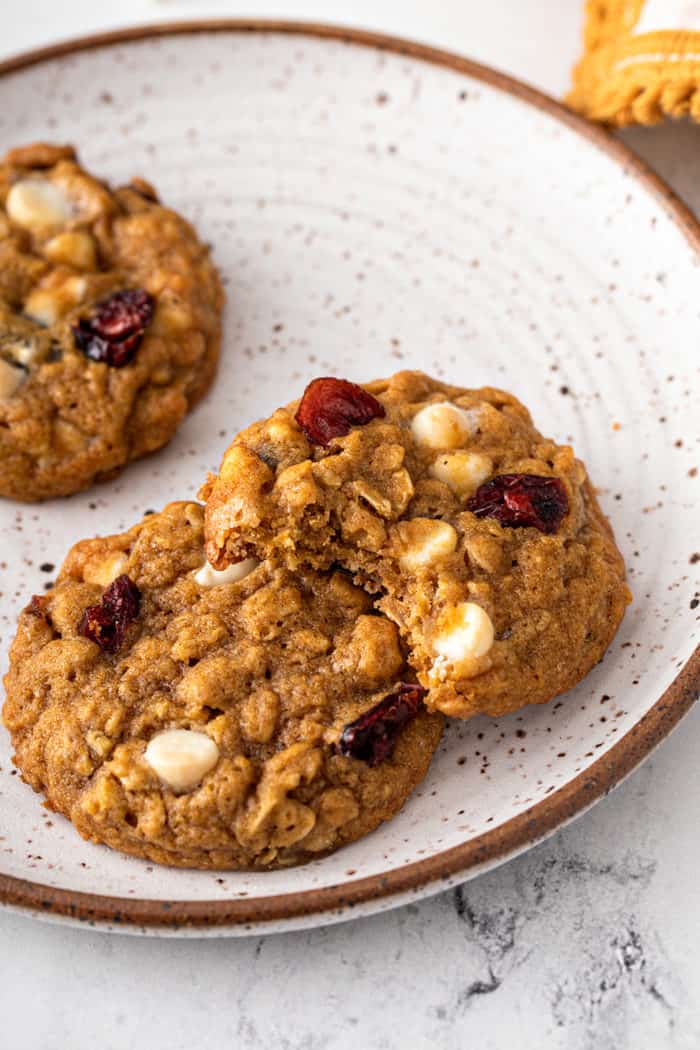 PUMPKIN COOKIE RECIPES
Need to fill the cookie jar? I've got other pumpkin cookie recipes for you to try!
Pumpkin molasses sandwich cookies are warm and full of seasonal spices. I can never resist these soft and chewy delights.
Love cream cheese frosting? It's so good with this pillowy pumpkin cookie recipe.
Or, go for cookie-as-a-bar with my pumpkin blondies. They're absolutely craveworthy!
You'll love these pumpkin oatmeal cookies, I just know it.