Do these look familiar? If you read My Baking Addiction on a regular basis, which I hope you do…these should look very familiar.
Did you guess that these are another version of the amazing Chewy Lime Coconut Sugar Cookies? If so, ding, ding, ding…you're right! I loved these Chewy Lime Coconut Sugar Cookies with every ounce of being, so I had the bright idea to make them with lemons instead of limes and leave out the coconut. Honestly, I don't remember why I left out the coconut, apparently I had a good reason at that moment, it just escapes me right now.
I had high, high hopes for these babies and was anticipating their citrusy goodness while they cooled. The verdict? Well, I like to keep things honest up in here and as cliche as it sounds, sometimes it's best to leave well enough alone. Don't get me wrong, they were good, but truly nothing in comparison to their coconut infused lime counterpart. If you don't like lime, then definitely give these a try, but if you are a lime lover, skip this recipe and go directly to this one… I promise, you will not be sorry!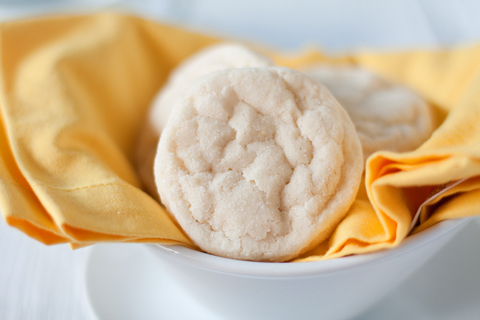 Stay tuned tomorrow for a pretty rad dinner recipe which includes homemade egg rolls!

Chewy Lemon Sugar Cookies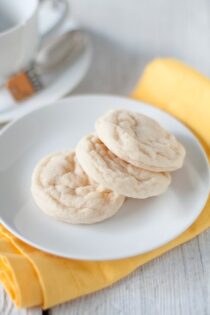 Ingredients:
2 3/4 cups all-purpose flour
1 teaspoon baking soda
1/2 teaspoon baking powder
1/2 teaspoon salt
1 cup butter, softened
1 1/2 cups white sugar
1 egg
1/2 teaspoon vanilla extract
Zest of one large lemon, finely minced
4 tbsp fresh lemon juice
1/2 cup sugar for rolling cookies
Directions:
1. Preheat oven to 350 degrees. Line cookie sheets with parchment paper.
2. In a small bowl, stir together flour, baking soda, baking powder and salt. Set aside.
3. Using a mixer, beat together the butter and sugar until smooth and very fluffy.
4. Beat in egg, vanilla extract, lemon juice and lemon zest.
5. Gradually blend in the dry ingredients.
6. Roll rounded teaspoonfuls of dough into balls, and roll in sugar. Place on lined cookie sheets about 1 1/2 inches apart.
7. Bake 8 to 10 minutes in the preheated oven, or until lightly browned.
8. Let stand on cookie sheet two minutes before removing to cool on wire racks.
adapted from Rock Recipes
All images and text ©
for My Baking Addiction
Follow Jamie on Instagram. We love to see what you're baking from MBA! Be sure to tag @jamiemba and use the hashtag #mbarecipes!
[pinit]