Peanut Butter and Jelly Bars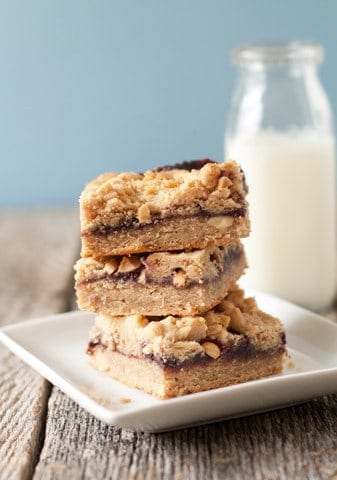 I love peanut butter and jelly, actually more like peanut butter and jam, jelly is well, too giggly for me. Any jam will do; strawberry, blackberry, raspberry…whatever we happen to have in the fridge. So, you can imagine how excited I was when I came across a recipe for Peanut Butter and Jelly Bars.
My brother, Jared lived with us about two years ago and on the nights I did not prepare dinner, he would often eat peanut butter and jelly sandwiches. These sandwiches were enormous with gobs and gobs of peanut buttery goodness slathered between two pieces of ultra soft, white Wonder bread. Although I often eat wheat toast with a smear of peanut butter for breakfast, Jared's love for PB&J sandwiches on fluffy white bread reacquainted me with this treat. I have to admit, I consumed far too many during the 6 months he lived with us.
When I came across this recipe for Peanut Butter and Jam Bars in Ina Garten's cookbook, Barefoot Contessa at Home, I knew these would be a raging success in my house and I have made them three times since I first laid my eyes on this recipe. Most recently I baked them for Memorial Day and they were a big hit with both the kids and the adults. My family said they tasted just like peanut butter and jelly…well yeah, that was the point. After consuming three of them, my uncle commented by saying they were rich!
These bars are packed with peanut butter, jam and topped with chopped peanuts. Throw in any type of jam that strikes your fancy, this time I used blackberry and it was fab! I adapt Ina's original recipe by using half crunchy peanut butter and half creamy, plus I add more jam, but do what you like…I am betting you'll be happy with the outcome. Just make sure you have a BIG jug of milk handy when you serve these bars up! Have a great day and as always, thanks so much for stopping by!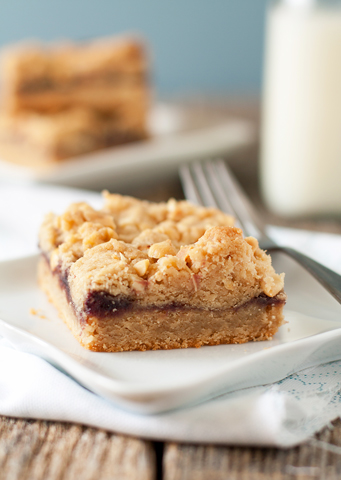 This post may contain affiliate links. We are a participant in the Amazon Services LLC Associates Program, an affiliate advertising program designed to provide a means for us to earn fees by linking to Amazon.com and affiliated sites.