Caramel Pecan Bars have a buttery crust and an ooey gooey layer of caramel, studded with pecans. If you can stop at one bar, I'll be shocked!
This is a sponsored post on behalf of Fisher Nuts. All opinions are my own. Thank you for continuing to support the brands that make My Baking Addiction possible.
You guys. YOU GUYS. Just feast your eyes on these delectable treats! One of the first to come out of a kitchen I can call officially mine. Aren't they pretty?
There's something about cooking in a kitchen that's all your own, where everything is exactly where you want it, and nothing's had time to get disorganized. It's pretty darn special, and I can't tell you enough how grateful I am for the opportunity to do so.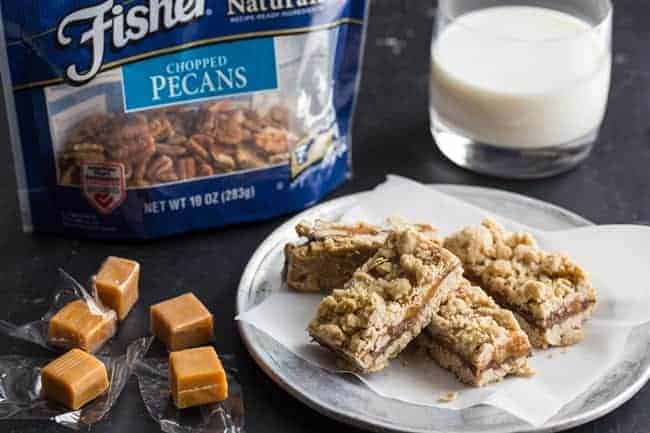 When we moved, we decided to pretty much donate and give away all the food we had at the old place in Toledo. We didn't want to move it all two hours away, only to have the same level of disorganization follow us to the new place.
Yes, it was an expensive choice to make, but I also feel like it starts us off on the right foot for keeping our new home exactly the way we want it in the long run. And building up the pantry? Has been a food blogger's dream.
Case in point, these Fisher Pecans. They're some of my favorite nuts to bake and cook with (they're AH-mazing in salads), so I always have them on-hand. What I'm really diggin', as I organize my pantry, is Fisher's handy, stand-up, ziptop bag. The nuts stay fresh, I can see just how much I've got left, and I don't need any extraneous containers, boxes, or bags. Makes my Type-A heart sing, you know what I'm sayin'?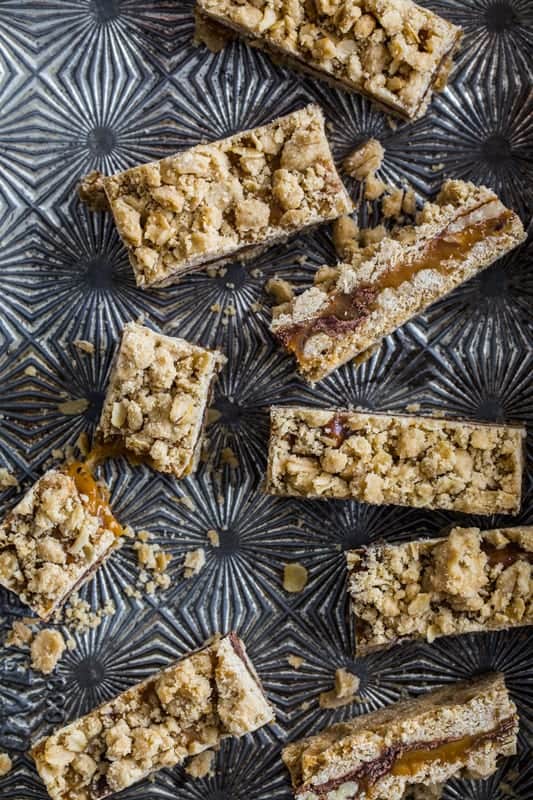 Back to those bars. You have to make them. Like, right now. Imagine a gooey caramel shortbread. Now make it a thousand times more delicious by adding crispy, crunchy pecan pieces. Yup. That's what I'm talking about. Things just got ridiculous.
These Caramel Pecan Bars are, from top to bottom – buttery crust, pecans, chocolate chips, ooey gooey caramel and pecans, then more, crumbly deliciousness to make a fantastic crumb topping.
If you can stop at one bar – color me impressed.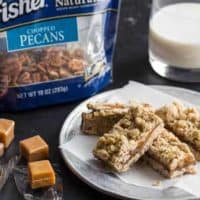 Caramel Pecan Bars
Caramel Pecan Bars have a buttery crust and an ooey gooey layer of caramel, studded with pecans. If you can stop at one bar, I'll be shocked!
Ingredients
32 individually wrapped caramels, unwrapped
5 tablespoons heavy cream
2 cups all-purpose flour
2 cups rolled oats
1 1/2 cups packed light brown sugar
1 teaspoon baking soda
1/2 teaspoon salt
1 1/4 cups unsalted butter, melted
1 teaspoon pure vanilla extract
1/2 cup semisweet chocolate chips
3/4 cup chopped Fisher pecans
Instructions
1. Preheat oven to 350°F. Line a 9x13 inch baking pan with foil, leaving about 1 inch of the foil extending over the edges of the pan. The extra foil will create handles that you can use to lift the caramel bars from the pan. Spray foil with nonstick cooking spray. Set pan aside.
2. Preheat oven to 350 degrees F (175 degrees C). In a medium saucepan over low heat, melt together the caramels and heavy cream, stirring occasionally until smooth.
3. In a large bowl, whisk together the flour, oats, brown sugar, baking soda and salt. Stir together the melted butter and vanilla extract. Add butter and vanilla mixture to the dry ingredients and stir until combined. Press half the mixture into the bottom of the prepared pan to form a crust layer.
4. Bake crust in preheated oven for 8 minutes. Remove and sprinkle crust with with chocolate chips and pecans. Pour the caramel mixture over the top and then crumble the remaining crust mixture on top of the caramel.
5. Place caramel bars back into preheated oven and bake for an additional 12-14 minutes. Place pan on cooling rack and cool completely. Once bars are cooled to room temperature, I recommend placing the pan into the refrigerator for a couple of hours. This will enable you to cut the bars with ease. Allow bars to come to room temperature before serving.