Sugar Cookie Bars are all the chewy goodness of your favorite sugar cookies but in an easy-to-make bar form! Top them with sweet buttercream frosting and your favorite sprinkles for a fun dessert everyone will love.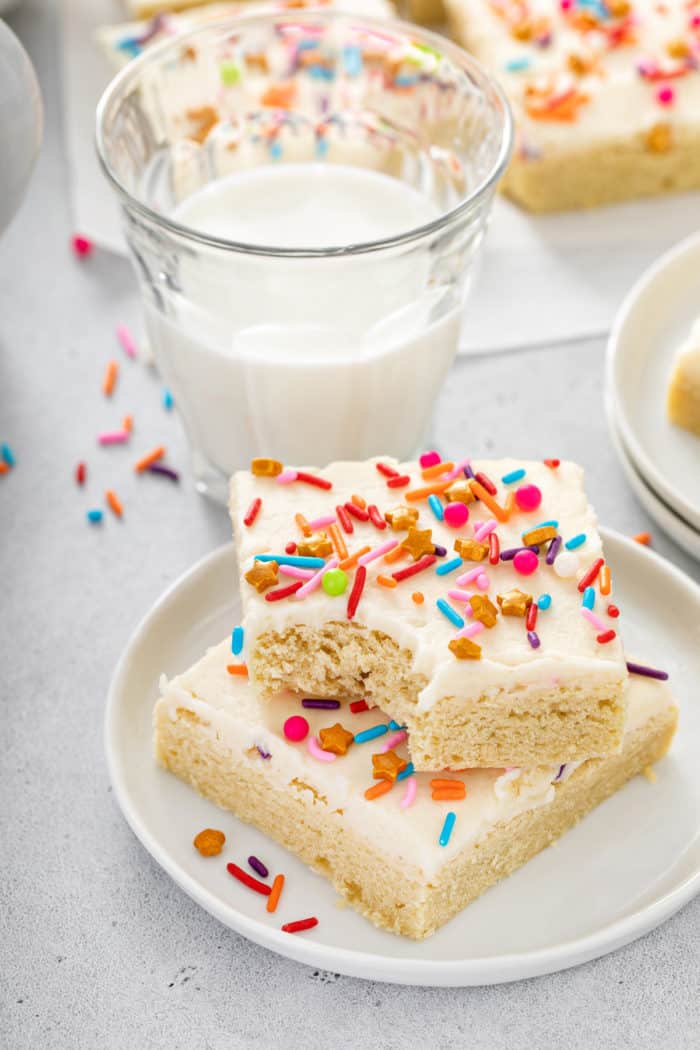 This post contains affiliate links.
We are a family of sugar cookie lovers. Chewy sugar cookies, soft sugar cookies, lemon sugar cookies – if it's a sugar cookie, my family is going to love it.
But I am not always down with the time it actually takes to make sugar cookies, especially cut-out or frosted ones.
But these Sugar Cookie Bars? They hit our sugar cookie sweet spot and they're quick to make.
I have made these countless times since I first shared this recipe back in the early days of My Baking Addiction and they have remained a favorite. They're super versatile since you can top them with any seasonal sprinkles you like or color the frosting for everything from Halloween to the 4th of July.
I know your family will love these Sugar Cookie Bars just as much as mine does!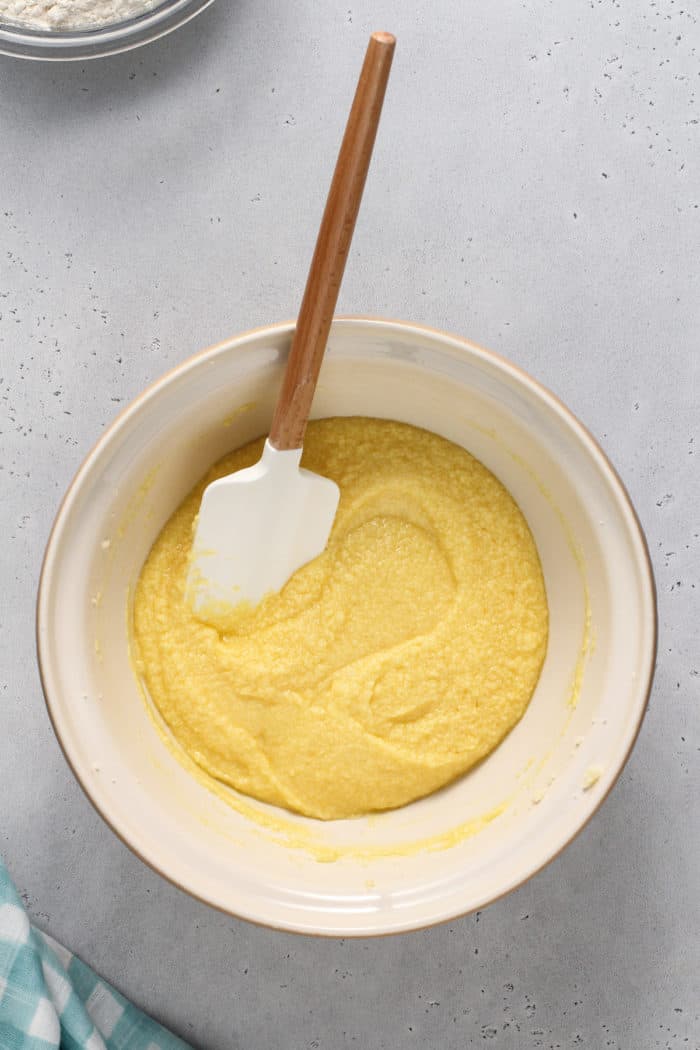 THICK AND CHEWY SUGAR COOKIE BARS
Sugar cookies…if you are like me, you love the taste and texture of them, but are not so keen on the prep work involved.
I have always been a huge fan of sugar cookies and certainly make recipes like my Snowflake Sugar Cookies for special occasions, but sometimes I wish I could whip up a chewy, thick cookie and not have to spend half the afternoon preparing them!
If you feel the same way, consider your wish granted with these Sugar Cookie Bars!
The cookie base of these bars is thick and chewy, with the perfect amount of sweetness. Topped with a simple buttercream frosting, they are absolute heaven.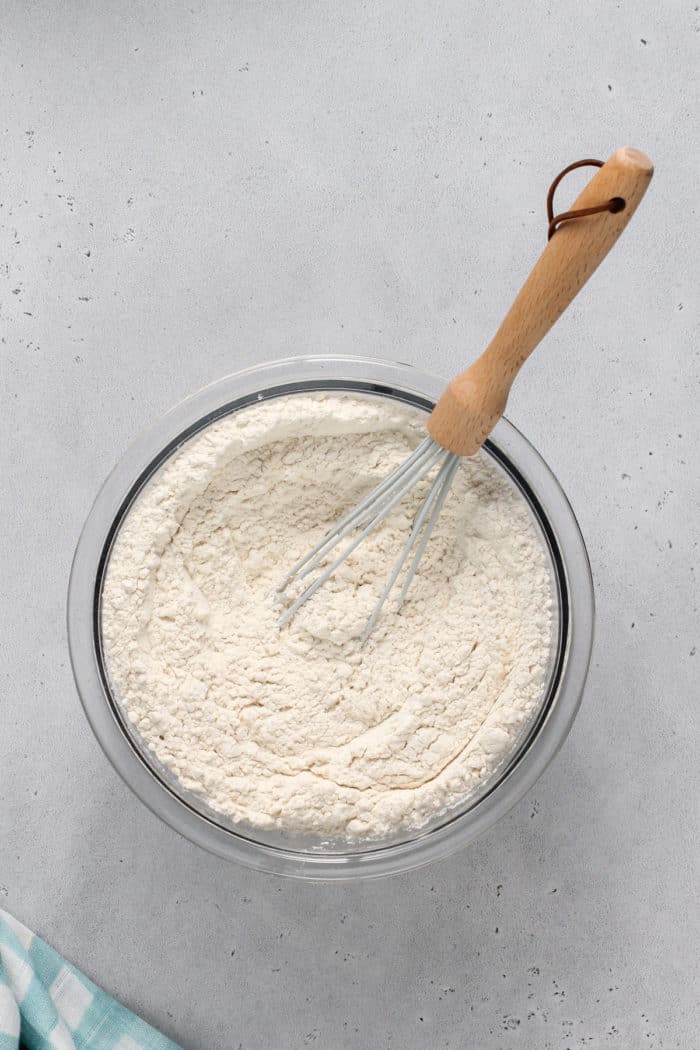 HOW TO MAKE SUGAR COOKIE BARS
Since the dough for these bars doesn't have to be chilled or rolled out and cut, they're super easy to make! This recipe also easily makes 24 nice-sized cookie bars, so it feeds a crowd.
Ingredients you'll need
For the cookies, you'll want to grab:
1 cup unsalted butter, room temperature
2 cups sugar
4 eggs
2 tsp vanilla
5 cups flour
1 teaspoon fine sea salt
1/2 teaspoon baking soda
If you forget to set your butter out ahead of time, I have a few ways to soften butter quickly.
You'll also want to know how to measure flour so these bars turn out perfect every time!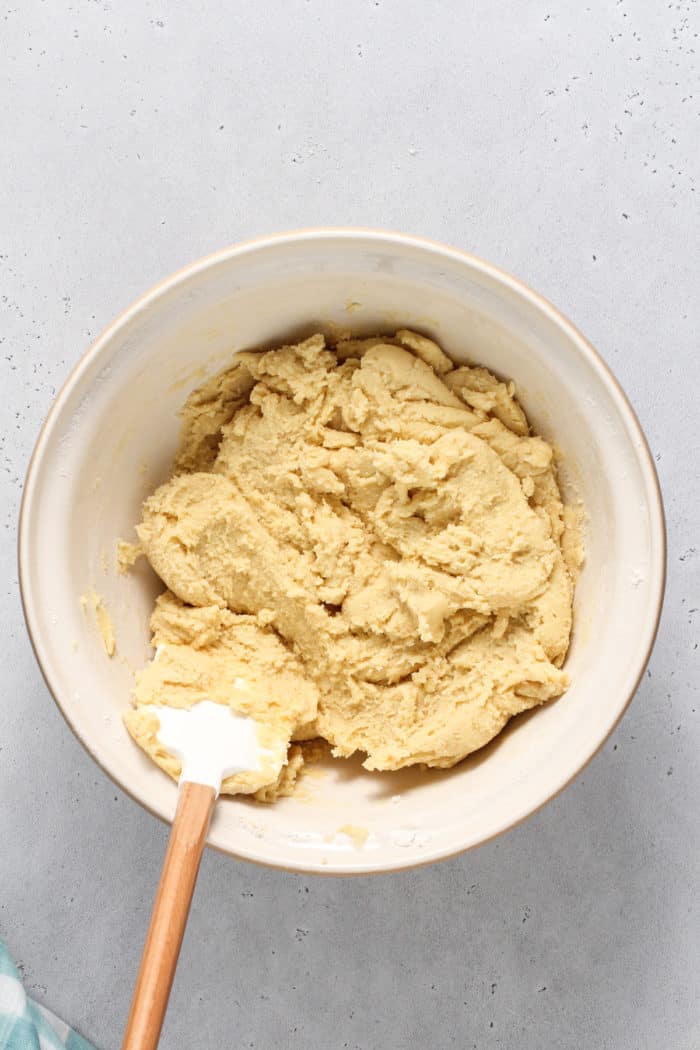 Tools you'll need
Aside from your standard measuring cups, bowls, and a stand mixer, you'll need to make sure you have the right pan for these cookie bars.
You'll want to grab a half sheet pan that measures about 13×18 inches. This will make the cookie bars the perfect thickness. It'll also make it easy to cut them into 24 generously sized bars!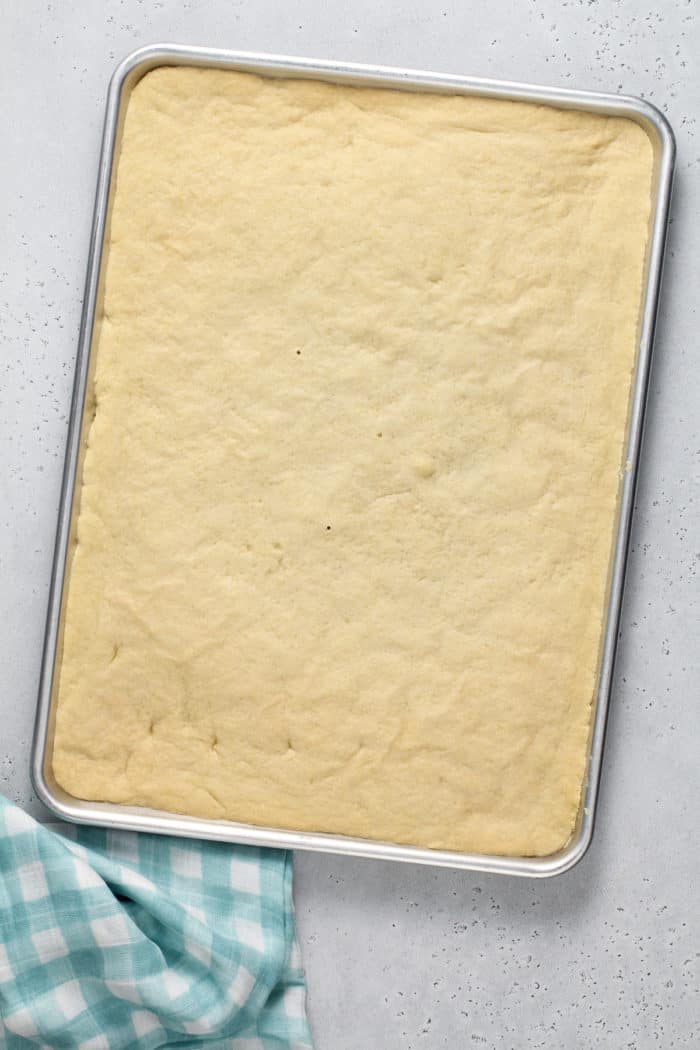 Making this recipe
If you've made other bar cookie recipes, such as Monster Cookie Bars or Funfetti Cookie Bars, then you probably already know how easy this is!
In your stand mixer with the paddle attachment, cream together the butter and sugar. You want them to be fluffy, so don't try to rush this. Let them mix for at least a few minutes.
Add the eggs, one at a time, making sure to mix well after each addition. Then add the vanilla and mix until that is combined.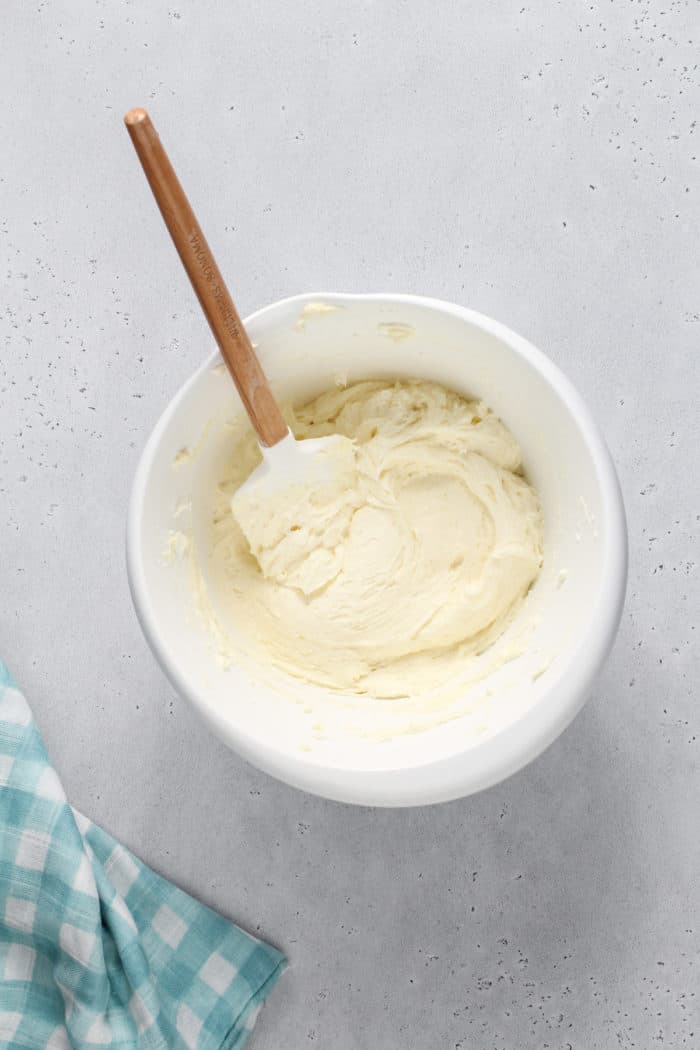 Whisk together the dry ingredients: flour, salt, and baking soda. Add these to the wet ingredients and mix just until the flour is mixed in.
Spread the cookie dough onto your greased half-sheet pan. You can line the bottom of the pan with parchment paper if you'd like.
Bake your giant cookie for 12-17 minutes – it's done when it is golden brown and a toothpick inserted into the center comes out clean.
Let the cookie cool completely before frosting and decorating.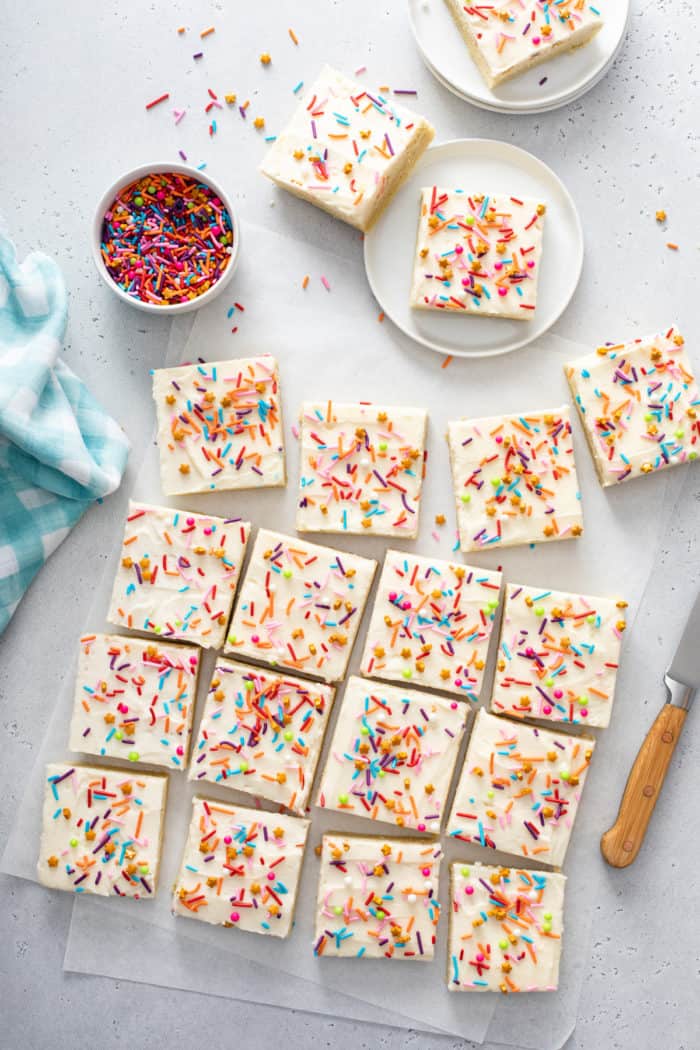 FROSTING AND DECORATING
My favorite way to top Sugar Cookie Bars is with a simple buttercream frosting. The sweetness of the frosting pairs so well with the thick and chewy cookie.
I really like the look of white frosting topped with a rainbow of colorful sprinkles, but that's just me! Feel free to add a few drops of food coloring to your frosting to make it any color (or colors!) that you desire.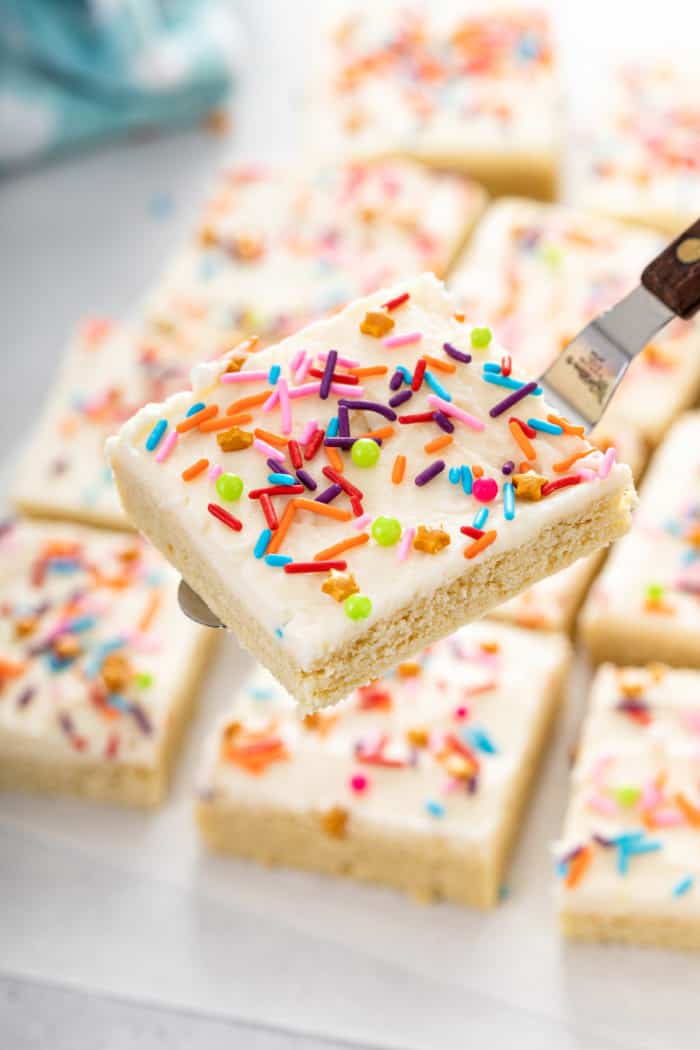 You could even turn this into a giant cookie cake by breaking out your piping bags and piping tips and piping on some rosettes or writing a message on the top of the bars.
If you have kids, divide the pan into sections and let each kid decorate their section. It's a fun way to do a cookie decorating party without spending hours cutting out individual cookies!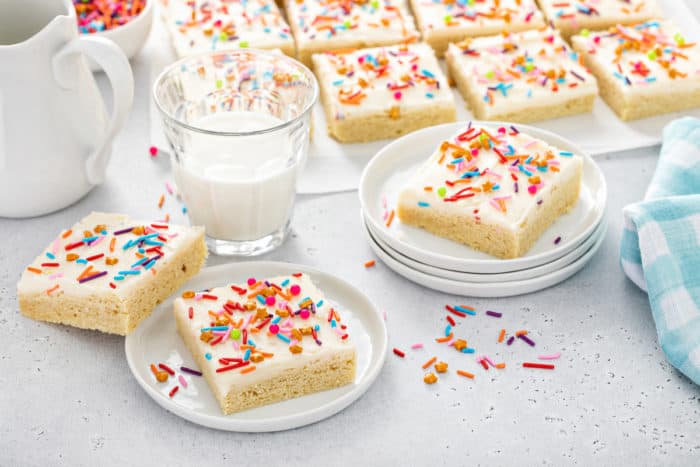 STORAGE OPTIONS
These cookie bars will store well in an airtight container for up to 3-4 days. I like to place a piece of parchment paper between layers if I have to stack them in the container, just to keep the frosting a bit neater.
You can also freeze Sugar Cookie Bars if you'd like. Here's how I'd freeze them if making them ahead of time for a party:
Bake and cool the cookie bar in the pan. Leave the cookie in the pan or remove it in one piece.
Wrap the cookie bars well in two layers of plastic wrap and a layer of foil. Freeze for up to 1 month.
Let the cookie thaw at room temperature before frosting and decorating.
If you'd like to prep the frosting early, make it and freeze it in an airtight container. Let the frosting thaw in the refrigerator overnight. Bring to room temperature then whip with a mixer before using.
Leftover frosted cookie bars can be frozen as well. Freeze them in an airtight container, with layers of parchment paper between layers, for up to 1 month.