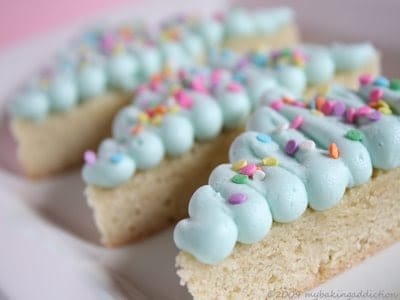 Sugar cookies…if you are like me, you love the taste and texture of them, but are not so keen on the prep work involved. I have always been a huge fan of sugar cookies and certainly make them for special occasions, but sometimes I wish I could whip up a chewy, thick cookie and not have to spend half the afternoon preparing them!
I came across a recipe for sugar cookie bars and was intrigued, needless to say, I made these the very next day and became smitten with them immediately! I was a little disappointed that I had never thought of this idea, but happy I finally stumbled upon the culinary genius that did! This recipe was mixed and in the pan within minutes and baked up in no time. You can totally just slather on the frosting and cut them into bars, but I chose to cut them on a diagonal and frost them individually. Whichever method you choose, they are sure to be an easy, delectable, crowd pleasing treat!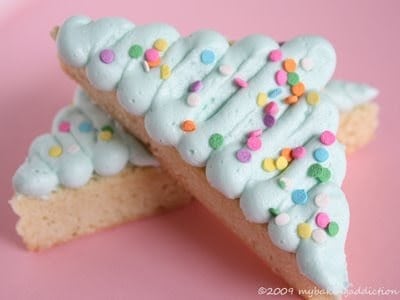 Sugar Cookie Bars
1 cup butter; room temperature
2 cups sugar
4 eggs
2 tsp vanilla
5 cups flour
1 tsp salt
1/2 tsp baking soda

Cream butter and sugar until fluffy. Add eggs, one at a time, mixing after each egg. Add vanilla & mix well. In a separate bowl combine flour, salt & soda & stir with a whisk to combine. Add to wet mixture and mix just until combined. Spread on a greased baking sheet (use a 13 x 18 pan).

Bake at 375 degrees for 10-15 min, until light golden brown or until a toothpick comes out clean. Cool completely and frost.

Frosting
1/2 cup butter; room temperature
1/2 cup shortening
1 tsp vanilla
pinch of salt
4 cups powdered sugar
5 Tbsp milk
food coloring (if desired)

Combine butter and shortening until smooth and creamy. Add vanilla and salt. Add powdered sugar in 1-2 cup increments until combined, then add milk & mix until smooth and spreading consistency. Spread over cooled cookie.