My favorite Chocolate Chip Cookie recipe is loaded with dark chocolate chips and pecans to create a deliciously nutty cookie that pairs perfectly with a large glass of milk.
Eric has a ridiculous thing for Pepperidge Farm Dark Chocolate Nantucket Cookies. How ridiculous you might ask? Let's just say he'll forgo most homemade chocolate chip cookies for the Pepperidge Farm variety, any day of the week. It's craziness, I tell ya! He purchases only two bags at a time so he doesn't overindulge. (This is also known as scarfing down an entire bag at once.) He eats his Nantucket cookies with a ginormous glass of iced milk. Yes, he puts ice in his milk – which is about as appealing as a mug of warm milk is – to me, anyway.
As you can imagine, his Pepperidge Farm eating ways does a little something to this gal's food blogging ego. I mean, hello – I bake cookies, that's what I do. It's my thing. Thankfully, I have some great guys at work that are pretty much willing to eat anything and everything. And they're always willing to boost my ego, even when the love of my life, father of my child, chosen partner – prefers store-bought cookies.
I have tried to recreate his beloved Dark Chocolate Nantucket Cookies, but clearly I haven't even come close. So I gave up and succumbed to the fact that he has an unnatural obsession with store-bought cookies. I mean, whatevs. He ignores the sheer volume of hair product I own, so I guess we both have a little give and take.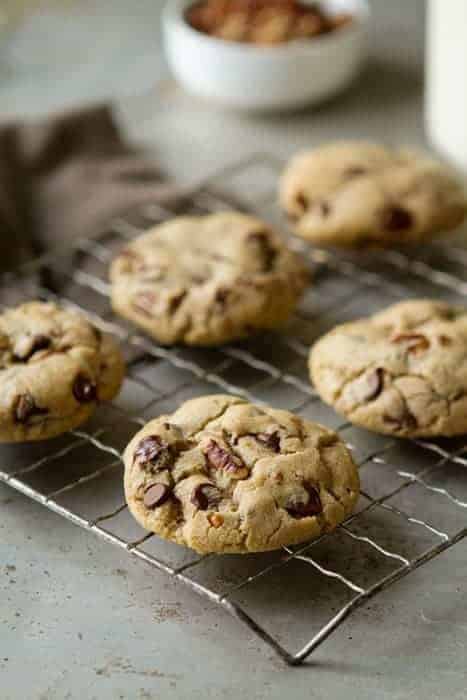 Last week, while chucking a couple of bags of his beloved cookies into my Target cart, I noticed that Pepperidge Farm also makes Dark Chocolate Pecan Cookies. Which would be perfect for my dark chocolate-and-pecan-loving dad. And since it was his birthday, I decided to forgo the whole store bought thing and whip him up a batch.
This riff on my favorite Chocolate Chip Cookie recipe is loaded with dark chocolate chips and pecans to create a deliciously nutty cookie that pairs perfectly with a large glass of milk – sans the ice, of course! Just keep in mind that this cookie dough is so much better when you give it at least 24 hours to "marinate" in the fridge – that is, of course, if you don't eat all with a spoon!
Dark Chocolate Chip Pecan Cookies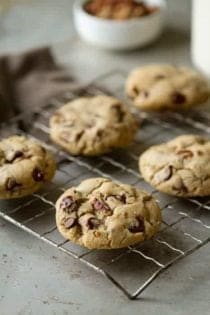 Ingredients:
2 cups minus 2 tablespoons (8 1/2 ounces) cake flour
1 2/3 cups (8 1/2 ounces) bread flour
1 1/4 teaspoons baking soda
1 1/2 teaspoons baking powder
1 1/2 teaspoons coarse salt
2 1/2 sticks (1 1/4 cups) unsalted butter, room temperature
1 1/4 cups (10 ounces) light brown sugar
1 cup plus 2 tablespoons (8 ounces) granulated sugar
2 large eggs room temperature
2 teaspoons pure vanilla extract
1 cup chopped pecans
2 cups dark chocolate chips
sea salt, optional
Directions:
1. Sift flours, baking soda, baking powder and salt into a bowl. Set aside.
2. Using a mixer fitted with paddle attachment, cream butter and sugars together until very light, about 5 minutes. Add eggs, one at a time, mixing well after each addition. Stir in the vanilla. Reduce speed to low, add dry ingredients and mix until just combined, 5 to 10 seconds. Add in pecans and chocolate chips; mixing until just combined. Press plastic wrap against dough and refrigerate for 24 to 36 hours. Dough may be used in batches, and can be refrigerated for up to 72 hours.
3. When ready to bake, preheat oven to 350 degrees. Line a baking sheet with parchment paper or a nonstick baking mat. Set aside.
4. Scoop 6 3 1/2-ounce mounds of dough (the size of big golf balls) - see note below for regular sized cookies - onto baking sheet, making sure to turn horizontally any chocolate pieces that are poking up; it will make for a more attractive cookie. If desired, sprinkle lightly with sea salt and bake until golden brown but still soft, 18 to 20 minutes. Transfer sheet to a wire rack for 10 minutes, then slip cookies onto another rack to cool a bit more. Repeat with remaining dough, or reserve dough, refrigerated, for baking remaining batches the next day.
Notes:
- For regular sized cookies, use a heaping tablespoon and bake for approximately 12 minutes.
- I have baked these before the full 24 hour chill time and they simply just aren't as good.
Recipe adapted from New York Times Chocolate Chip Cookies.
All images and text ©
Follow Jamie on Instagram. We love to see what you're baking from MBA! Be sure to tag @jamiemba and use the hashtag #mbarecipes!