While attending a work meeting yesterday, I realized that I go back to teaching in less than a month. I sort of gasped and counted the days on my iPhone calendar to make sure I was correct. I was. Not cool.
Aside from re-igniting my love affair with Tang Orange Drink and finally quitting Candy Crush – I feel like I haven't accomplished much at all. Seriously though – have you tried Tang as an adult? Do it. And Candy Crush.. don't try that. In fact, if you value your productivity, avoid it at all costs.
I don't know what it is about this summer, but for some reason it seems like it hasn't even started. I'm guessing it has something to do with the insane amount of rain we've had here in Ohio. And also that our vacation to Florida was pretty much spent dodging storms like it was our j-o-b. Again – not cool.
However, the past few days have been seriously amazing – mid 70's, a light breeze with gorgeous cloud flecked blue skies. A girl can get used to this.
Eric and I flung open the windows, turned off the air, and for the first time in about two weeks, I put butter on the counter to soften and plugged in my KitchenAid Mixer. At that point I really had no idea what I was going to make, but all of the sudden, I had a serious hankering for Chocolate Chip Cookies.
But not just any Chocolate Chip Cookies – they had to be my favorite recipe. Only this time, I mixed it up a bit with pistachios and dark chocolate covered pomegranate. Total win.
Sweet, tangy, with the fantastic crunch of pistachios, these cookies are total winners. Maybe the mark the beginning of the end of my summer, but they're still pretty awesome. And while I'm loathe to mention it, they'd be pretty awesome for stuffing in lunch boxes.
How's your summer going?

Pistachio Cookies Dark Chocolate Covered Pomegranate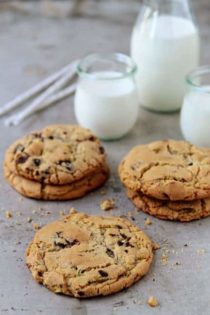 Ingredients:
2 cups minus 2 tablespoons (8 1/2 ounces) cake flour
1 2/3 cups (8 1/2 ounces) bread flour
1 1/4 teaspoons baking soda
1 1/2 teaspoons baking powder
1 1/2 teaspoons coarse salt
2 1/2 sticks (1 1/4 cups) unsalted butter, room temperature
1 1/4 cups (10 ounces) light brown sugar
1 cup plus 2 tablespoons (8 ounces) granulated sugar
2 large eggs room temperature
2 teaspoons pure vanilla extract
3/4 cup shelled roasted pistachios; coarsely chopped
1/2 cup dark chocolate chips
1 cup dark chocolate covered pomegranate, coarsely chopped (see note below)
Directions:
1. Sift flours, baking soda, baking powder and salt into a bowl. Set aside.
2. Using a mixer fitted with paddle attachment, cream butter and sugars together until very light, about 5 minutes. Add eggs, one at a time, mixing well after each addition. Stir in the vanilla. Reduce speed to low, add dry ingredients and mix until just combined, 5 to 10 seconds. Add in pistachios, chocolate chips and chocolate covered pomegranate; mixing until just combined. Press plastic wrap against dough and refrigerate for 24 to 36 hours. Dough may be used in batches, and can be refrigerated for up to 72 hours.
3. When ready to bake, preheat oven to 350 degrees. Line a baking sheet with parchment paper or a nonstick baking mat. Set aside.
4. Scoop 6 3 1/2-ounce mounds of dough (the size of big golf balls) - see note below for regular sized cookies - onto baking sheet, making sure to turn horizontally any chocolate pieces that are poking up; it will make for a more attractive cookie. Sprinkle lightly with sea salt and bake until golden brown but still soft, 18 to 20 minutes. Transfer sheet to a wire rack for 10 minutes, then slip cookies onto another rack to cool a bit more. Repeat with remaining dough, or reserve dough, refrigerated, for baking remaining batches the next day.
Notes:
- For regular sized cookies, use a heaping tablespoon and bake for approximately 12 minutes.
- I have baked these before the full 24 hour chill time and they simply just aren't as good.
- I used dark chocolate covered pomegranate from Brookside - they're pretty addictive!
Recipe adapted from New York Times Chocolate Chip Cookies.
All images and text ©
Follow Jamie on Instagram. We love to see what you're baking from MBA! Be sure to tag @jamiemba and use the hashtag #mbarecipes!