Snickers Cheesecake and Vlog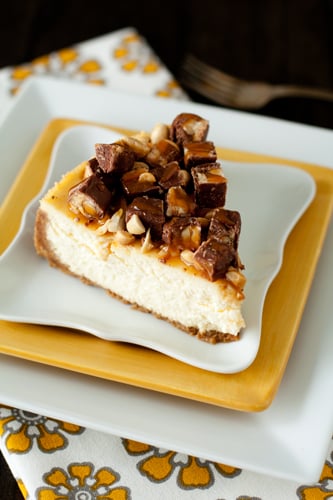 If you read my blog on a regular basis, you may recall that I am a huge fan of cheesecake. As a matter of fact, I love it… I could probably eat it every day if I had an amazing metabolism; but unfortunately I do not. You may also remember that I use a specific method each time I bake a cheesecake recipe. This method seems to help minimize the likelihood of cracks in my cheesecakes and involves nothing more than some foil, an oven bag and a little patience.
After mentioning my cheesecake baking methods in several posts, I started to receive emails asking for further clarification. So, I decided to bust out the video camera and record my second vlog and show you how I bake my recipe for Snickers Cheesecake.
This cheesecake recipe is deliciously indulgent and perfect for anyone that loves ooey gooey Snickers bars. It was a huge hit with Brian's co-workers and I hope you enjoy it as much as we did.
Snickers Cheesecake How-To from My Baking Addiction on Vimeo.
I tried to keep my campy (muppet) voice to a minimum for you, but if you're bored, feel free to kill some time by counting how many times I say the word "um" …clearly, I need to um work on that too! Have a fabulous day and always, thanks so much for stopping by!
Snickers Cheesecake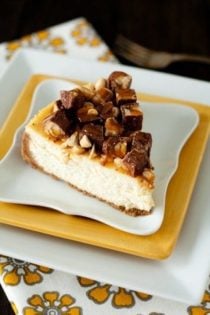 Ingredients:
For the Crust
2 cups graham cracker crumbs
1 stick unsalted butter; melted
3 tablespoons sugar
1/2 teaspoon salt
For the Cheesecake
4 sticks of cream cheese, 8 oz each; room temperature
1 1/4 cup granulated sugar
4 large eggs; room temperature
3/4 cup heavy cream
1 tablespoon pure vanilla extract
For the Topping
20 Mini Snickers; cut in fourths
1/3 cup roasted peanuts; chopped
1/4 cup caramel syrup
Directions:
1. Preheat oven to 350 degrees F. Tightly wrap a 9 inch springform pan in heavy duty foil. This step prevents leaks when using a water bath. I also take the extra step by placing the foil wrapped spring form pan inside an oven bag while baking.
2. Mix together the crust ingredients and press into the bottom of your pan and about 1 inch up the sides. Bake for 7 minutes and cool completely on a wire rack.
3. Begin to boil a large pot of water for the water bath.
4. In the bowl of your stand mixer fitted with your paddle attachment, combine the sugar and cream cheese and cream together until smooth. Add eggs, one at a time, fully incorporating each before adding the next. Make sure to scrape down the bowl in between each egg. Add heavy cream and vanilla and mix until smooth.
5. Pour batter into prepared crust. Place pan into a larger pan and pour boiling water into the larger pan until halfway up the side of the cheesecake pan.
6. Bake 45 to 55 minutes, the edges will appear to be set, but the center will still have some jiggle to it. At this point, close the oven door, turn the heat off, and let rest in the cooling oven for one hour. After one hour has passed, carefully remove the cheesecake from the water bath and place on a cooling rack to cool completely. Once the cake is completely cooled, place it into the refrigerator for at least 5 hours.
7. Top with Snickers bars, peanuts and caramel.
Notes:
- A tightly covered cheesecake can be stored in the refrigerator for up to five days. The cheesecake can be stored for approximately 2 months in the freezer. I recommend you freeze this variation without the topping (Snickers, peanuts, caramel). To defrost, allow cake to defrost in the refrigerator overnight.
All images and text ©
Follow Jamie on Instagram. We love to see what you're baking from MBA! Be sure to tag @jamiemba and use the hashtag #mbarecipes!
This post may contain affiliate links. We are a participant in the Amazon Services LLC Associates Program, an affiliate advertising program designed to provide a means for us to earn fees by linking to Amazon.com and affiliated sites.